As a Step2 brand ambassador, I received this product in exchange for sharing what we love about it with you! All opinions are, and always have been, 100% mine.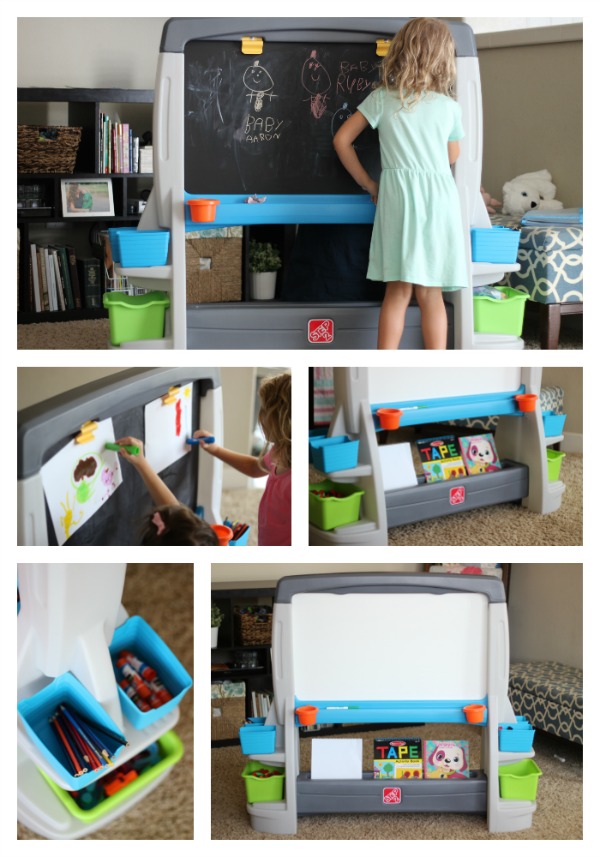 Not long ago I gave away our kids' art desk. It was such a nice concept, with plenty of storage, but it got to the point that I just wasn't sure where to put it. We don't have a lot of space in our home and I didn't want it taking up part of the living room so I put it upstairs in the girl's bedroom. Well, they spend most of their time downstairs, so after awhile they seemed to forget about it. I was happy to find a good home for it, and even happier to find a replacement that solved our storage problem!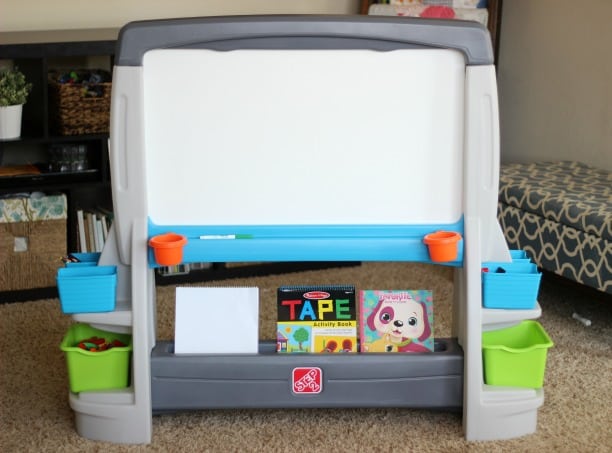 When I was visiting the Step2 headquarters in Ohio this Jumbo Art Easel was in the showroom. It was love at first sight! I knew that it would be the perfect way to store art supplies for the kids.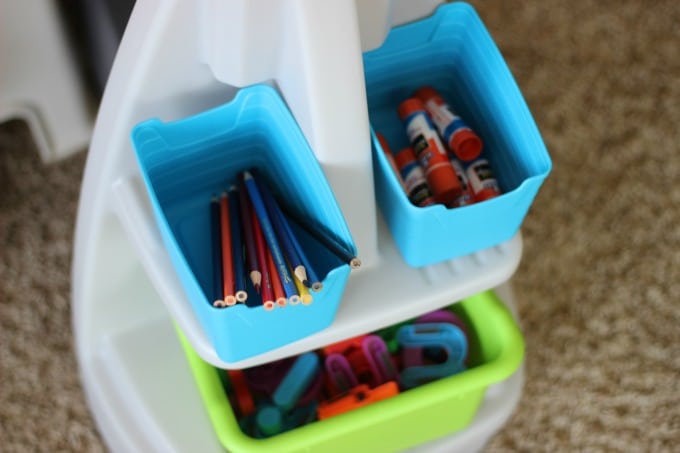 Each end has 2 small containers and a medium sized container to hold markers, glue sticks, and other art supplies.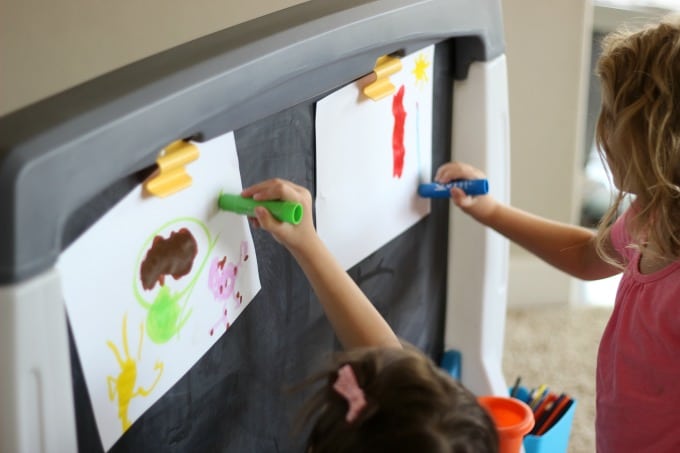 2 clamps make hanging pictures a snap!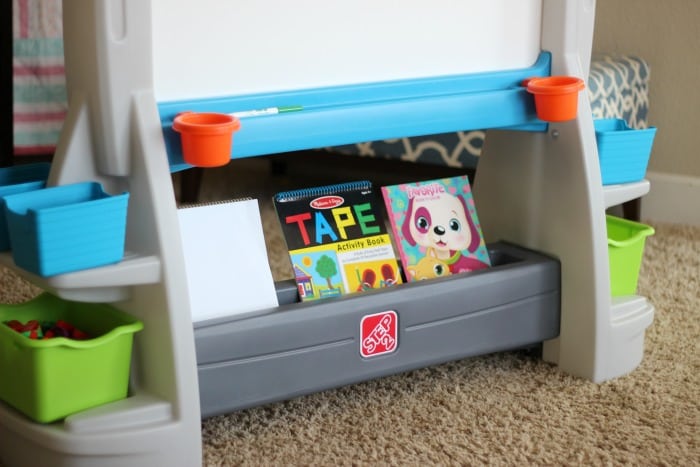 There is even space to hold coloring books, paper, and activity books underneath!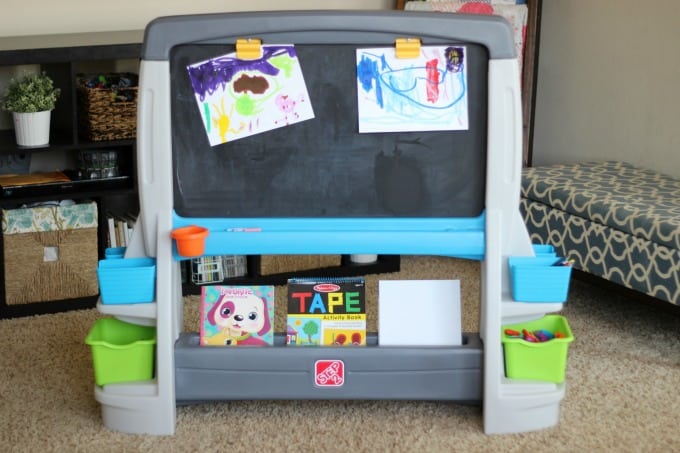 One side of the easel has a chalkboard and the other side has a dry erase board. There are small hanging cups to hold chalk, water (for painting), and other items, as well as a chalk tray and dry-erase marker tray.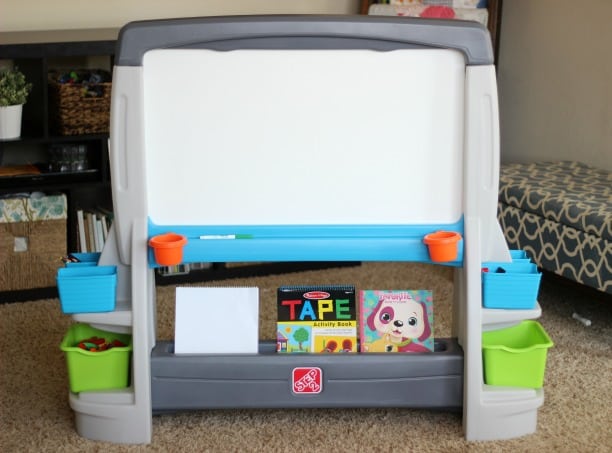 Ruby has been putting it to great use and it was a hit when friends came over as well. I snapped this photo the first day we had it. She had babies on the brain and was busy creating baby drawings of everyone in the family.
When it's time to clean up, I simply push the easel up against a wall! The Jumbo Art Easel is also fairly lightweight. Much easier to move around than our other desk. It's an all around win for me and the kids!
The Step2 Jumbo Art Easel retails for $99.99 and is part of the Step2 2016 Fall product line.online at  You can find it online at Step2 and Amazon.com.
You might also like…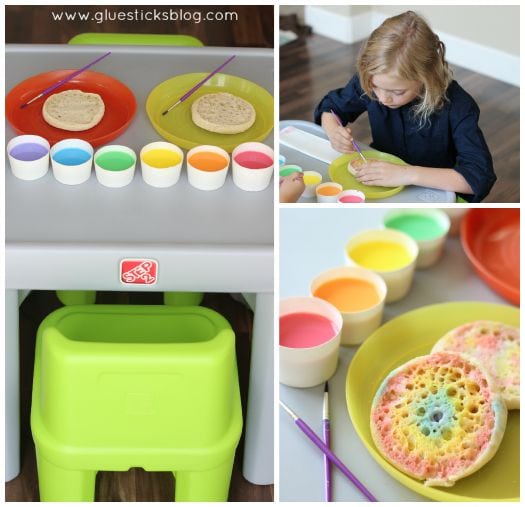 Tie Dyed Toast (Step2 Mighty My Size Table and Chairs)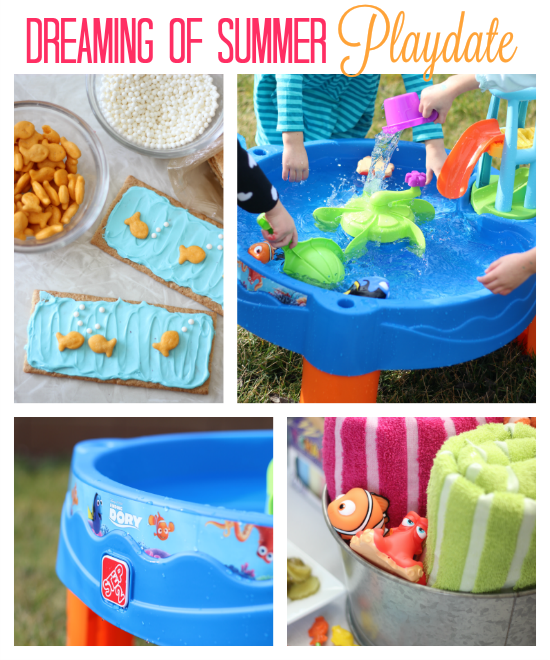 Dreaming of Summer Playdate (Step2 Finding Dory Water Table)