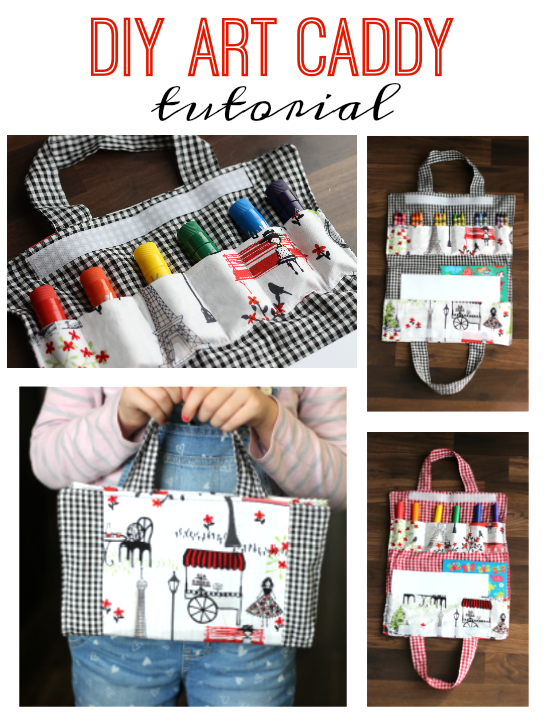 The perfect little travel caddy to hold crayons, markers, paper and stickers! Folds up easily for storage. It's a quick and easy sewing tutorial so sew up a few for gifts this holiday season! This post contains an affiliate link.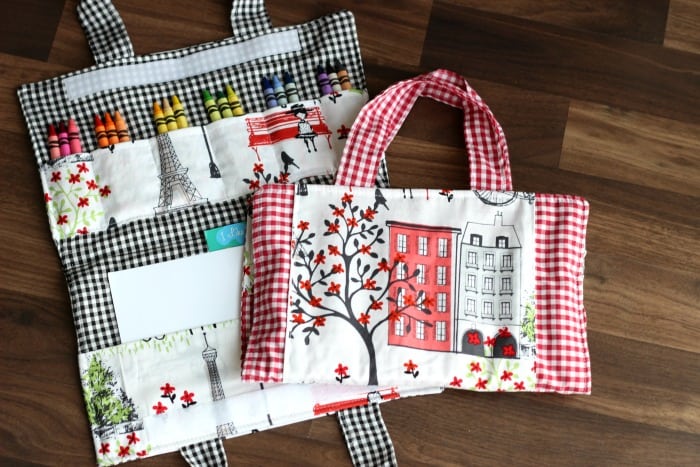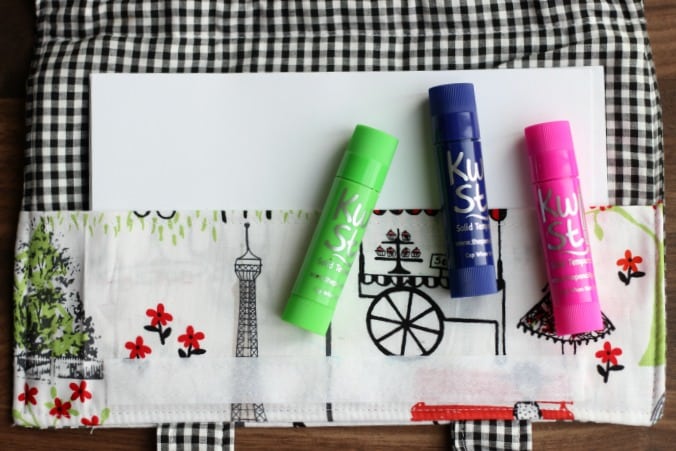 I love finding uses for fabric scraps! After
making the girls' apron
s I had just enough to whip up two fabric caddies for them to hold art supplies. Perfect for bringing to church or using while traveling in the car!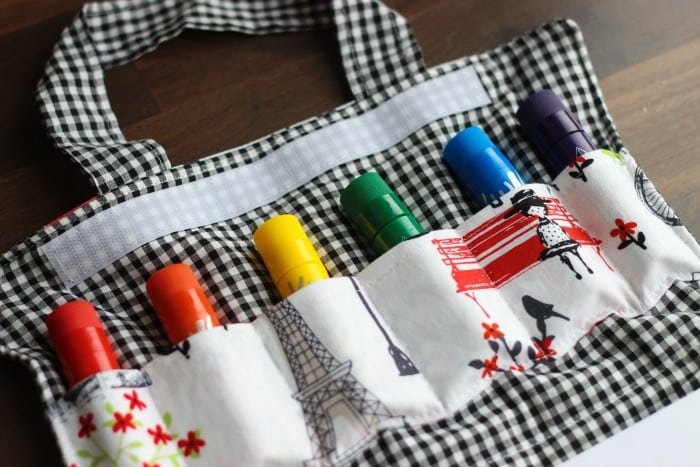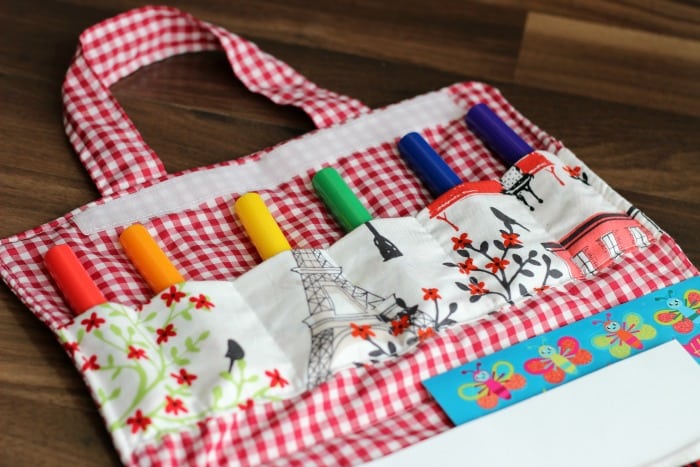 Each one comes with slots for markers and a large lower envelope for paper and stickers.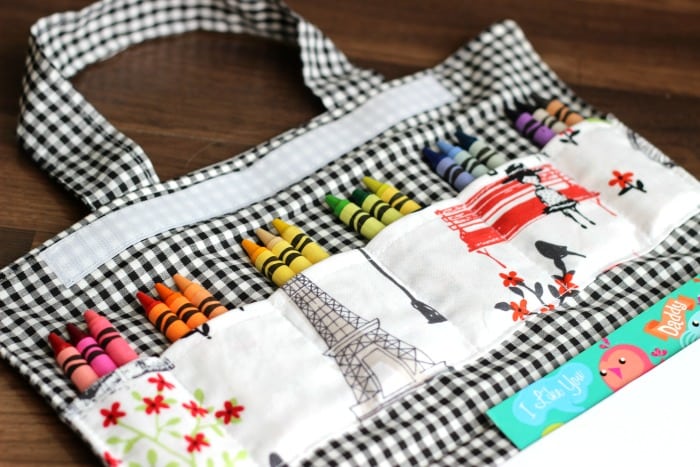 The upper slots can hold 1 chubby marker, Kwik Stix, or 3 crayons. The bottom section can hold half sheets of paper (8.5×11″ cut in half) with space to spare.
The velcro closure keeps everything nice and secure and it folds up easily with a handle for traveling!
For 60 more sewing projects, check out my sewing book for kids!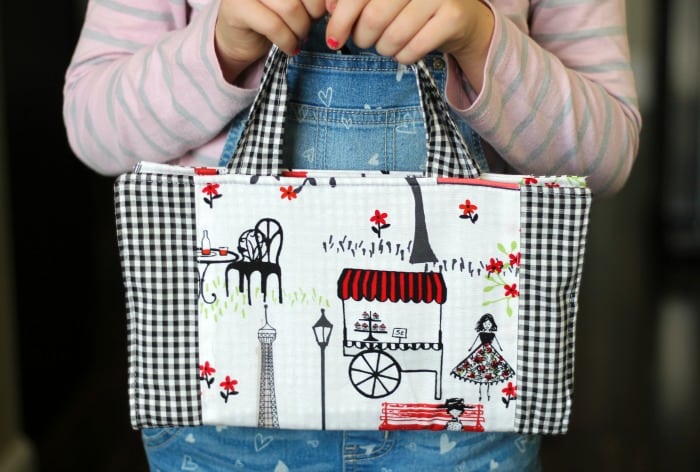 DIY Art Caddy Tutorial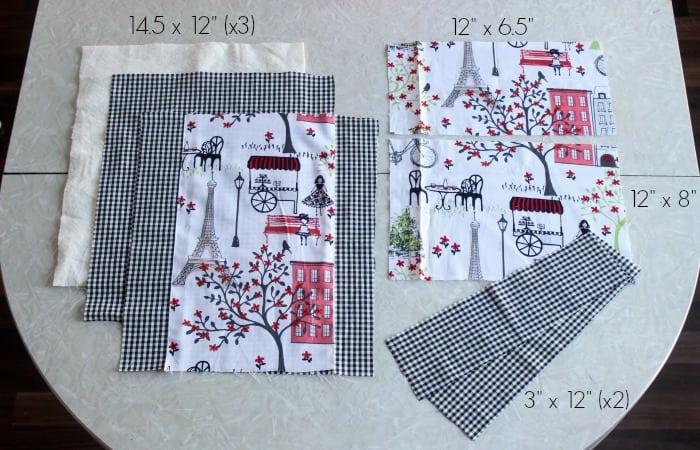 Supplies:
Outer fabric (14.5″ x 12″) I added a decorative strip of fabric to my outer fabric, but this is optional. You can use the same fabric for the outer fabric and the lining fabric.
Lining fabric (14.5″ x 12″)
Thin quilt batting (14.5″ x 12″)
Upper pocket (12″ x 6.5″)
Lower pocket (12″ x 8″)
Straps (3″ x 12″) x 2
Velcro 8″
1.Adhere fabric and batting with basting spray or baste a few stitches along the top and the bottom to keep it together. I used basting spray.
2. Fold the upper pocket in half (right sides together) and sew along the long side. Turn right side out, press, and top stitch along the top.
3. Mark 2″ increments along the pocket.
4. Find the midway point on the lining/batting piece and mark with a pin. Place pocket 1″ above the pin and pin in place.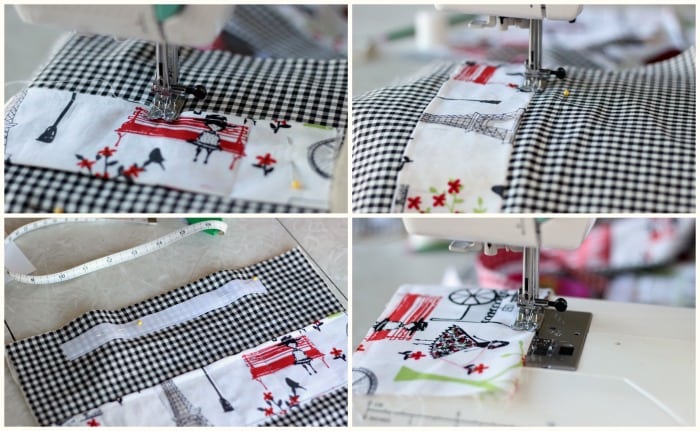 5. Sew along the 2″ lines that you marked previously to create sections.
6. Stitch across the bottom. You will now have 6 sections to hold crayons, etc.
7. Place half of the Velcro 3/4″ from the top and center it with the sides. Pin. Stitch in place.
8. Fold the bottom pocket in half, right-side-out, leaving the sides and bottom edges raw. Top stitch along the top. Press.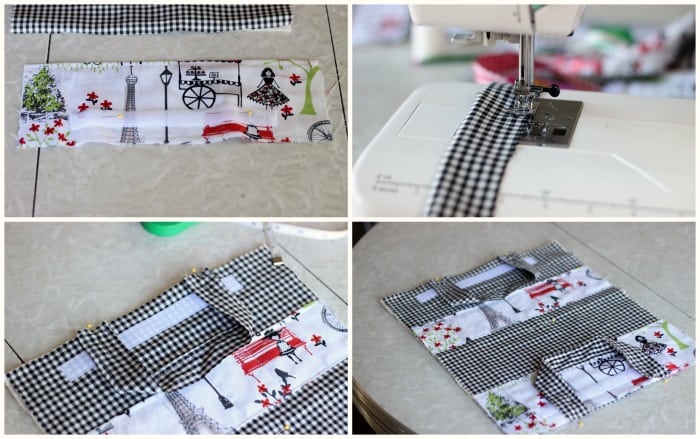 9. Pin other section of Velcro 3/4″ from the bottom of the lower pocket. Pin. Stitch into place. Pin onto the lining fabric, lining up raw edges and pin into place.
10. Fold each strap in half, right sides together and stitch along the side. Turn right side out and top stitch along the side seams. Leave ends raw.
11. Pin straps 3″ from the sides of the lining piece on each side, lining raw edges up.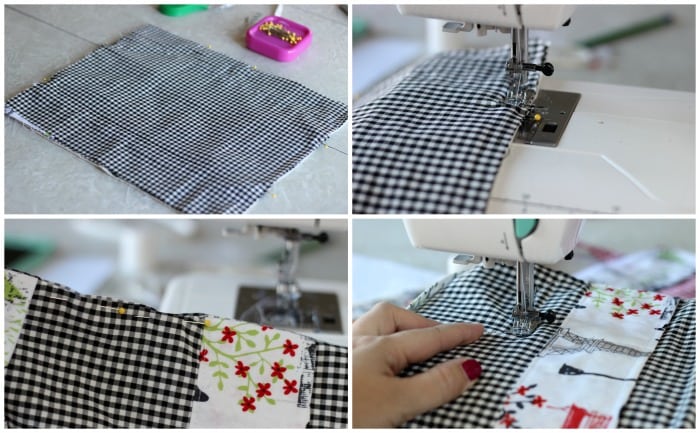 12. Place top fabric on top of lining/batting piece, right sides together. Pin all the way around, leaving a 4″ section to turn later.
13. Stitch all the way around with a 3/8″ seam.
14. Turn right side out, and fold raw edges of the opening closed. Pin. Top stitch around entire fabric caddy.
15. Top stitch a seam along the midway point of the caddy to make it easier to fold in half when closing.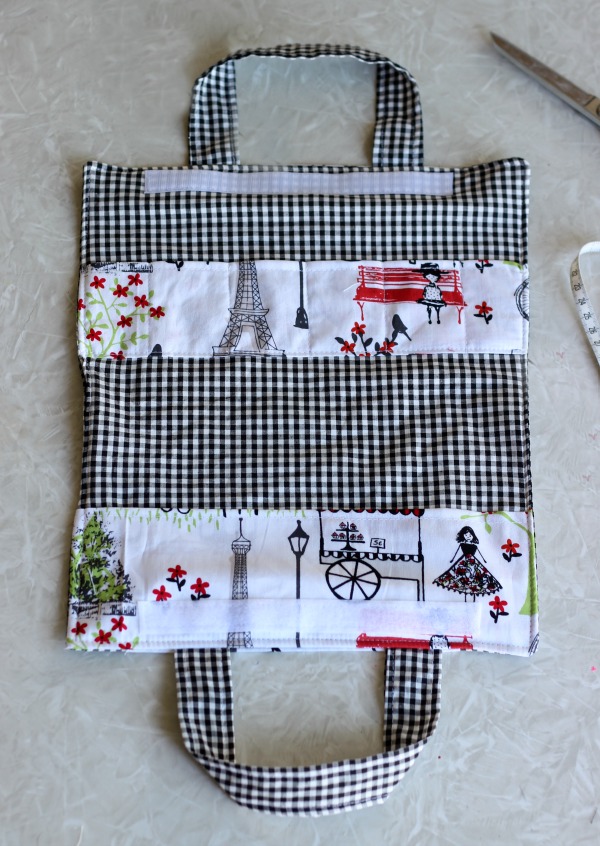 Now all that's left to do is fill it up with a rainbow of art supplies!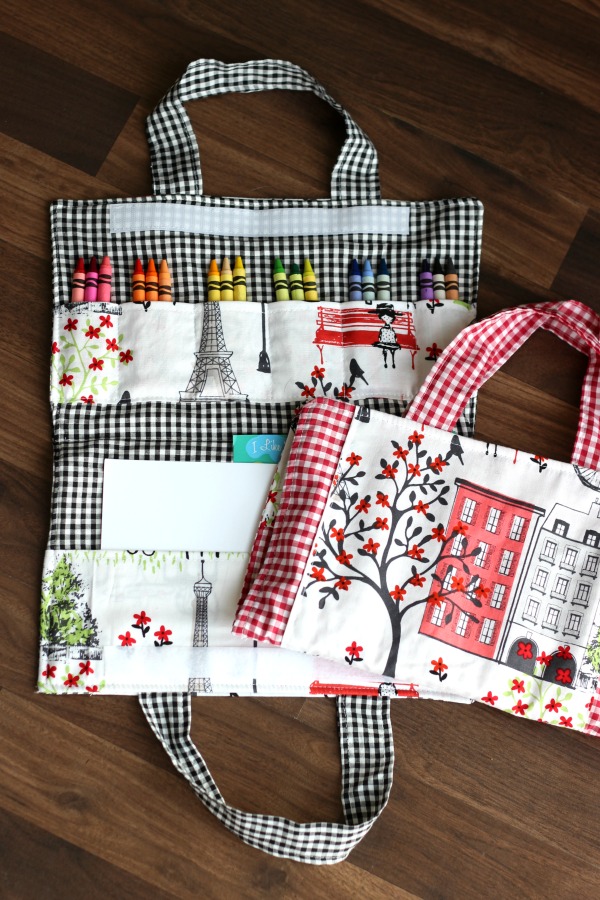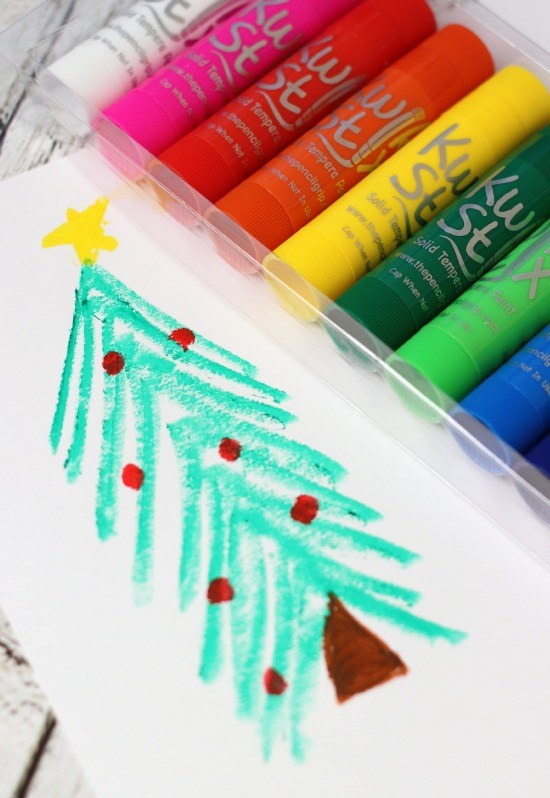 My girls love the Kwik Stix sets that I picked up for them. Kwik Stix are solid Tempera paint sticks! No mess, no prep, no brushes, smocks, or water. I don't mind the mess of painting with my kids and don't see these as a replacement, but more as a quick and fun supplement! Especially since they dry in under 2 minutes. Since it is twistable, the child has complete control as they create their masterpiece. I love that they work on cardboard, wood, poster board and even canvas!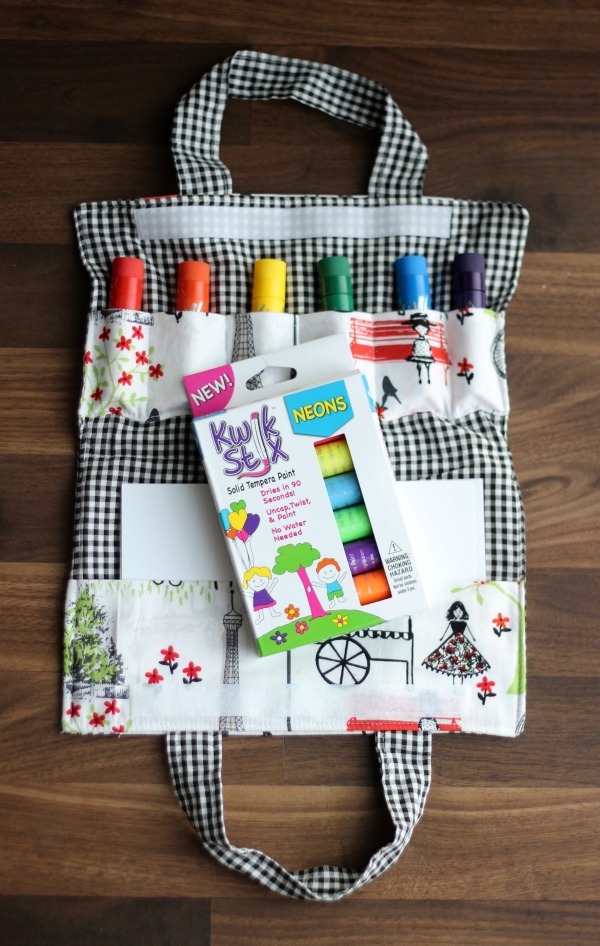 This is a sponsored post on behalf of The Pencil Grip, Inc.
You might also like…