A quick stroller makeover to give this umbrella stroller more storage and function. I'll show you how to make a stroller bag and washable pad!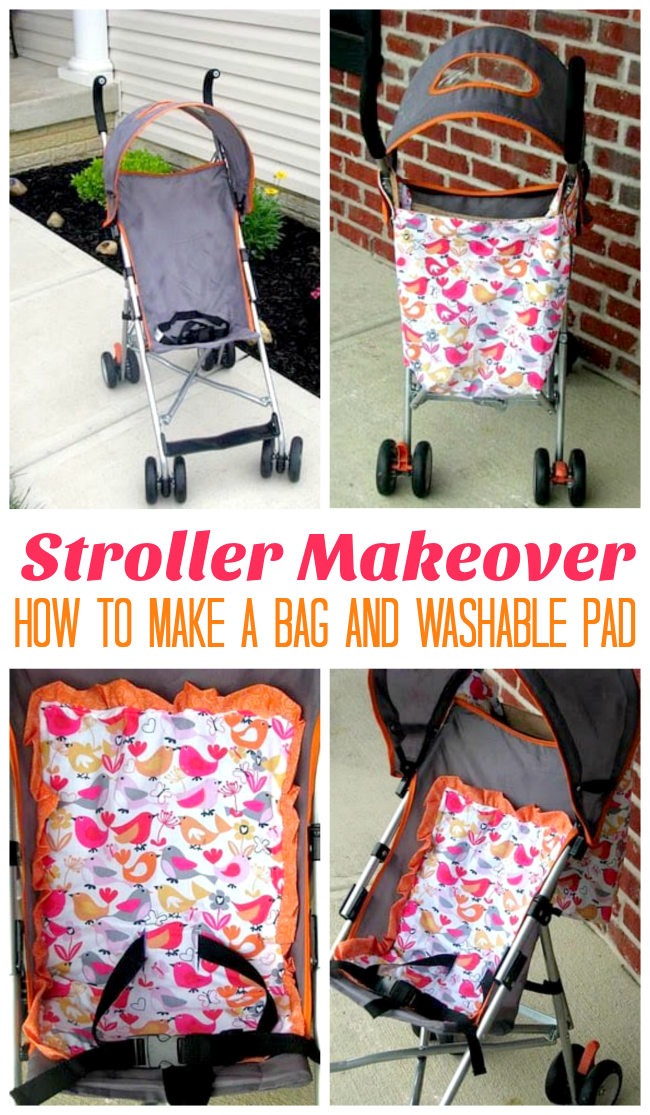 I bought this little umbrella stroller awhile ago at Target. It's nice to have a little one for going to the zoo and museums, etc.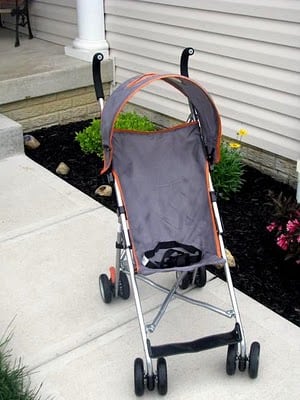 As with most umbrella strollers, it was lacking in storage so I decided to make some! 
This is a sweet little refresh of a post originally shared in 2010.
3 More Projects for Baby Outings
Fabric Diaper Clutch Sewing Tutorial
Diaper Change and Play Mat Sewing Tutorial
Stroller Makeover: How To Make A Stroller Bag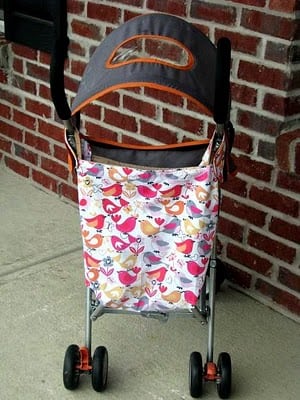 Here is a tutorial for bag that can be used as a stroller bag. If you use home decor fabric, you don't need to line it. I lined mine with corduroy to make my cotton fabric sturdier.
The boxed corners give the bag some shape and allow for plenty of room to store diapers, wipes and other necessities.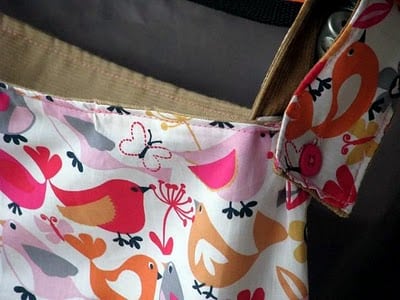 I also made button flaps to strap it to the stroller and for easy removal for cleaning. Here is a simple button hole tutorial.
Stroller Makeover: How To Make a Washable Stroller Pad

I had enough fabric to make a cushion too! Nice and cozy. It's also nice to have an extra layer that can come out and be washed, if something leaks or spills on the stroller. We all know what a nightmare it is to try to take a stroller apart to wash.
To make a stroller pad, simply measure the width and length of the stroller back and bottom.
Cut two pieces, one for the front and one for the back.
You'll also need a layer of batting for a bit of padding.
The ruffle is optional, but pretty! Here is video tutorial on how to make a ruffle. My finished ruffle was 2″ wide and the length of all 4 sides of my pad.
Place the front piece of fabric on your work surface with the right side of the fabric facing you.
Pin the ruffle along the edge, all the way around, lining up the edges. Place the back piece of fabric on top and pin, sandwiching the ruffle in between. Leave a 4-5″ space for turning right side out.
Stitch around the edge using a 3/8″ seam allowance.
Turn right side out.
Slide a rectangle of batting inside.
Fold sides of the opening over and stitch closed.
Create two button holes for the stroller straps to slide through.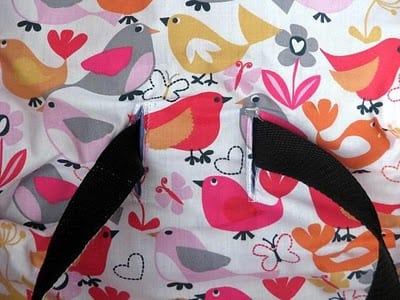 I marked the fabric where the straps would go through, then made large button holes for them to slide through. Here is a simple button hole tutorial that you can use to create the slits for the stroller straps to go through.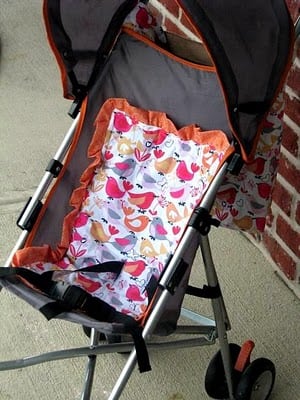 That's it! I left it in the hallway when I was done. Kaylee saw it when she woke up from her nap and it was love at first sight.
She loves pointing at the little birds. She climbed in and sat in it while I pushed her around for an hour. I made lunch, cleaned the living room, got the kids ready to go to the science museum….all while she sat in her stroller. She screamed when it was time to get out and get into the truck. Crazy little girl!
Welcome! I'm Brandy, mother to 5 darling kiddos and a cute black lab named Toby. My husband is in the Coast Guard so we've lived all over the place, turning each house into a home. I love baking, sewing, making cute things with my kids, and sharing what I've learned with all of you!