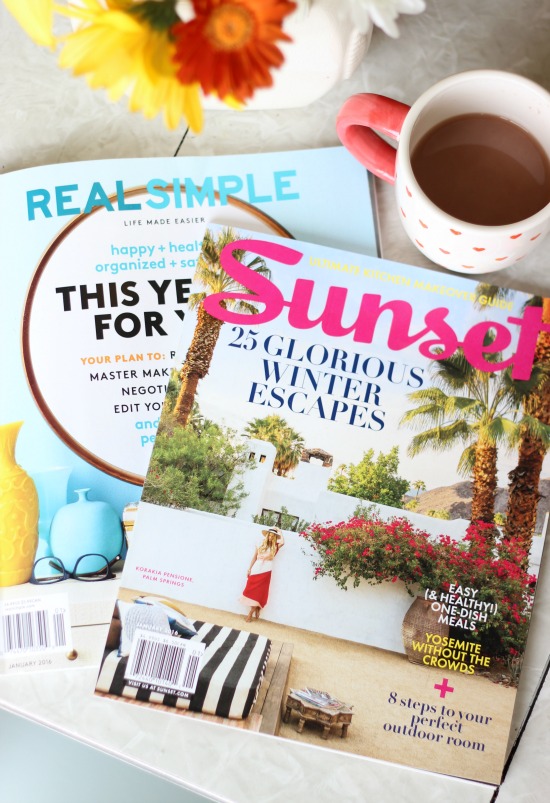 When it comes to outdoor landscapes, January has a lot to be desired. Brown, mushy lawns, dead leaves, and garden beds that need to be pulled up to get ready for spring planting. It's not my favorite time of year to be outside, but that doesn't mean that I can still be surrounded by beautiful plants and flowers. I picked up the latest issue of Sunset magazine from Safeway and absolutely loved this month's
"In the Sunset Garden"
section. I enjoyed a bit of "me time", sipped on my favorite hot chocolate, and took notes on how to have happy houseplants.  It's nice to start the year off fresh and clean, but it can often seem a bit bleak when Christmas is over. Pretty pops of color definitely help my over all motivation and my favorite way to do that is through plants. My goal for this year is to have flowers in my home all year long!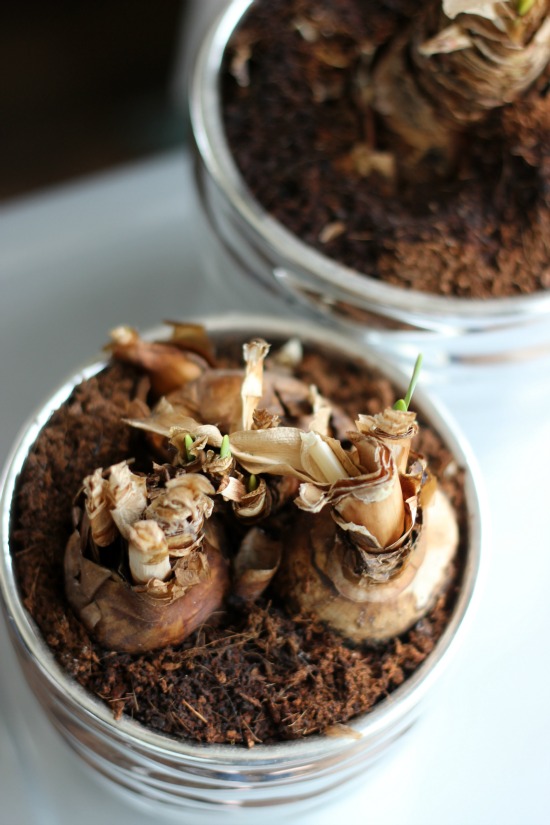 Each year I buy amaryllis bulb kits and other bulb flowers. The beauty of these bulbs are that they come back every year! When the flower has finished blooming for the season, and the stem has withered, I trim it and set the pot out on the shelf in the garage or garden shed. It sits dormant for the rest of the year and come January it starts to come back to life! I bring them back into the house, moisten the soil and enjoy the beauty all over again. I now have them all over my home!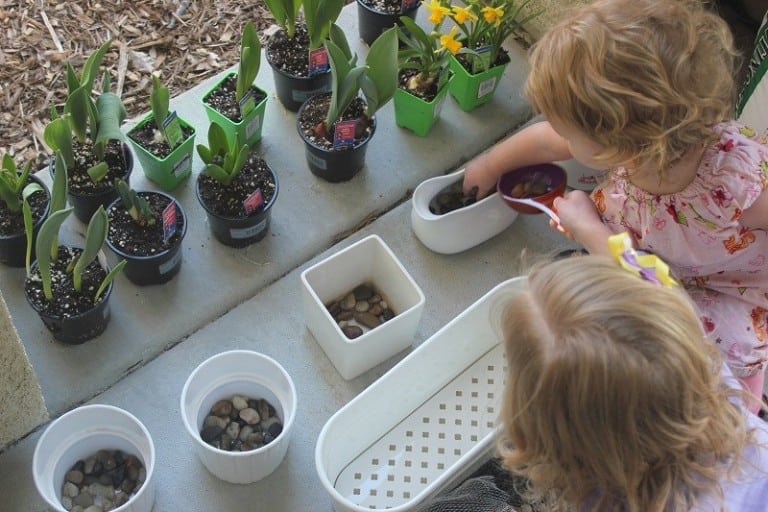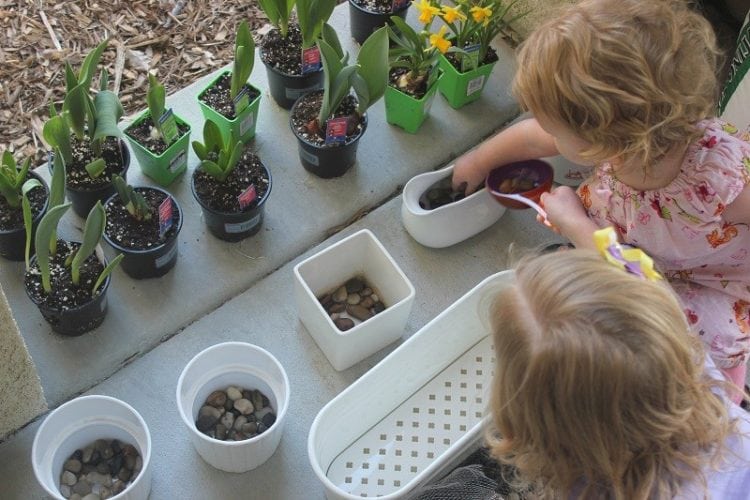 One year the girls and I planted tulips and daffodils indoors. We bought the bulbs already sprouted, repotted them and placed them throughout the house. It was fun to watch them bloom throughout the spring.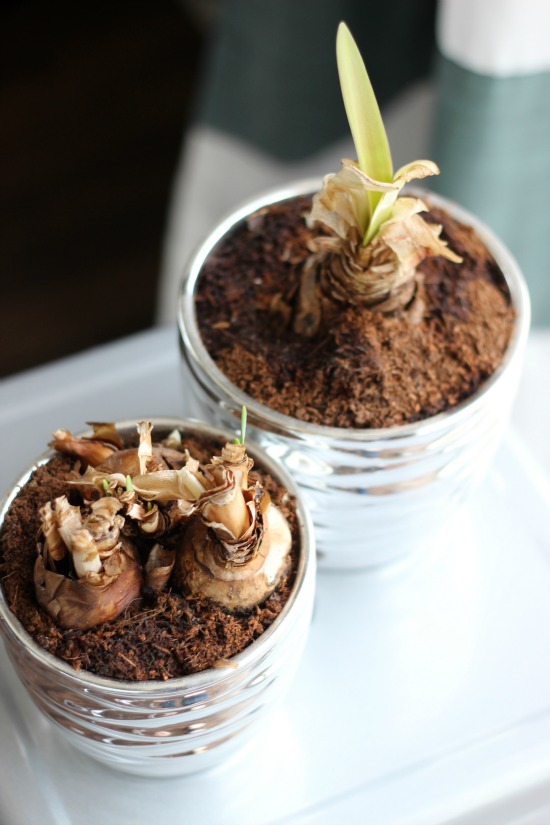 Growing bulbs indoors is easy. It's fun! Regular houseplants seem to be another story. They never last very long for me. If my goal for this year is to have fresh accents in my home all year long I need to stop killing my other house plants.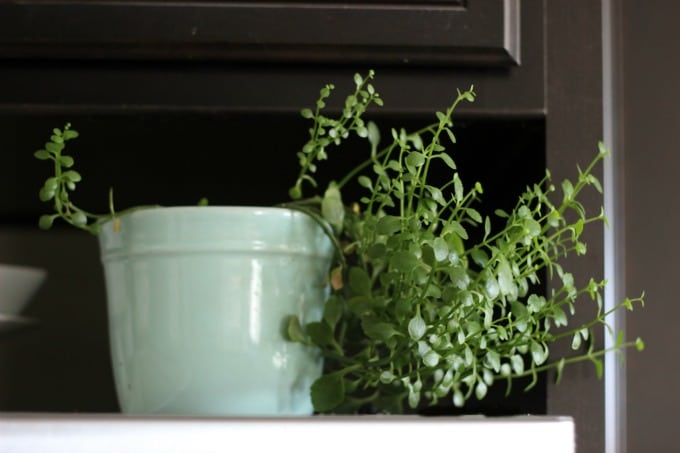 This plant has been the exception. I've had it for 2 years, but it definitely seems to have a mind of its own. I learned 3 tips for keeping houseplants happy in my Sunset magazine:
1. Timely Watering 
2. Light Touch (what kind of light plants need)
3. Good Turn (rotate your plants)
I won't share details about all of the tips, but I will say that after reading the article, I'm pretty sure I'm failing in #3—rotating my plants!  "If you see your plant is leaning toward the light and getting lopsided, rotate the pot every month or so."
Looks like I need to start rotating this plant to see if there is any hope! The magazine was full of tips for western gardening, ideas for adding plants indoors, pressing leaves, and creating the perfect outdoor room. We have been wanting to take the kids to Yosemite and found a great article about the best time of year to do so to be the crowds!
This time of year can seem so dreary, but being surrounded by bright pops of color really brighten my home and brighten my attitude. It's a great way to start the new year. Oh, and that delicious hot chocolate that I'm teasing you with? You can learn how to make it here. Now you can sit yourself down for some reading and "me time" too!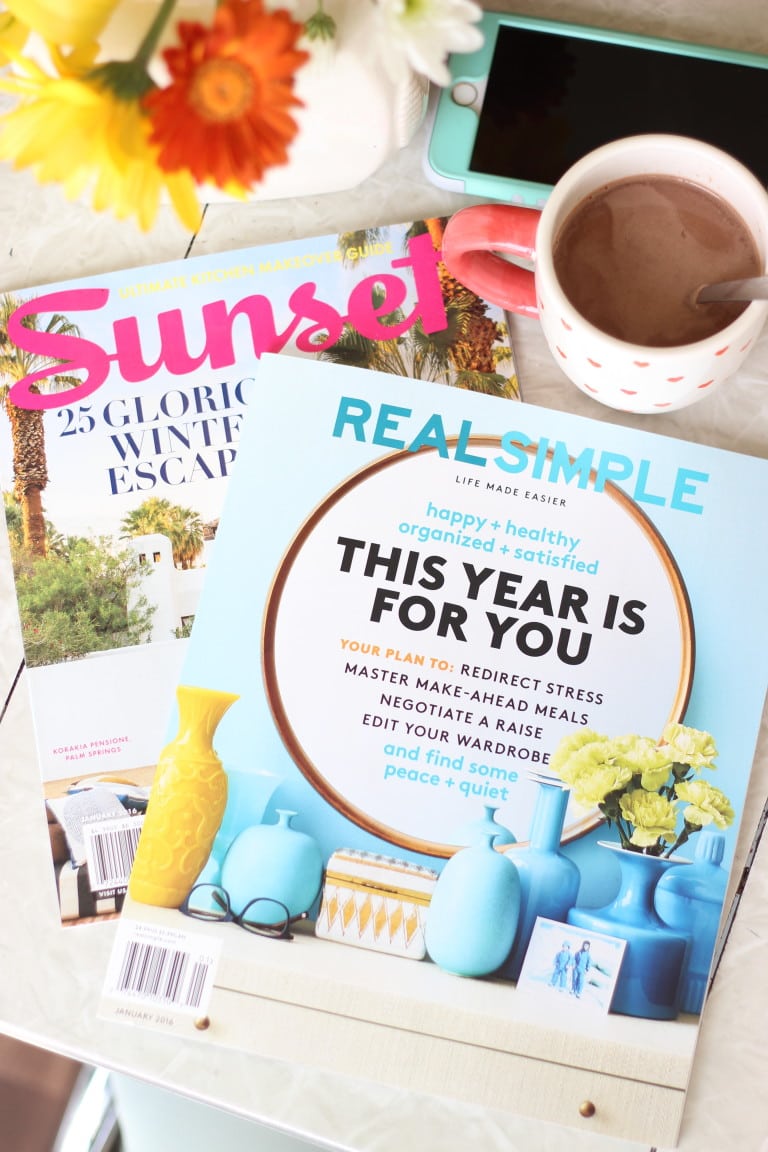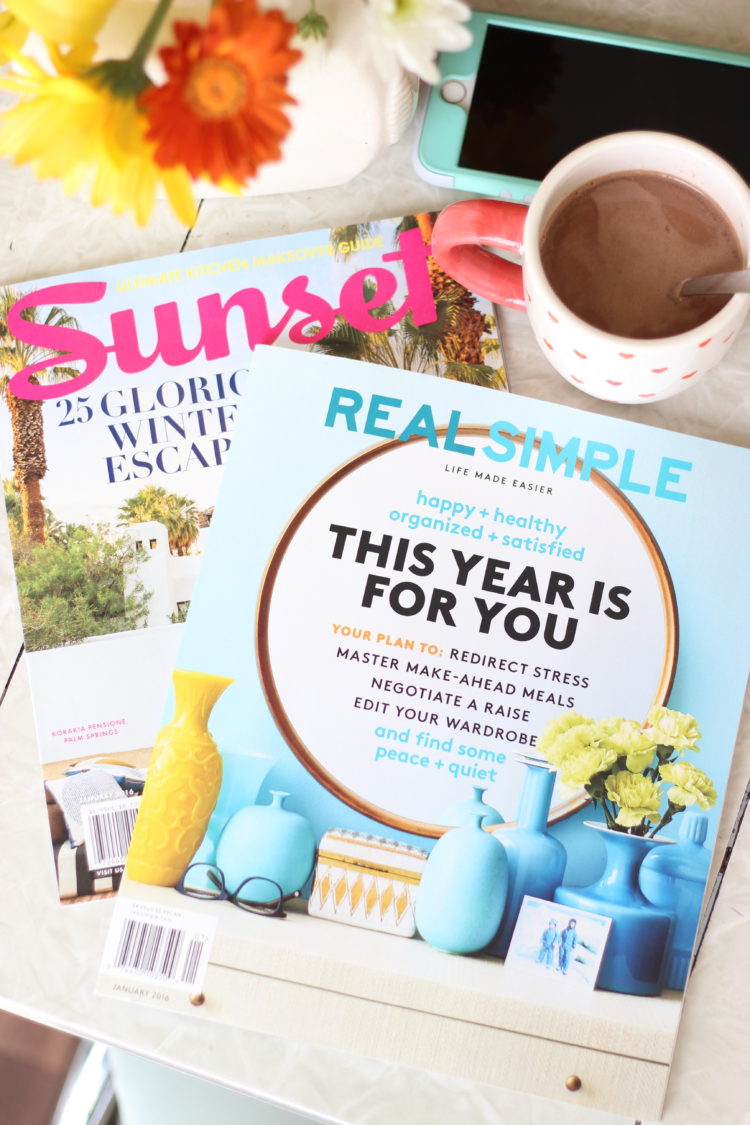 Take advantage of $1.00 off participating titles (PEOPLE®, InStyle®, People StyleWatch®, Real Simple®, and Sunset®) with this
digital offer
until 2/15/16 while supplies last.
This post is part of a social shopper marketing insight campaign with Pollinate Media Group® and Real Simple® and Sunset® Magazines but all my opinions are my own. #pmedia #NewYearMeTime http://my-disclosur.es/OBsstV