Fairies aren't the only ones who need gardens—dinosaurs do too! This dinosaur garden is so fun to put together and fun for kids to play with. This post contains affiliate links.
If you've been here a minute, you know how much we love making fairy gardens. Check out our darling Pixie Hollow Tinkerbell themed fairy garden or our mini flower gardens for kids!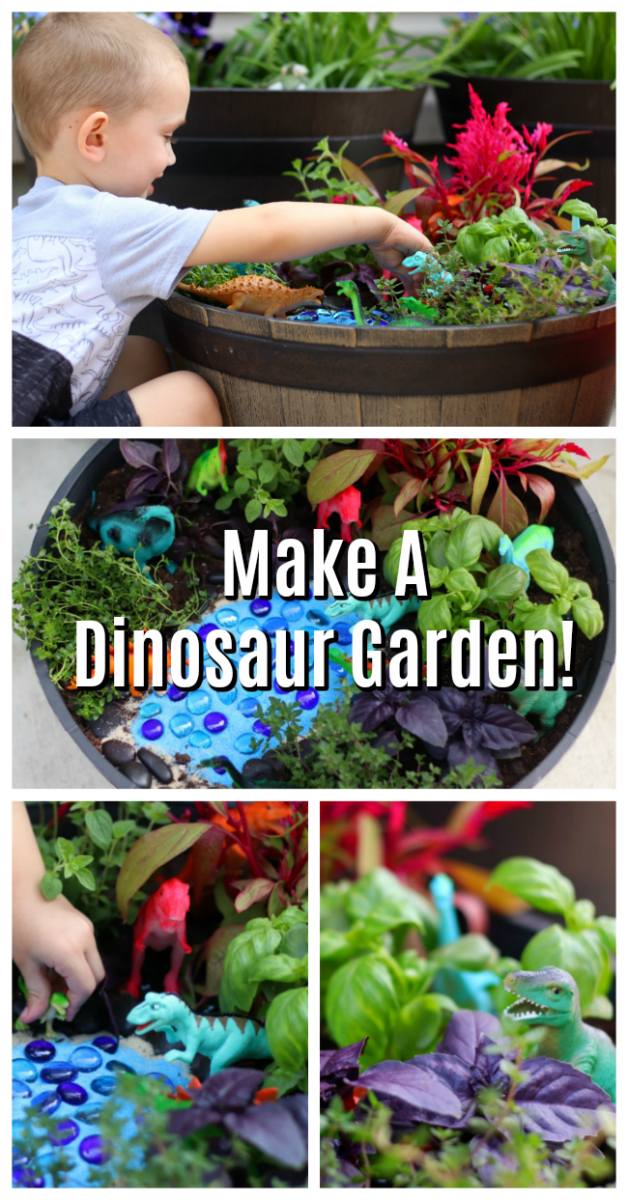 Watch our step by step video!
Mac had so much fun helping the girls make their new fairy gardens that I decided it was time for him to make one of his own.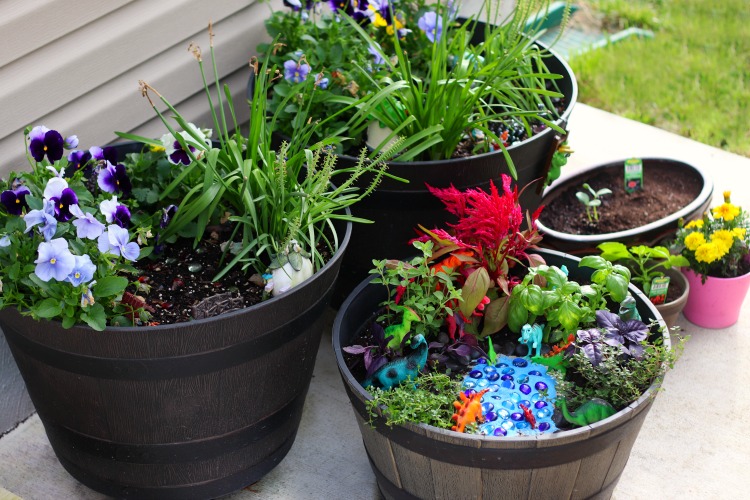 We already had 3 barrels from our summer gardens last year. The girls turned two into fairy gardens this year, and the smallest barrel became Mac's dinosaur garden.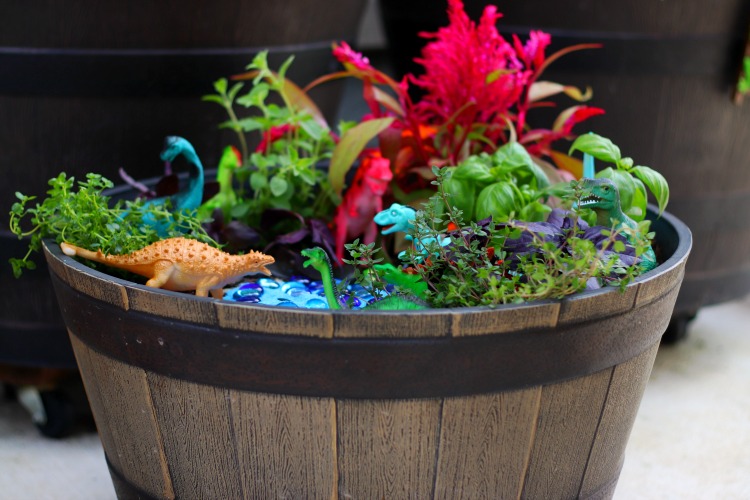 I honestly wasn't sure how this was going to turn out, but it ended up being one of my favorite miniature gardens. I wanted to find plants that were easy to grow, yet had fun pops of color. I selected a dragon's breath floral for the eye catcher. The name alone screamed out at me. Then I picked up a few basil and thyme plants to fill in the pot.
Dinosaur Garden For Kids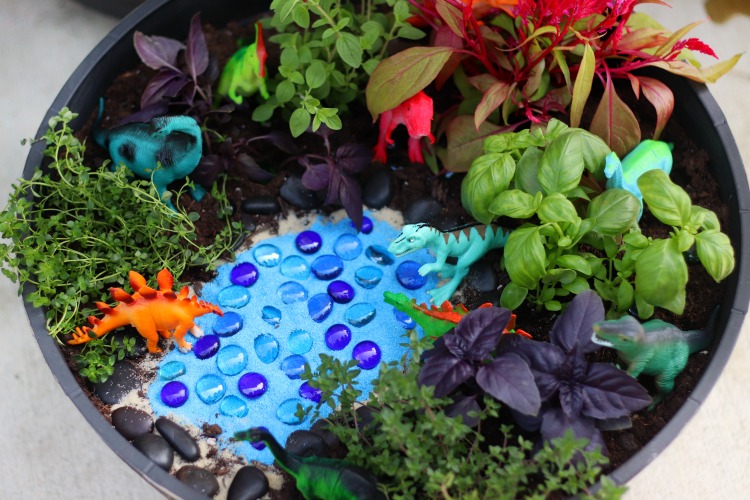 Mac has a TON of dinosaur figures. When he broke his leg last year I went a little overboard and got him all sorts of toys to play with while sitting in his cast. He liked watching the show "Harry and His Bucket Full of Dinosaurs", so I purchased him a large assortment of dinosaur figures and a bucket to put them in. He chose out some of his favorites to put in his dinosaur garden.
I picked up the marbles, rocks and natural sand from the dollar store in town. The blue sand is from our collection of bottles of colored sand for sand art.
3 More Fairy Garden Ideas You'll Love
Fairy Garden Kit (Birthday Gift Idea)
Easy Fairy Gardens for All Seasons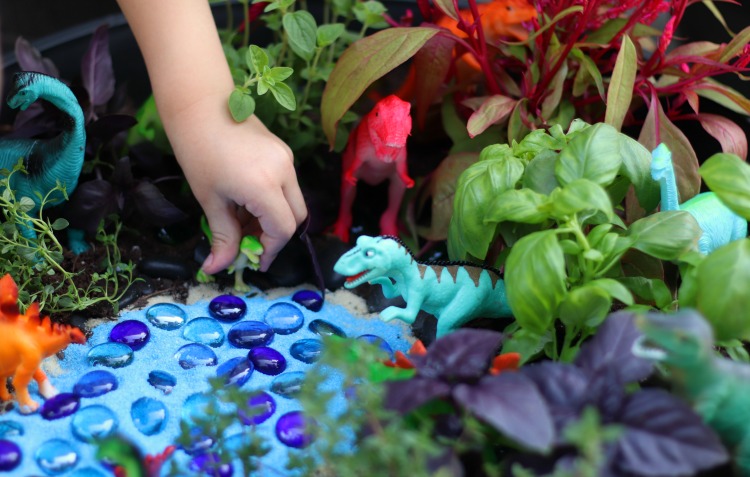 Mac loves the watering hole. This baby dinosaur is his favorite and is always very thirsty.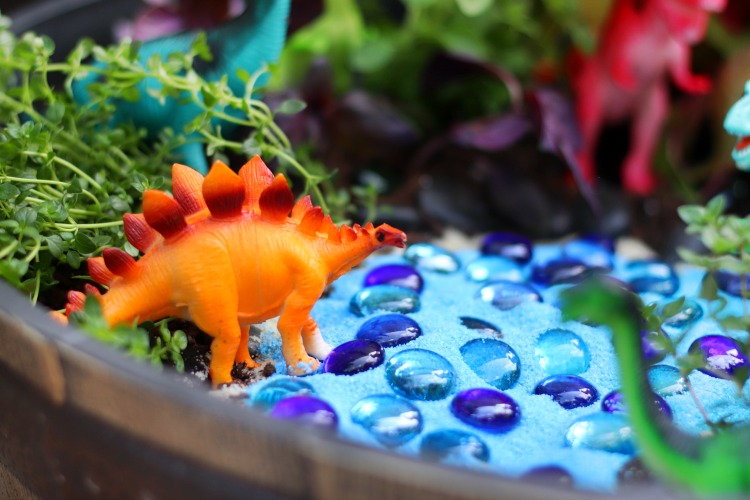 I honestly have no idea how long this little garden will last. I anticipate that a freak summer thunderstorm or two will have its way with the sand, and Mac will probably trample the plants with his dinosaur toys, but that's okay.
He was so happy excited to have his own garden and couldn't wait to take Derrick's hand and lead him outside to see the garden as soon as Derrick got home from work.
I'm just excited to have some fresh basil to make fresh pesto. It's a multi-purpose garden—entertainment for him and herbs for me!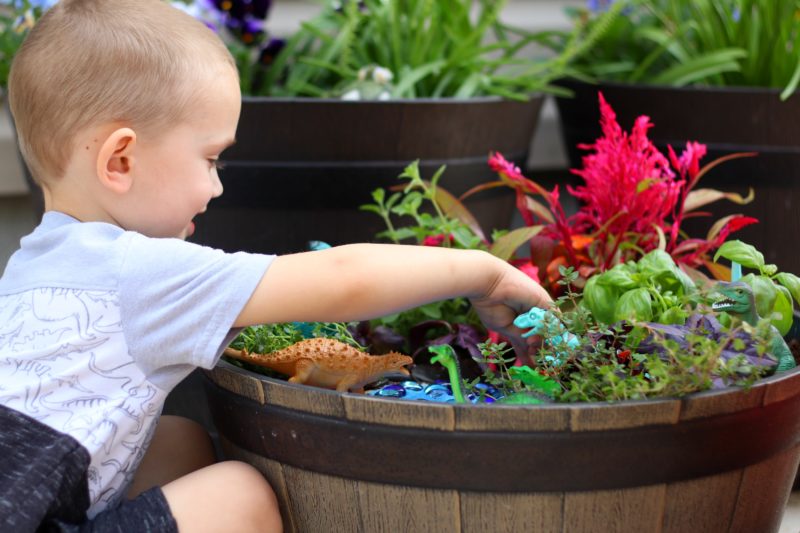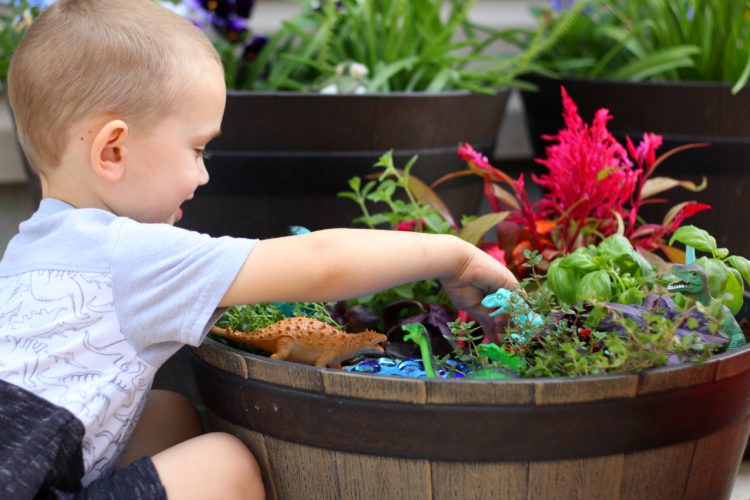 How To Make a Dinosaur Garden (Dinosaur Fairy Garden)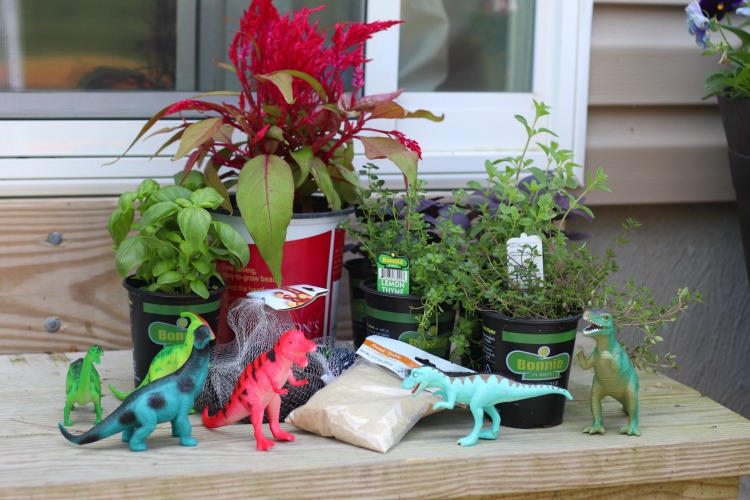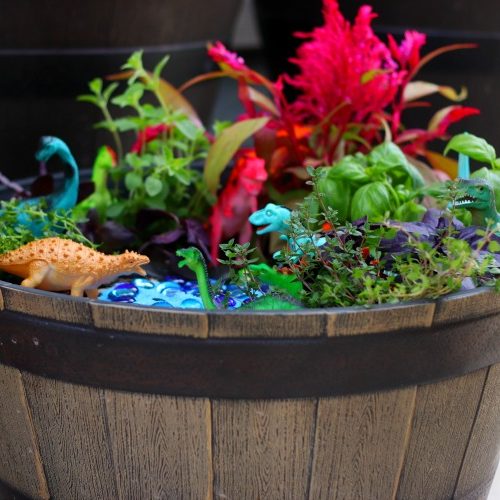 Print
Dinosaur Garden (Dinosaur Fairy Garden)
Fairies aren't the only ones who need gardens---dinosaurs do too! This dinosaur garden is so fun to put together and fun for kids to play with.
Materials
1

pot or barrel

(Home Depot)

potting soil

herbs and plants

sand

rocks and marbles
Instructions
Fill a pot with potting soil.

Arrange the plants how you want them (still keeping them in the containers). Then carefully loosen the plant from it's pot. Break up the roots then plant in the soil.

Arrange rocks to make a water feature (optional).

Add sand and colored marbles.

Arrange dinosaurs in garden.

Give the garden a good watering on day 1, then water as needed from here on out.