This post was most recently updated on January 10th, 2023
A beautiful holiday quilt, perfect for keeping cozy in while watching Christmas movies and sipping cocoa. Made with 2 layer cakes of fabric, this quilt top comes together in an afternoon. This post contains an affiliate link.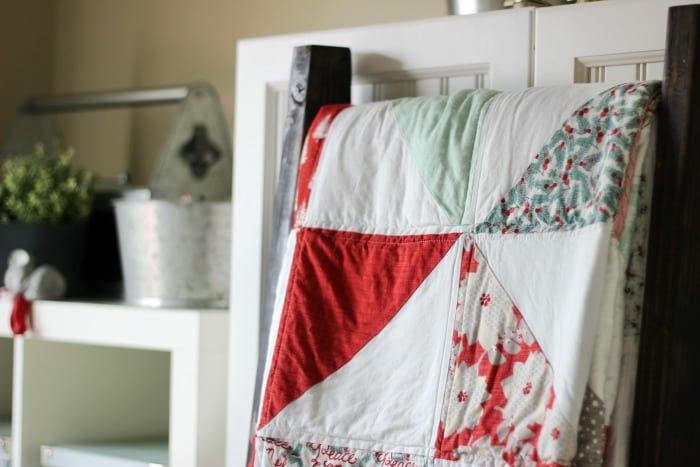 I made our family a Christmas quilt this year. One for us to pull out every year on the day that we set up our Christmas tree. One that will be in the family for years to come and big enough to snuggle in while watching holiday movies together. I let the kids pick out the fabrics we used and it turned out quite bright and busy. We love it! In case you missed that post you can view it here.
I wanted to send one to my sister as well, but I wanted it to be a secret so I didn't ask her what kinds of fabric I should use, or have her kids pick out fabrics. I was also on a time crunch since I didn't really allow myself a lot of time to make it, but that's ok. I went with a simple pinwheel pattern that is so easy and comes together very quickly.
For 60 more sewing projects, check out my sewing book for kids!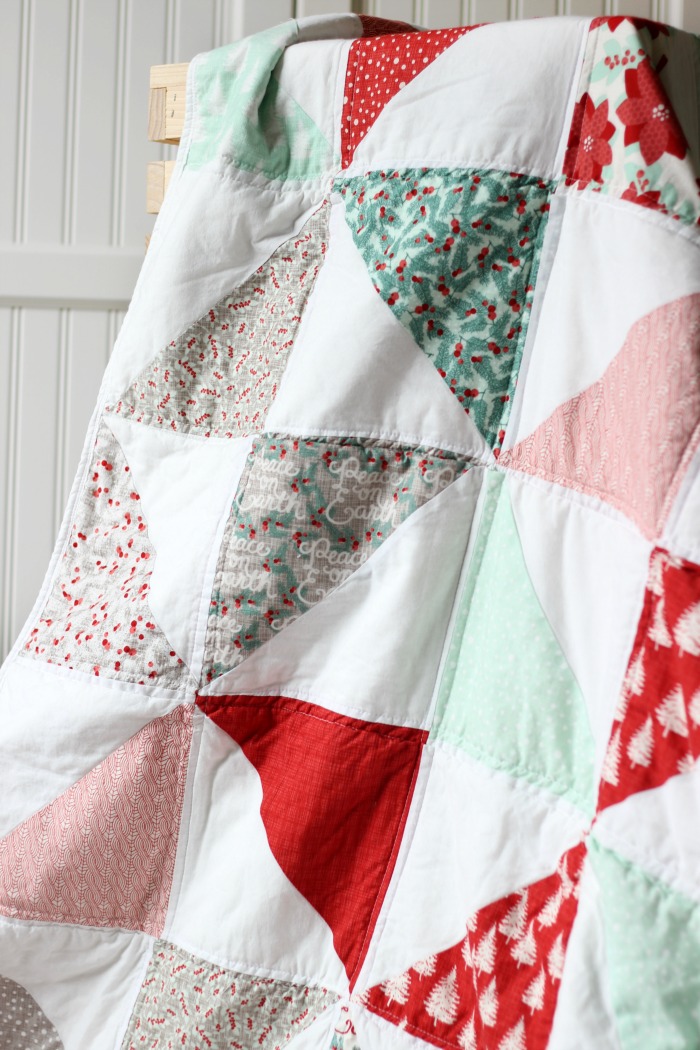 I decided on a beautiful layer cake of fabric to keep things simple and then cut out the same number of white squares (buying 2 layer cakes, one patterned and one solid would be even quicker). When I saw 
Winterberry by Kate and Birdie
 I knew it would look so pretty in my sister's home. 
Using this technique
, I made a stack of pinwheel triangles and put the entire top together in an afternoon! I lined it with a pale grey snowflake flannel on the back and it is absolutely the coziest blanket ever! Pinwheel quilts are my favorite. I've made a few and love the simplicity and homespun look.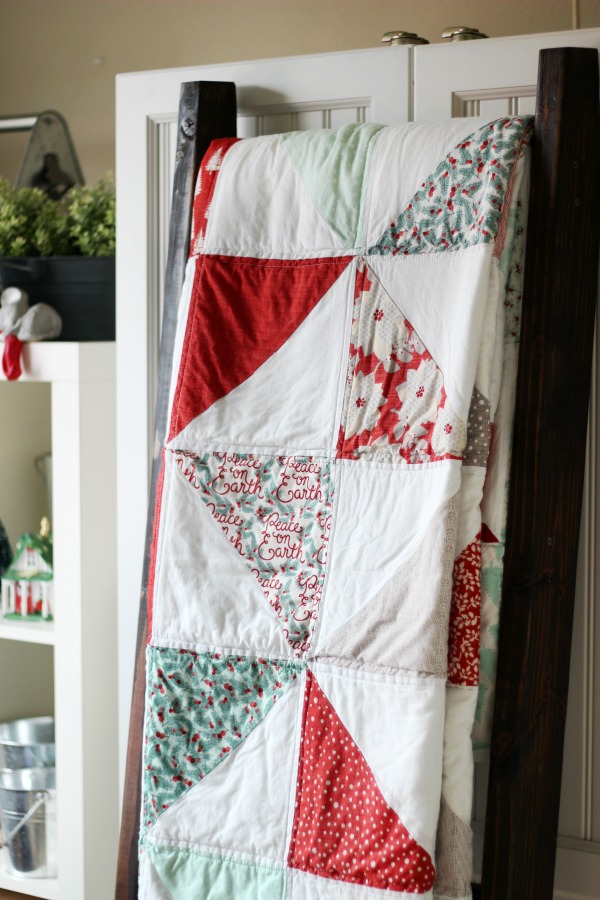 The layer cake included 42 (10″) squares. I used all of the squares except for the pale white patterned ones since I didn't think they would stand out enough. So in total I used 38 of the Winterberry squares and another 38 of the white squares that I cut out on my own to assemble the quilt top. It resulted in a 7 block by 10 block quilt (62″ x 86″) with a few blocks left over. Using all of the blocks would have made a 9 block by 9 block quilt with a few blocks left over.
Then I packaged it up and sent it on its way to Missouri with a note that instructed them to open it the day they set up their Christmas tree!