Aaron had his Buzz
Lightyear
party this afternoon! It was a success and the kids had a great time. I posted pictures on the family blog of the kids, but here are some of the creations for the party.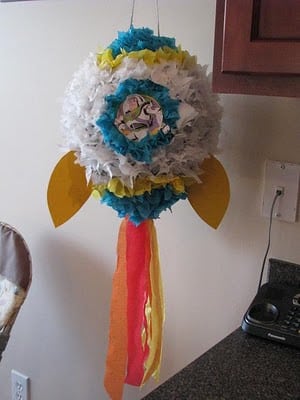 I finally made a pinata that wasn't too thick! I remember one year having to take down the pinata and put it on the ground to let the kids beat the heck out of it to crack it! So here is a helpful hint….2 layers of paper
mache
is plenty for a homemade pinata. You'll thank me later! My friend Nina made one 4 years ago out of a regular balloon. It looked so easy! I've since made 3. Always with a balloon shape to keep it simple. For
Dallin's
4
th
birthday I made a
Spiderman
head, for his 5
th
birthday I made a gold fish, and this year I made a rocket one for Aaron. My sister made a goldfish one for her daughter one year and that was the one I patterned my fish one out of. Yes, they are time consuming, but they aren't hard and I think I saved over $25 by making my own. I saved even more by filling it with the kid's Halloween candy that never would have been eaten.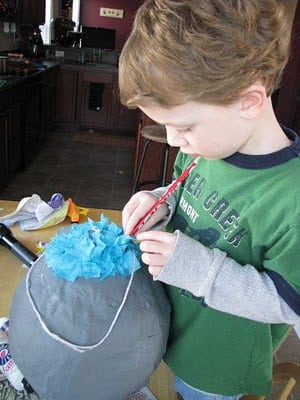 Aaron was a good little helper with adding the tissue paper on the top. He worked diligently for about 20 minutes before saying, "Ok Mom, I'm done. You can finish the rest!" Thanks bud.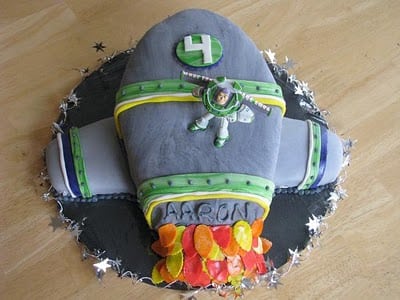 Another labor of love cake for my little guy. I looked at 5 different rocket cake pics and came up with this one. I had issues with my fondant being a little more dry than it usually is and so that wasn't fun, but over-all Aaron was happy so I was happy.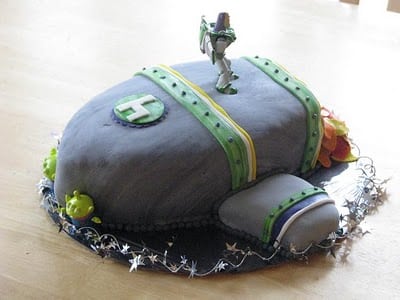 The kids all wanted to eat the Buzz
Lightyear
. I had to let them in on the secret that it was just a toy and that I wasn't that talented when it came to making cakes like Duff on the "Ace of Cakes".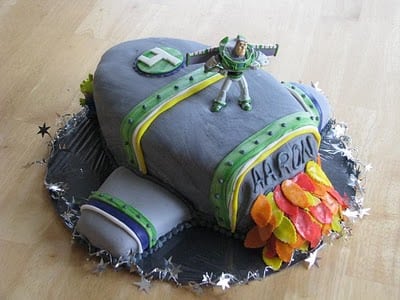 Along with the pinata treats, we handed out a Toy Story
Pez
dispenser to each child as they went home. My sister gave a couple of these to Aaron for his birthday. She found them at the Dollar Tree store, so while I was in California I asked Derrick to pick up some for Aaron's party. The kids loved them!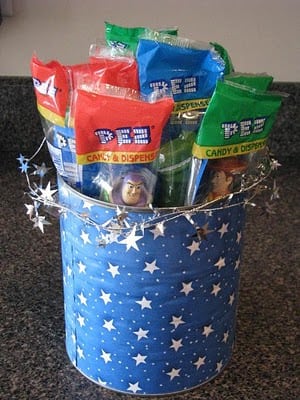 3 kid's birthdays in 3 months….I'm exhausted!