This painting party for kids is such a fun activity! Everyone gets to go home with a one-of-a-kind party favor—a painting for their bedroom! This post contains affiliate links.
You might also like our paint your own pottery party for kids!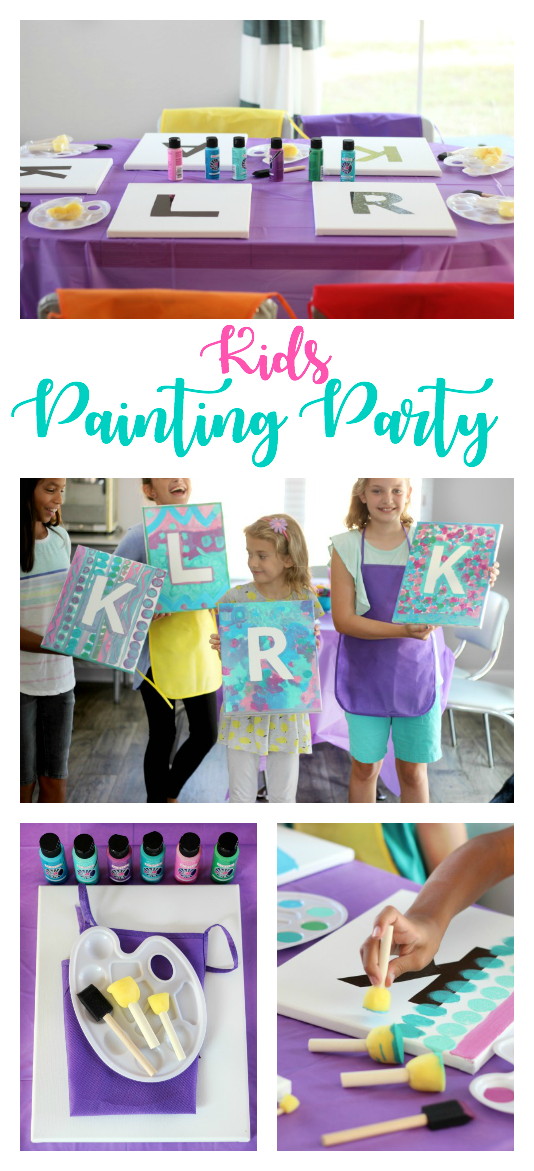 Painting Party For Kids
Kaylee wasn't sure what kind of birthday party that she wanted to have last year. She is super creative so I suggested maybe having another painting party! I frequently see my adult friends post about the painting parties that they go to and they look like so much fun. I've even seen virtual paint parties. So fun this past year! A painting party for kids sounded perfect and was super easy to plan and host. A trip to Hobby Lobby and an order to Amazon. Done.
The canvases doubled as the birthday party activity and the party favor at the same time!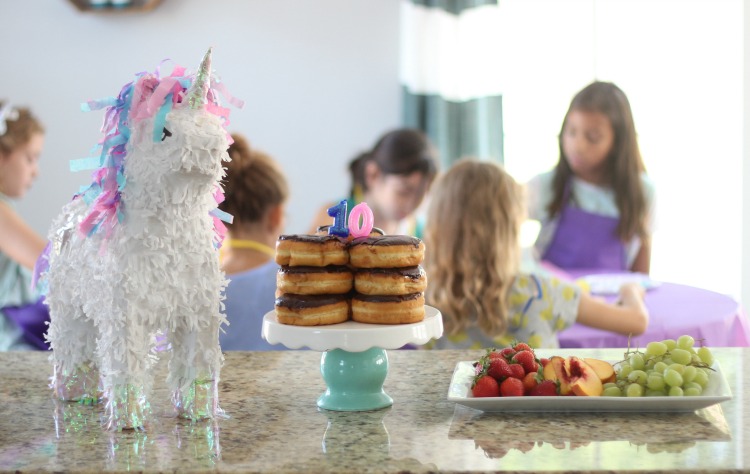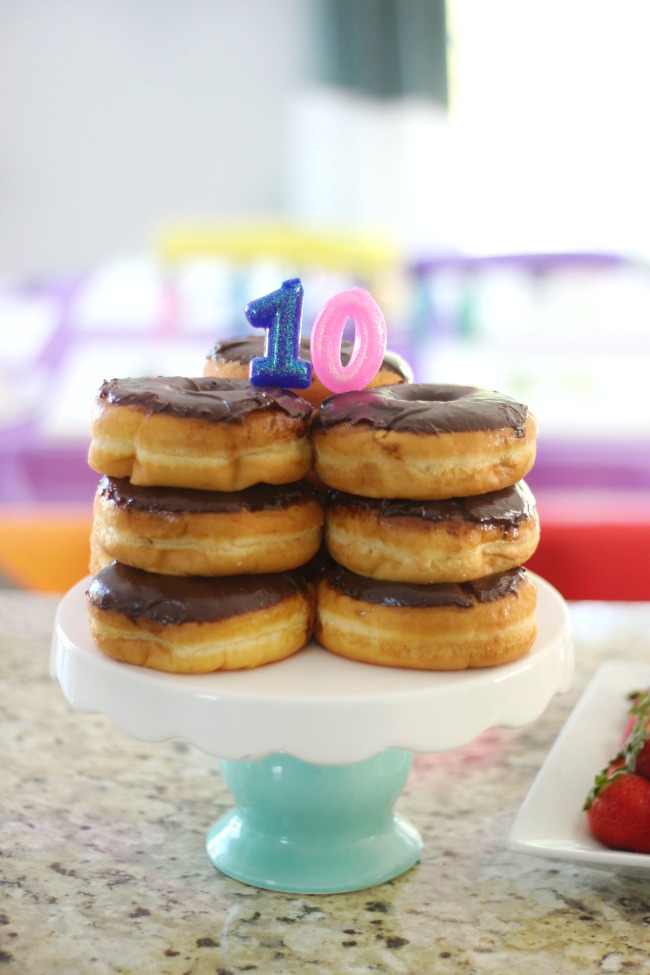 We called it a "Pastries and Painting Party". Kaylee wanted donuts instead of a cake which I was totally down with. She also saw this darling unicorn at Hobby Lobby and it matched the paints that she had picked out for the canvases. So that was a no-brainer. I love that she was completely involved with the planning.
Painting Party for Kids Supplies and Instructions
Supplies:
Canvas (11×14″ pack of 7 $9.99 at Hobby Lobby)
Table Cloth ($1 at Walmart)
Acryllic paint: $.77/each at Hobby Lobby
Paper Towels or Wet Wipes (for spills)
Set up was super easy: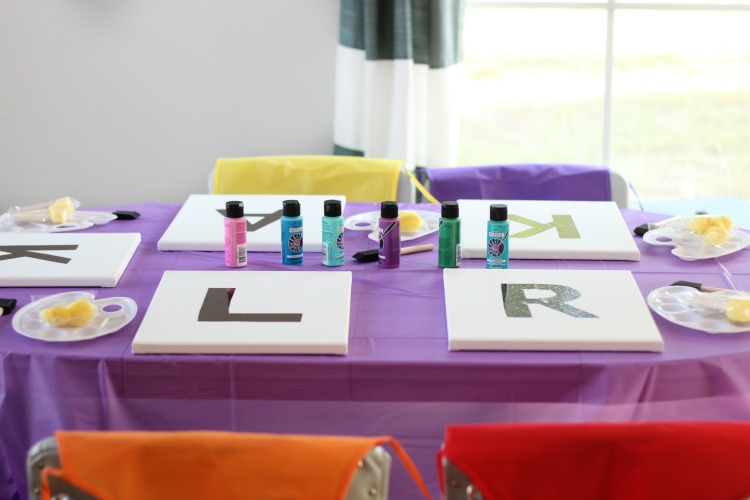 I set out a plastic tablecloth and little paint kits (palettes and brushes) for each of our guests. I also set out aprons to protect their clothing.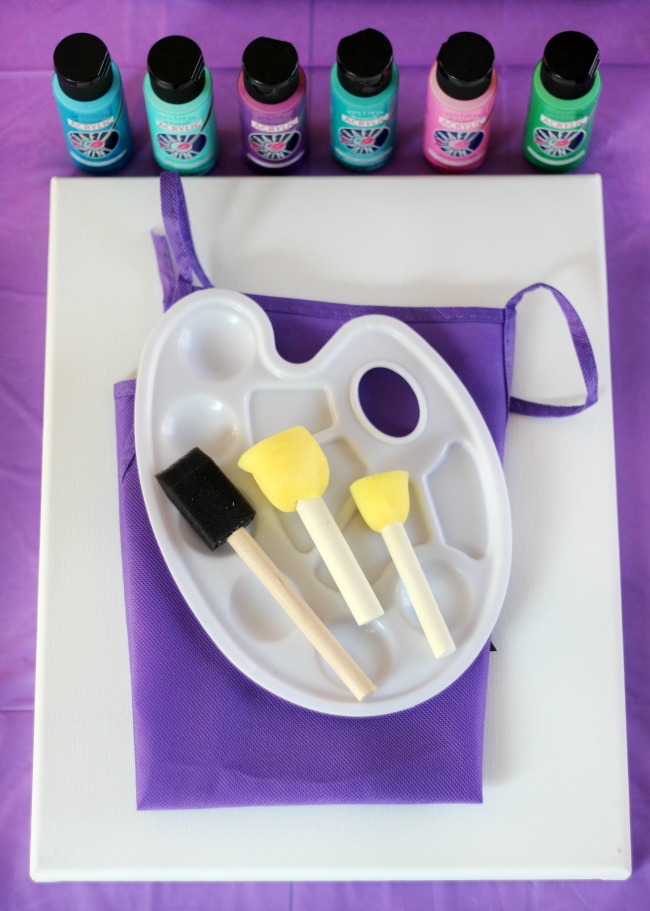 I cut out the first letter of the first name of each participant in vinyl and had the canvases all ready to go. You can also use shapes like a heart, star, or unicorn silhouette!
Note: If you don't have vinyl (and a vinyl cutting machine) you can use contact paper and cut the letters out by hand.
The goal was to fill up the entire canvas with color, then remove the vinyl letter after the paint has dried, leaving the monogram letter behind.
More Easy Birthday Party Ideas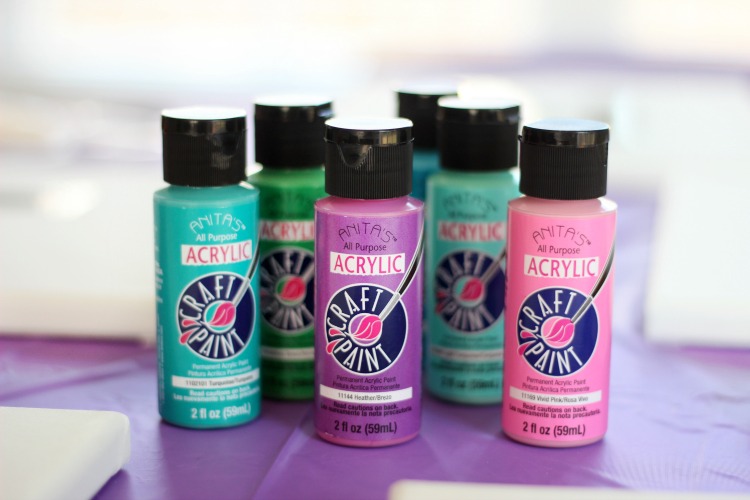 Aren't these colors perfect? They were so pretty and totally coordinated with the unicorn piñata.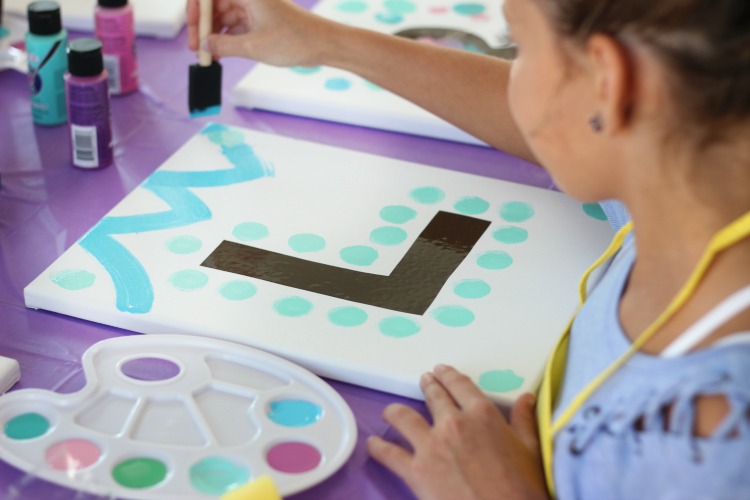 At one point the house was absolutely silent. My husband and I couldn't believe it. 10-year-old girls NOT TALKING. They said they were too busy concentrating on their paintings. They could let their creativity shine and there were no rules. The perfect skill level for beginners.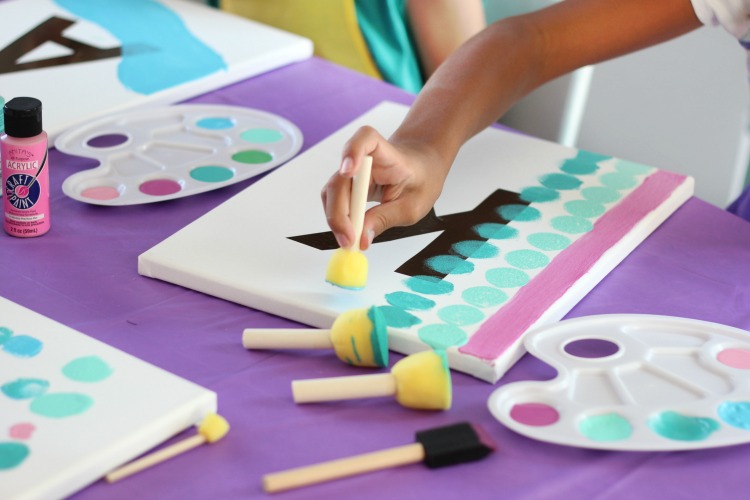 Each painting turned out so unique! Some of the girls used only the round sponge brushes. Others used the foam brushes. By the time the party was over the paintings were dry, making it easy to transport the fine art masterpieces to their homes— mess free.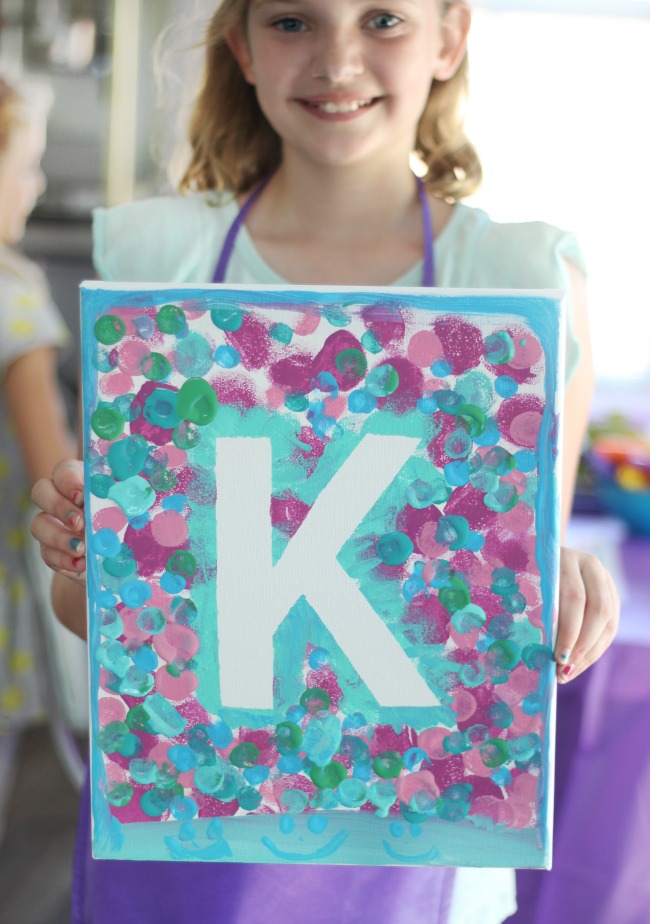 This was an amazing paint party and was so easy to plan! Their paintings are now proudly displayed in their bedrooms. I'm glad they all had such an awesome time! When it came time for me to clean up I simply rolled everything up in the disposable table cloth and tossed it in the trash. Mom win.
She is already talking about doing another painting or craft party this year. I can't wait to see what she decides on!
Here's a collection of other ideas to use at a painting party for kids!
Welcome! I'm Brandy, mother to 5 darling kiddos and a cute black lab named Toby. My husband is in the Coast Guard so we've lived all over the place, turning each house into a home. I love baking, sewing, making cute things with my kids, and sharing what I've learned with all of you!