"This shop is part of a social shopper marketing insight campaign with Pollinate Media Group® and Rubbermaid, but all my opinions are my own. #pmedia #FastTrack http://my-disclosur.es/RgFrEH"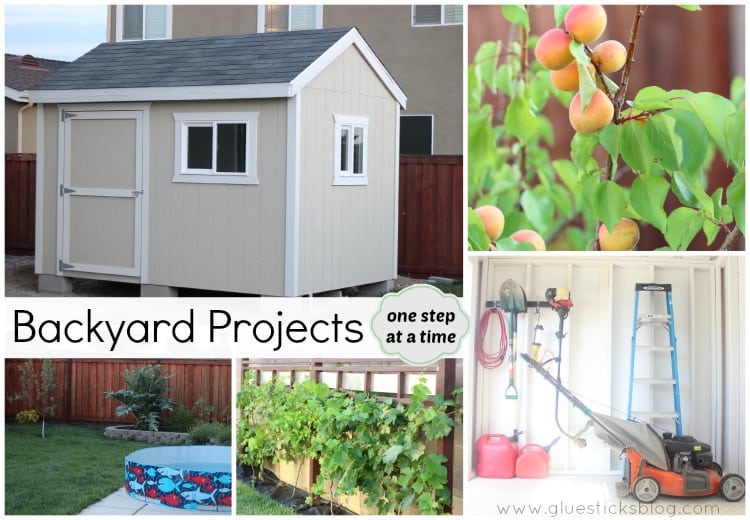 When we moved into our home our backyard was a blank slate. A blank slate with weeds, nails, and other remnants of being a newly built home. The builders put a 10×15′ concrete pad by the back door, but that was it. Today I am going to show you how we turned that empty yard into a fun place to spend time as a family. It isn't a large space, but it is perfect for us.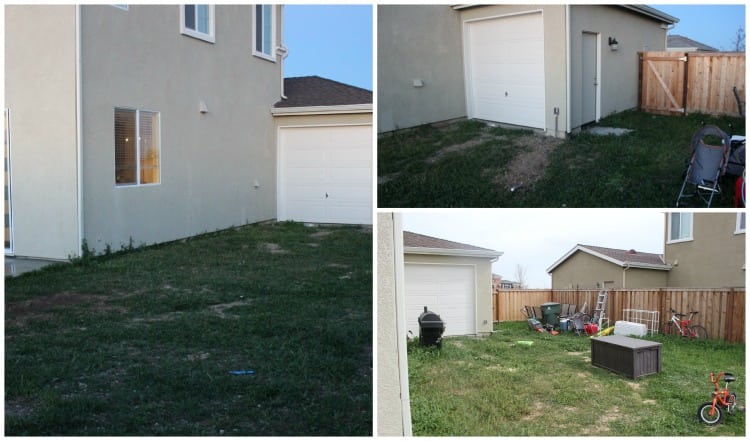 Here are some before shots. Our backyard is shaped like a "u" and wraps around 3 sides on the house. There is a large area just outside the sliding glass door and a nice sized area  near the 3rd car garage. It was hard to get a full shot of the yard on my camera so I took several shots of different angles last year.  We moved into the home the summer of 2012 and started making over the yard in the spring of 2013. Not only does a project like this take time, but it takes money too! We couldn't afford to hire out all of the work and so we had work on the yard as finances allowed and do a lot of it ourselves.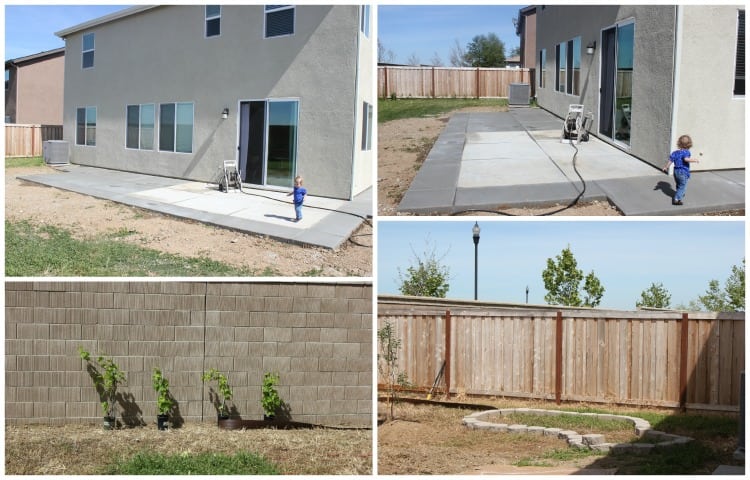 We more than doubled the size of the concrete pad and had it wrap around the yard to meet up with the pull-through garage door. That made it easy to bring in top soil and other supplies to the back yard. My husband could open both garage doors, drive through and park in the back yard. The concrete was the only project we hired out for. They were so fast and did a great job getting it done in a day.
He also added an underground sprinkler system. I'm pretty sure he would love to go the rest of his life without EVER doing that again. It was literally hours and hours of gluing pipes, trenching up the dirt and laying pipes.
He also added a small garden for me at the end of the yard.
Once the sprinkler system was in, the fun (for me!) began. Planting. We planted grapes, shrubs, and apple tree, an apricot tree, and lots of vegetables in our garden bed.
Then came the sod. Sod is such a magical thing. We went from dirt to a lush lawn in a matter of hours. The landscaping company dropped off pallets of sod on our driveway. My job was to load up the sod on our wagon and bring it to the backyard while my husband cut and laid it all out. It was a long afternoon, but so rewarding.
We now had  lawn for the kids to play on and they took full advantage of that.
I put myself in charge of maintaining our yard and I love to do it! Mowing, weeding, planting—doesn't bother me a bit. I enjoy it and would much rather do this than all of the work my husband did to create our yard!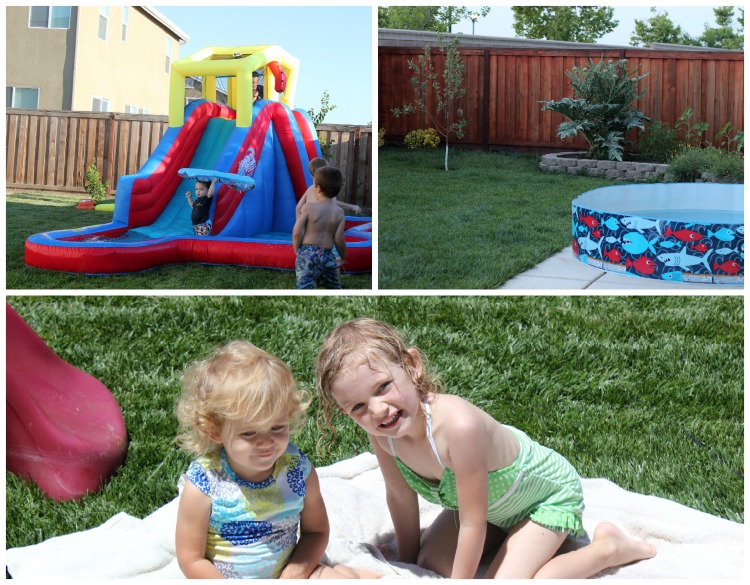 We had many backyard play dates with friends and family last summer. BBQs, backyard camp-outs and lots of time on the blow up water slide. I can't wait to bring out the slide this summer.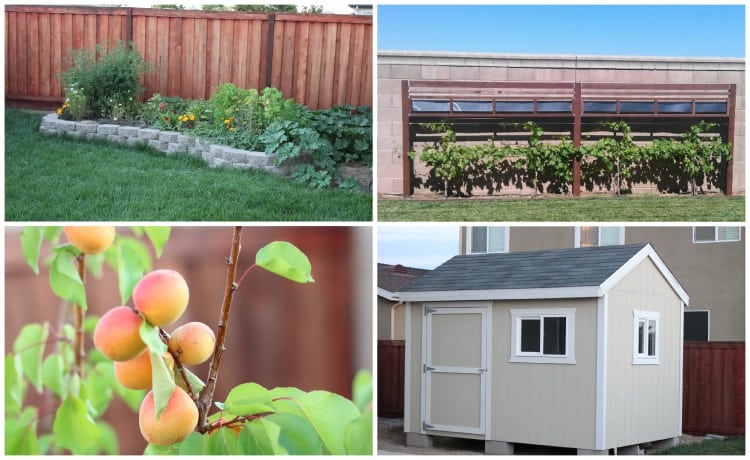 This year we've been enjoying the bounty that our garden and fruit trees have provided. The yard is thriving and we will soon have grapes as well.
As far as landscaping goes, we still need to add mulch to the flower beds that line the yard. We also need to add gravel to the area  by our shed. Our SHED! That was this year's project.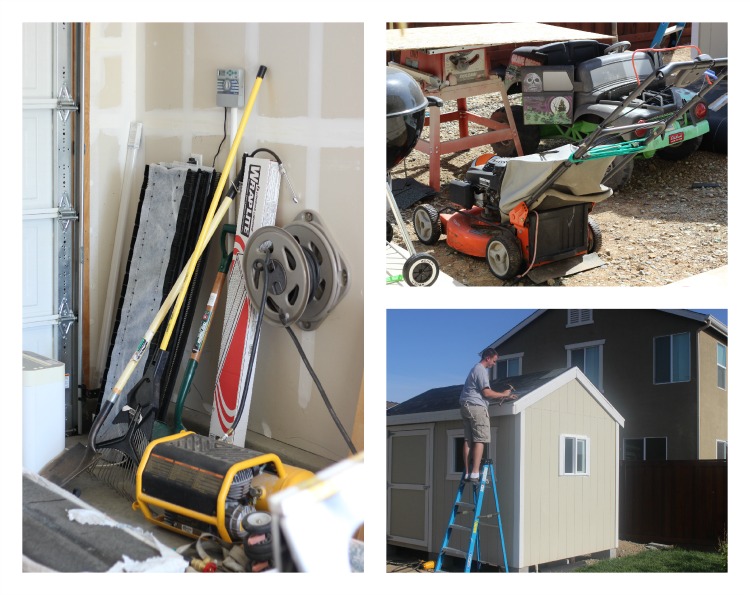 My husband has a contracting background and so he designed and built the shed himself. I wouldn't even know where to begin on doing something like this so I just brought things up the ladder to him and helped hold up walls while he secured them. This shed is such a space saver. With four kids, each having their own bikes and scooters, we needed a place to store them. We also needed a place for the weed eater, lawn mower and gardening tools. Up until this point, they have been scattered along the side of the house and taking up space in the garage. We have a 3 car garage and only park 1 car in there…sometimes. So we needed to organize things.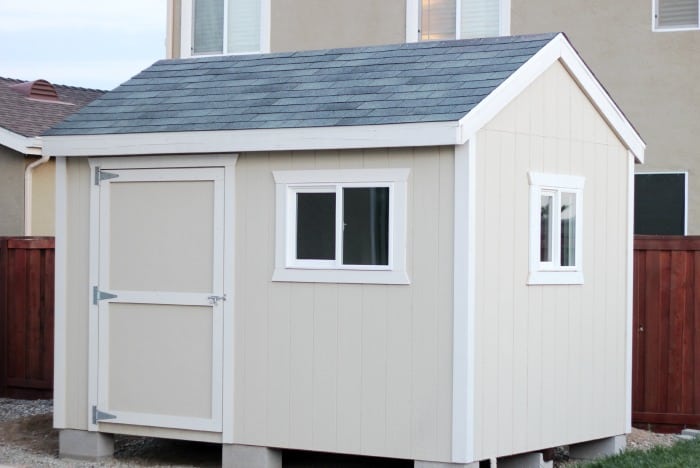 Dallin is going to build me a flower box to go under the window for a Cub Scout project, and there are still a few small things to add to the roof, but the inside of the shed is finished and I couldn't be happier with this space!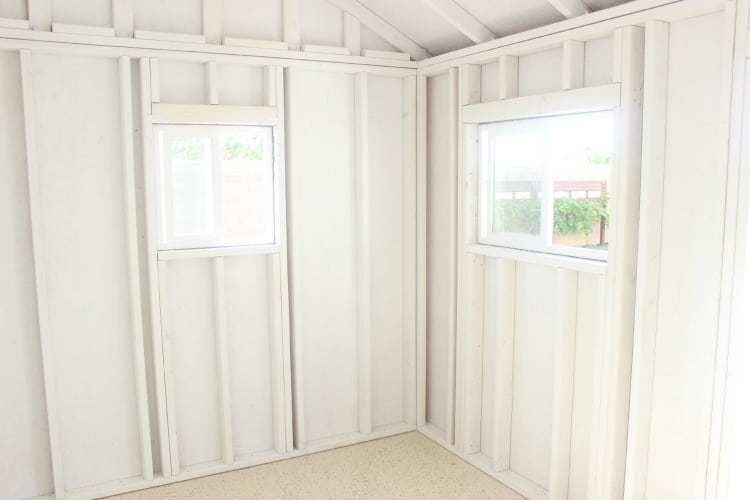 Light and bright, it almost seems like  a waste to store tools and bikes in here. Wouldn't it make a fun kids club house? My kids sure think so.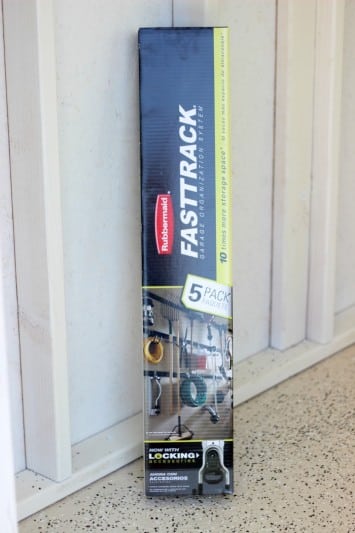 We decided that it would be a good idea to add some hooks and accessories by the door. We used the Rubbermaid Fast Trak 5 pc. kit from Target and purchased a bonus power tool hook for the weed eater.
It was as easy as screwing in the bar, adding the face plate and attaching the hooks. With so many combinations and accessories to choose from the Fast Track system gives you 10x more space!
(The shed also makes for nice shade for Toby)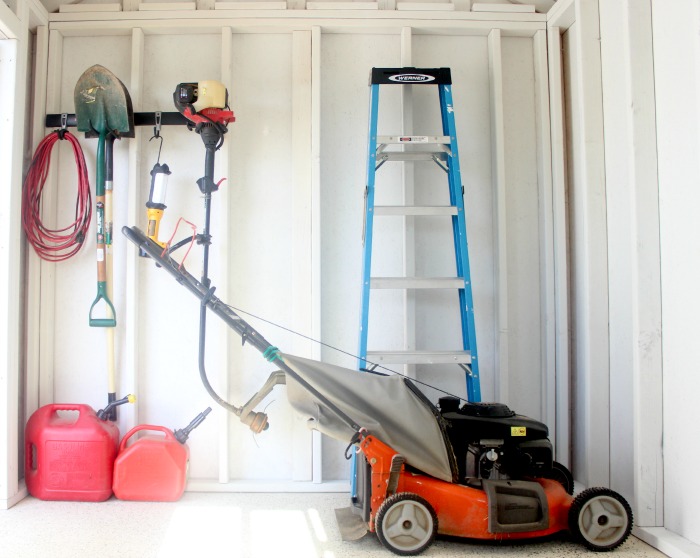 I think we may go back and get another kit for even more storage space, but for now this is a great start and is so much better than propping up those shovels on the side of the house. Safer too!
The Rubbermaid Fast Track 5 pc. kit is on sale for $28.89 (reg. price $33.99) at Target until May 24th, in stores only. Get a jump on your garage or backyard organization during this sale!