Thick and spongy bake sale rice Krispies treats, made even better by stirring in extra mini marshmallows! Cut into large squares to serve or package for your next bake sale. These will go fast! I'm also sharing a list of other great bake sale treats!
This post was originally shared in 2014, but has been updated to include a step by step video! These fruity pebble bars are a fun twist on this traditional treat!

Watch Our Step By Step Video!
I recently helped out with a bake sale with the teenage girls at church to raise money for summer camp. We received so many generous donations from our congregation, and our fundraiser was a huge success! One of the girls' grandmother donated two large trays of rice krispies treats. We've all had them, right? So good, and so simple, and they really don't need any embellishments. HOWEVER, the ones she brought were thick, spongy, and so incredibly good. They were one of the first items to sell out and I made sure to buy one for my girls to share before they were all gone! These spongy rice krispies treats have changed my life—maybe that's an exaggeration. They definitely changed the way I make the iconic treats and are SO MUCH BETTER.
Scroll down for other ideas of bake sale treats that sell out fast!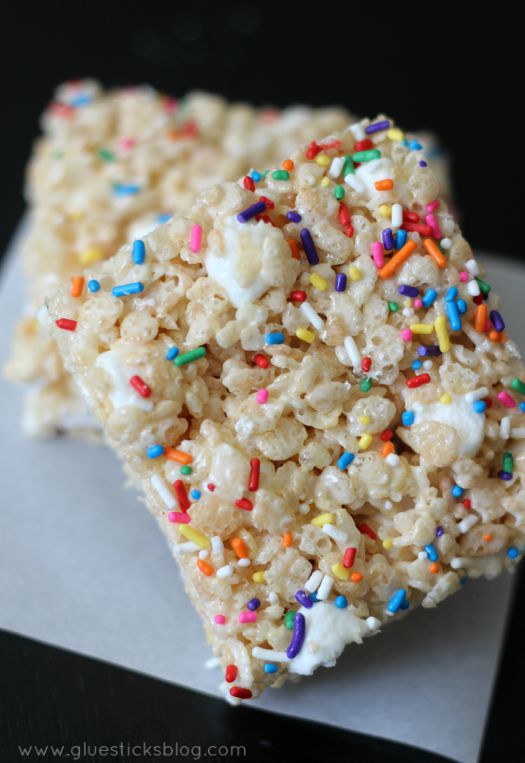 Upon inspection I noticed that she stirred mini marshmallows into her mixture before patting them down in the pan. They add such a chewy and spongy texture! I've started making my own rice krispies treats like this and will never go back. They are always such a hit!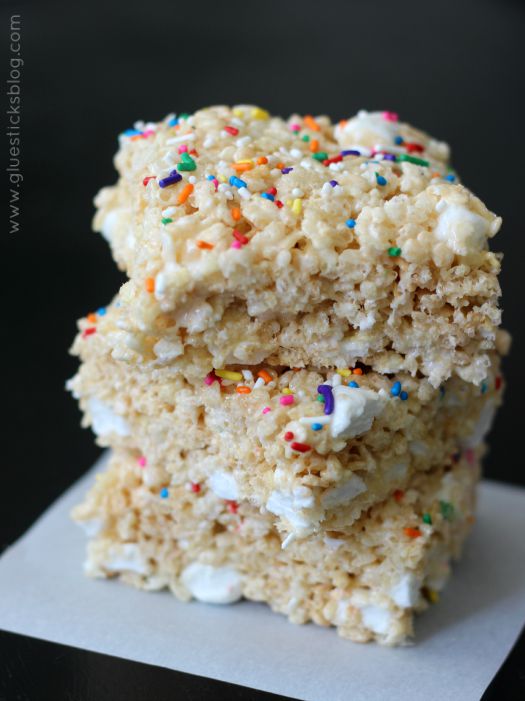 Make a batch of these for your next potluck, bake sale, or after dinner treat! I like packaging them up and putting them in my kids' lunches. They'll go fast!
Scroll down for recipe!
How much should I sell the Rice Krispies treats for at a bake sale?
I'd say these could easily go for $1.00. They are large, individually packaged and are a great value.
Can I make these Rice Krispies treats ahead of time?
You can make these a day before and wrap them to keep them fresh.
What sells best at bake sales?
Presentation is everything. We recently went to a dessert auction for our local scout troop. I brought jumbo chocolate chip cookies, individually wrapped, and placed in an inexpensive $2 basket. I made a quick label and wouldn't you know? That basket of cookies was auctioned off for $50 when plates of cookies next to it went for $10-$15. Were my cookies better? Probably not, but they were packaged to sell vs. set on a paper plate with plastic wrap.
Jumbo treats:
Large cupcakes, big cookies, jumbo Rice Krispies treats.
Desserts dipped in chocolate:
Chocolate strawberries, chocolate dipped marshmallows, chocolate dipped cookies. These looks fancy and will go quickly as well.
Desserts on a stick:
These are easy to carry and kids LOVE them! Marshmallows on a stick (dipped in chocolate), cake pops, etc.
What other bake sale treat ideas do you have?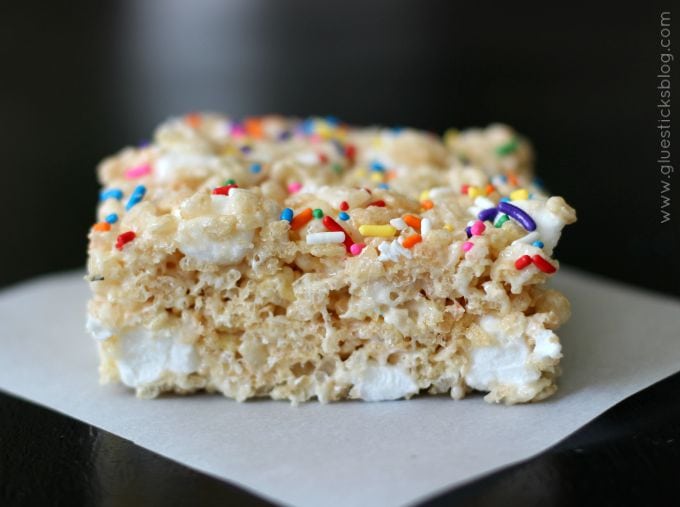 Bake Sale Rice Krispies Treats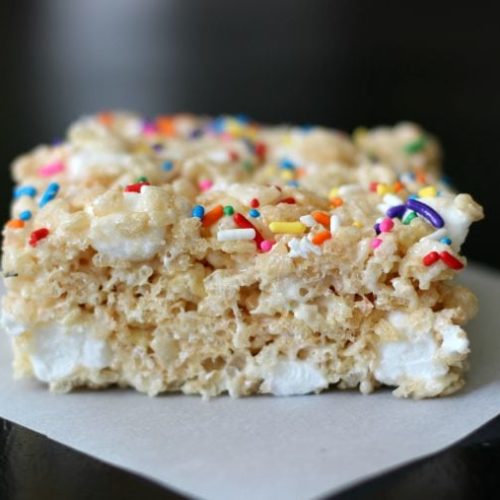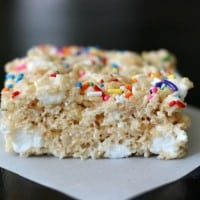 Bake Sale Rice Krispies Treats
Thick and spongy bake sale rice Krispies treats, made even better by stirring in extra mini marshmallows! Cut into large squares to serve or package for your next bake sale. These will go fast!
Print
Pin
Rate
Ingredients
6

Tbsp.

butter

3

10 oz

packages

mini marshmallows

12

cup

crispy rice cereal

sprinkles
Instructions
In a LARGE microwaveable bowl add butter and 2 packages of marshmallows*. Reserve the 3rd package for later.

Microwave in 45 second intervals, stirring in between, until melted and gooey. Stir.

Place cereal in a large bowl or stock pot. Pour melted marshmallow/butter over and stir until completely combined. Add last package of mini marshmallows. Stir.

Pour mixture into a large baking sheet that has been lined with parchment paper. I use a 13×18″ jelly roll pan. Spray you hands with non stick cooking spray or grease with a small amount of butter and pack down really well.

Sprinkle with sprinkles and use you hands to pat down to make sure they stick.

Refrigerate until firm.

Cut into large squares.
Notes
*You can also melt marshmallows and butter over the stove and pour onto cereal.
Nutrition