Jumbo chocolate chip cookies that are soft, chewy, baked evenly, and delicious! These make GREAT gifts! 1 cookie = 4 regular sized cookies.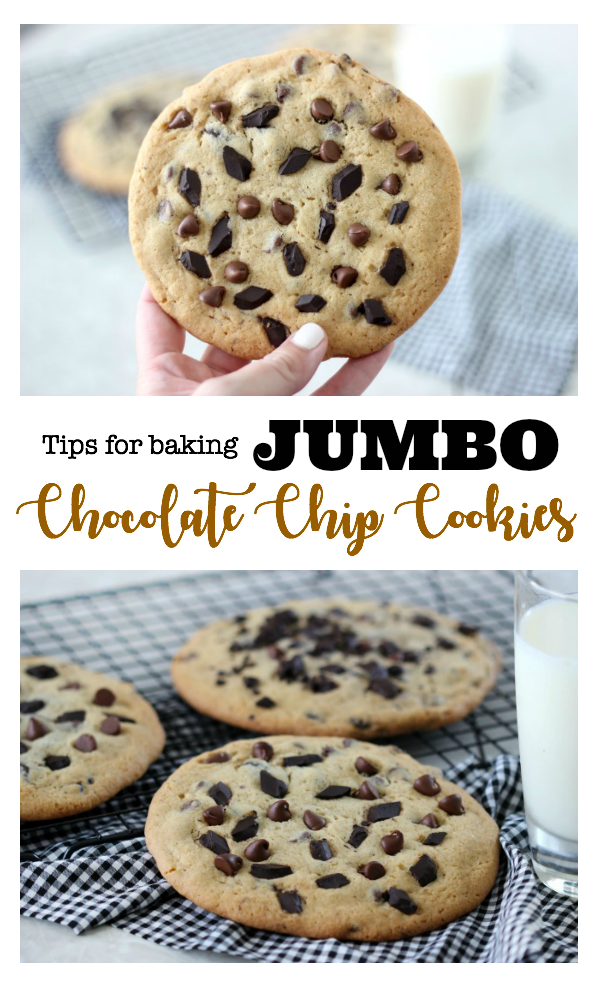 Jumbo chocolate chip cookies are just plain fun. What child wouldn't get excited to have one for their very own? Package them up and deliver as gifts, use as party favors, bring to your favorite teacher at school, bake a batch for a bake sale, or make a batch to spoil your kids at home. We bake cookies every Sunday night. It's a fun tradition that the kids and I have.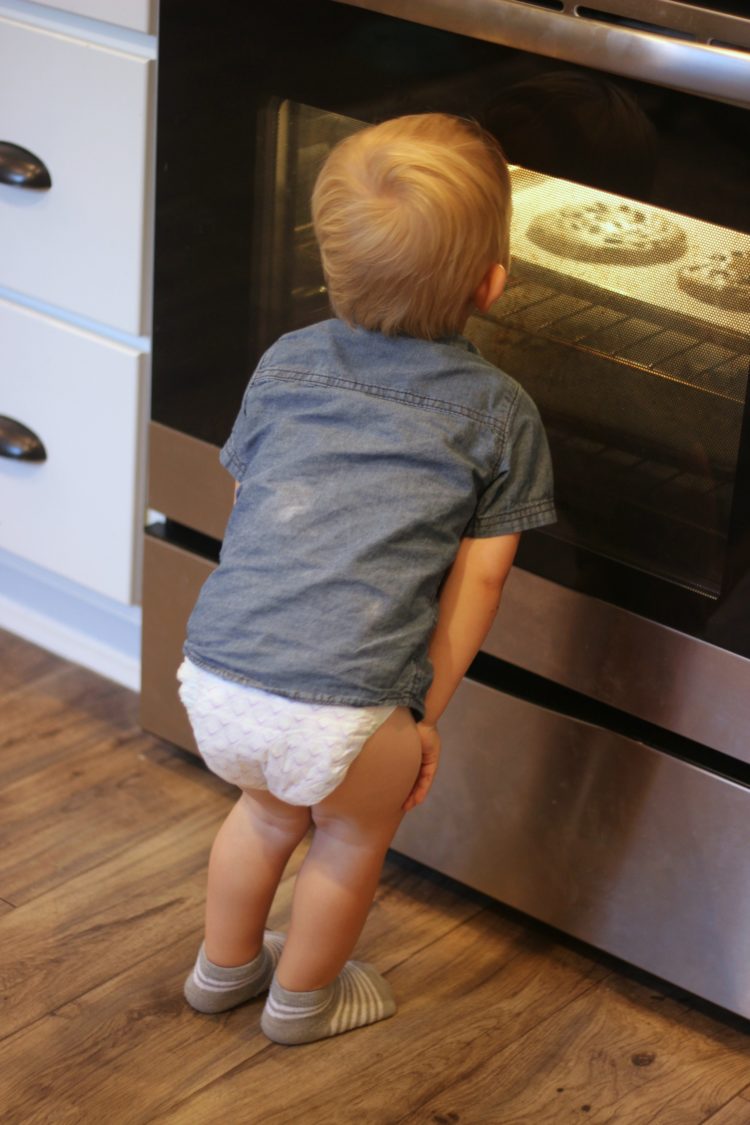 Mac (my 1 1/2-year-old) doesn't know how to say many words, but he understands everything that we say. I asked him if he wanted to make cookies and he dropped everything, ran into the kitchen, dragged a bar stool over to the counter and jumped up. Sometimes he will even get out the baking sheets for me. Maybe we make cookies a little too often, ha! It was fun to surprise them with these giant cookies that were as big as their faces.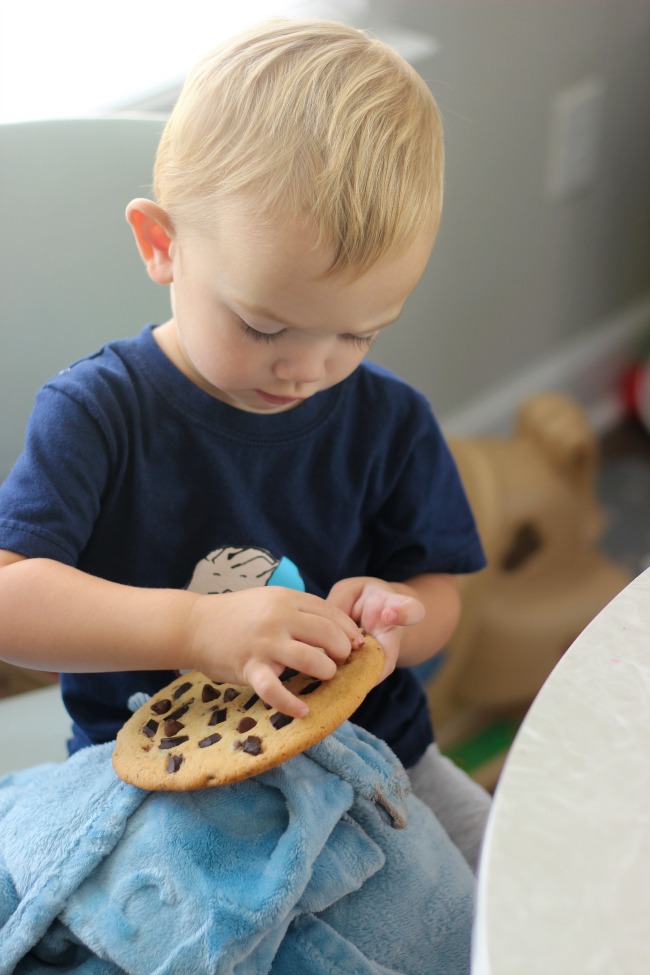 (Disclaimer. He didn't even eat 1/10 of that cookie, haha!)
One cookie = about 4 regular sized cookies. This recipe for jumbo chocolate chip cookies isn't fancy. It's pretty much the Nestle Toll House recipe with the addition of a bit of cornstarch which makes the cookies a little fluffier. Use whatever chocolate chips you'd like! We usually use a variety of different ones. Just reserve some on the side instead of putting them all into your dough. I'll tell you why in a bit.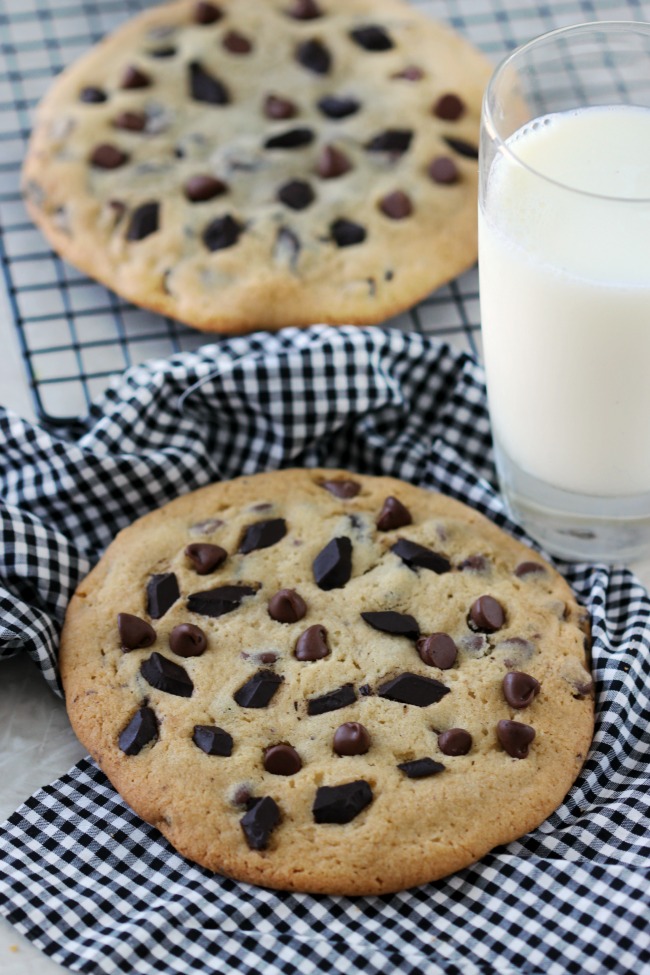 Tips for making jumbo chocolate chip cookies:
Use a measuring cup as a scoop. I like using 1/4 c., 1/3. or 1/2 c. scoops. For these ones (6″ cookies) I used a 1/2 c. measuring cup.
Lower the oven temperature 25-50 degrees.
Bake a bit longer, watching carefully on the first batch.
Adding chocolate chips:
I like reserving some of the chocolate chips to add on top after the cookies come out of the oven. I just press a few into the cookie and as the cookie cools it will soften the chocolate chips, but not melt them. See the photo above? That looks like a bakery cookie right there! I used a combination of chocolate chunks (from Trader Joe's) and Nestle milk chocolate chips for these ones.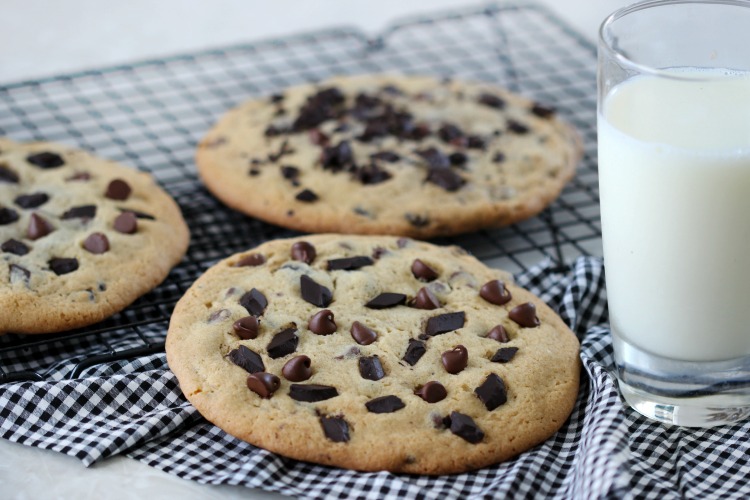 Jumbo Chocolate Chip Cookies Recipe
adapted from everyone's favorite Nestle Tollhouse Cookie Recipe
Makes 6 (6-8″) jumbo chocolate chip cookies
Ingredients:
2 1/4 cups all-purpose flour
1 T. cornstarch
1 teaspoon baking soda
1 teaspoon salt
1 cup (2 sticks) unsalted butter, softened
3/4 cup granulated sugar
3/4 cup packed brown sugar
1 teaspoon vanilla extract
2 large eggs
2 cups chocolate chips (divided)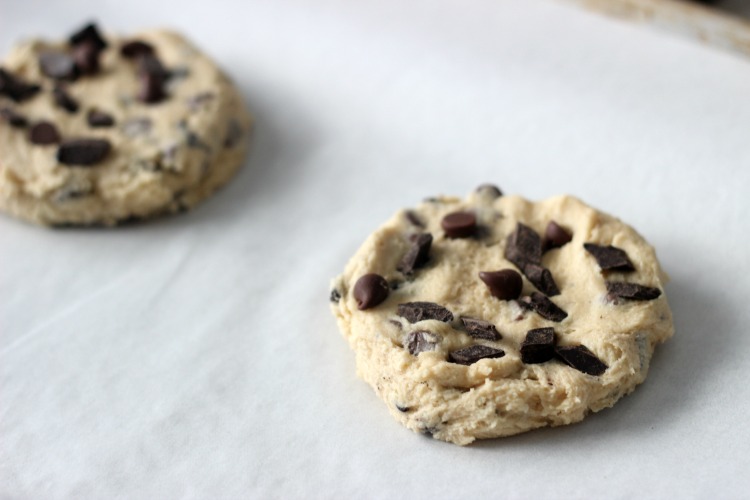 Instructions:
Preheat oven to 350 degrees and line a baking sheet with parchment paper.
Cream butter and sugars. Add eggs, one at a time, and mix thoroughly. Add vanilla.
In a separate bowl, mix dry ingredients.
Combine wet and dry ingredients. Mix thoroughly.
Add 1 1/4 c. chocolate chips.
Scoop 2 (1/2 c. sized) balls of dough onto the baking sheet.
Press and shape into 4″ circles.
Top with a few extra chocolate chips.
Bake for 16-18 minutes, until the edges begin to brown.
Add additional chocolate chips to each cookie, pressing down slightly.
Cool 5 minutes on baking sheet before transferring to a cooling rack.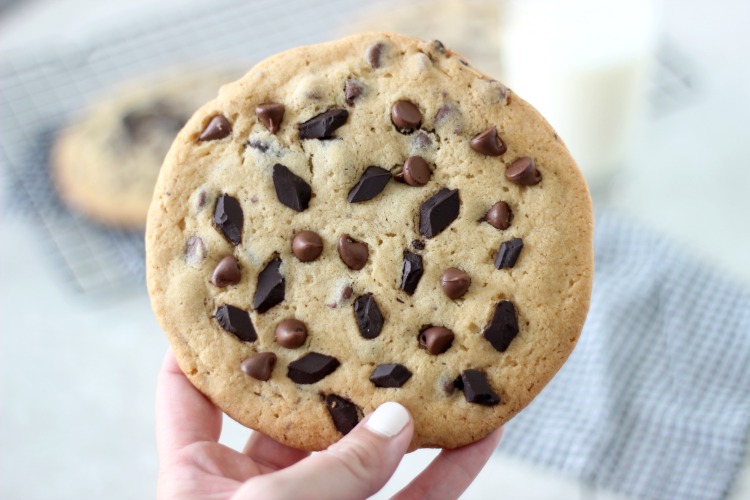 I mean, just look at that cookie! My 15-year old ate 2/3 of his cookie and decided to save the rest for later. He can eat an entire pizza on his own, so this was a rich cookie!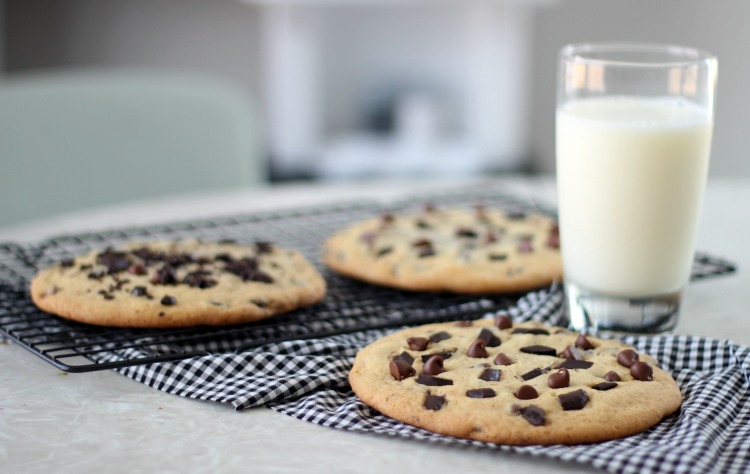 You might also like…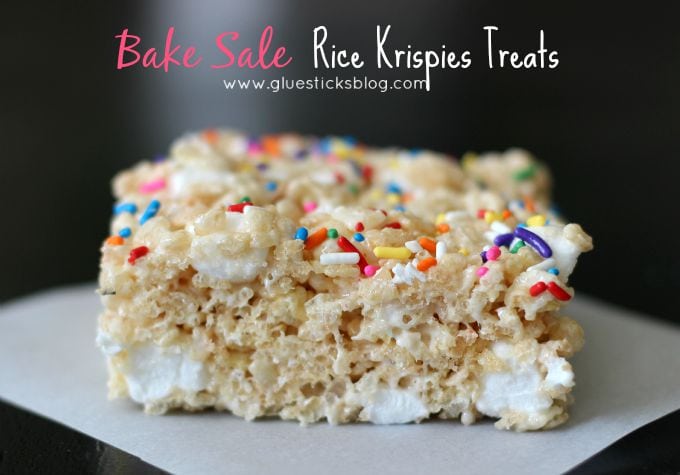 Bake Sale Rice Krispies Treats