The perfect marriage between a cheesesteak and a sloppy joe. These cheesesteak sloppy joe sliders come together in under 30 minutes and are loaded with ground beef, onions, peppers, and cheese!
If you like these you will LOVE our stroganoff French bread loaf. One of our favorite dinners!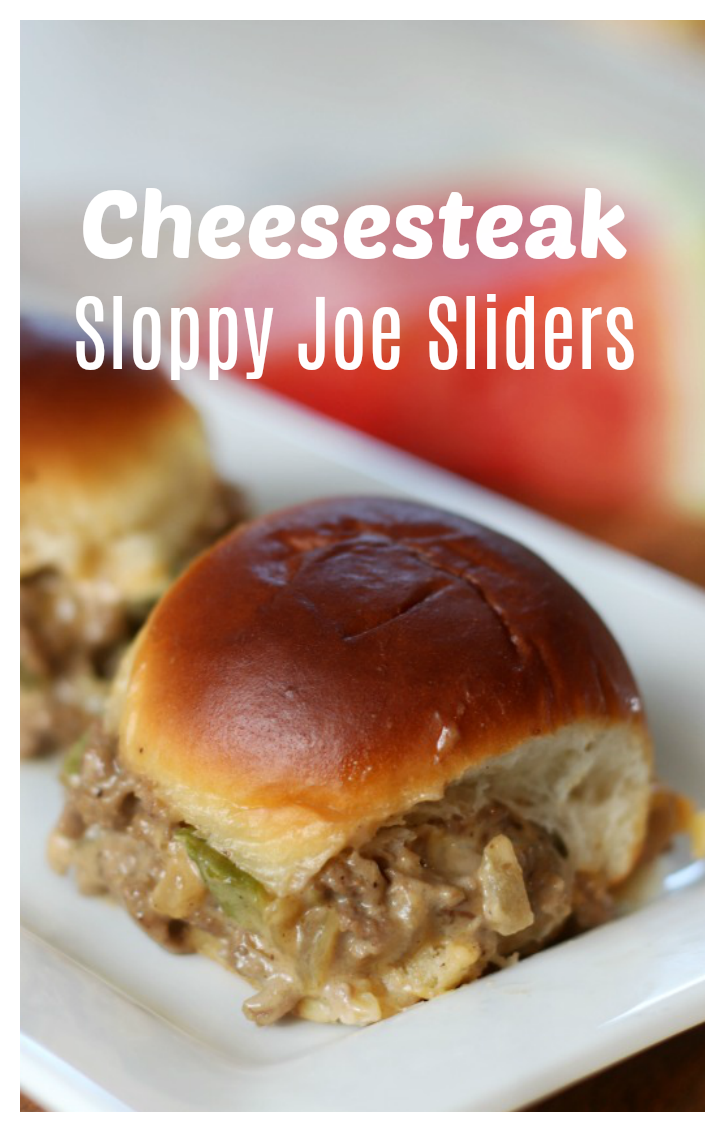 Watch Our Step by Step Video!
We've been supporting local restaurants lately by grabbing take out dinner once a week. We rarely ordered take out before so it's been a real treat for the kids. One of the fun local joints that we stopped at served Philly cheesesteak sandwiches, and Philly chicken sandwiches. Both served with chopped meat, peppers, onions and melted American cheese. Now, if you aren't an American cheese fan you may want to check out a different dinner idea. Like our easy stroganoff. If you like American cheese, and aren't a Philly cheesesteak purist, keep reading.
Easy Cheesesteak Sloppy Joe Sliders
I ordered the cheesesteak sandwich and Dallin grabbed the chicken sandwich. Both were delicious and we decided that cheesesteak needed to be added to our dinner rotation. I picked up peppers, onions, and ground beef and made a batch of sloppy joe style sliders based off of the flavors that we enjoyed that afternoon. Sliders are so fun to eat. I especially like that you can slice all 12 rolls at once, layer all of the ingredients, brush with butter and then bake. A quick and easy dinner in under 30 minutes. Another favorite sliders recipe of ours are these turkey and avocado sliders.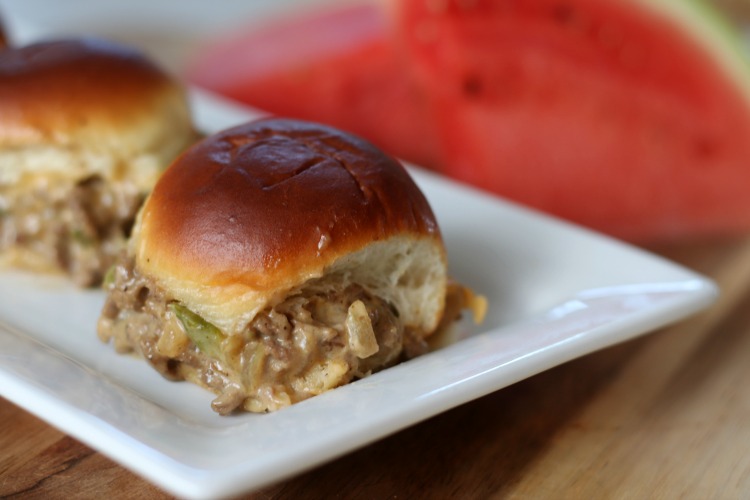 What Kind of Rolls To Use for Sloppy Joe Sliders
We like King's Hawaiian Rolls, but any slider roll would work. You can even make your own using our pretzel roll recipe. You can also use hamburger buns, it will just make less sandwiches. The ones we ordered at the restaurant were traditional chopped steak sandwiches served on hoagies.
What Kind of Cheese To Use In Cheesesteak Sandwiches
Traditionally provolone, white American, and American are used.  Our local restaurant used American in the steak sandwiches, and white American in the chicken sandwiches.
How To Make Cheesesteak Sloppy Joe Sliders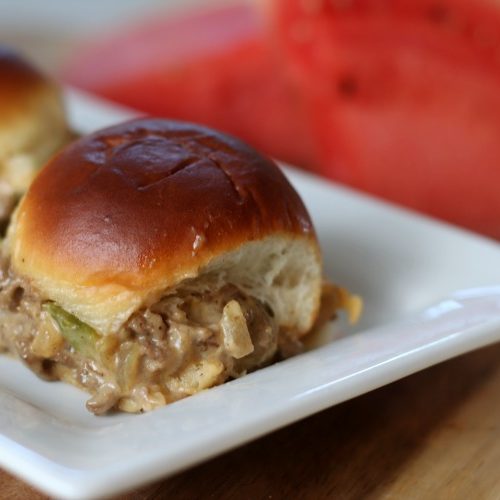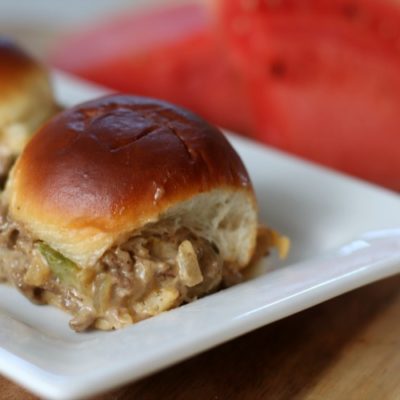 Cheesesteak Sloppy Joe Sliders
These easy cheesesteak sloppy joe sliders come together in under 30 minutes and are loaded with ground beef, onions, peppers, and cheese!
Print
Pin
Rate
Ingredients
1

lb.

ground beef

4

Tbsp.

butter

divided

1

onion

small, diced

1

bell pepper

small, diced

1/2

cup

beef broth

divided

1

Tbsp.

Worcestershire sauce

8

slices

American Cheese

salt and pepper

to taste

12

slider rolls
Instructions
Brown ground beef in skillet until cooked. Transfer beef to a seperate platter. You can leave the grease in the pan if there is a tablespoon or less.

Melt 2 tablespoons of butter in skillet. Add onions and peppers. Cook, stirring occasionally for 3-4 minutes. Onions should look golden, and peppers should be soft.

Pour 1/4 c. beef broth into skillet and stir. This will scrape up any bits of meat and onion from the bottom of the pan.

Add Worcestershire sauce.

Add beef back into pan. Stir.

Add remaining 1/4 c. of beef broth.

Stir in 4 slices of American cheese until melted and evenly distributed. Bring mixture to a simmer and heat until it begins to thicken.

Add cracked pepper and salt, to taste. American cheese is salty, by nature, so add salt sparingly. Remove from heat.

Slice 12 slider rolls through the center (as shown in photo). Grease the bottom of a baking sheet with butter or non stick cooking spray.

Place sliders on baking sheet. Remove slider tops and set to the side.

Spoon filling over roll bottoms. Top with remaining 4 slices of American cheese.

Replace slider tops. Brush with remaining 2 tablespoons of butter (melted).

Bake at 350 degrees for 15 minutes. Let stand 10 minutes before serving.
Nutrition