This post was most recently updated on August 20th, 2019
A fun collection of backyard group games for kids! Sardines, kick the can, and more! I was selected for this opportunity as a member of Clever Girls and the content and opinions expressed here are all my own.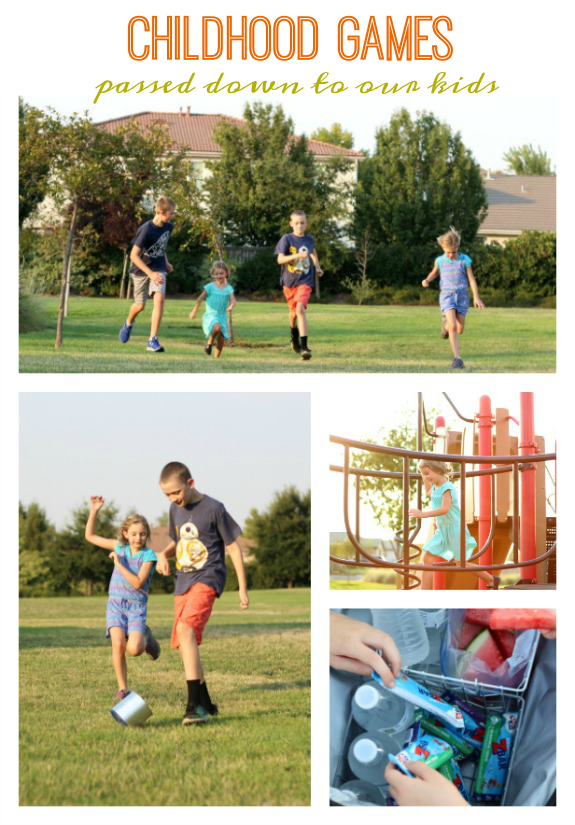 As a parent, there is nothing I like to see more than my kids playing together, laughing, running, learning, and making memories together. These kind of memories generally don't happen around the television or other electronic devices. Our summer has been filled with hours of playing outside, unplugged. Just like it was when my husband and I were kids. We'd play outside until dinnertime. Barefoot, skinned toes, riding bikes with friends, and learning how to interact with other children. We recently returned from a trip to Alaska to visit family and the kids literally played and worked outside at Grandma's house from morning till night. I would say they played from sun up to sundown, but the sun never went down…we had to tell them it was time for bed even though it was still daylight! It was glorious and the perfect small town atmosphere for kids to be kids.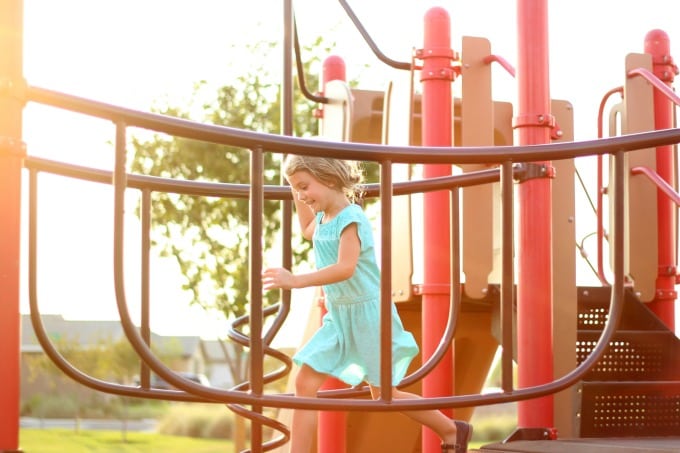 With 4 kids, and one on the way, there is always someone to play with around here. I love when the kids go outside and play a group game together. Our good friends have 7 children so when we get together there is quite the crowd of kids running around and sharing their favorite games with each other! There are several games that they usually play together;  two from my childhood and one that our friends taught us! We took advantage of one of the cooler evenings we had recently and took the kids to the park for some family play.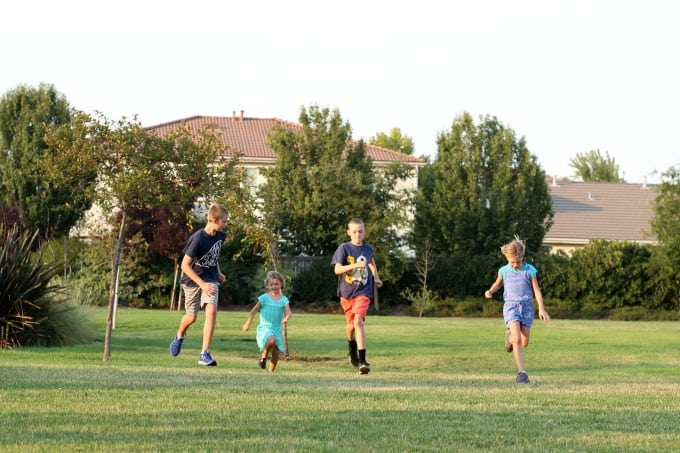 Group Games for Kids: Kick the Can (Our Version)
I remember playing this while camping with my family as a child. So much fun and the only equipment needed is a can of some sort! It is a combination of hide and seek and tag! There are several variations that include kids going to jail, calling out the name of kids as they find them, etc. Here is our version: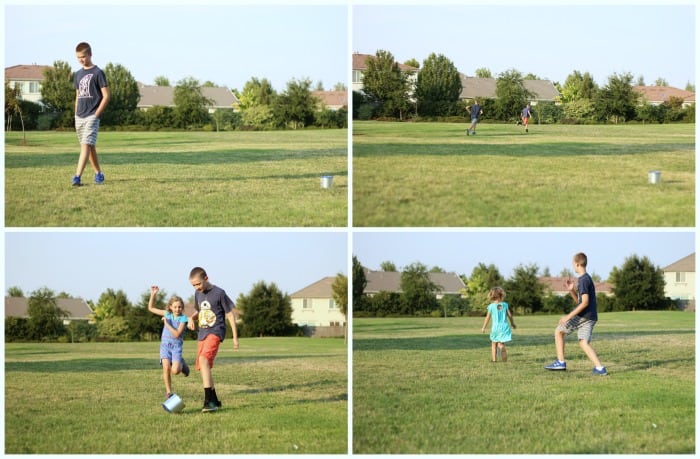 The rules: One person is "it" and stands near the can, counting to whatever number you decide on. Meanwhile, the other kids hide. Then the child who is "it" looks for the other players. When he/she spots them it's a race to see who can run and kick the can first. The child hiding or the child who is "it". If the child who was hiding kick the can first they are safe. If the child who is "it" kicks the can the other child is "out". Play continues until someone gets "out". That child is then "it" for the next round.
Group Games for Kids: Octopus
I hadn't heard of this game until the kids taught us how to play it after playing it at their friend's house. It's fun and easy to learn!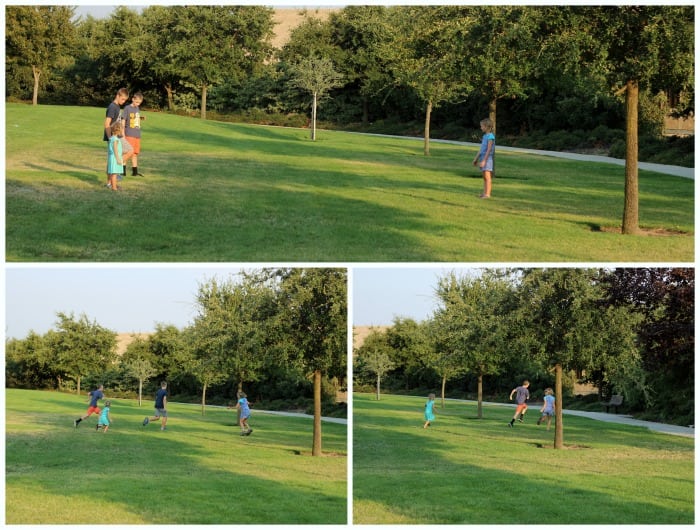 The rules: One person is the octopus and the rest of the group are fish. The octopus calls out what color of fish he/she challenges to swim past him/her based on the clothing they are wearing. If they can swim past the octopus and make it to the designated safe spot (the sidewalk in this case) they are free. If one gets tagged they are it. The octopus can also say "all fish" and all fish have to swim past instead of only a certain color of fish.
Group Games for Kids: Sardines
Another fun game from my childhood! We recently played this with our church youth group and it was hilarious! It's a reverse hide and go seek game. Instead of everyone hiding and one person looking for them, only one person hides and the group looks for them! You can see how playing this with 25-30 kids could have made that interesting. Especially when one of the kids decided to hide behind the curtains in one of the room. By the end there were over 20 kids hiding behind the curtains!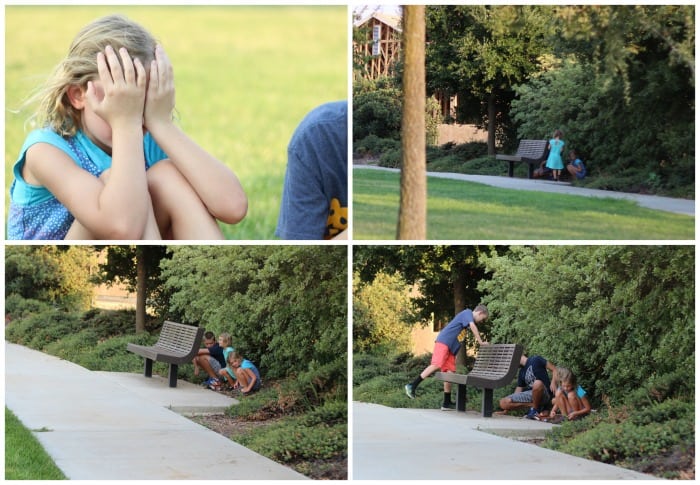 The rules: One person hides while the rest of the group counts. Then they disperse looking for the first person. When they find that person they hide WITH them! Pretty soon there is a group of kids hiding together. Play continues until the last child finds the group. Whoever was the first person to find the child who was hiding gets to hide first in the next round.
More fun electronic-free activities for kids:
Science Experiments Using Household Ingredients
What games do you remember playing with your friends as a child?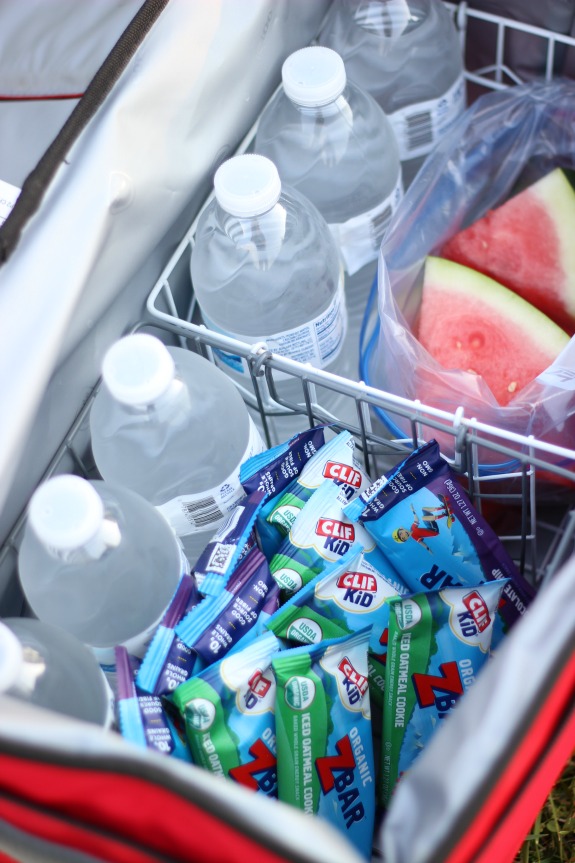 It never seems to matter if we have just eaten a meal, after the kids go out and play they are hungry! I packed our cooler with ice cold water bottles and snacks to enjoy while we relaxed.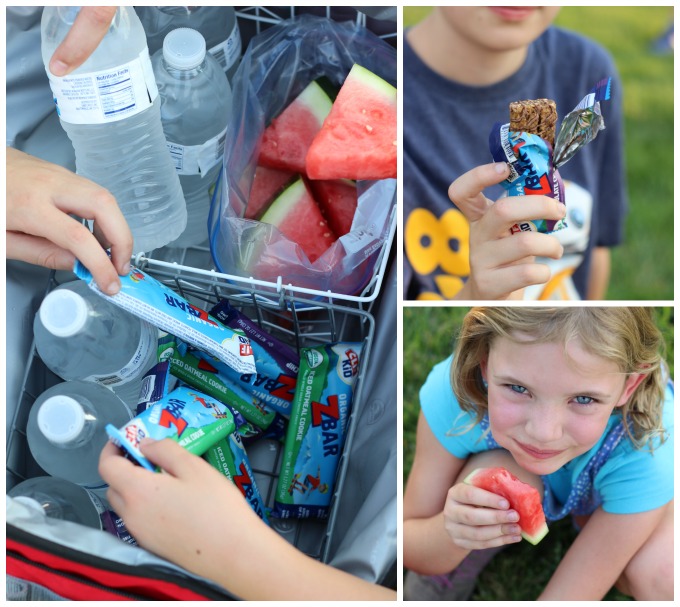 We buy the CLIF Kid Zbar® jumbo boxes that come with a variety of flavors for the kids to pack in their lunches and to bring for nutrition break at school. They've been our go-to snack for years since all four enjoy them. They like that they taste like cookies. I like that they are organic, non-GMO, contain no high-fructose corn syrup, and are the perfect portion size.
Did you know that 70% of moms played outside when they were kids but only 31% of their kids play outside today?
Whatever happened to play? When our parents sent us outside to play until the streetlights come on? To use our imaginations, get dirty, and explore the neighborhood with friends? Cliff Kid aims to bring playtime back.