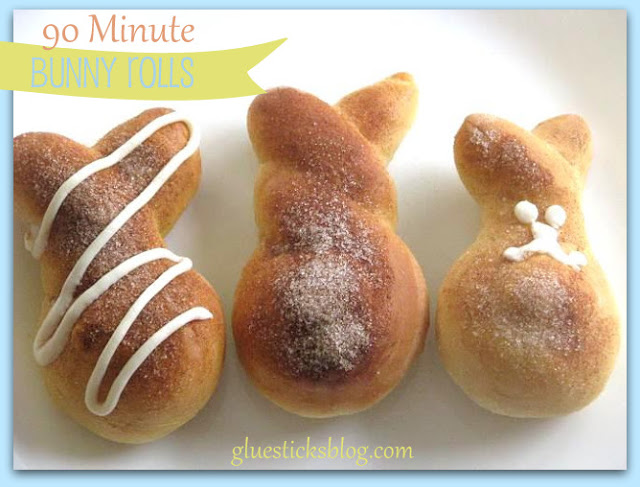 This sweet roll dough is one of our favorites. It makes the best cinnamon rolls in only 90 minutes and a fun variation on our cinnamon rolls are these little bunny rolls. Make sure to leave a space for these on your Easter menu this year! And for the grown ups, try our
90 Minute Cinnamon Rolls with Caramel Icing…..
heaven on a plate right there!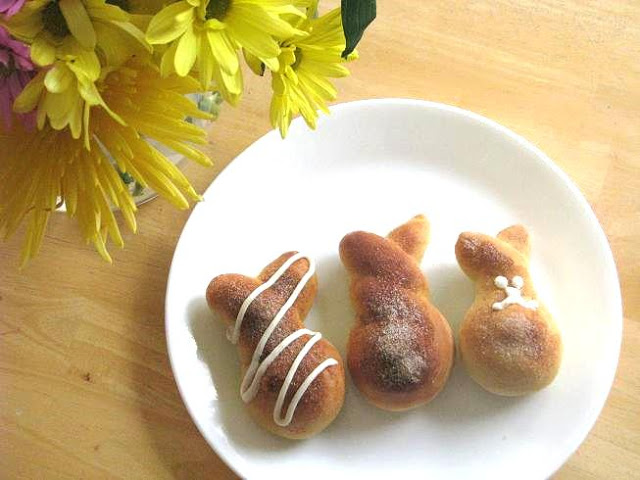 Ninety Minute Bunny Rolls
adapted from 90 Minute Cinnamon Rolls @ allrecipes.com
3/4 cup milk
1/4 c. margarine, softened
3 1/4 cups all-purpose flour
1 (.25 0z) package instant yeast
1/4 cup white sugar
1 egg
***
cinnamon/sugar
melted butter
Heat the milk in a small saucepan until it bubbles, then remove from heat. Mix in margarine; stir until melted. Let cool until lukewarm.
In a large mixing bowl, combine 2 1/4 cup flour, yeast, sugar and salt; mix well. Add water, egg and the milk mixture; beat well. Add the remaining flour, 1/2 cup at a time, stirring well after each addition. When the dough has just pulled together, turn it out onto a lightly floured surface and knead until smooth, about 5 minutes.
Cover the dough with a damp cloth and let rest for 10 minutes.
Divide dough into 2″ balls. Roll out each ball into a rope/snake shape. Bring the ends together and twist to form the ears. Place on a greased baking sheet. Break another ball in thirds and use a small piece of that dough to fill the hole that will be under the twist that you made for the ears. You won't even notice that there was a hole after the dough rises and bakes. Cover and let rise until doubled, about 30 minutes. Preheat oven to 375 degrees F.
Bake in the preheated oven 15-18 minutes, or until browned. Brush hot rolls with melted butter and sprinkle (liberally) with cinnamon/sugar.
Drizzle with icing (I used store bought vanilla frosting for the bunny rolls)
Serve warm.
You could easily make regular roll shapes and use the same method with the butter/cinnamon/ sugar.