This post was most recently updated on June 15th, 2020
These cute Easter egg bath bombs have a surprise inside! Scented with coconut Epsom salts and made with coconut oil, they make bath water soft and luxurious. This post contains affiliate links.
If you like making your own bath and body products you'll like our homemade lotion bars, DIY lip gloss and peppermint sugar scrub!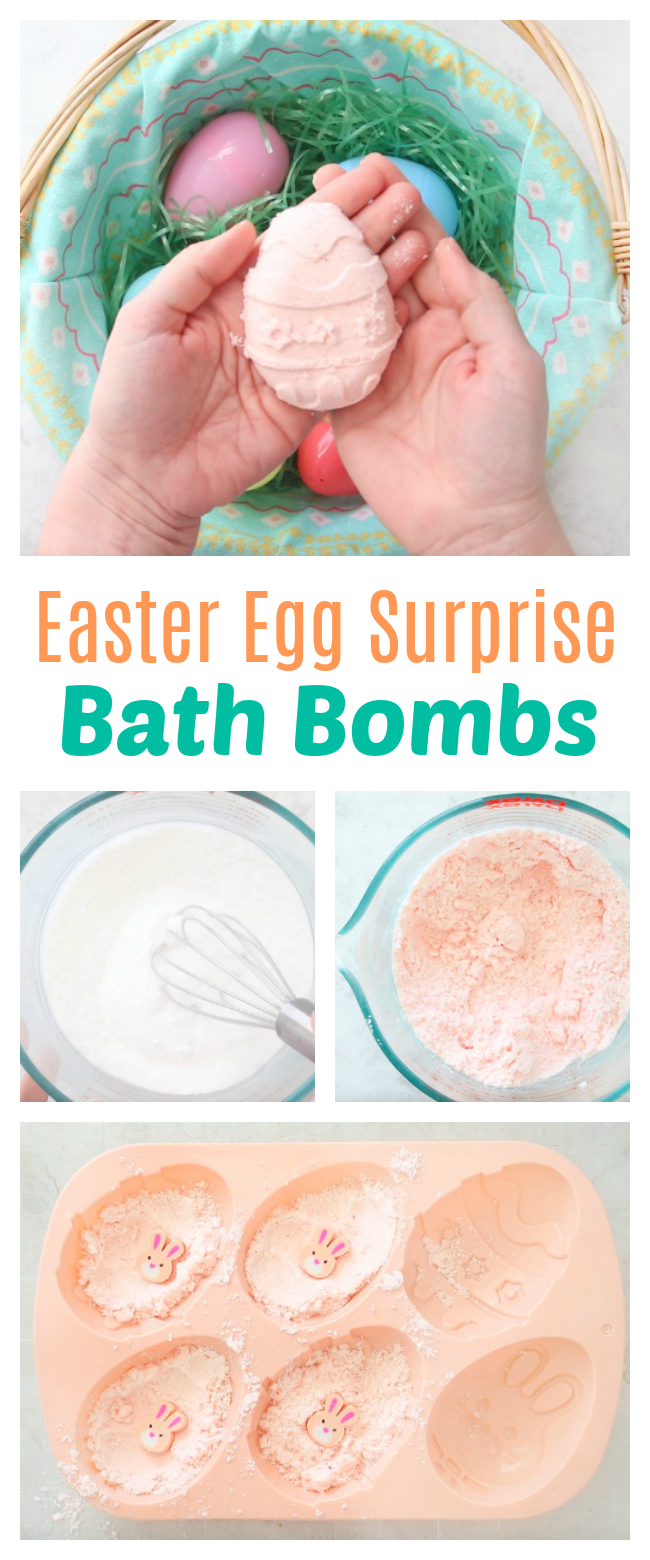 Watch our step by step video!
These egg shaped bath bombs are so fun for bath time! Place in a tub of warm water and watch them fizz! When the fizzing has stopped a fun surprise appears!
Scented with coconut Epsom salts and made with a bath bomb mixture these take just minutes to prepare. The patience comes in waiting for them to dry!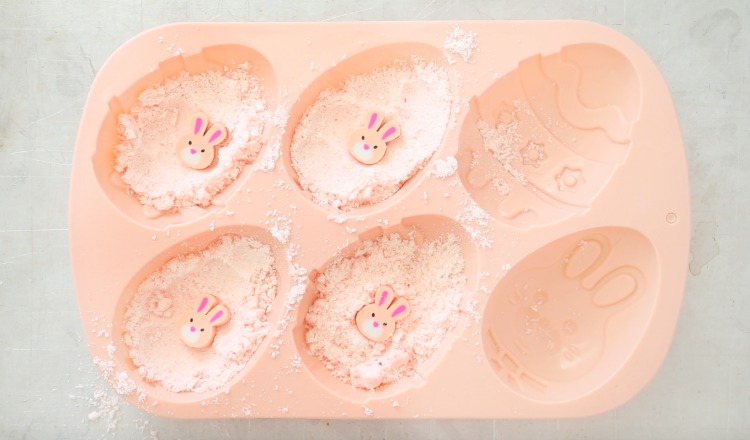 I filled each bath bomb with a cute bunny eraser, but you can add whatever you'd like. It just needs to be small.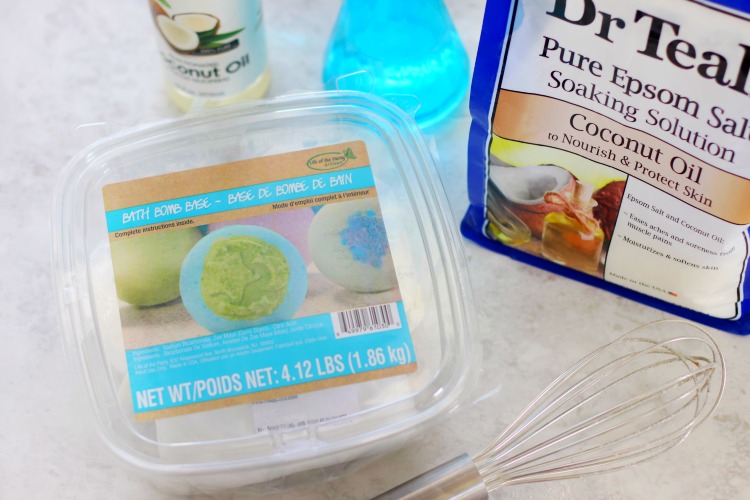 Bath Bomb Ingredients
I used a bath bomb base from Darice for these bath bombs. What is a bath bomb base? It contains two packages; a package that is a mixture of dry powder ingredients, and a package of citric acid. If you'd like to make these by scratch you can use my bath bomb recipe.
The bath bomb base package comes with enough mixture to make A LOT of bath bombs. I've made 16 so far and only used about half of my ingredients.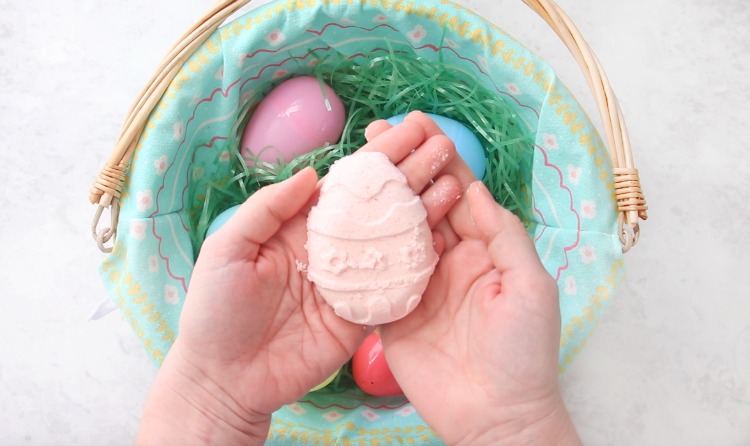 Easter Egg Bath Bombs
(see end of post for troubleshooting tips and tricks)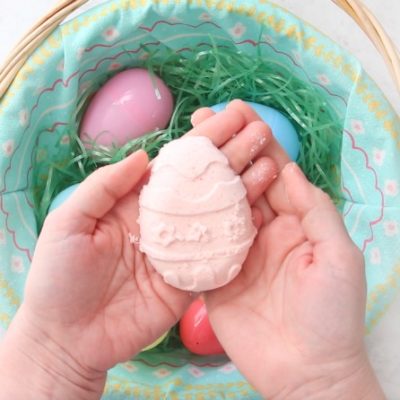 Print
Easter Egg Bath Bombs With a Surprise Inside
These cute Easter egg bath bombs have a surprise inside! Scented with coconut Epsom salts and made with coconut oil, they make bath water soft and luxurious.
Equipment
glass bowl

whisk

measuing cup

measuring spoons

baking sheet
Materials
Bath Bomb Mix
3/4

cup

powder mix

(comes with bath bomb base)

1/4

cup

citric acid

(comes with bath bomb base)
Instructions
Combine bath bomb base mixtures together. Whisk to combine.

Combine oil and soap/food coloring together in a small bowl. Add to dry ingredients and whisk.

You want your mixture to feel like wet sand. Spritz your mixture with water or rubbing alcohol, making sure to whisk in between spritzes, until it reaches the desired consistency. DO NOT add too much water. You just want it to come together slightly when you press your fingers into it.

Place soap mold on a baking sheet.

Add a small amount of bath bomb mixture into 4 soap molds. Press. Add a small eraser or toy.

Pack each soap mold with remaining bath bomb mixture.

Let dry in a DRY PLACE for 24-36 hours.

Store bath bombs in an air tight container.
Notes
Bath bombs, freshly made, are very delicate. They will thoroughly dry out after 2-3 days and can easily be stored in a container without breaking.
Tips and Troubleshooting for Successfully Making Bath Bombs
Why are my bath bombs bumpy? Why are my bath bombs bubbling and soft?
The biggest factor in making bath bombs is to take care not to add excess moisture.  The whole point of bath bombs are to react with water and fizz. You want them to do this, but only when added to a tub of water. If you add too much water to your mixture, they will fizz up and won't harden properly, but you need moisture to help the bath bombs mold to the soap mold. Add water slowly using a spray bottle, 1-2 spritzes at a time is all you need. Quickly whisk the water into your mixture. You can also use rubbing alcohol in place of water. Only adding a tiny bit at a time and whisking after each addition until the mixture feels like slightly damp sand.
Moisture in the air can affect bath bombs from properly drying. Humidity is not your friend when making these.
What if my bath bombs crack?
On the flip side, of your bath bombs crack right away and don't form to the mold then they need more moisture. It's a balance of finding what works for you, your ingredients and your environment. If this is your first time making them, plan to make a couple of batches before getting it just right.
Looking for more crafty inspiration? Check out these fun CraftWeek Projects!
St. Patrick's Pot of Gold Craft