Coconut oil, shea butter, Vitamin E, beeswax, and essential oils combine to create luxurious DIY lotion bars to combat dry hands. Warm a bar with your hands for a few seconds then rub across dry skin. To use on feet, rub the lotion bar across heels and bottom of feet, and put on a pair of socks before going to bed.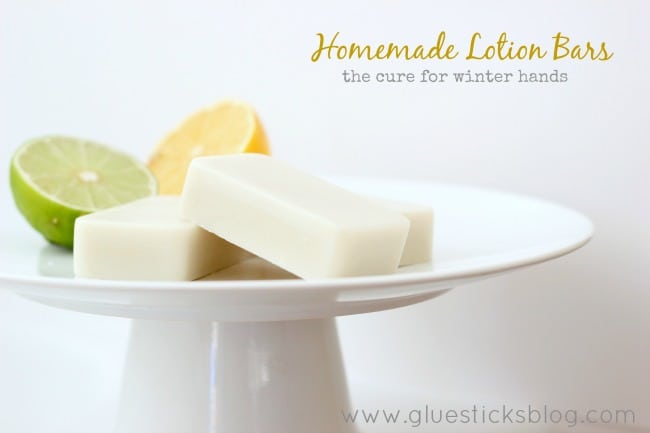 Homemade gifts are my favorite. I love to make and receive them. For Christmas, my mom made DIY lotion bars to give out as gifts. I suffer from dry skin, especially on my hands. And not just in the winter, but all year long. I'm sure it is due to the fact that I have young children and am constantly washing my hands after diaper changes, wiping noses, and cleaning. I'm sure weather also has something to do with it. That lotion bar that she sent me took my cracked knuckles and gave them a nice makeover within a couple of days. I now use a lotion bar every night before going to bed and I have had soft hands all winter!
Today I am going to share how I made my own DIY lotion bars with my favorite essential oils: lemon and lime.
The beauty of these melt and mold type projects is that you can customize them however you'd like! Your favorite ingredients, base oils, and essential oils. If you are allergic to coconut oil, you can use olive oil. You get the idea.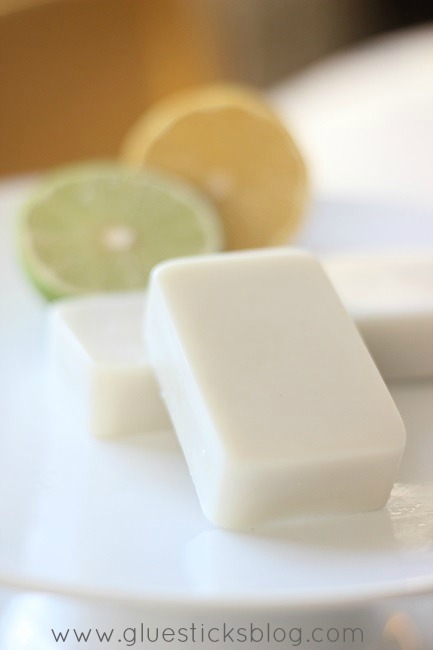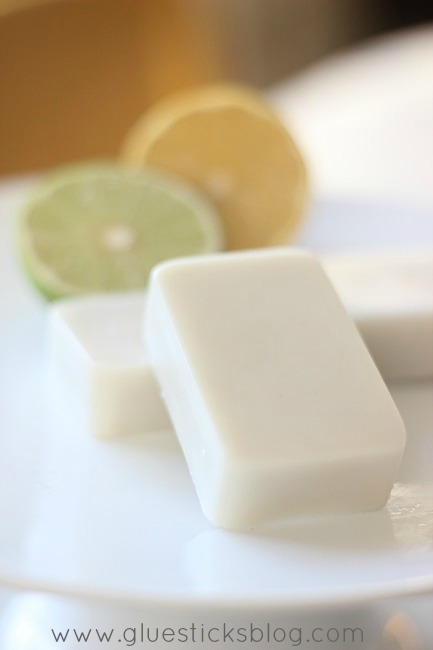 DIY lotion bars are incredibly easy to make and only require a few ingredients. I love making beauty products and already had a lot of the supplies in my cupboard from when I made lip gloss and melt and pour soap last year.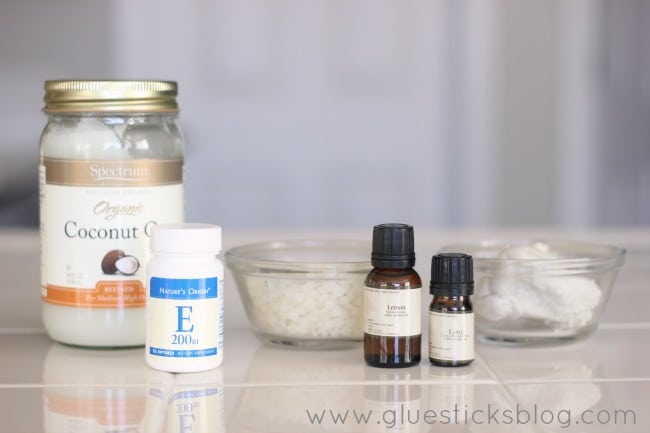 You will need equal ratios for this recipe, so that is easy to remember. I went with 2 oz. ratios.
Here is the simple recipe that I used for my DIY Lotion Bars!

Makes 3 2″x3″ bars
2 oz. coconut oil
2 oz. shea butter (or cocoa butter)
2 oz. bees wax pellets
2 capsules vitamin E
essential oils for scent (optional)
soap mold (plastic or silicone)
Fill a sauce pan with about 2″ of water and bring to a boil. Place a mason jar or smaller pot inside (double boiler**) and add your shea butter, beeswax, and coconut oil and heat until melted.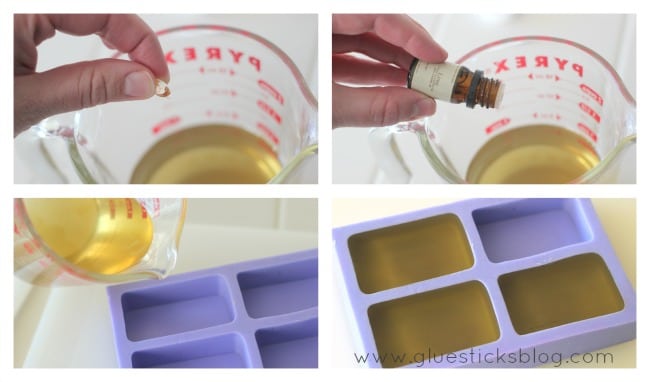 Transfer to a pourable measuring cup. Cut the tip off of the vitamin E capsule and add it to your liquid mixture.
Add essential oils, to your liking. As a reference, I used about 15 drops of each of the lemon and lime essential oils. Stir. If your mixture is lightly scented, add a few more drops and give it another whiff. If it smells just right, add a couple of more drops as it sometimes seems to lose potency when it has hardened.
Pour your mixture into your molds.
Allow lotion bars to sit until the tops start to look solid (about 15 minutes). Carefully move to the refrigerator and allow to set completely about 30 minutes.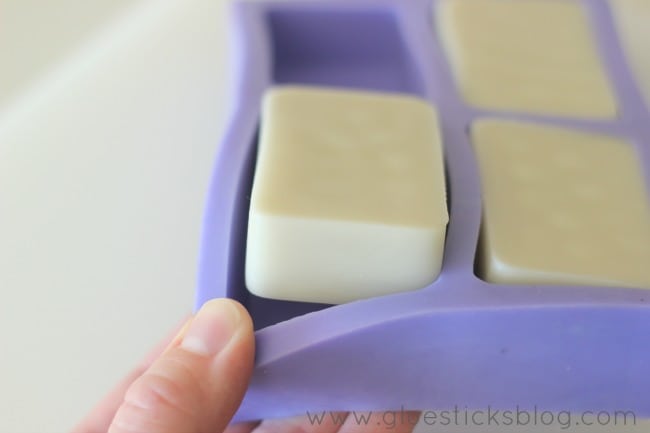 Pop your lotion bars out of the molds.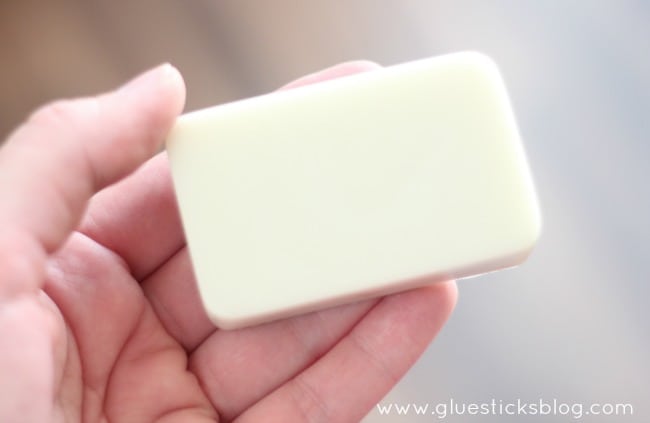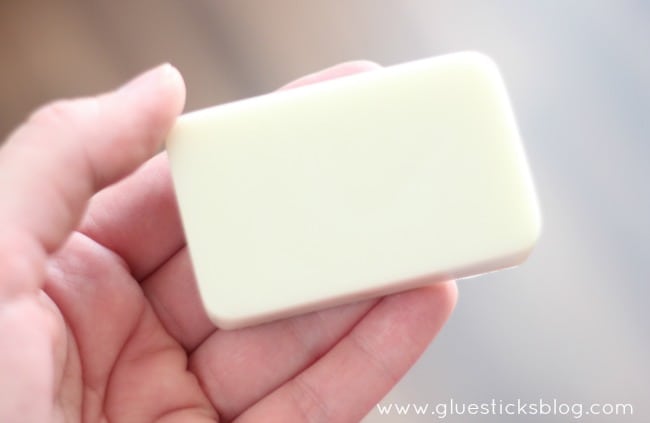 To use, wrap your fingers around a bar. The warmth of your skin will activate the oils and leave a soft and smooth residue. A little bit goes a long way. Rub into your hands and allow it to absorb. Your hands will thank you!
**I used to make these by microwaving them, but learned that you lose so many of the valuable properties in the coconut oil and shea butter that way. Using a double boiler is super easy to do and works great—and you get all of the benefits of these amazing oils!
If you enjoy making your own beauty products, you may enjoy this collection of homemade beauty gifts that I put together below!