Do your kids like creating in the kitchen? Here is a darling collection of edible crafts for kids including frozen banana penguins! So many cute crafts to make and eat! This post contains affiliate links.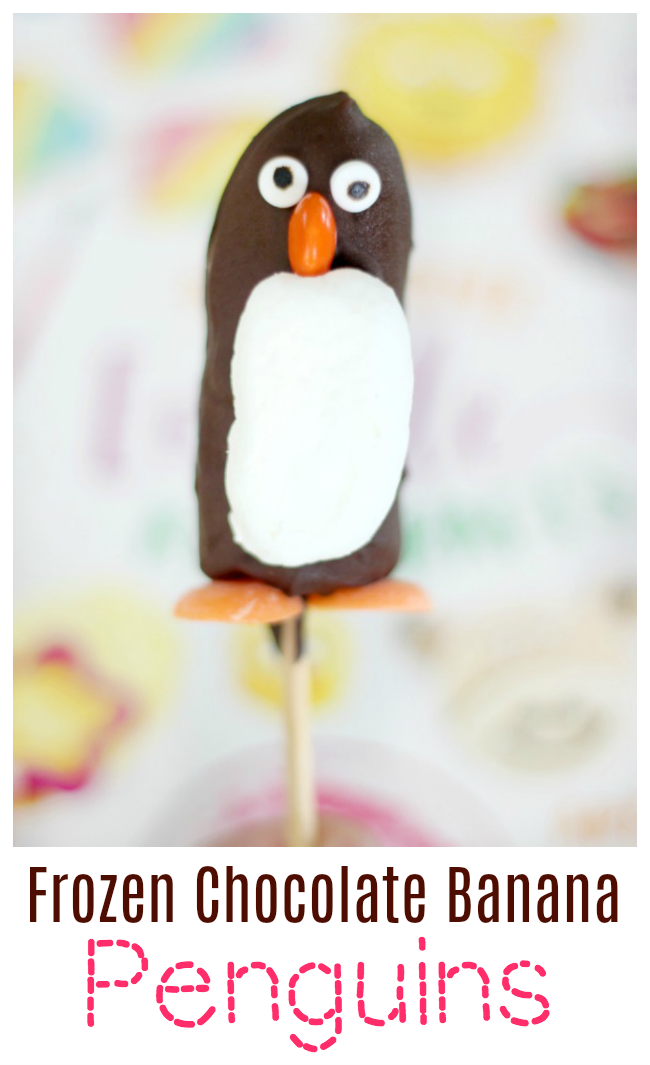 My girls are all about CRAFTS. Slime, shrinky dinks, sewing, and fun foods to make in the kitchen. I think edible crafts are my favorite because they don't clutter up the house, haha! They're a fun activity and snack all rolled into one.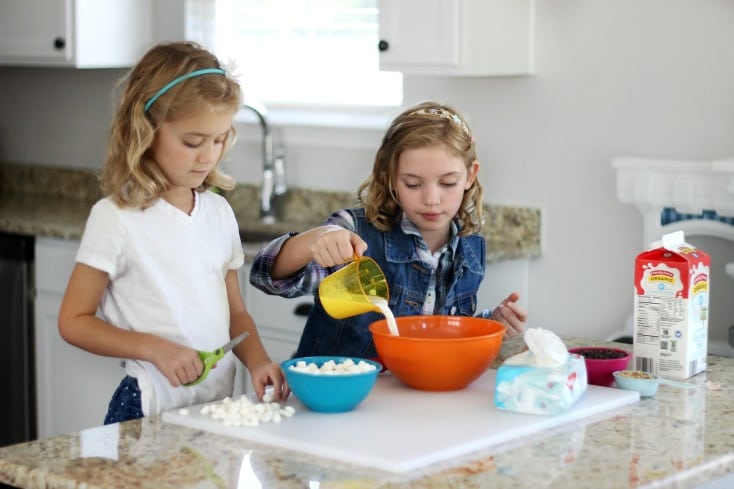 The girls also love kids recipe and craft books to help them come up with ideas, and I have a weakness for kid books so we're a match made in heaven. There's nothing better than walking past a kids cookbook and seeing a dozen post-it notes inside, marking all of the things they'd like to make.
More Crafty Treats Your Kids Will Love to Make!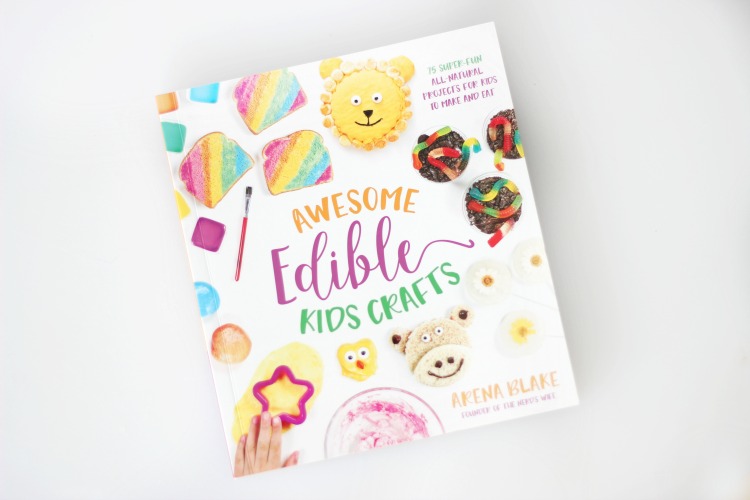 I picked up a copy of Awesome Edible Kids Crafts by Arena Blake and instantly fell in love. It's a gorgeous book with 75 super fun projects for kids to make and eat! Each page was as bright and vibrant as the next, with edible crafts that kids can make with basic pantry ingredients!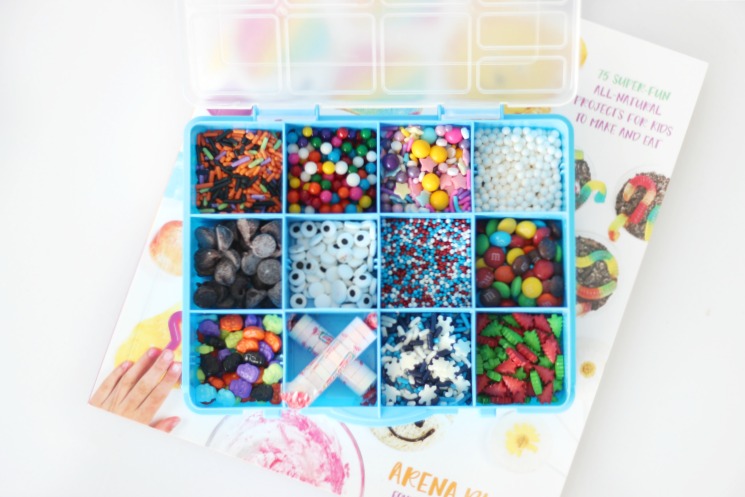 I filled up a small organizer (from Dollar Tree) with sprinkles and candy eyes (you'll definitely need a stash of candy eyes for the projects in this book) using goodies that I already had in my pantry. I bake, therefore I hoard sprinkles.
Wouldn't this make a fun birthday or Christmas gift? A sprinkle box and copy of the book to go with it?
Frozen Banana Penguins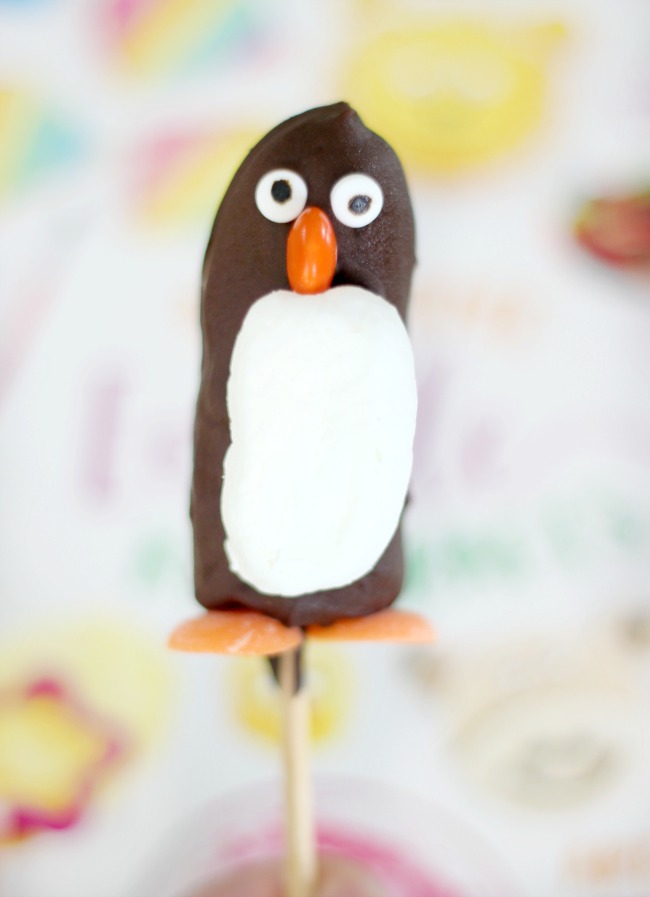 The first project that we made together were these frozen banana penguins.
To Make Frozen Banana Penguins You'll Need:
bananas, popsicle sticks (not listed, but we thought they helped with dipping), candy eyes, M&Ms, orange candy melts and jumbo marshmallows.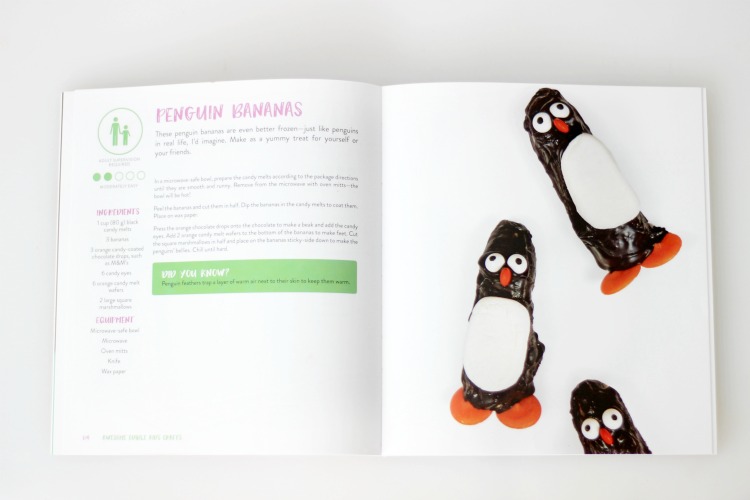 The instructions were very straightforward and the key in the corner let us know that it was a project that required adult supervision and was moderately easy.  I helped the kids melt their chocolate and they were on their way!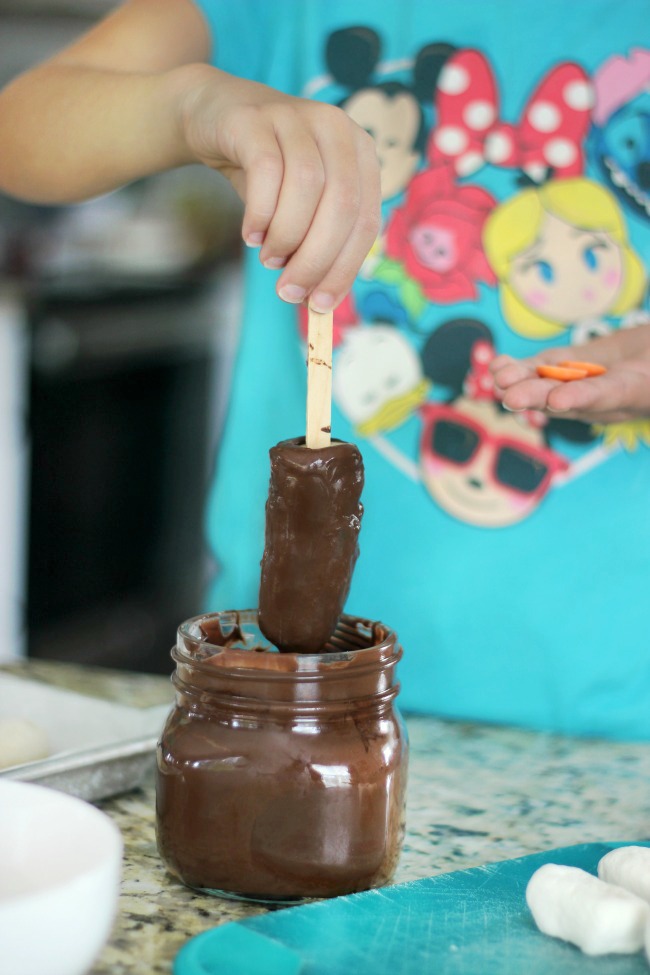 We didn't have black melting candies on hand, but did have chocolate ones so that is what we used.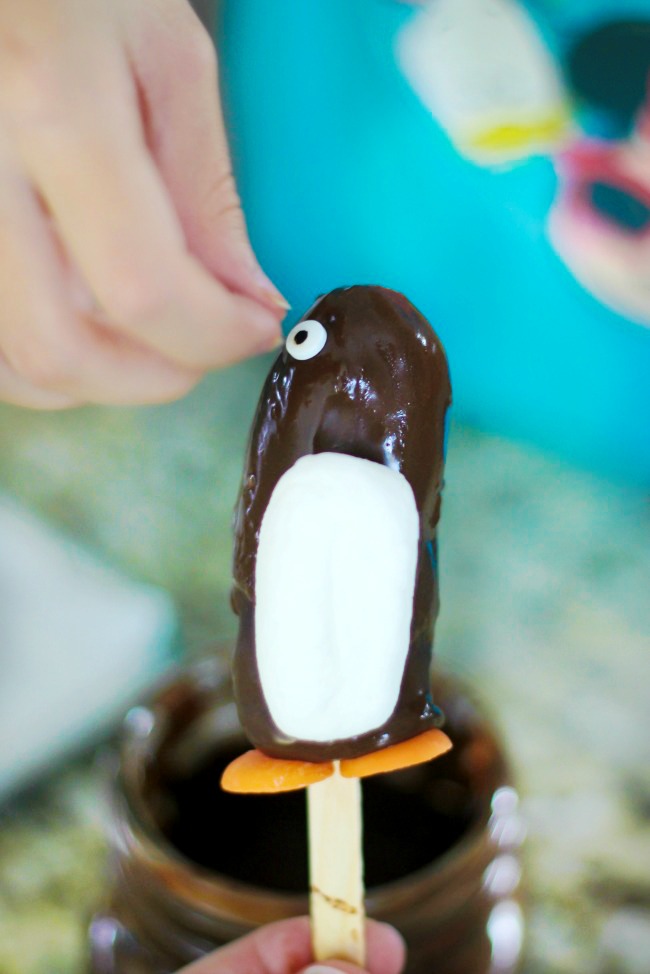 We added candy eyes, an M&M beak, and a marshmallow belly. Two orange candy melts finished off the feet!
Note: We used popsicle sticks to make the penguins easier to dip into the chocolate.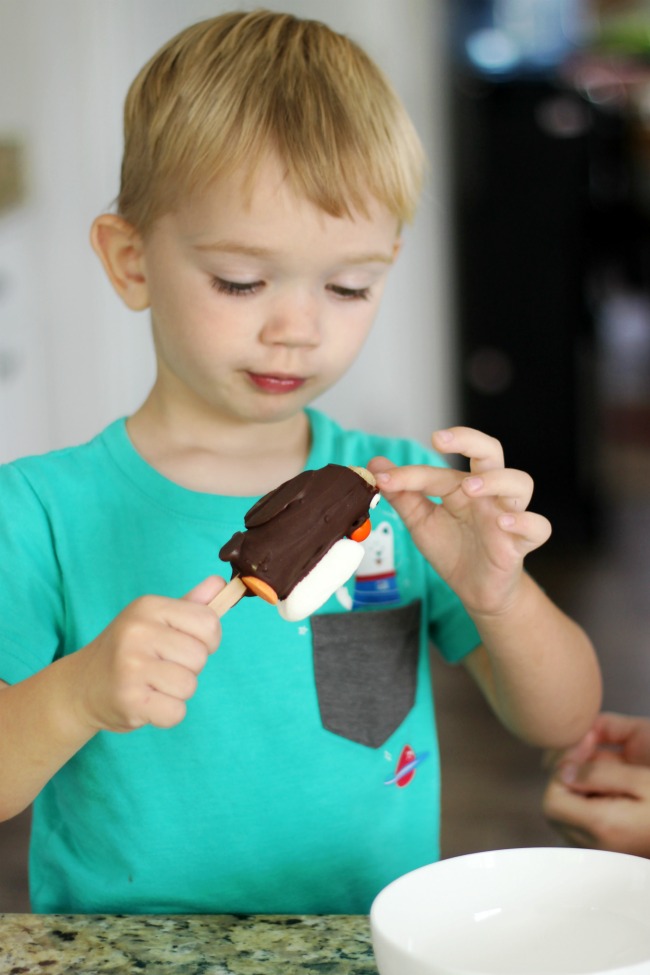 This was the moment that Mac realized there was a banana inside—and he was thrilled!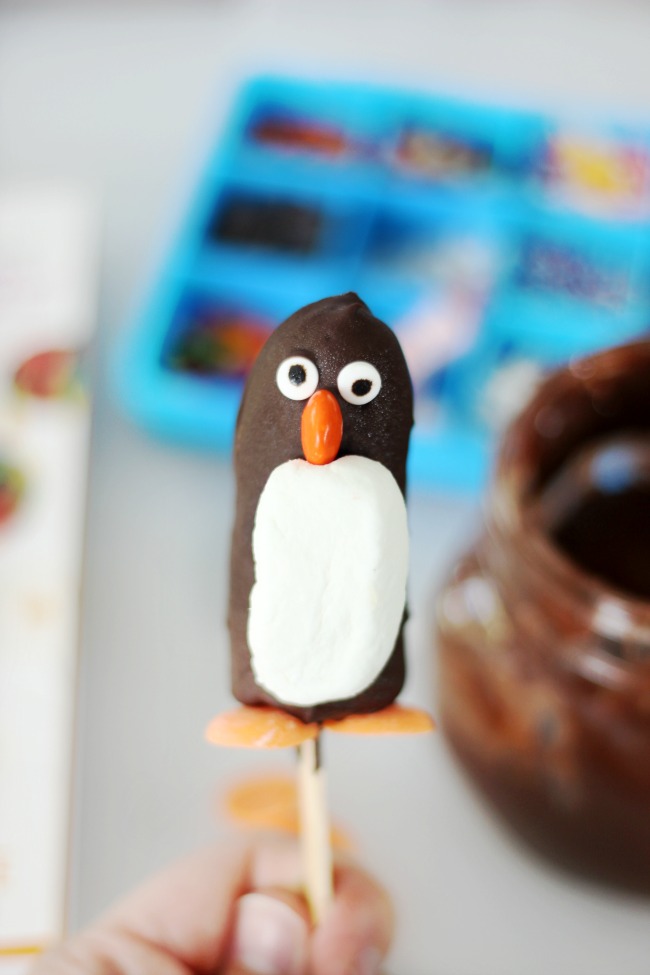 Note: Because we decided to freeze our bananas instead of making them fresh we had to work quickly to add the details before the chocolate hardened!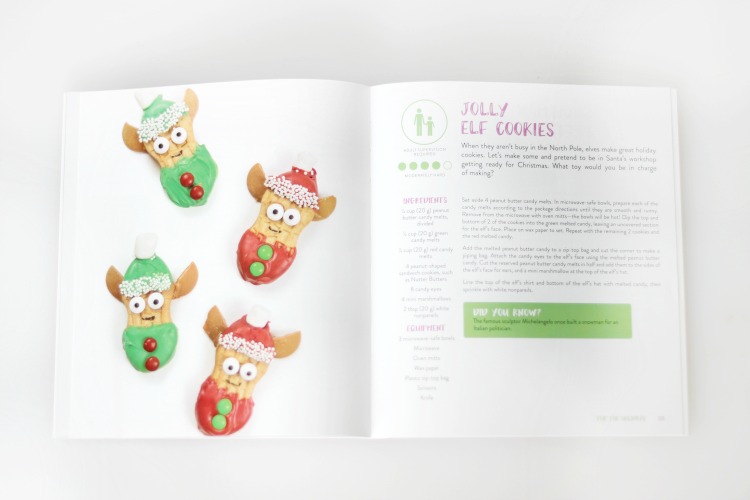 The next project on our list are these Jolly Elf Cookies! Click here to get a detailed look inside the book.
Once you've tried your hand at some of these edible crafts, move on over to fabric crafts with my sewing book for kids! "Sew With Me" includes 60 simple sewing projects to make with kids. Here's a peek inside!