This post was most recently updated on December 6th, 2022
Gingerbread playdough is easy to make and a great sensory activity for kids! Recipe + easy gift ideas are included in this post. I made 16 packages to send to kindergarten!
You might also like our moon sand recipe, our inside kinetic sand box, or our homemade bubbles solution.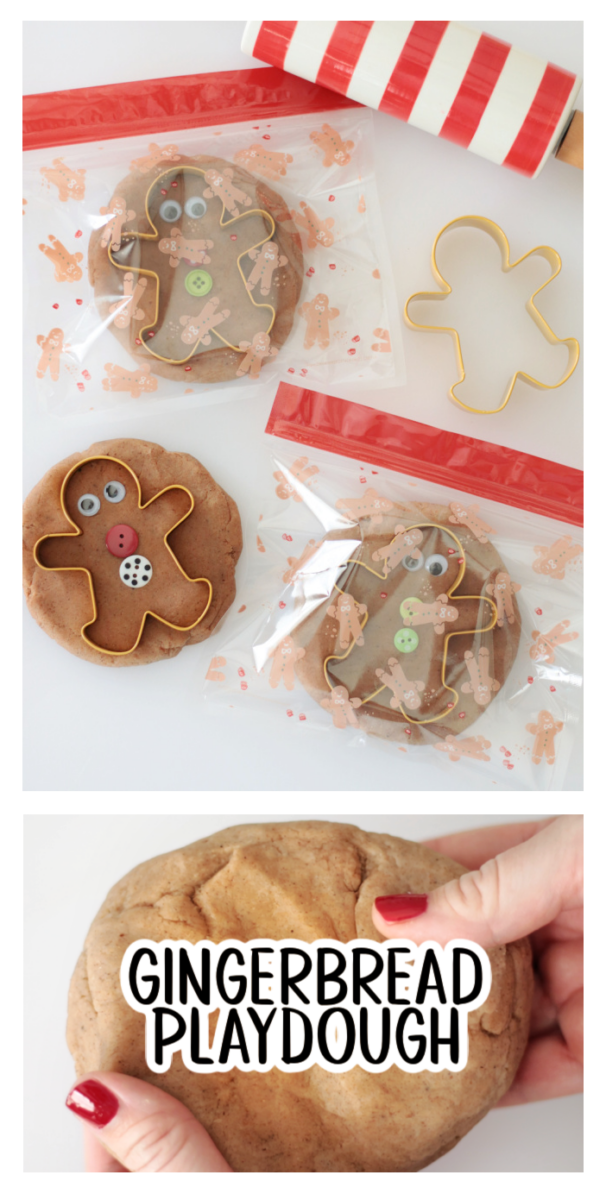 Watch our step by step video!
My youngest is in kindergarten which means cute crafts and hands-on projects all year long. His teacher sent an email out requesting some donations as they finished their gingerbread man-themed week. Mainly, she needed 16 baggies of gingerbread playdough to send home with the kids as a fun little activity for them to do over the weekend. This is RIGHT UP MY ALLEY.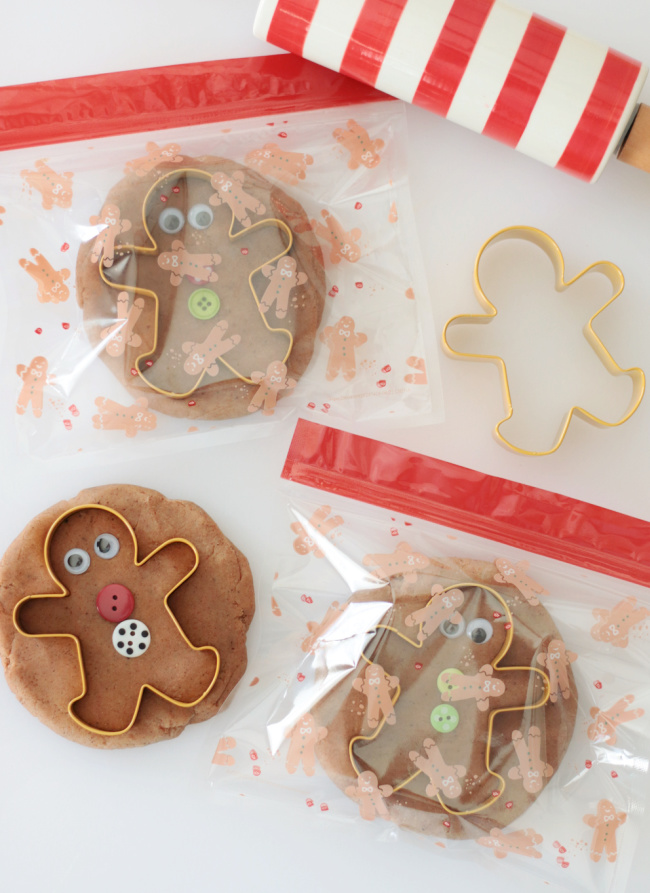 I was happy to make a few batches of our favorite playdough recipe and send it in. I even went a step further and added a few accessories to create a gingerbread man! Each child received a portion of dough, a cookie cutter, and accessories.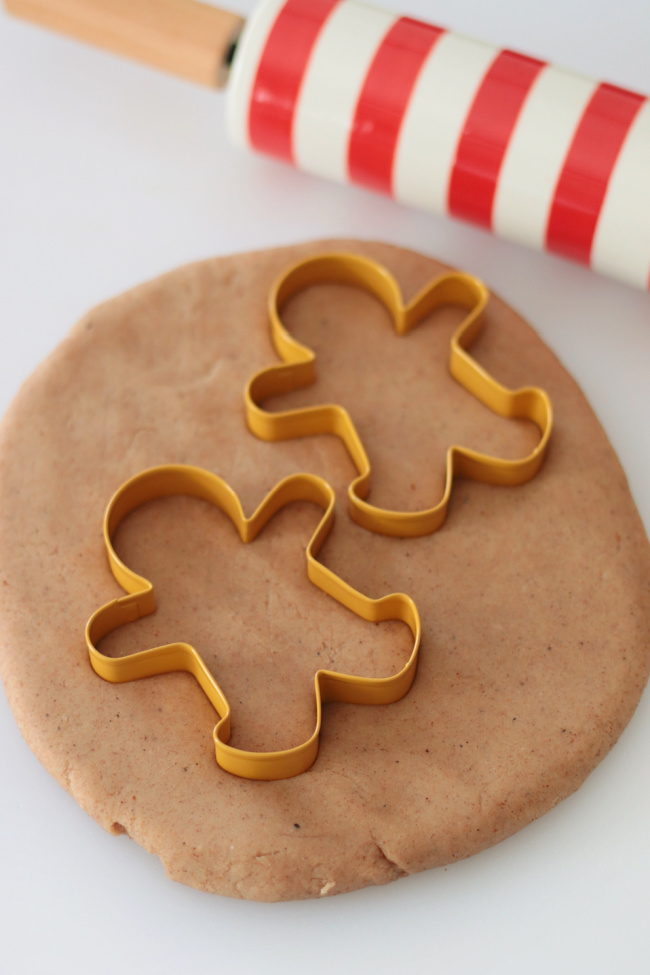 Gingerbread PlayDough
Whether you make a batch of gingerbread playdough for your kids to play with at home or make baggies to give to friends as Christmas gifts, you'll love this recipe. Why? Because it's easy to make and smells H-E-A-V-E-N-L-Y!
Every family has a favorite playdough recipe, and I'd imagine that 90% of them consist of the same ratio of flour, salt, cream of tartar, water, and oil as mine. This recipe has been around for decades. You can easily customize it by adding gel food coloring and scents (you can even add scent and color at the same time using Kool-aid packets). Today we're just adding spices to achieve the wonderful aroma of gingerbread. Heavy on the ginger and cinnamon, lighter on the nutmeg and cloves.
Homemade playdough will stay soft for a long time if stored correctly. If you're looking for a dough that dries and can be painted (for ornaments or other projects) try our baking soda dough.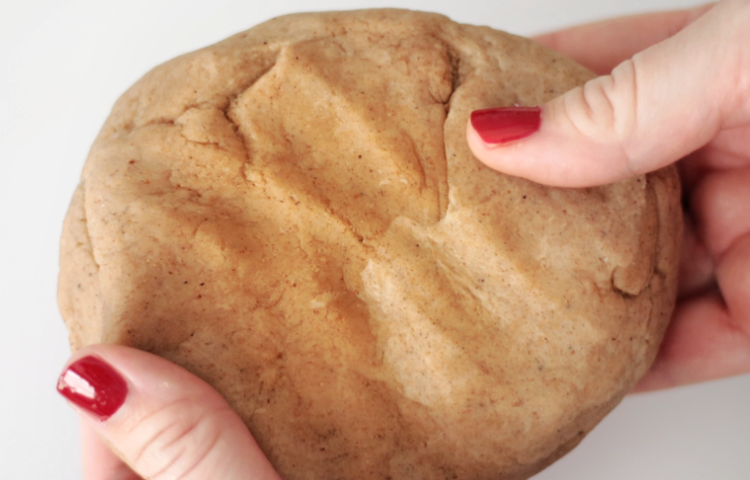 Gingerbread playdough gets its classic color and scents from cinnamon, nutmeg, cloves, and of course, ginger.
Gingerbread PlayDough Ingredients
(scroll to the end of the post for a printable recipe)
1 cup all-purpose flour
1/2 cup salt (the cheap stuff)
2 teaspoons cream of tartar (this helps keep the dough stretchy and prevents it from getting crumbly)
2 teaspoons cinnamon
2 teaspoons ground ginger
1 teaspoon nutmeg
1 teaspoon cloves
1 cup water
2 Tbsp oil (vegetable, canola, etc.)
Other Items Needed to Make PlayDough
saucepan
wooden spoon (or Danish dough whisk)
measuring cups/spoons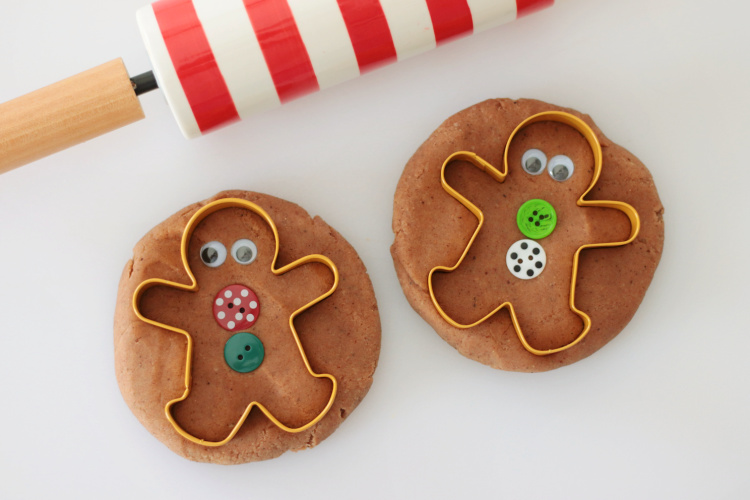 Do You Need to Cook Playdough?
Some recipes are no-heat, but this one requires a couple of minutes over the stove. Just to help everything incorporate. Don't worry, it's hard to screw up this recipe. It comes together quickly and the warm dough feels nice on your hands as you knead it.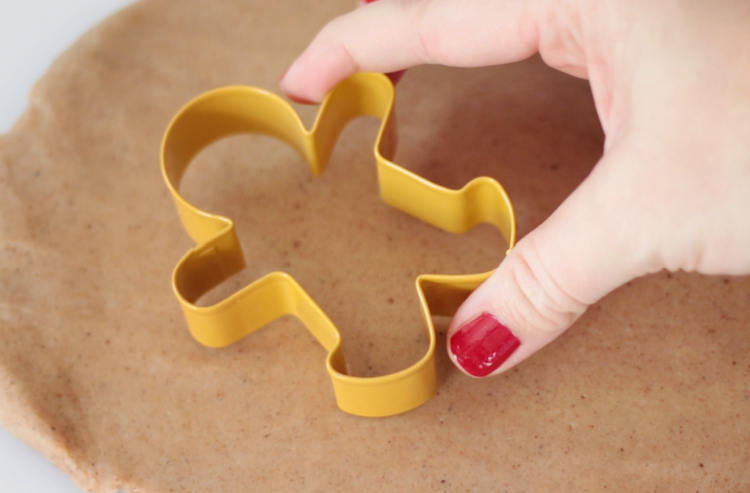 How Many Cups of Gingerbread Playdough Will This Recipe Make?
One batch of playdough will make 2 cups, which equals about 4 containers of storebought play-doh. I needed 16 portions for the kindergarten class so I made 4 batches.
How To Make Gingerbread PlayDough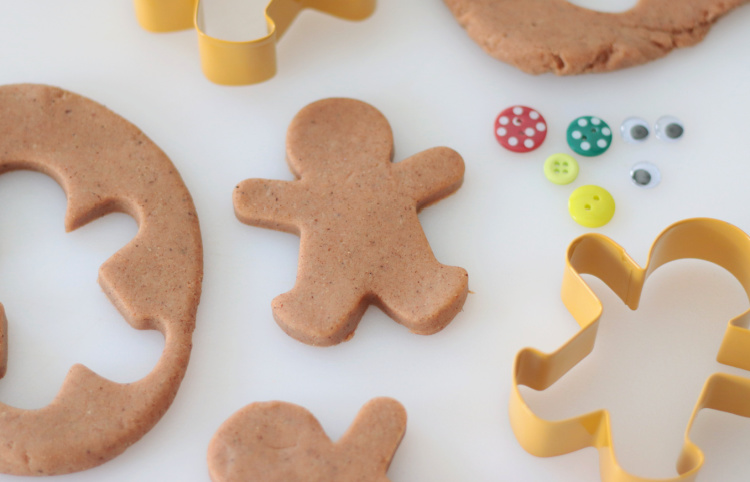 Step 1: Grab a medium saucepan and place all dry ingredients into it (flour, salt, cream of tartar, and spices). Whisk/stir.
Step 2: Add water and oil. Stir.
Step 3: Heat on medium heat, stirring continuously with a wooden spoon, for 2-3 minutes.
The dough wills tart out thin, then quickly thicken and get lumpy, then begin to pull from the sides of the pan.
Step 4: When it looks like a thick, shaggy dough turn the heat off and spoon the dough onto your work surface.
Step 5: Allow the playdough to cool for 2-3 minutes then knead until smooth.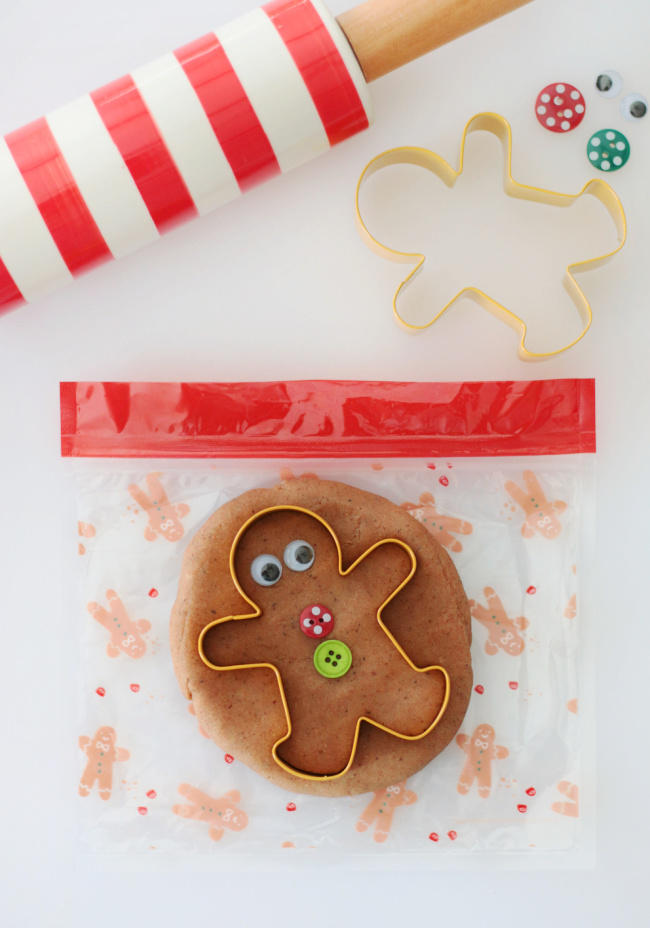 Gingerbread Playdough SENSORY Gift Idea
I found these little bags at Target. They came in a pack of 20 for $3. The cookie cutters were $1 and I rummaged through my craft closet to find buttons and craft eyes. I wrapped the playdough in plastic wrap and then placed it inside the baggie. Just to make sure it stayed nice and soft. I hope the kids have fun playing with their dough!
Gingerbread Playdough Recipe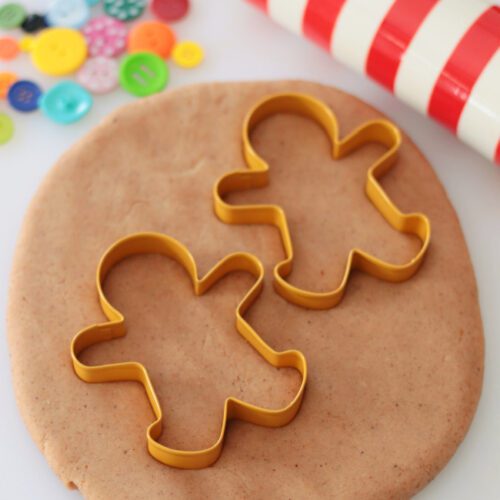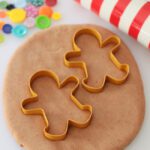 Print
Gingerbread Playdough
Gingerbread playdough is easy to make and a great sensory activity for kids. I made 16 packages to send to kindergarten!
Equipment
medium saucepan

spoon

measuring cups and spoons
Materials
1

cup

flour

1/2

cup

salt

2

teaspoons

cream of tartar

2

teaspoons

cinnamon

2

teaspoons

ground ginger

1

teaspoon

ground cloves

1

teaspoon

ground nutmeg

1

cup

water

2

Tbsp.

oil
Instructions
Combine flour, salt, cream of tartar and spices in a medium saucepan.

Heat on medium heat, continuously stirring with a wooden spoon or Danish dough whisk.

The mixture will start out thin, then thicken, and then get a bit lumpy. When the dough begins to come together and pull from the sides remove from heat. The entire cooking time should only take 2-3 minutes. It just needs to somewhat resemble a shaggy dough.

Scoop dough out onto a work surface and allow it to for a couple of minutes, until you can handle it without burning your hands.

Knead dough until smooth. Now pick up the playdough and give it a sniff. Heavenly, right? Smells just like gingerbread cookies!
Notes
Allow playdough to cool before storing in an airtight container or plastic sandwich baggies. If stored properly the playdough will last a long time!