Make your own bubbles this summer with this 3 ingredient homemade bubble recipe. Simply combine water, dish soap, and glycerin! Fill up a large jug with homemade bubbles to have plenty on hand when spill happen, because they always do!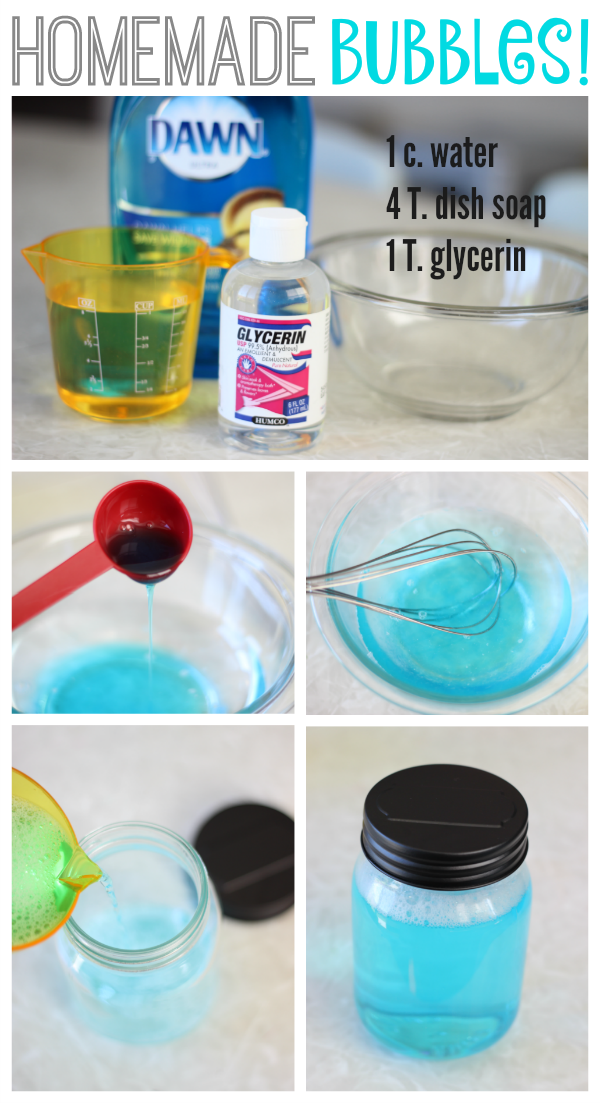 This post contains an affiliate link.
Bubbles are fascinating, and magical, and it's no wonder that all children love them! The only thing as fun as playing with bubbles is playing with bubbles in a water table!
The Step2 Big Bubble Splash Water Table
  is the best of both worlds. Today we're sharing one of the best recipes for homemade bubbles (seriously, you can make some huge ones with this 3 ingredient recipe!), and a fun twist on the typical bubble wand!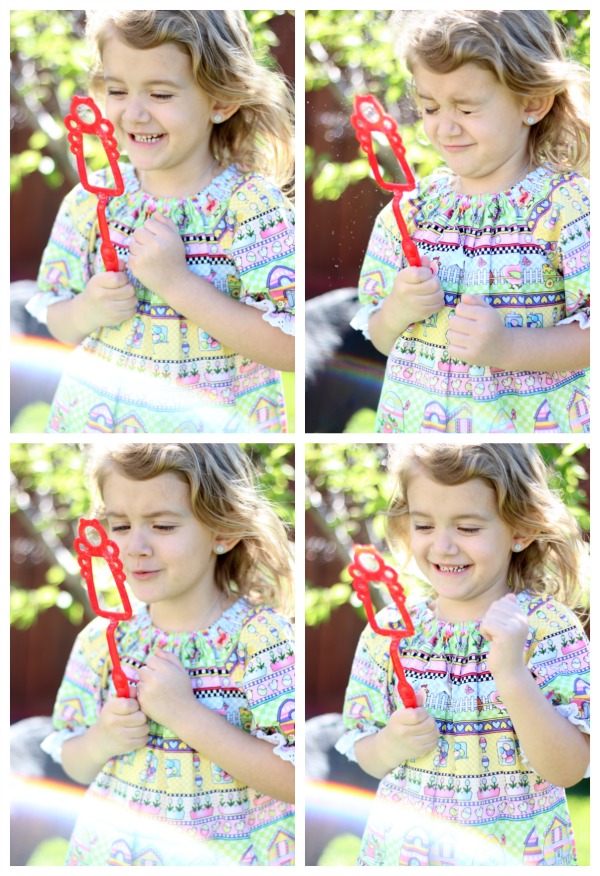 My husband came home with a bottle of glycerin a few months ago and said he was going to use it to make bubbles with the kids. This guy kills me! I hadn't really thought about making bubbles before because they are already very affordable, but he said he wanted to make some to see if the homemade variety was better.
The recipe he gave me is simple: glycerin, dish soap, and water. That's it!
Homemade Bubble Recipe
Ingredients: 
1 c. water
4 T. dish soap
1 T. glycerin
Directions:
Pour ingredients into a small bowl. Whisk to combine. Pour into a container or jar. Make a double batch in case your kids are like mine and spill half of the bottle on their way to the backyard 🙂
The results were awesome! All Ruby had to do was hold her wand in front of the battery powered bubble blower and watch as her giant bubbles blew across the yard.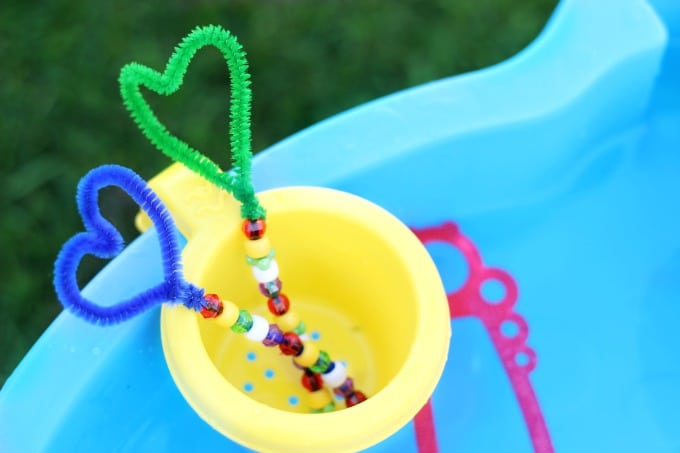 We added to our collection of bubble wands by making a few pipe cleaner bubble wands. We simply bent the pipe cleaner into a heart shape and twisted it off. Then we strung the remaining few inches with beads and pinched off the bottom.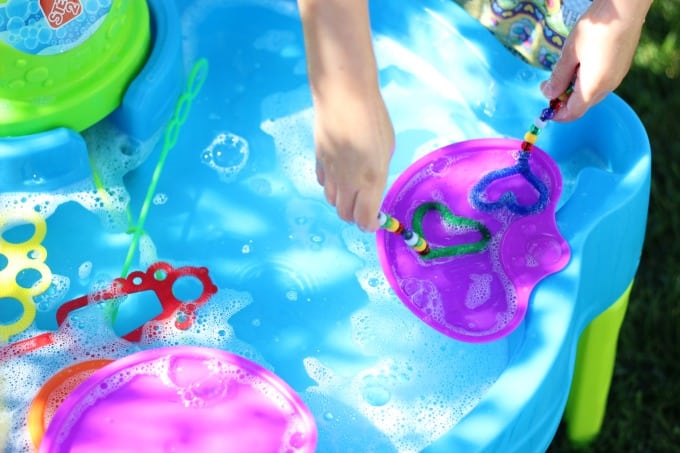 The wands worked like a charm, but I have to say that I was the most impressed by the girls' ingenuity. They figured out how to blow bubbles with their hands!
The water in the table was great for rinsing off their hands so to prevent them from being so sticky. Then they'd dip their fingers in the bubble tray and blow to make their own bubbles.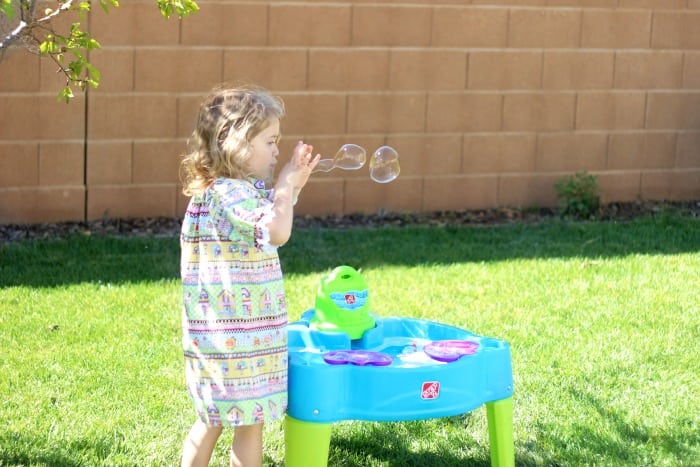 You're never too old to play with bubbles!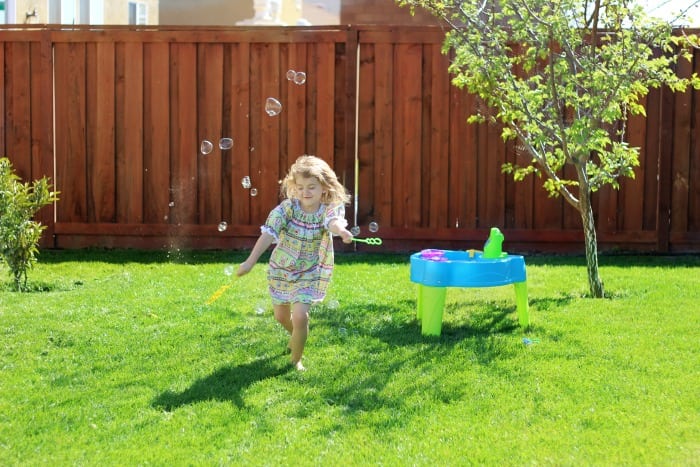 You might also like…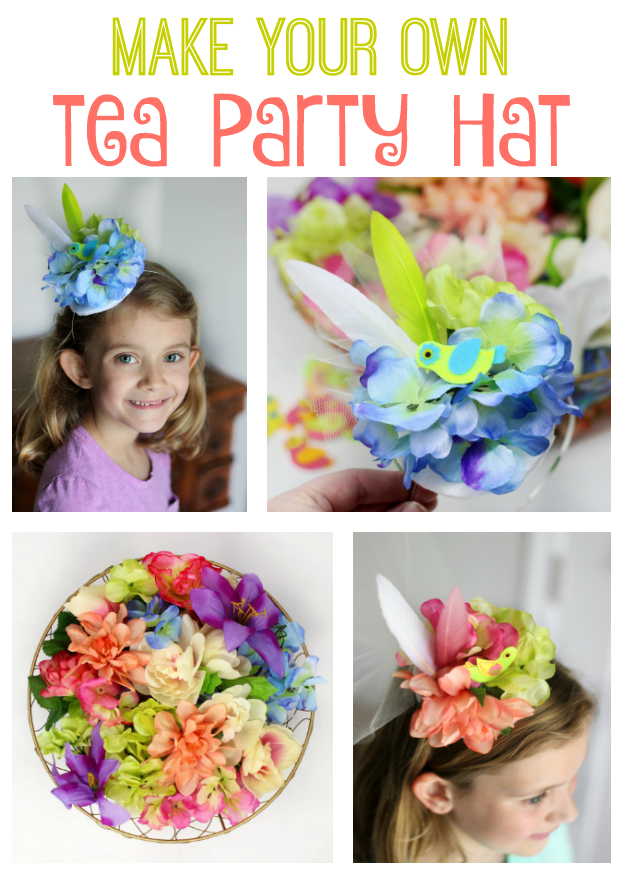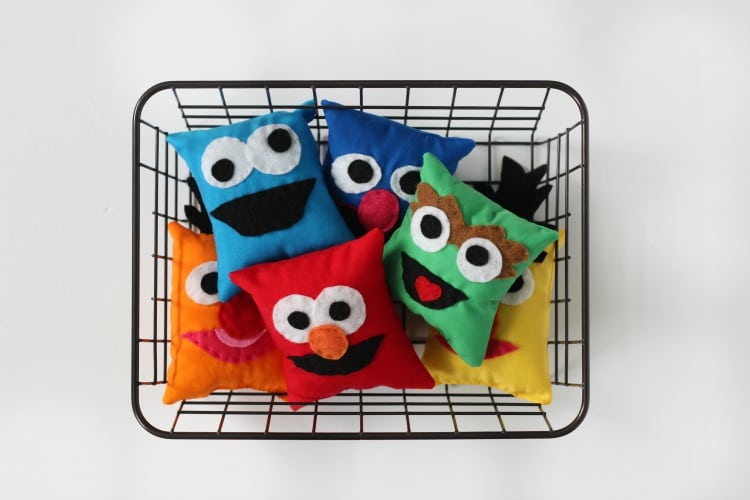 DIY Sesame Street Softies, Bean Bags or Rice Packs