Grandma's variation of everyone's favorite Scotcheroos recipe. These bars rich and incredibly addicting! A family favorite for over 30 years!
If you like Scotcheroos you'll love our Butterscotch Rice Krispsies treats, White Chocolate Peanut Butter Truffles or Samoas' Bars!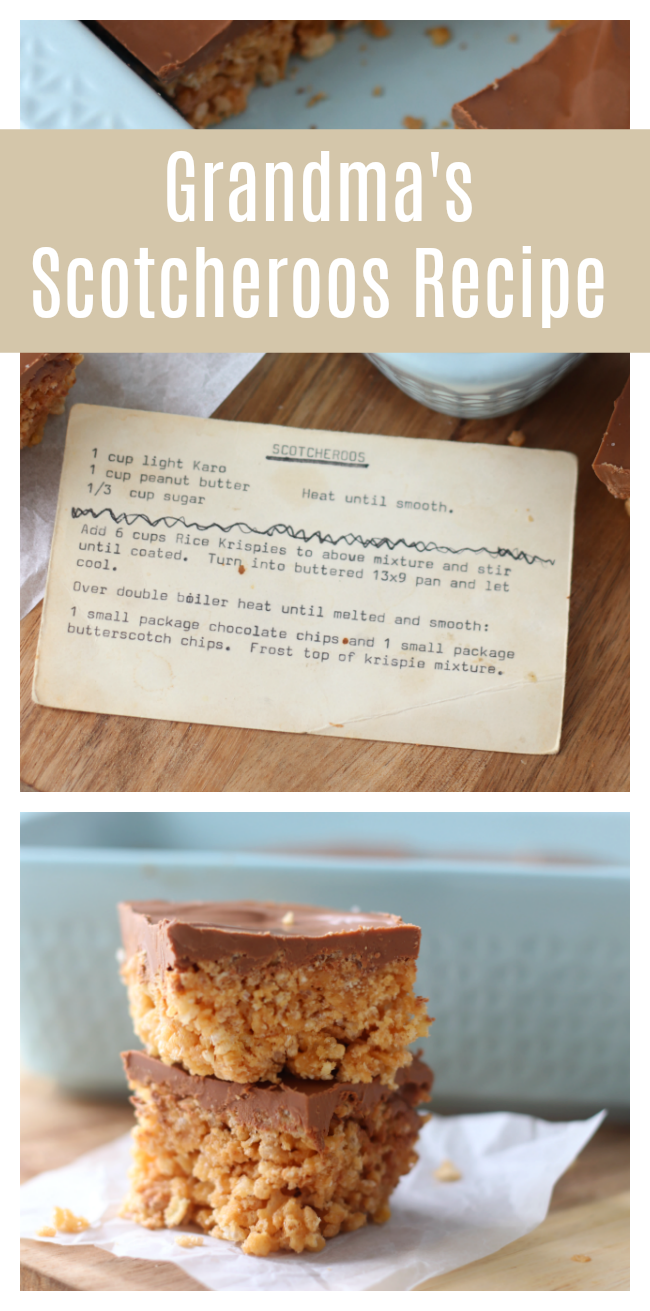 Watch our step by step video!
Many of my fondest childhood memories were spent in my grandma's kitchen. She taught me how to make bread, cookies, and other yummy treats. Scotcheroos were ALWAYS my favorite treat to make when we visited Grandma. It wasn't until I was an adult that I learned that the original recipe came from the back of a box of Kelloggs Rice Krispies cereal in the 1960's. I always kind of figured they were an old family recipe!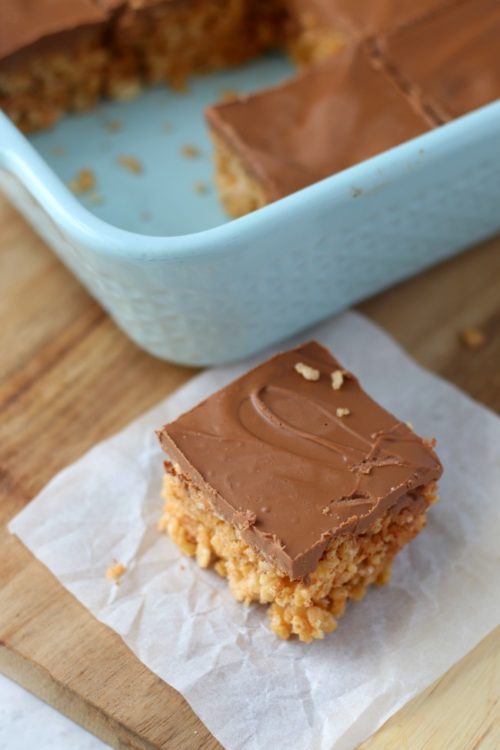 What are Scotcheroos?
If you haven't had Scotcheroos before you are in for a treat. They are a combination of peanut butter, sugar, Karo syrup and Rice Krispies cereal. After you combine those ingredients together you slather them with melted chocolate and butterscotch chips. PERFECTION, and oh so rich.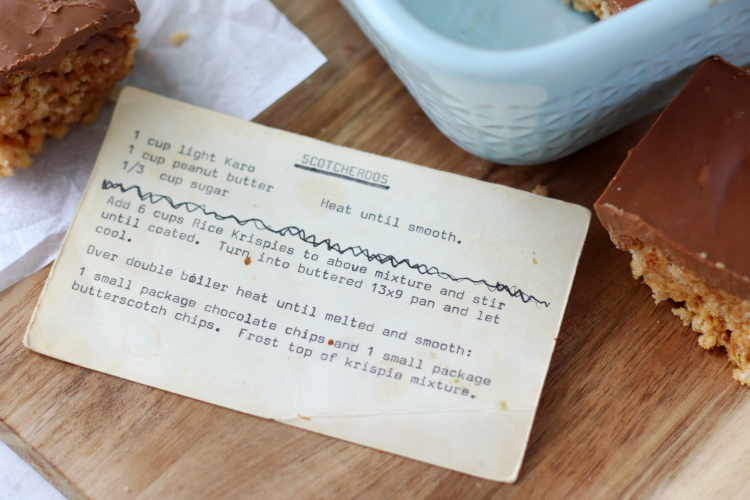 Grandma's Scotcheroos Recipe
This was Grandma's recipe card. It doesn't look like much, but it's crazy how many memories can be packed into a single index card.
I haven't shared this recipe until now because I figured everyone probably already had it, but when I compared grandma's to the original I noticed that her recipe is a slight variation. Instead of 1 c. of sugar, it only calls for 1/3 c. and she used a package of both chocolate chips and butterscotch chips, which is more than the original calls for. After having this recipe for 30 years I'm not about to go and try a different one. These are just right!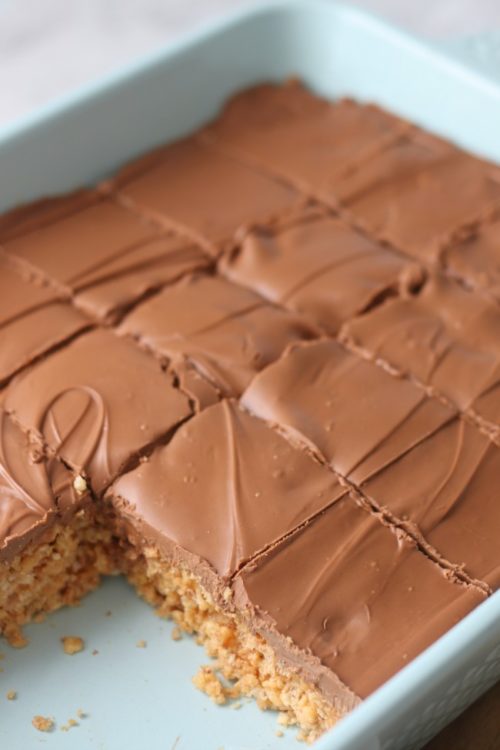 I love that my kids enjoy them as much as I do. Kaylee has made and brought them to activities at church a couple of times. Once she was asked to bring a family recipe that had a story to go with it. She shared the time that my grandma and I made these when I was little and when grandma pulled them out of the refrigerator, she accidentally dropped the dish on the floor. I tried convincing her that we could pick off the glass shards and eat them anyway. Grandma didn't buy it. #truestory They are THAT good.
How many servings does one batch make?
One batch makes 24 large bars or 48 small bars. My calorie count is based on 48 small bars. Ready to make a batch? Let's get started!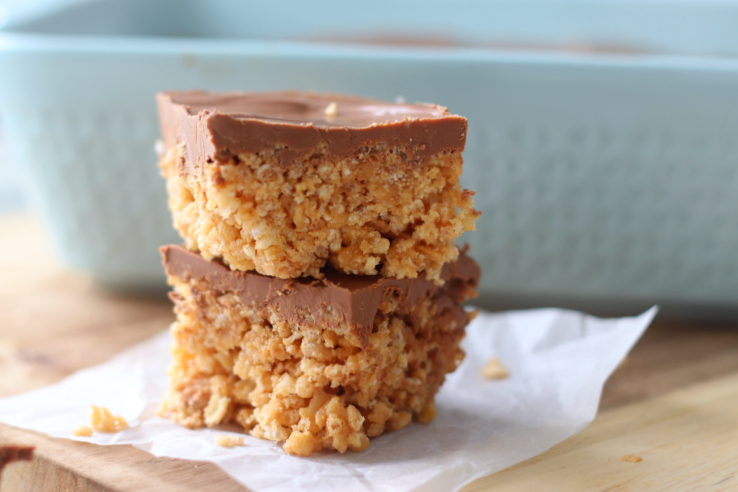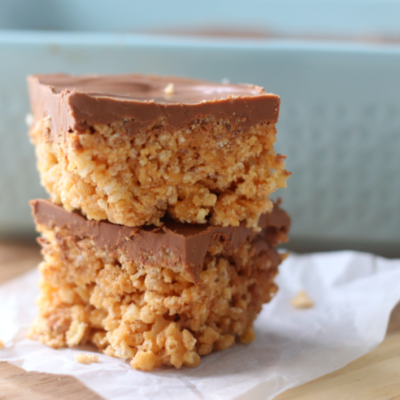 Grandma's Scotcheroos Recipe
Grandma's variation of everyone's favorite Scotcheroos recipe. These bars rich and incredibly addicting! A family favorite for over 30 years!
Print
Pin
Rate
Equipment
saucepan

9x13 baking dish

wooden spoon
Ingredients
1

cup

corn syrup

1

cup

peanut butter

1/3

cup

sugar

6

cup

Rice Krispies cereal

11 oz.

pkg.

milk chocolate chips

11 oz.

pkg.

butterscotch chips
Instructions
Heat syrup, peanut butter and sugar over medium heat until smooth and sugar is dissolved (just heat through, no need to boil). Remove from heat.

Pour peanut butter and syrup mixture over 6 c. of rice cereal. Stir until completely coated.

Spread in buttered 9x13 baking dish. Pack down slightly.

Melt chocolate chips and butterscotch chips in a double boiler or microwave.

Spread over Scotcheroos and refrigerate until set, about 30 minutes. Cut into bars.
Notes
Store bars in an air tight container for up to 5 days.
Nutrition
Welcome! I'm Brandy, mother to 5 darling kiddos and a cute black lab named Toby. My husband is in the Coast Guard so we've lived all over the place, turning each house into a home. I love baking, sewing, making cute things with my kids, and sharing what I've learned with all of you!