Don't let those overripe bananas go to waste! This copycat Bob Evan's banana bread recipe rivals any from a local bakery. Soft, delicious, and sticky on the top. This recipe yields 2 loaves of delicious banana bread.

Don't you love when those overripe bananas go on sale at the grocery store? I grabbed a bag for $1.99 the other day, brimming with brown speckled bananas. Lots of them. And I had big plans for those nasty looking bananas and it is this banana bread recipe. I have always loved banana bread, but not homemade banana bread. Maybe it was because it was usually dry and dense. If it wasn't dry then it was a bit doughy in the center. Nothing homemade seemed to compare with our favorite bakery style banana bread from Bob Evans. It is always perfectly cooked through, sticky on the top, but not doughy, and seemed much more of a dessert than a bread. My husband would order two slices every time we visited the restaurant.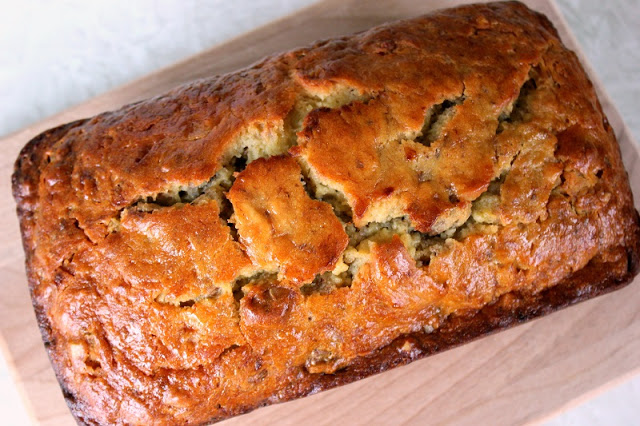 I set out to figure out a banana bread recipe as good as theirs.
I failed over and over. Don't get me wrong, it was edible, but I kept running into the problem of having it drier than we wanted.  If I undercooked it a bit it would be doughy inside, and I always ended up putting it back in the oven to finish up which dried it out.  I kept at it over the years until I figured out how to make it perfectly moist. One that we all absolutely love.
I've learned that it isn't so much the ingredients in a banana bread recipe or determining how dark and nasty the bananas need to be that makes the difference. Good ingredients are good (and I have a great list below), but it is what you do to your banana bread after it comes out of the oven that makes it sticky on top and moist all over.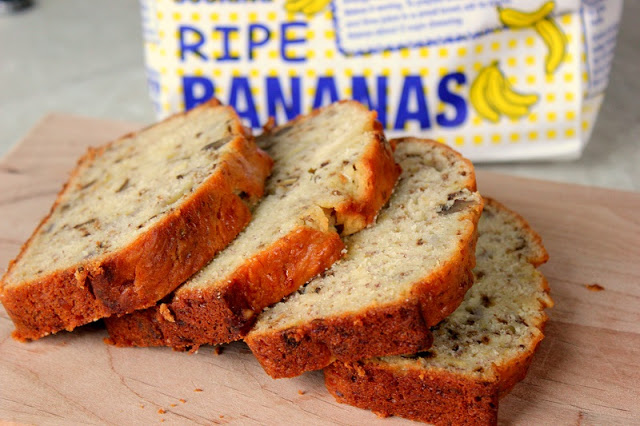 I am going to let you in on my trick (I use it with my yeast bread too) and then I will share my perfect banana bread recipe
.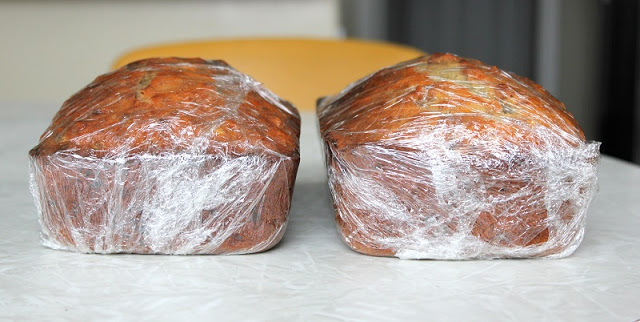 The key to perfectly moist banana bread is wrapping it while it is still warm.
Fight the urge to slice into it fresh out of the oven. It would taste awesome, but your patience will pay off if you wait until morning. I know that is not what you wanted to hear. When your banana bread recipe comes out of the oven, let it stand for in the pan 10 minutes. Then run a knife around the edges, flip it over on a flat surface, cool for 15 minutes then wrap it in plastic wrap. Let the loaves stand on a rack 6-8 hours before removing the plastic wrap.
I do something similar with my yeast bread too. We usually eat a loaf right away, but I wrap the second loaf while still slightly warm and it creates a little condensation and keeps the crust moist since yeast bread dries out quickly. If you don't believe me, watch this video. I knew that wrapping it would moisten the bread, but it wasn't until I watched this video that I learned that the bananas actually need to sit for a while after being baked into the bread too. You learn something new every day!
Letting it stand also allows the banana flavor to really come through. If I haven't scared you off yet, here is my tried and true banana bread recipe.
Thick, moist, dense with bananas and slightly sticky on top.
How many loaves will this banana bread recipe make?
2 large loaves. You can also divide it to create a loaf and a batch of muffins. Bake the muffins for 15-18 minutes, or until a toothpick comes out dry. Baking times may vary.
Can you use frozen bananas to make banana bread?
Yes! Let them thaw on the counter until only partially frozen. I've never made a batch with all frozen bananas, usually half frozen and half overripe when I was running short.
What pudding flavors are best in banana bread?
Vanilla or banana cream pudding mix is ideal for this recipe.
How brown should bananas be for banana bread?
Brown or yellow and heavily coated with brown spots. If it's too brown for you to eat, it's just right for banana bread.
How do you know when banana bread is done?
Check 10-15 minutes before the timer goes off. Insert a toothpick or skewer. If it comes out clean the bread is done.
Do bananas need to be overripe for banana bread?
They are easier to mash and are much sweeter when they are overripe, but you can use fully ripe bananas as well.
How can I riped bananas faster for banana bread?
You can microwave peeled bananas for 30 seconds or bake unpeeled bananas for 15 minutes at 350 degrees until the peels are dark brown.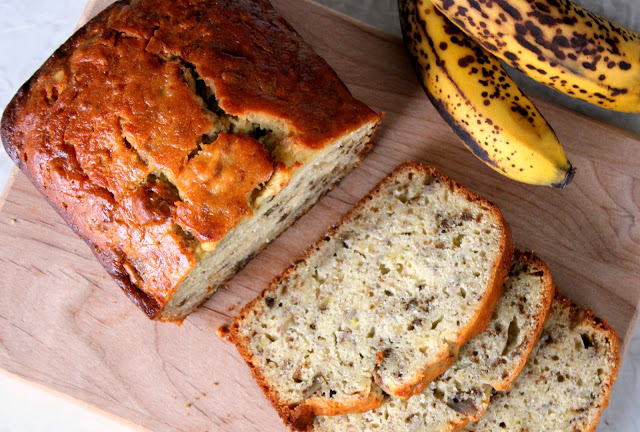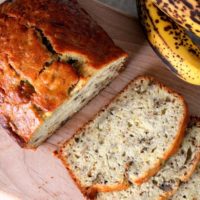 Bakery Style Banana Bread Recipe
Don't let those overripe bananas go to waste! This copy cat Bob Evan's banana bread recipe rivals any from a local bakery. Soft, delicious, and sticky on the top. This recipe yields 2 loaves of delicious banana bread.
Print
Pin
Rate
Cook Time:
1
hour
10
minutes
Total Time:
1
hour
20
minutes
Ingredients
1

cup

butter

at room temperature

1

c

. sugar

4

eggs

8

over-ripe bananas

mashed

1

(5.1 oz) box vanilla instant pudding mix

1

c

. whole milk

4

c

. flour

4

tsp

. baking powder

1

tsp

. salt

2

c

. chopped walnuts
Instructions
Preheat oven to 325 degrees.

Cream butter and sugar. Add eggs and beat until smooth and add bananas. Mix in pudding mix and milk. Add salt and baking powder and flour, one cup at a time. Stir in nuts.

Lightly spray two loaf pans with cooking spray and bake for 1 hour and 20 minutes. If it seems as though your bread is getting too brown, too fast, you can tent it slightly with a piece of foil the last 15 minutes or so. Insert a toothpick. If it comes out really doughy, bake another 8 minutes and check it again. Toothpick should come out fairly clean.

Let bread stand for 10 minutes and then run a knife around the edges to loosen it up. Turn out on flat surface and let cool for 15 minutes then wrap in plastic wrap. Allow to rest on a cooling rack 6-8 hours.
Notes
To reheat, place slices on a microwave safe plate and heat for 5-7 seconds.
Nutrition
Bonus! I use this recipe for my zucchini bread too. Just use 3 cups of shredded zucchini and 2 tsp. cinnamon and omit the bananas.
Don't have time to bake a loaf of bread? Here are 5 quick muffin recipes!
Healthier Cinnamon Pumpkin Muffins Made with Applesauce
Double Chocolate Pumpkin Muffins