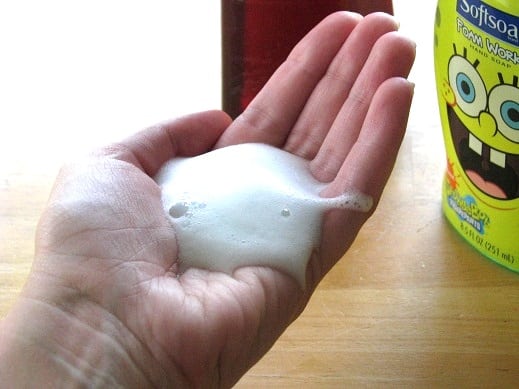 Homemade Foaming Hand Soap. Who knew? Apparently a lot of people except for me because when I googled it, a bunch of links came up! Now that I know how easy it is to make I will never buy another $3 bottle of it again! How do manufacturers justify charging so much for a bottle of it when in actuality you are buying a fraction of the soap that a regular bottle of hand soap has and it is diluted down with water? They probably justify it because people are willing to pay for it! I was.
Here's how you do it:
Fill an empty FOAMING soap bottle with 1″ clear hand or dish. It needs to be clear, not lotion/creamy based.
I used DAWN for these bottles, but have used Ivory liquid dish soap as well. It makes my hands soft and both are antibacterial.
Slowly add enough warm water to fill the bottle, leaving a small space at the top. Replace pump and gently rock back and forth to combine water/soap. Don't shake. Let sit for a minute, give it a couple of pumps and that is it!A large $3 bottle of your favorite scented antibacterial clear soap will make 10-15 bottles of foaming hand soap.
I love foaming soap because it is easier to wash off of hands and uses so much less soap with each use, but is still as effective. My kids just think it's cool.