Use this quick and easy homemade poppy seed soap tutorial with an endless combination of colors, scents, and textures. It only takes a few ingredients to make a completely unique blend that you can claim as your own. Today we're making lemon poppy seed and almond poppy seed soap! This post contains affiliate links.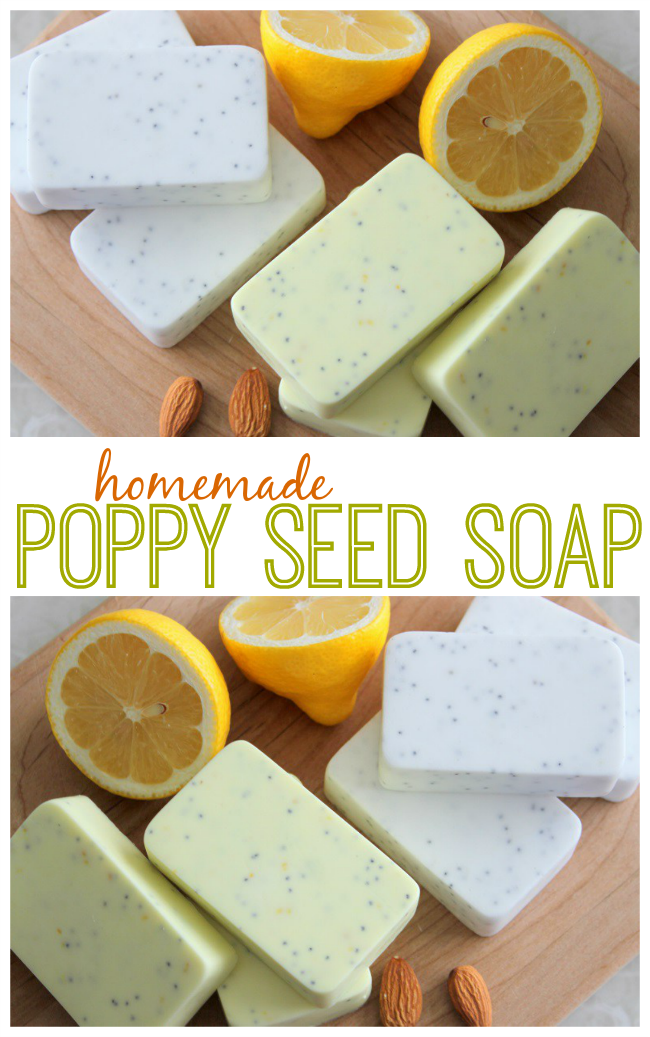 This post was originally shared in 2013 and has been updated.
Melt and Pour Homemade Poppy Seed Soap Tutorial
Making homemade soap can be as easy or as hard as you want it to be. As for me, I choose the easy route. The combination of colors, scents, and textures is endless and it only takes a few ingredients to make a completely unique blend that you can claim as your own. I have always made the melt and pour type soaps and had fun using this homemade poppy seed soap recipe to make some fun variations recently. When you make melt and pour soaps you aren't really "making" soap. You are melting down an already formed soap base and added scents and textures to it. If you are looking for the cold press method, this isn't it. I'd love to learn that someday too!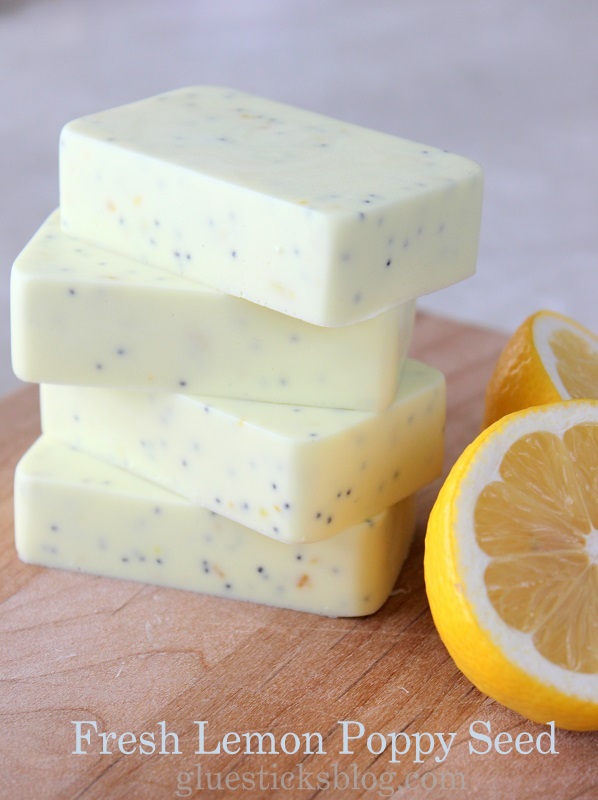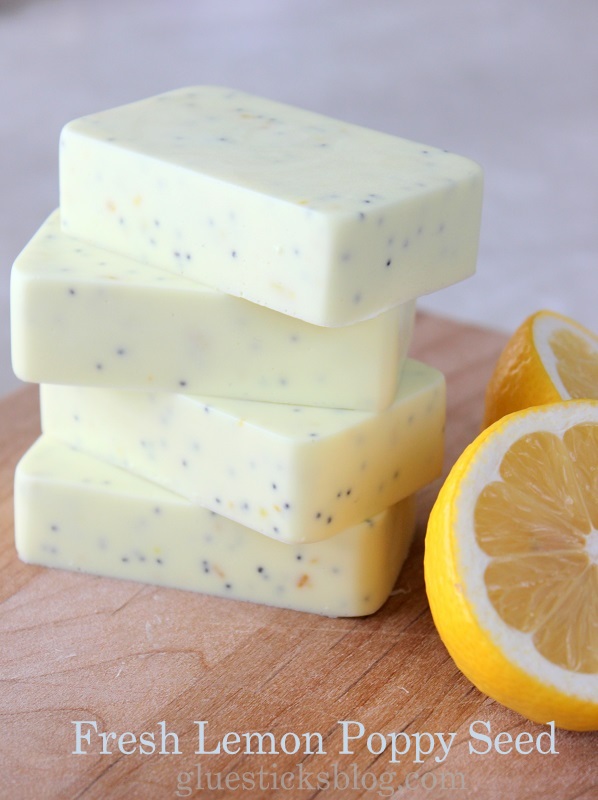 A fresh lemon homemade poppy seed soap for kitchen use. The fresh lemon scent easily removes the lingering aroma of onions and garlic during dinner prep. The poppy seeds feel like little exfoliants against my skin, scrubbing, while the shea butter softens at the same time.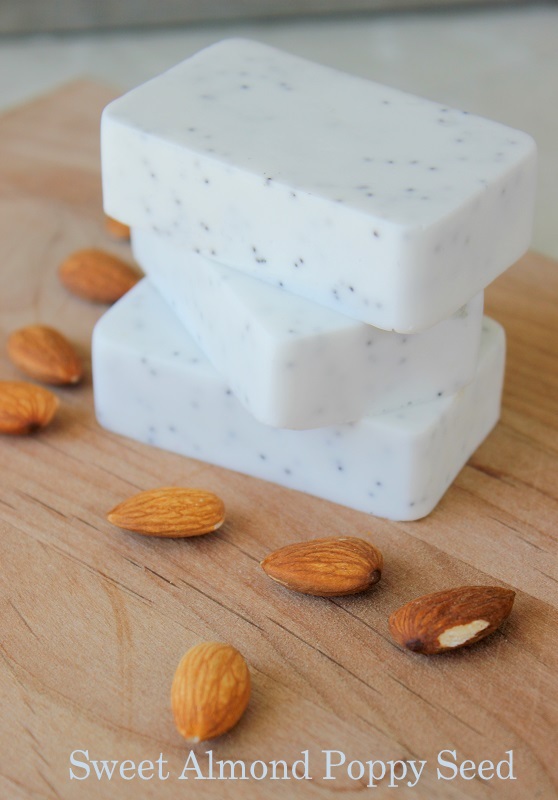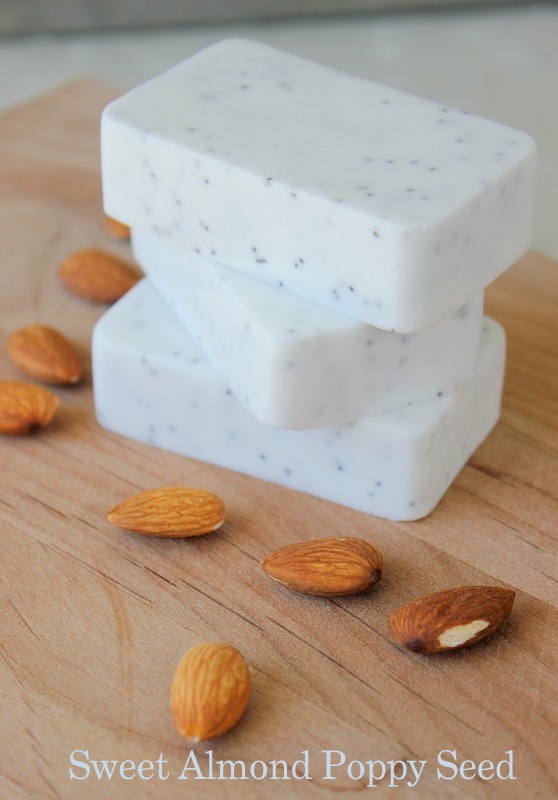 A sweet almond poppy seed soap for upstairs to pamper my tired, dry hands. The shea butter makes it feel as though I am washing my hands with lotion.
Here is the homemade poppy seed soap recipe which you can also use for any homemade soap recipes and make your own in less than 30 minutes.
Poppy Seed Soap Ingredients
Soap Base
You can find 2 lb. blocks of melt and pour soap base at craft stores like Michael's or Hobby Lobby. There are several types to choose from. I've used glycerin soap in the past and chose shea butter soap this time. You could also use a goats milk soap base as well. They are about $9, so be sure to bring your 40% off coupon for the best deal around.
Scents
Almond and lemon scent oils (soap scents or essential oils). They are usually $4-$5 for a small bottle at craft stores or Etsy.
Coloring
Coloring your soap is optional. I chose to add a few drops of yellow to help the lemon one stand out from the almond scented soap.
Add-Ins
The zest of 1 lemon (for the lemon soap)Â and poppy seeds for both soap recipes.
Soap Mold
Plastic or silicone is easy to find at craft stores. Plastic molds are the most inexpensive route and come in so many fun shapes. I used a silicone mold. You can also use a bread pan and cut your soap into bars.
Glass measuring cup
Measuring spoons
Small spatula
Baking Sheet
How To Make homemade poppy seed soap
As a reference: I used 10 oz. soap base, 8-12 drops of scent oils, 4 drops of coloring (for the lemon soap), the zest of 1 lemon (for the lemon soap) and 1 Tsp. poppy seeds for each batch. 1 batch made 4 (2″x3″) bars of soap.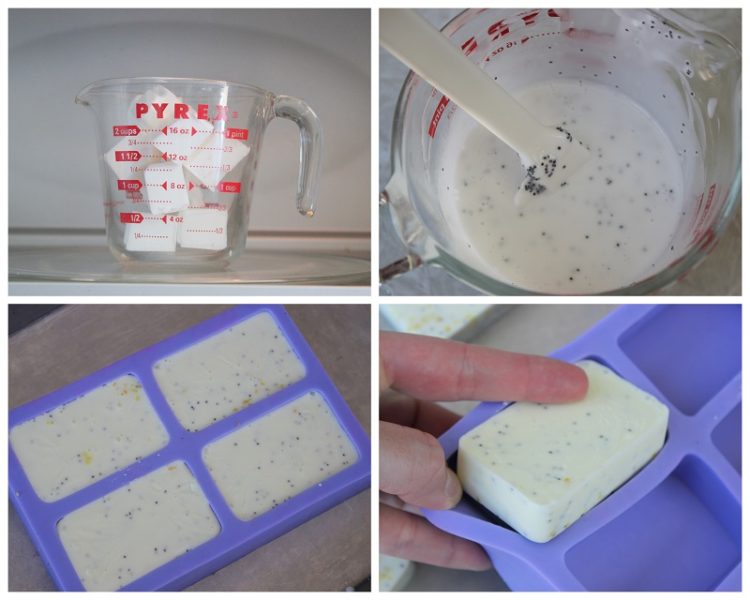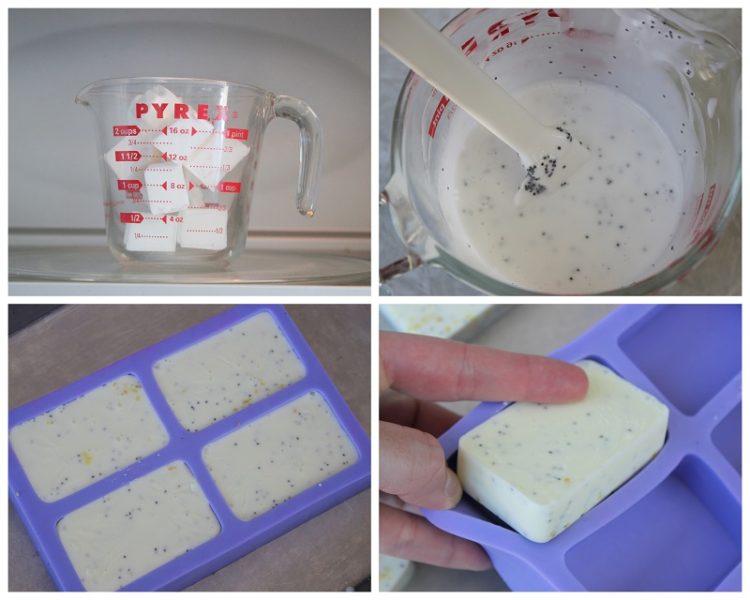 Cut your soap base into small cubes. Fill a glass measuring cup and microwave at 30-second intervals, stirring after each interval, until melted. It takes about 90 seconds.
Add your scent (a few drops at a time until you reach the desired potency), coloring and add-ins.
Place soap mold on a baking sheet to make transporting it to the refrigerator easier.
Pour soap mixture into molds. You can coat your molds with a small amount of cooking spray to prevent sticking if using a plastic or metal mold. Once you've poured your soap there may be some air bubbles. I just poked them with a toothpick, but you can also lightly spray with rubbing alcohol to remove them.
Place in refrigerator for 15 minutes or until set. Carefully pop out of the mold.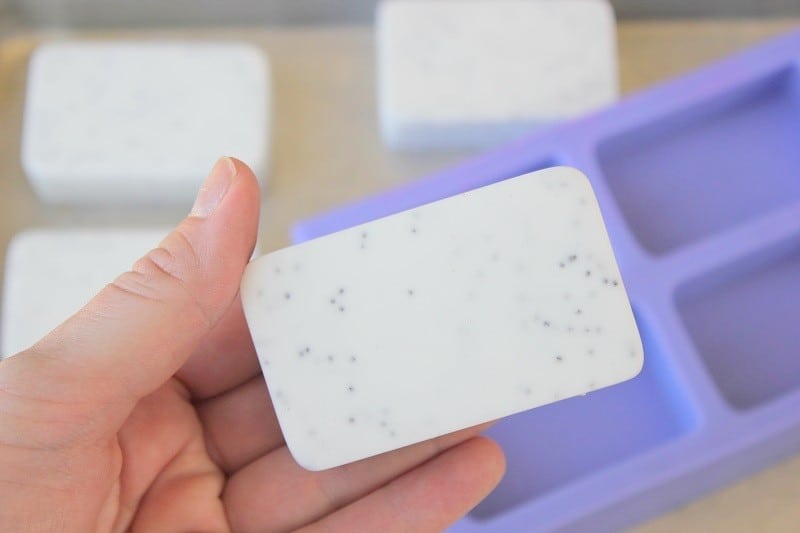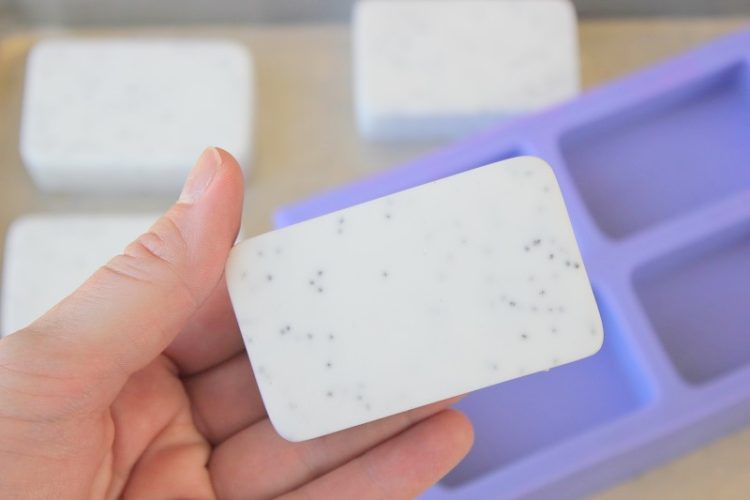 Smooth, fragrant, and ready to pamper yourself or package up for a friend.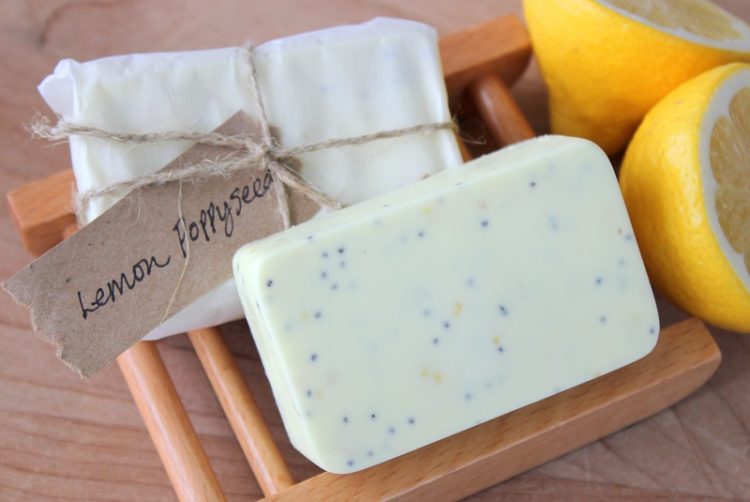 A small piece of parchment paper and some twine easily cover this soap that is going to be sent out as a Mother's Day gift.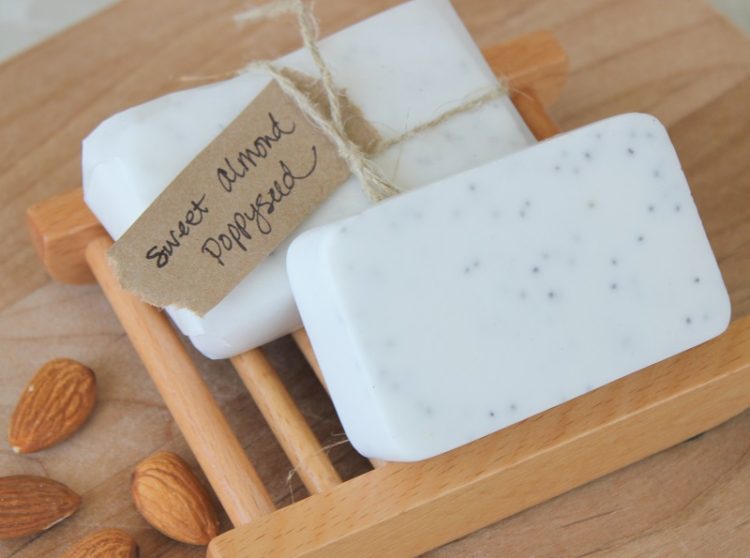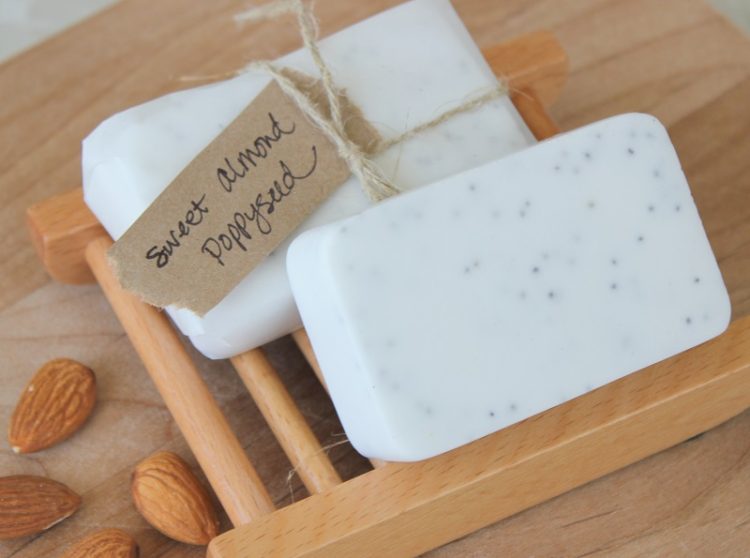 Is melt and pour soap gentle on sensitive skin?
The beauty of making your own soap is that you can choose what ingredients go into it. The soap base itself is gentle and you can add any ingredients you'd like that agree with your skin.
Does melt and pour soap need to cure?
Melt and pour soap is pre-made soap. You are basically re-melting it. Any real soap making process has already happened.
How do you get the bubbles out of melt and pour soap?
Spritz rubbing alcohol over the soap before it has time to set up.
Does melt and pour soap expire?
This soap will last indefinitely as long as you do not add ingredients to it that could go rancid.