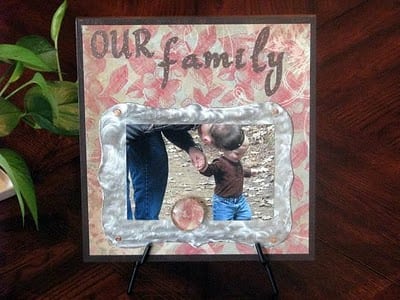 I saw a photo on a magnetic frame created with vinyl letters a long time ago. I looked on the web to see if there was tutorial somewhere and couldn't find one. Maybe there is an easier way to do this, and an easier way to get small sheets of metal, but this is how we did it. And by saying we, I mean Derrick and I. He did all the power tool stuff 🙂
To begin, I came up with the dimensions that I wanted for the board size. This one is 9×10. I wasn't sure where to find a piece of metal to fit so Derrick cut me a piece of 6×8″ galvanized steel, with snips. He did a great job! 6×8 was perfect for a 5×7 photo or a couple of smaller photos. He buffed out the finish to make the circular design.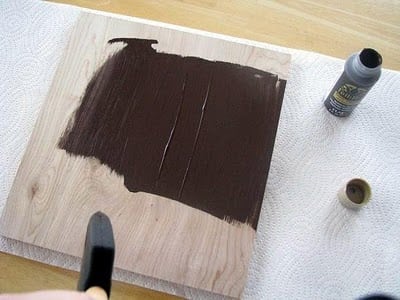 I painted the board with acrylic craft paint. Front, back, sides.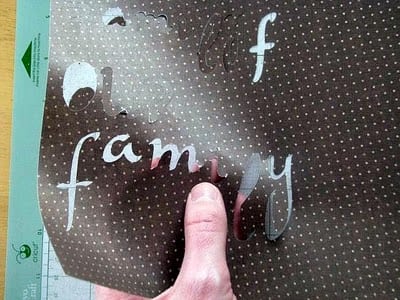 While that dried, I cut out letters with my cricut using the Jasmine cartridge. You could use vinyl letters as well, but since I was going to mount this on scrapbook paper anyways, it just made sense to use paper.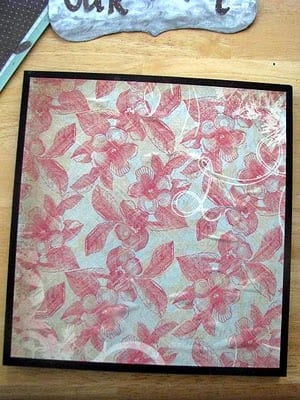 After the paint dried, I cut a piece of scrapbook paper and adhered it to the board with a thin coat of mod podge. Love this stuff!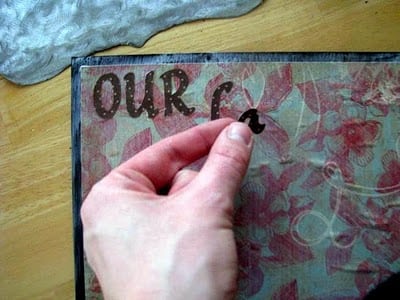 Once that dried I added another layer of mod podge on top of the paper and adhered my letters to that.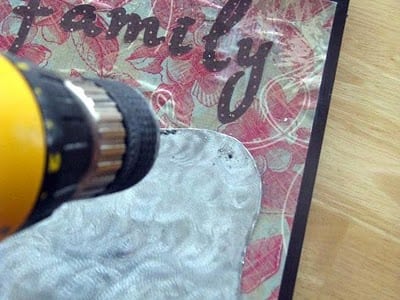 You can see that the paper is bubbling here. That is just because it hasn't dried completely. It was completely smooth when it dried.
Since I was using galvanized steel, it would be impossible to just hammer in my tacks. I pre-drilled the holes, then used tacks (found at Lowe's. A box for .99) to attach the steel. I love the copper ones against the steel.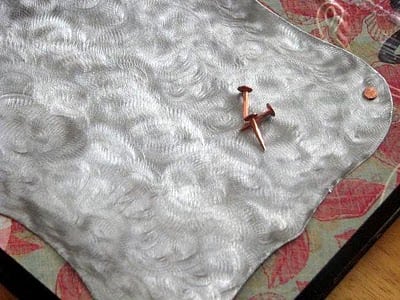 Finally, I attached some wire to the back so that it could hang on a wall…
This frame was packed up and sent out west to my parents. My mom called on Monday and said they they LOVED it!