Derrick took the boys out this afternoon to get Mother's Day "stuff". Hmm…not sure what that means since I told him that I wanted a backscratch from him and homemade cards from the kids….so we'll see what they come up with at the store, lol.
So I had a little time to myself (and Kaylee). I made myself a long-needed earring holder. As I was putting my earrings on it, I realized that I had a lot more than I thought, but most of them were tarnished and my necklaces have knots in them from being thrown together in a little box. So when I work out that mess and clean my earrings, I can fill my holder up a little more.
For this project, I used an old 4×6 hinge frame that I think I got at Walmart for a couple of bucks. It was on my dresser. I also used rubber cement, scrapbooking paper, and one of Derrick's mesh trays that he uses on the BBQ. You could use any kind of mesh or even some plastic needle point stuff (not sure what it is exactly called). I just know I've seen that mentioned on other sites for earring holders!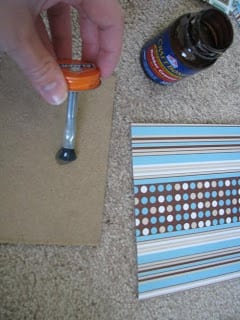 Downloading pics from blogger is getting really annoying! They have to be med-small and they sometimes flip like this, oh well.
I took the glass out of the frames and attached scrapbooking paper to the cardboard backings.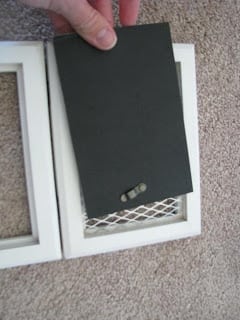 I then cut the mesh to size and replaced the cardboard backings. You could just leave the backing off and staple the mesh to the frame. It would give you more room to hand your earrings on later on, but this works and looks cute.
Almost done!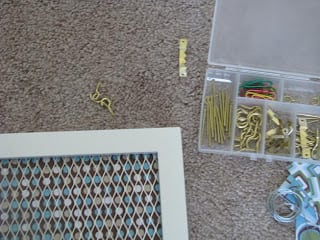 I added a couple of small hooks for necklaces. I only had brass hooks.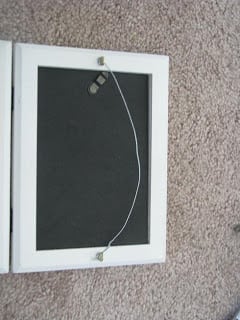 Then attached a wire on the back to hang.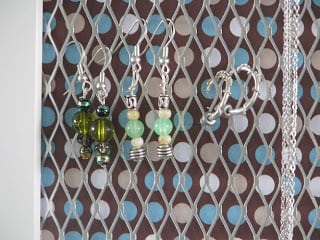 All done! My friends Stephanie and Tiffany came over awhile ago and we made earrings. It was a lot of fun, I think we'll do it again! I just bought a earring pack at Joann's with all of the wire and backings and a couple of packages of beads. Derrick and the boys gave me two more little packages of beads for my birthday and we fished through the kid's craft beads and surprisingly found a lot of cute ones in there! Very inexpensive. You can totally tell which earrings Derrick attached to the hooks and which ones I attached. Let's just say I have poor motor skills with little tools, lol.
Total cost for this project? Free!