Every child wants to feel super on their birthday! Make a super cape birthday gift for any boy or girl and be sure to include a few other goodies like their favorite candy, some silly string, and an awesome birthday card! This post contains affiliate links.

This little cape was sent to my sweet little niece. A super big sister with a big heart and a infectious smile. I just love that girl! Normally, I send a gift card to my nieces and nephews, but I wanted to do a little more for her this year. If you don't have time to make a super cape you can definitely order one. I'll share both options!
If you are looking for an entire collection of projects to make with kids check out my book! It has 60 step by step projects with hand stitching and machine stitching techniques!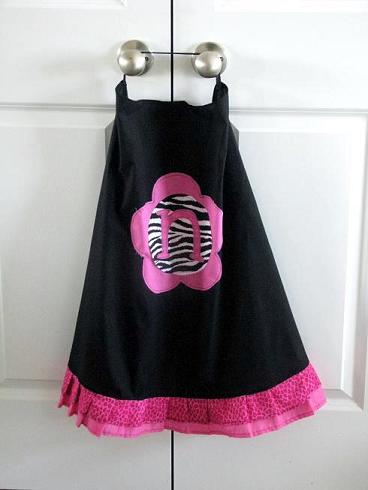 How to Make a Super Cape
I've made capes for several little friends recently and the process is the same for boys or girls.
Step 1: Cut a rectangle of cotton fabric (the length of their shoulder to knees) and trim it on an angle on the top corners so that it is slightly narrower on the top.
Step 2: Hem around the edges by folding it over 1/4″, ironing it, then folding it over another 1/4″ and sewing all the way around.
Step 3: Attach a piece of black elastic by stitching one end to each top corner and you have a basic cape!
Personalize the Super Cape
Monogram/Super LogoÂ
1. Pin fabric to cape and zig zag around the edges to encase any raw edges.*
2. Use felt for the applique and stitch close to the edge. Felt doesn't fray.
3. Purchase iron-on letters or designs from your local craft store and attach them to the cape. Vinyl is a great option.
*I kept the edges raw with the applique on this cape.
Ruffle
For this one I cut a two strips of fabric twice as wide as the cape, hemmed the bottom and side edges, then stacked them, and gathered the fabric by folding it over and pinning it every couple of inches.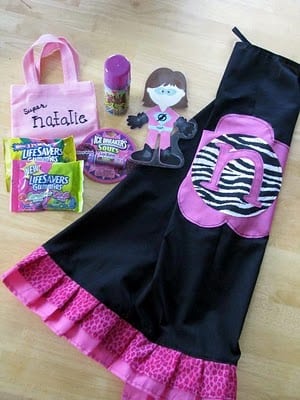 Other Items to Include for a Super Cape Birthday Gift
I also enclosed a few "necessities" for any super girl.
Silly string (it had a fun super/spy aspect), lip gloss, and some sour gummy candies. Nothing extravagant and I hardly spent a thing. Other ideas of things to include might be a matching mask, sunglasses, or tiara.
I had so much fun making this! I think every girl needs one of these…heck, I'd probably be more productive with my housework if I ran around in a cape too!
Other Creative Gift Ideas for Boys and Girls
Welcome! I'm Brandy, mother to 5 darling kiddos and a cute black lab named Toby. My husband is in the Coast Guard so we've lived all over the place, turning each house into a home. I love baking, sewing, making cute things with my kids, and sharing what I've learned with all of you!