How to make a watermelon shark that is sure to be a hit at your next summer BBQ! Fill with fruit and gummy fish for a fun added detail!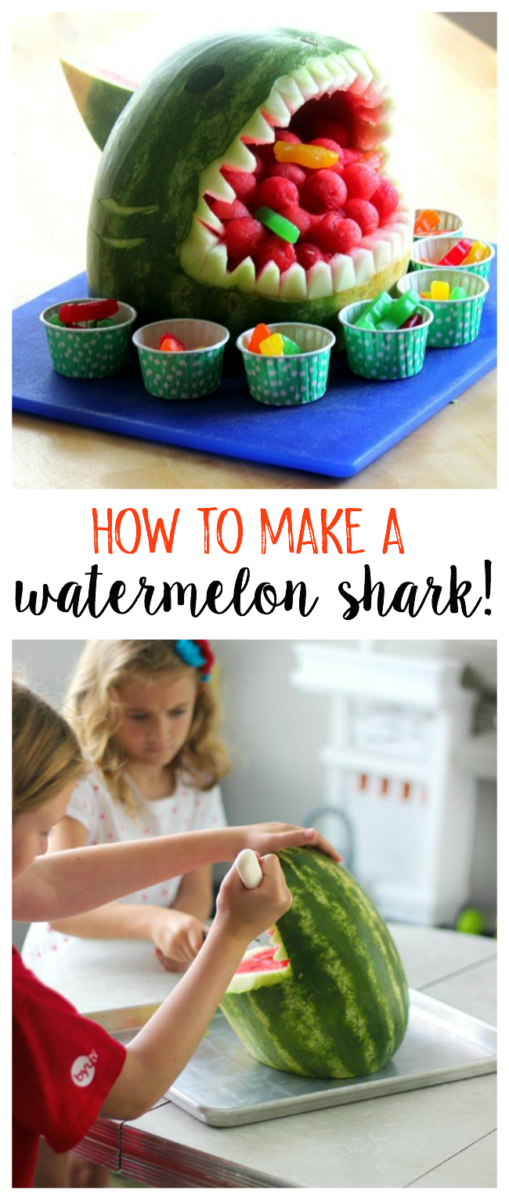 Making a watermelon shark is such a fun summer tradition that we have. We usually make one for the 4th of July, but have brought them to summer BBQs with friends at other times too. It really isn't hard to make a watermelon shark and it's always such a hit with the kids!
The photo above is of the kids working on our first shark 8 years ago!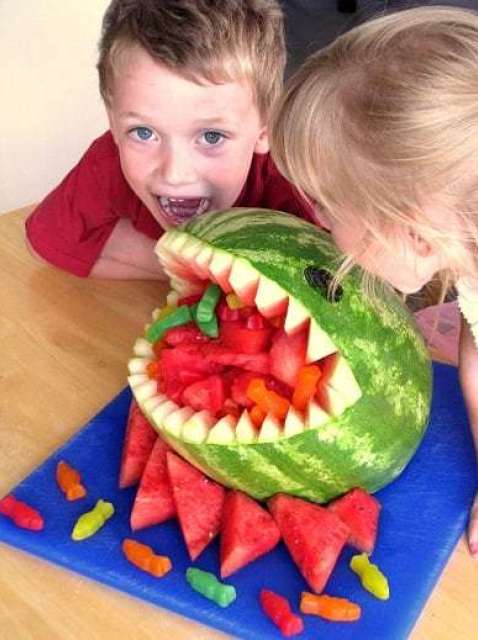 We've made our watermelon shark many times and it's fun to see the photos throughout the years. Every time we make him, he looks a little different!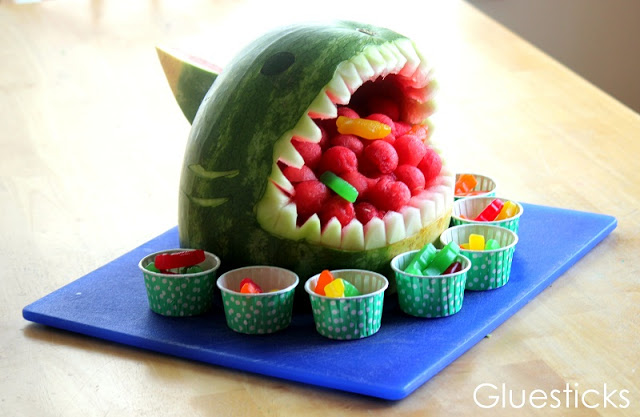 (Yes, the baby is sans-pants, holding a toothpick on the table. Crazy kid!)
The girls made this one with a bit of help on the big cuts. The teeth aren't perfect, but I love how it turned out and they didn't cut themselves!
Ready to make a watermelon shark? Here is what you will need!
platter or cutting board
seedless watermelon
large knife
sharp paring knife
melon baller
permanent marker
toothpicks
gummy fish
Watermelon Shark Instructions:
If the watermelon is dusty, give it a quick wash and dry with a towel.
You will need to cut a flat surface on the watermelon so that it can stand on its own. To do this, cut off about 1/3 of the watermelon on an angle (diagonal).
Place the watermelon, flat side down, onto a large platter or cutting board.
Cut out the mouth with a sharp knife.
Use a melon baller to scoop out the watermelon. Leave 2-3″ of the base intact. We learned the hard way that if you scoop out too much of the watermelon that the juices will leak out the bottom. Leaving 3″ of watermelon will create a barrier.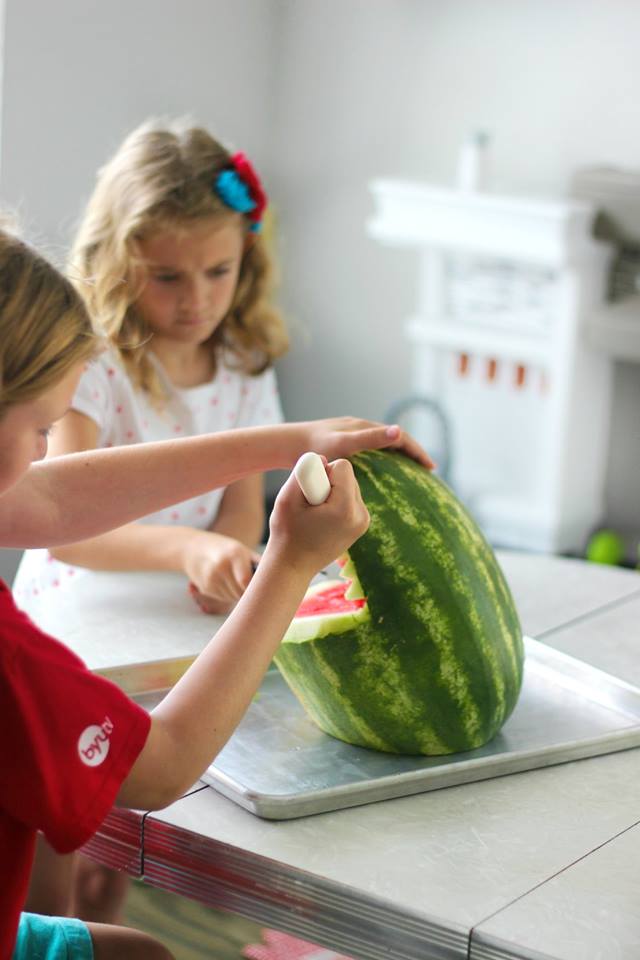 Use a small knife or Exacto knife to carefully cut out teeth. To do this, cut a shallow outline (about 1″) around the mouth, only cutting through the green rind. Then carve off the strip of green rind until you have a 1″ white outline around the mouth. The white strip will be the teeth.
Make cuts all around the white outline area to create teeth.
Remember the 1/3 of the watermelon that you cut off? Use that to cut out fins. Attach fins with toothpicks.
Draw an eye on with a permanent marker.
Tips to make a watermelon shark:
Use a melon baller to scoop out watermelon.
Gummy fish are such a fun added detail but do get sticky if touching the watermelon. Have some on the side that are nice and dry to serve with the watermelon.
Fill with other fruits for a yummy fruit salad watermelon shark!
This idea and instructions came from Sun Scholars, but it appears that her site is no longer around to link to. When I realized this, I updated the post and added instructions.
Here are more fun watermelon carving ideas from Taste of Home.
You might also like…