Gummy Shark Rice Krispies treats are the perfect snack for Shark Week! They are easy for kids to make and customize with melting chocolate, gummy sharks and sprinkles!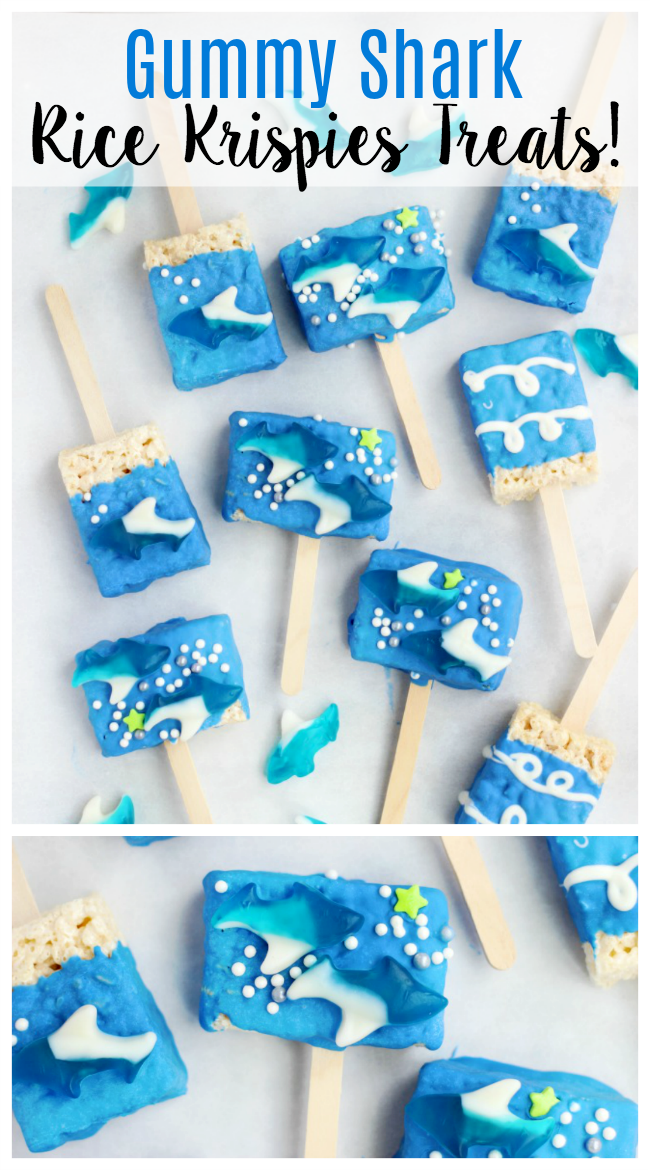 The girls and I celebrated their last day of school by making shark Rice Krispies treats after they got off of the bus! I found a container of gummy sharks at a local country store and saved them for this activity. It's the same store that I bought the mini Buckeyes that I used for my chocolate peanut butter Texas sheet cake—which has been a big hit on Pinterest!
You can find gummy fish and shark candy other places too, don't you worry. So grab a bag and make a batch of shark Rice Krispies treats for Shark Week or a summer party.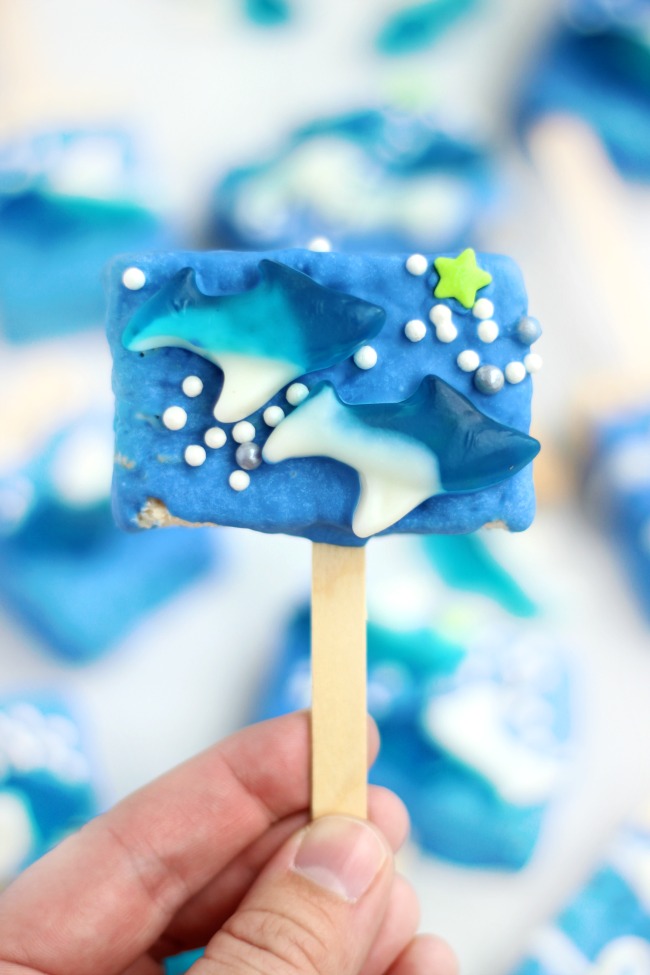 We made all different kinds: vertical, horizontal, some with single sharks and some with shark friends. Mine were all vertical with a single shark, but Ruby knocked it out of the park with her shark friends treats. She even went into the cupboard and found a container of star sprinkles to use as star fish. I love projects like this that let their creativity shine through!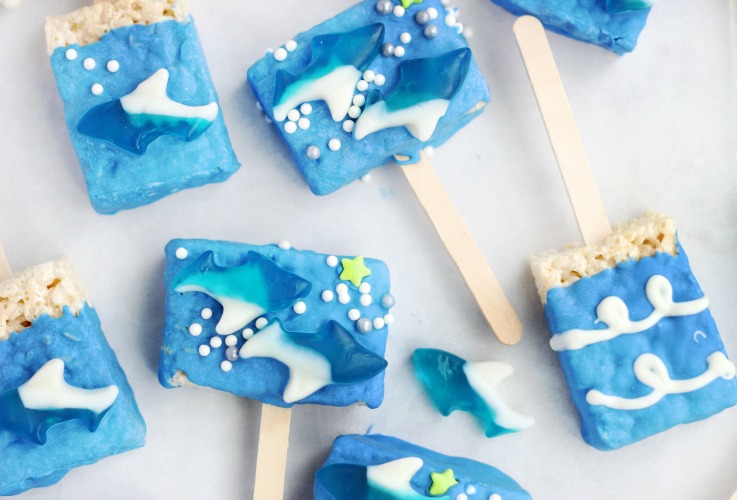 We also made a few with ocean waves using white melting chocolate and a squeeze bottle.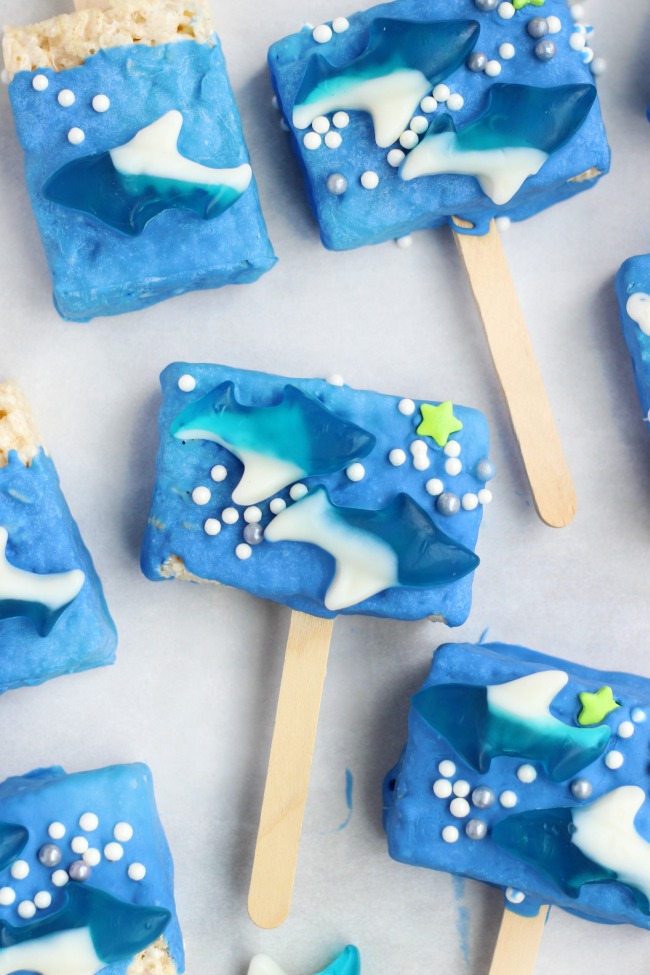 You are probably wondering where I found this gorgeous shade of blue melting chocolate. I actually tinted this myself using a bottle of candy coloring from Chocoley. Never use food coloring to tint your white melting chocolate—always use candy coloring that is oil based so it doesn't mess with the texture.
More yummy melting chocolate treats to make:
White Chocolate Peanut Butter Truffles
Crispy Coconut Cookies with Chocolate Drizzle
Chocolate Butterscotch Rice Krispies
Ready to make a batch of gummy shark Rice Krispies Treats? Let's get started!
Shark Rice Krispies Treats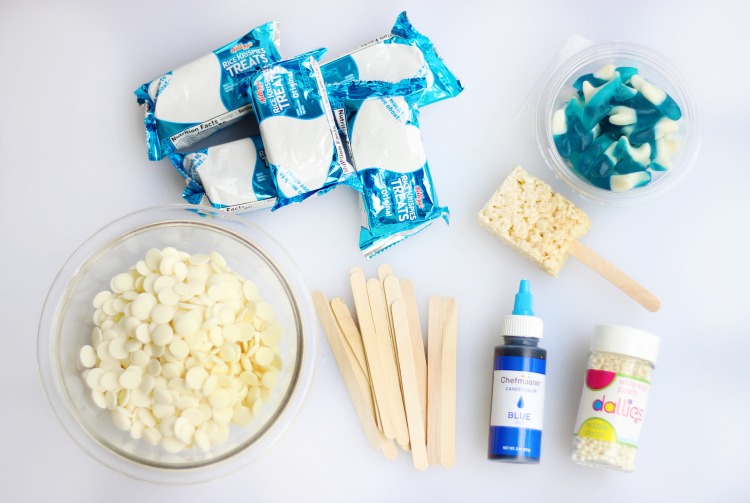 Ingredients:
12 Pre-packaged Rice Krispies Treats
Popsicle sticks
1 1/2 cups white melting chocolate (Decocoa White Gourmet Compound Chocolate)
Chocolate Coloring (Chefmaster Candy Color)
Gummy sharks
White sprinkles
Baking sheet with parchment paper
Instructions:
Line a baking sheet with parchment paper. Unwrap 12 Rice Krispies treats and insert a popsicle stick into each one.
Melt white chocolate in a microwave safe bowl for 20 seconds at a time, stirring in between, until melted and smooth (40-60 seconds). Add a squirt of candy coloring and stir.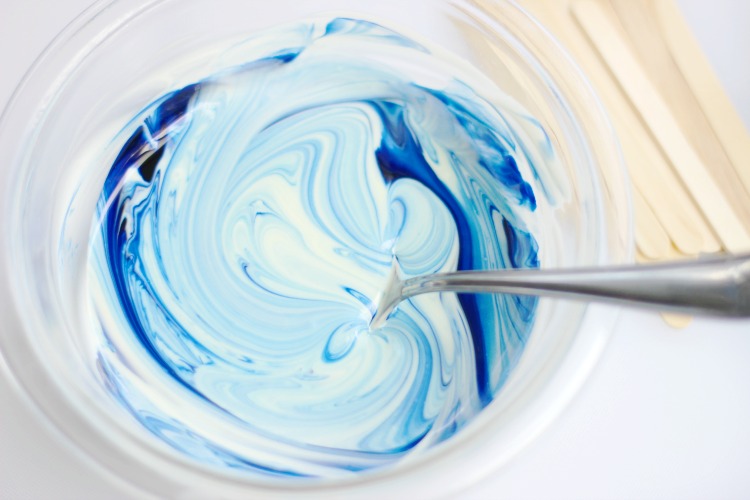 Continue to add coloring until the desired shade is achieved.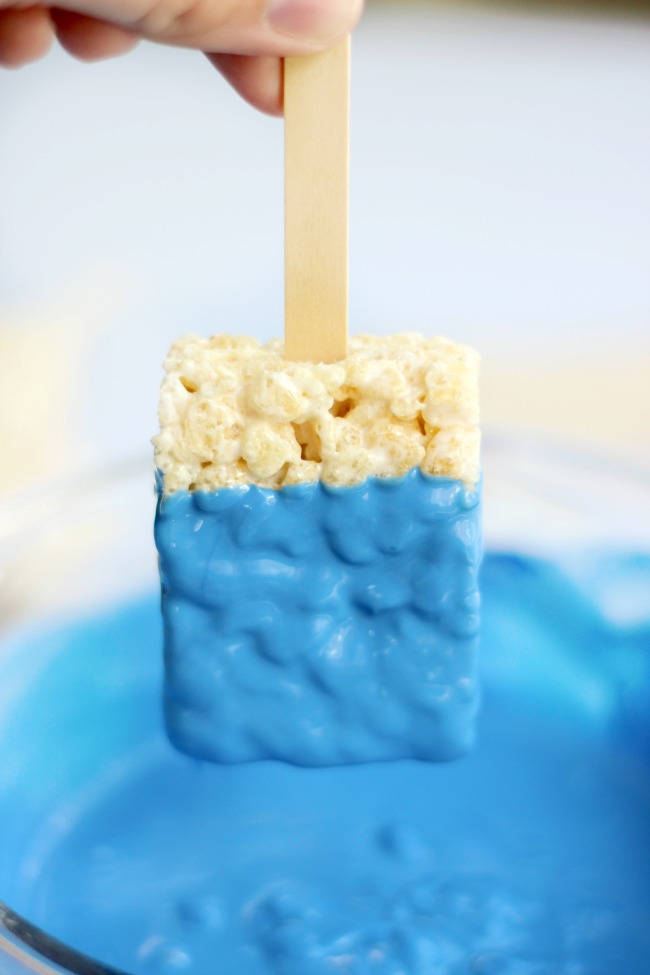 Dip each Rice Krispies treat into the melting chocolate.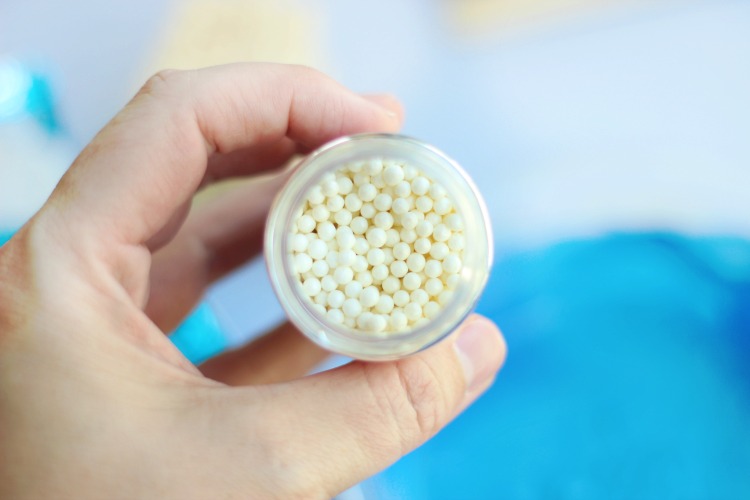 Place on parchment paper to set. Add a gummy shark and sprinkles.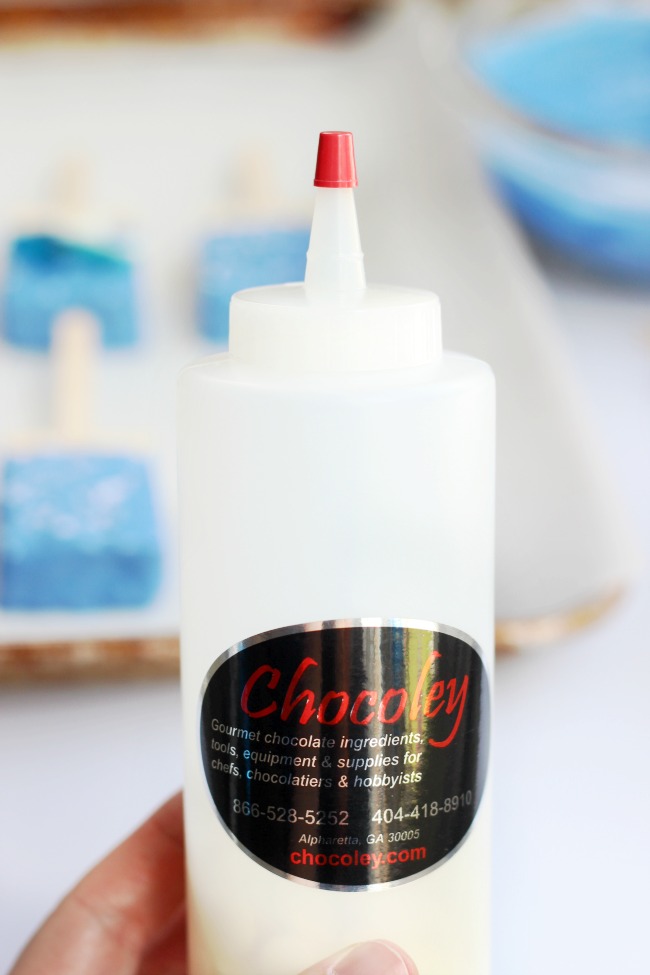 Optional: To drizzle white chocolate, add desired amount of chocolate into a squeeze bottle. Place bottle in a pan of hot water and let it float, rotating it occasionally, until chocolate has melted.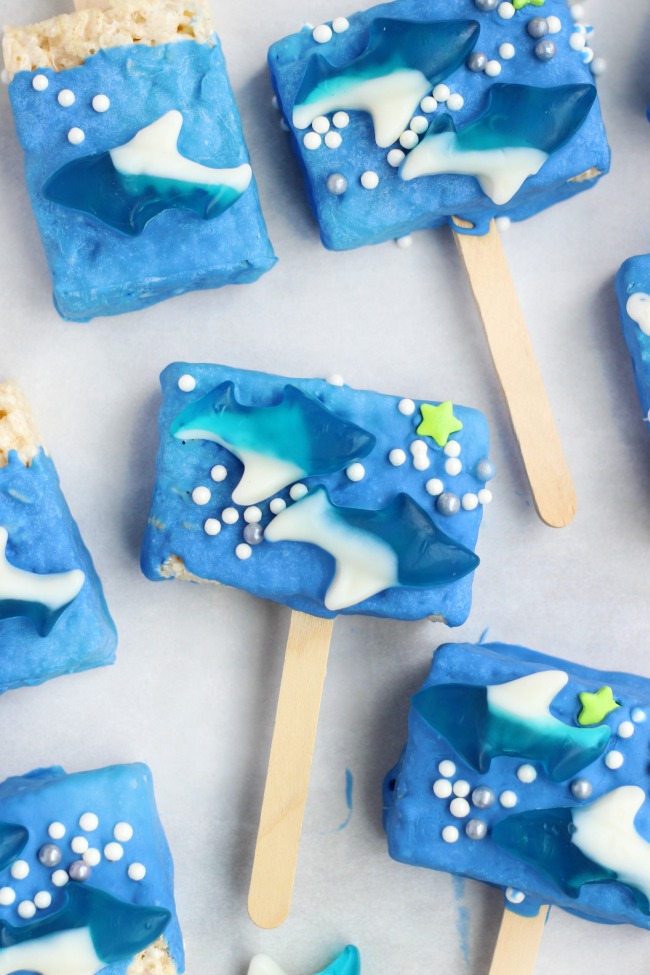 How many shark Rice Krispies treats does this recipe make?
This recipe makes 12 treats.
Tips and tricks for melting chocolate and troubleshooting:
Here is a great resource from Chocoley. Everything you need to know to be successful using melting chocolate.
How should I store Rice Krispies Treats?
They will stay fresh for one day. Then store in an airtight container or individually wrapped.
How long does it take for the chocolate to harden?
These chocolate dipped Rice Krispies treats will set up in about 10 minutes. You can speed up the set up time by placing the tray in the refrigerator.
What other Shark Week treats should we make?
Here is an awesome collection of Shark Week foods and activites from Forkly.
I received a variety of melting chocolate supplies from Chocoley in exchange for sharing this fun and creative recipe with you!