Our no sew sock gnomes are so cute and easy! They take less than 10 minutes to make and can be made with many different sock prints! This post contains affiliate links.
You might also like our sock snowmen! If you're looking for a fun holiday craft for kids check out our paper cone Santa, our model magic ornaments or our thumbprint reindeer ornament!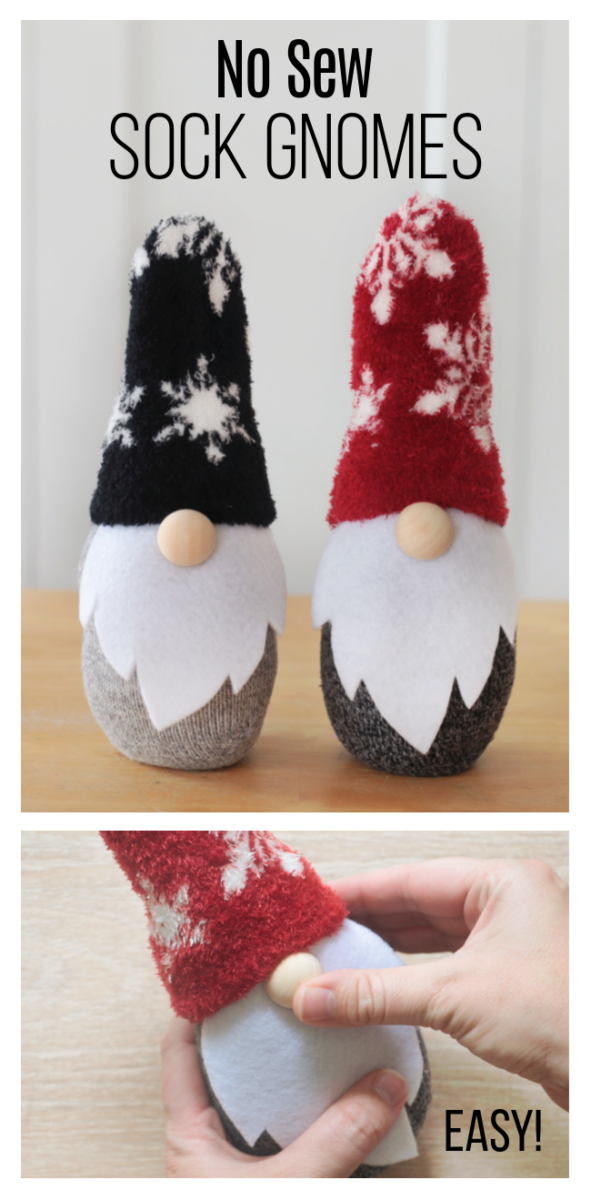 Watch our step by step video!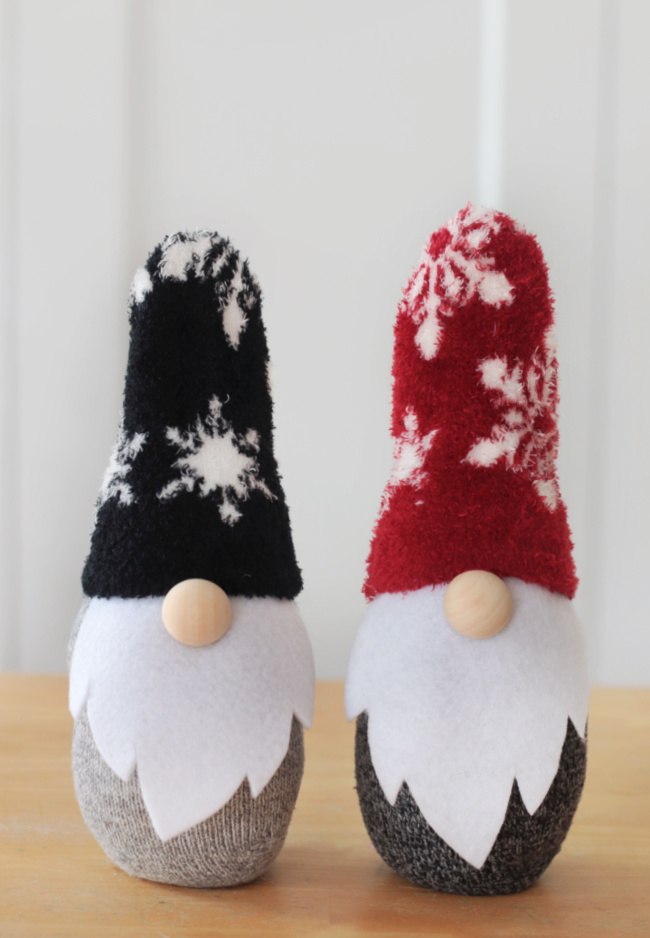 DIY Sock Gnomes (no Sew)
Looking for a quick and easy craft to brighten a shelf? These sock gnomes are just the thing. They take less than 10 minutes to make and are so fun. The best part? There's no sewing involved, minimal supplies, and can be made from any adult crew sock! You can totally make mini gnomes from kids' socks, but this one is intended to be made using an adult sock and includes a printable beard template!
My girls love gnomes. We found some cute ones at Target last year and put them on the shelf in the kitchen. Now they can make their own for any holiday or occasion. How fun would these be for a craft night? Everyone would go home with their own gnome to add to their holiday decor. In February, grab some pink and red socks to make Valentine's Day gnomes!
Best Socks To Use for Sock Gnomes
Solid socks work great for the gnome's body. I love these ones. This is a great project for mismatched socks!
It's fun to use printed socks for the gnome's hat. I found mine at Target for $3 a pair. Walmart and Dollar Tree also sell inexpensive patterned socks. Crew socks work the best for sock gnomes. The banded edge is perfect for the hat since it's a finished edge and squeezes onto the gnome's head just right. If you'd like a long, droopy, hat that folds over you can use a knee-high sock. You can use an ankle sock for the body, but definitely use a crew sock for the hat. 
You only need one sock from each pair so save the others for a second gnome!
After making this project you'll have two unmatched socks. Save them for a later date or make a couple of extra gnomes to give as gifts.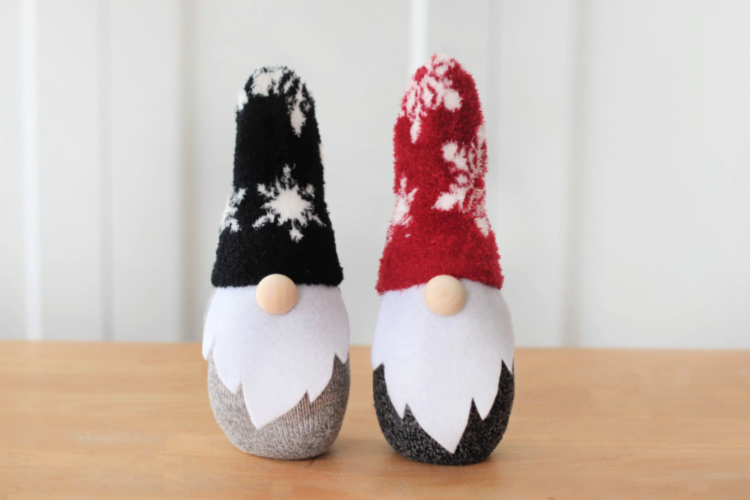 Sock Gnome Supplies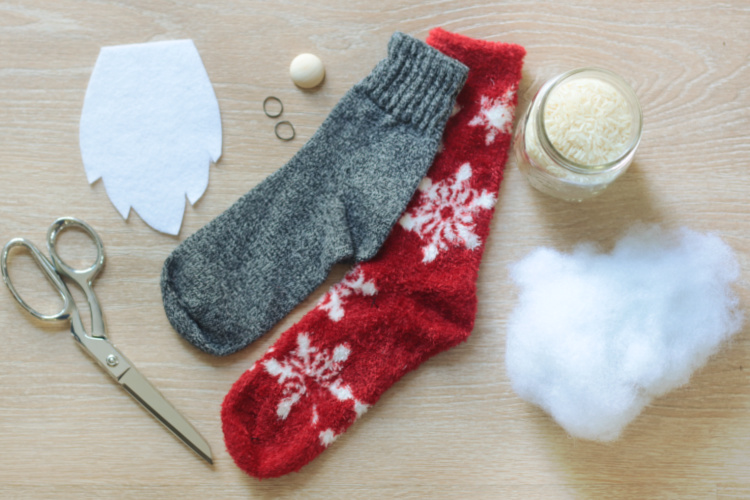 One solid adult crew sock: for the body.
One patterned adult crew sock: for the hat.
Rice: can also use dry beans. This will give the gnome a bit of weight, making it stand easily. Check out the jar method for filling the sock with rice. It's definitely easier than scooping rice into the sock with a spoon and even faster than using a funnel.
Pillow stuffing (Polyfil): Just a bit to add on top of the rice. You can use all rice, but the more rice you use the heavier the gnome will be. I like using about 2/3 rice and 1/3 pillow stuffing for my gnomes. If you don't have pillow stuffing you can use scrap fabric or cotton balls. I save the stuffing from my old throw pillows for craft projects like this.
Hair ties or rubber bands: These are used to tie off the socks. You can also tie off the ends with string, but I like using hair ties.
Wood bead or half bead: You can use a wooden bead, half bead, or pom pom for the nose. I prefer using half beads. They don't have holes in the sides like beads and sit nice and flush. I ordered them from Amazon, but you can find wood beads at your local craft store like Hobby Lobby or Joann.
Felt: One thing that makes our little gnomes different than others is the fact that we don't use craft fur. Felt is something that I always have on hand, it's $.25 a sheet and you can easily get 4 beards from one sheet. Easier to find and cheaper than faux fur.
Printable beard pattern: feel free to print out our cutting template to use for the beard.
Scissors
Hot glue/hot glue gun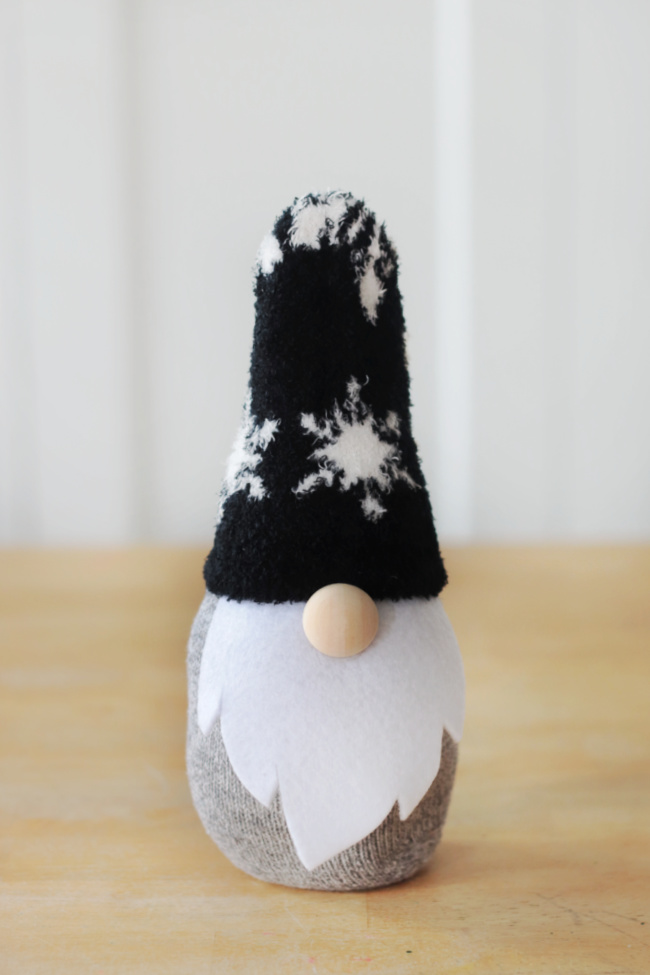 Sock Gnome Tutorial
Make sure to watch our step by step video for the best visual instructions!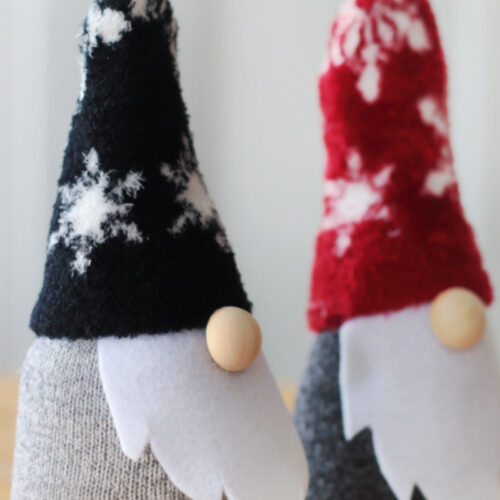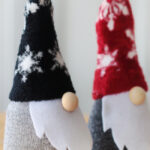 Print
No Sew Sock Gnomes
Our no-sew sock gnomes take less than 10 minutes to make and can be made with many different sock prints! 
Instructions
Fill a jar or cup with rice.

Slide the body sock over the jar, and turn the jar over to allow the sock to fill with rice.

Pull the jar out of the sock.

Add a couple of handfuls of pillow stuffing on top of rice. The sock should measure 6-7" from the bottom to the top of the pillow stuffing.

Secure the opening with a hair tie. Trim excess.

Cut hat sock as shown, cutting just before the ankle. Set foot portion to the side (can use to make another gnome sometime). You'll be using the side with the finished edge band.

Turn the piece with the edge band inside out. Gather the cut (unfinished) end and secure it with a hair tie. Trim of excess.

Turn the sock right side out. You should now have a gnome body and a gnome hat.

Cut out a felt beard using the cutting template. Glue beard onto the front of the gnome.
Pointy Hat
If you'd like your hat to stand up nice and tall, insert a pencil into the opening of the body. It should stick out a few inches. You can add a bit of hot glue around it to keep it in place.

Slide hat over pencil. Arrange the hat so that the top is pointy and touching the top of the pencil.
Floppy Hat
For a floppy hat, simply slide the sock hat onto the gnome and hot glue it into place. You can hot glue a pom pom to the end of the hat if you'd like.

Glue the nose onto the front of the gnome.

Add a few dots of hot glue under the hat to keep it in place.

Admire your adorable gnome!
Notes
These gnomes can be made with any adult crew socks.
Welcome! I'm Brandy, mother to 5 darling kiddos and a cute black lab named Toby. My husband is in the Coast Guard so we've lived all over the place, turning each house into a home. I love baking, sewing, making cute things with my kids, and sharing what I've learned with all of you!