Under the sink organization in 5 simple steps! Clean up and tidy under your sink to make kitchen tasks easier! A place for everything and everything in its place.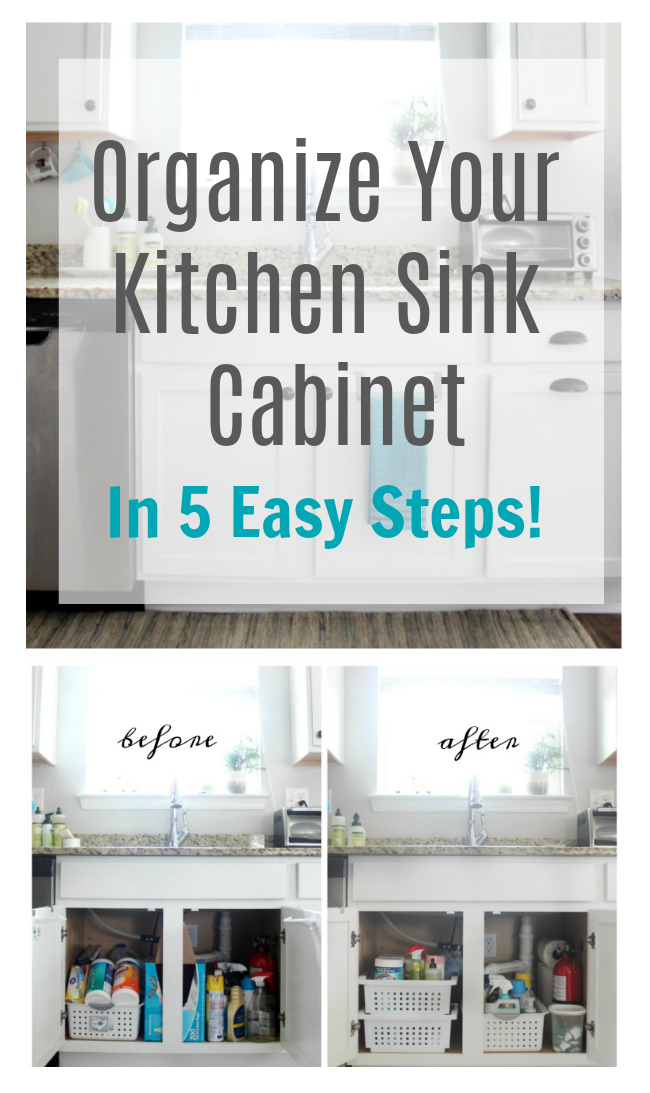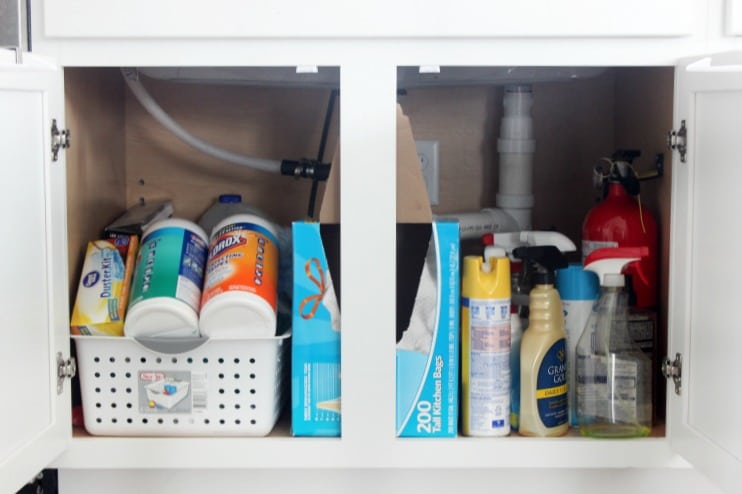 Kitchen organization. Ugh. This has been at the top of my to-do list for quite sometime. It's the most used room in the house! But life happens and I find myself shoving things behind closed doors. My little guy has been sick with a horrible cold, cough, and fever. We ventured out for a few groceries and some infant Tylenol, and when we got home Mac was still asleep in his infant carrier. I could try to move him to his bed, but risk waking him up, or I could let him sleep a bit while I tackled some jobs around the house. He slept for 30 minutes and in that amount of time I started some laundry and organized under the kitchen sink. This was the perfect task to check off of my to-do list while my toddler slept. After all, he's 14 months old and into absolutely everything!
Under the Sink Organization in 5 EASY steps!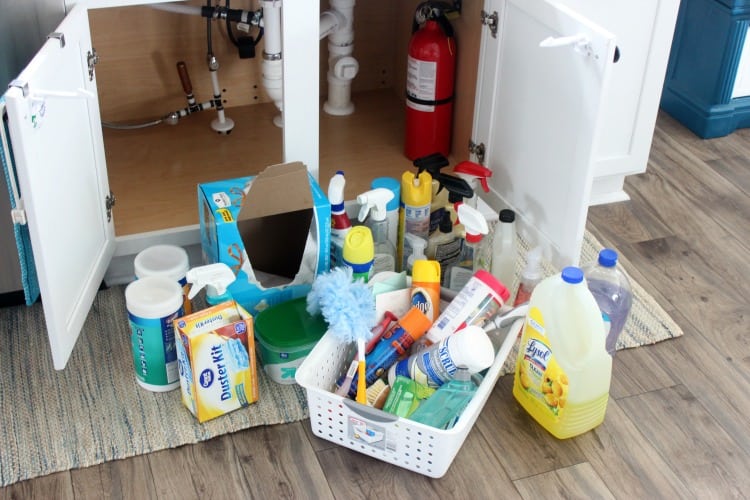 Under the Sink Organization Step 1: Remove Everything From the Space
Every time I organize my pantry, closet, or a cupboard, I empty everything out. It might seem like a time saver to just move things around as you go, but I've found that it really isn't. Starting with a clean slate and seeing everything that you have makes de-cluttering and purging so much easier.
This is also a good time to make sure that all of the spray bottles are in the "off" position and that all cleaning bottles are properly closed. Especially if you have toddlers. We have child locks on our cupboards, but if you leave a door open for even 5 seconds it seems to send out a homing signal and he comes running over.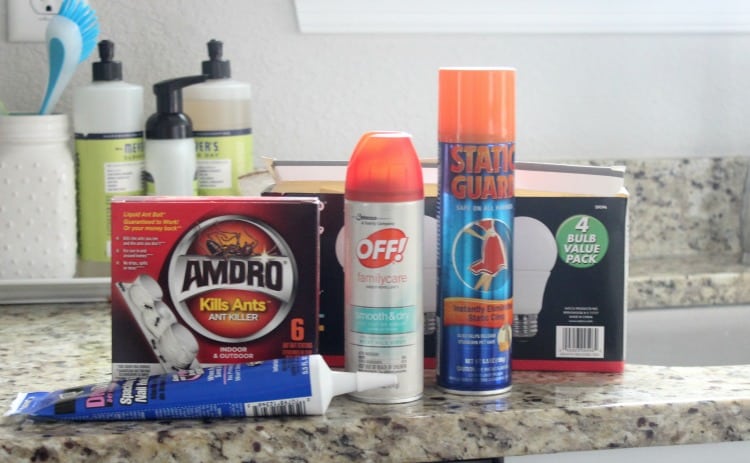 Step 2: Get Rid of Anything That Doesn't Belong
Why was there a can of static guard under the sink? Or spackle? How many times have I been doing the dishes and found myself reaching for a can of bug spray?
I moved these items to the side and any other items that could free up space. I also broke down any boxes for items that were half gone. Like our trash bags. The trash bag box took up a TON of space. From now on, I'll store the box in the garage and only keep one roll inside the house.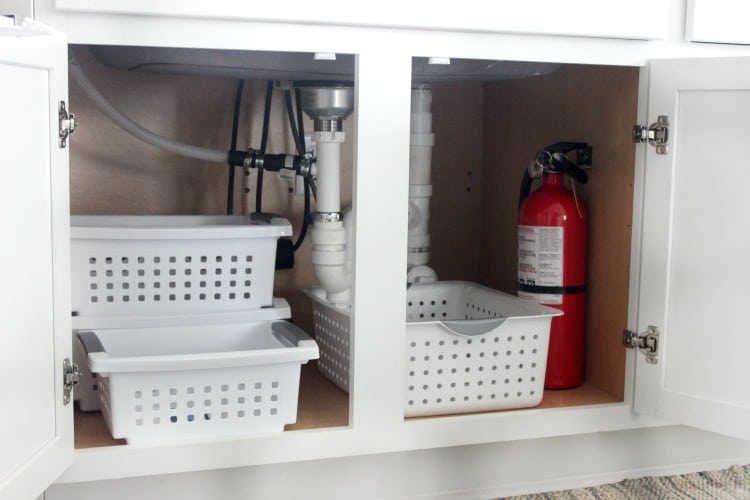 Step 3: Mix and Match to Find A Container Arrangement That Works
Every under-sink space is different. Not only do we have plumbing lines, but a giant fire extinguisher to work around.
I reused the storage bin that I already had and grabbed a few more that I thought might work in this space. I moved them around until I found an arrangement that I liked. In the end, I got rid of the smaller one (shown above) and kept 1 large, and 2 medium stackable bins.
These bins are all from Walmart.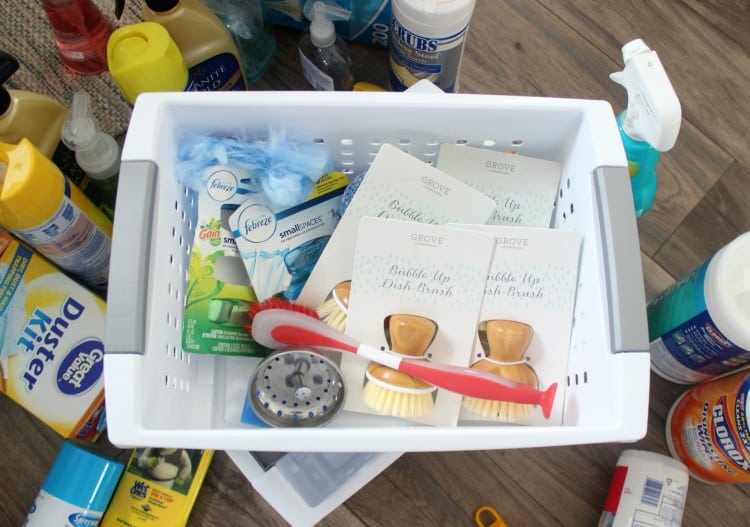 Step 4: Prioritize
Now that I had a blank slate to work with, how should I go about filling it up? I decided to put all of the little odds and ends into the lower stacking bin. These are refills and things that I don't use on a regular basis.
Next I grabbed any large refill bottles that I don't reach for more than once a month. I had a giant bottle of Lysol and another bottle of Soft-soap. I put those behind my stacking bins, behind the plumbing hose that hangs down.
That left two more bins. I decided to use one for everyday items, and the other for general cleaning supplies.
I found that my dishwashing pods fit better in this container than in the original one and that I could easily slip them in between the basket and the side wall. Perfect!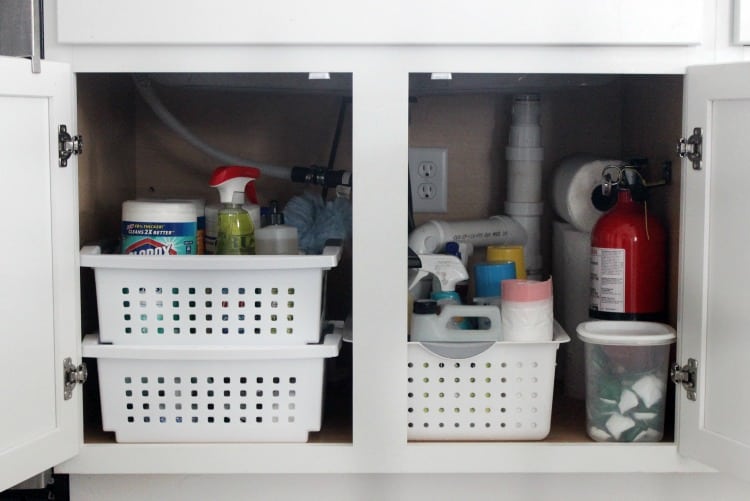 Under the Sink Organization Step 5: Put Your Space Back Together
Now for the fun part, filling up the space admiring your work!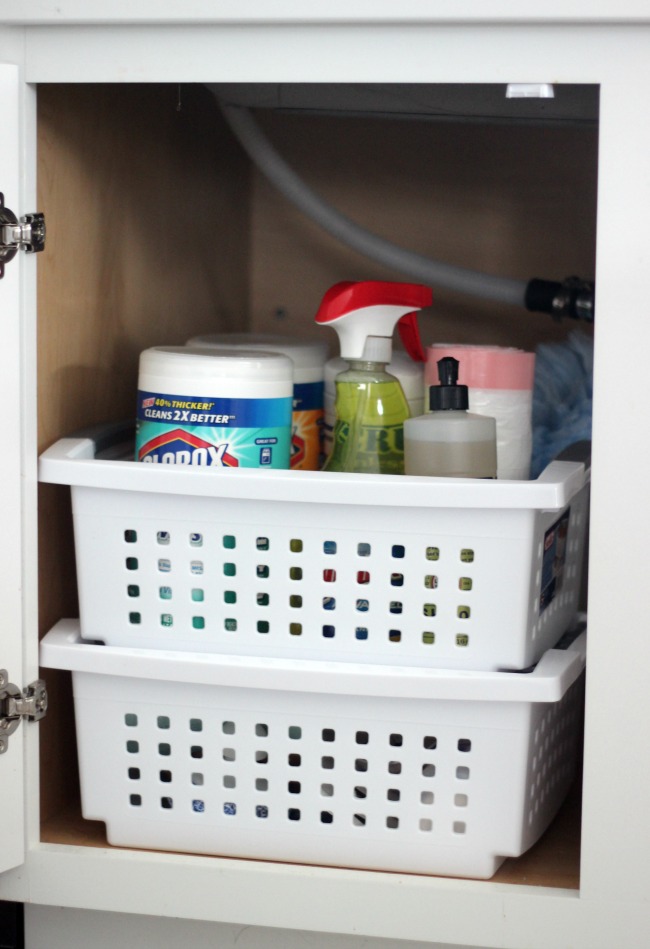 I filled the top stacking basket with the everyday items. My Clorox wipes, smaller bottle of Lysol, dish soap, and trash bags. Things that I can easily grab without having to search or move things to get to.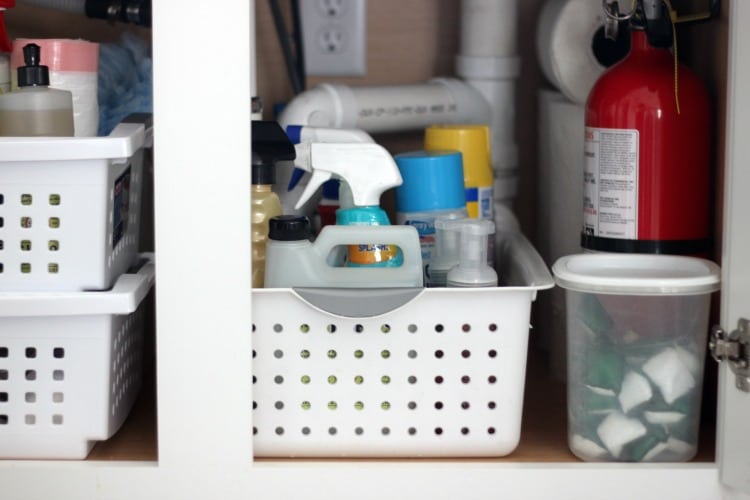 I put all of my general cleaning supplies into the other basket. In no particular order. These are things that I use every so often for deep cleaning.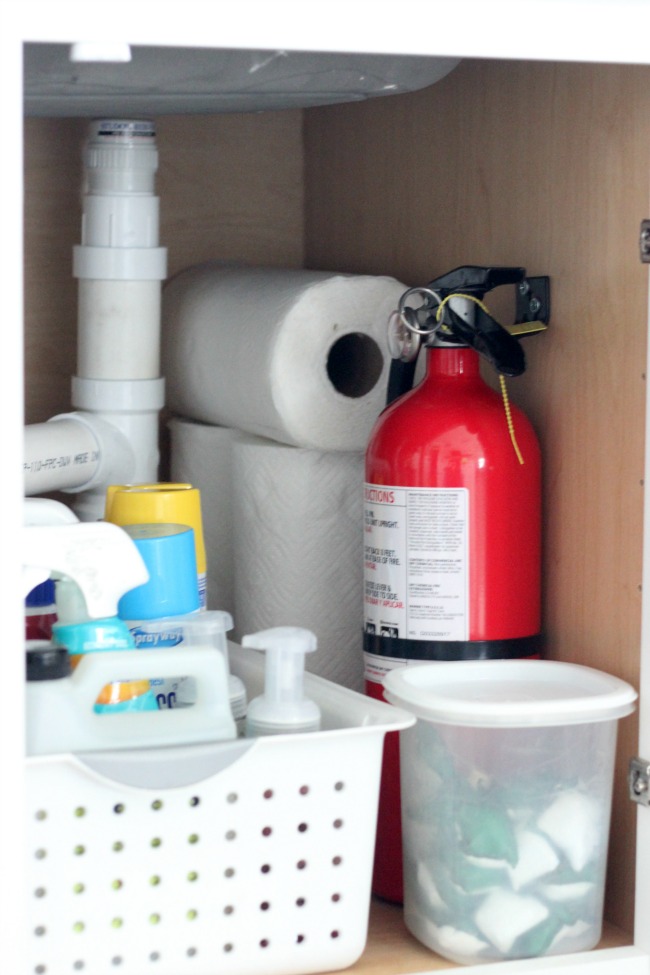 Because I got rid of some items and moved the bulky refill bottles behind the plumbing, I had more space to work with. I used the extra space to store a few paper towel rolls.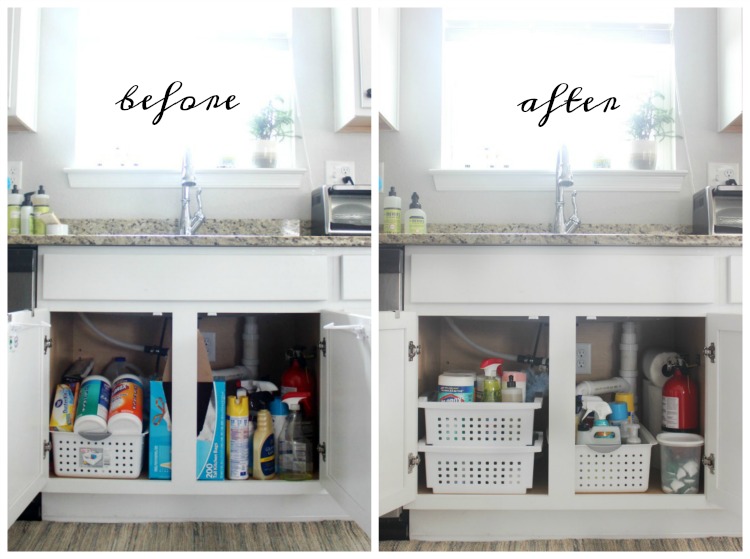 The transformation is really that impressive, but it definitely a more useable space now.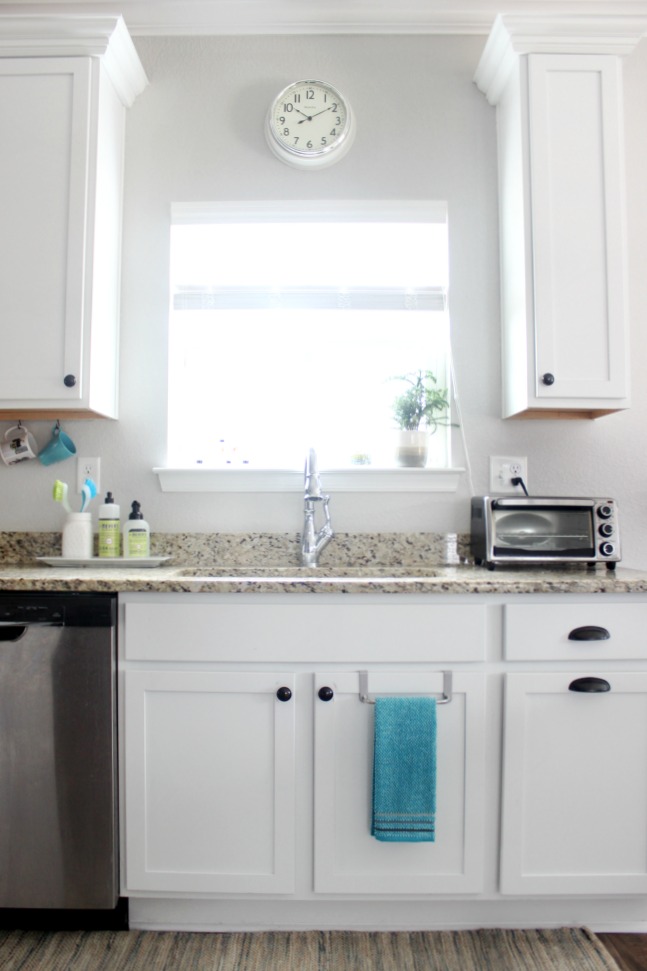 I have a hard time finding the motivation to organize areas in my home that aren't in plain sight, but I never look back on a project and think, "Man, I wish I hadn't taken the time to clean this space up." And so I carry on. Working on one small area at a time!
You might also like…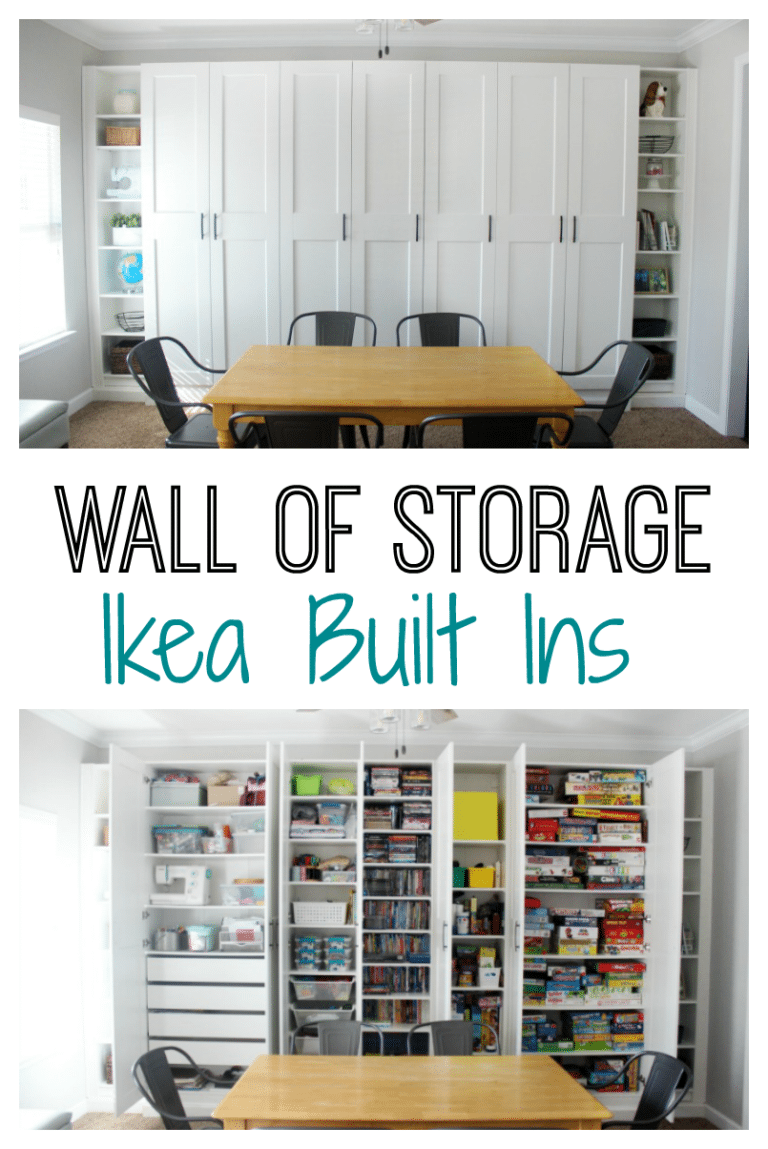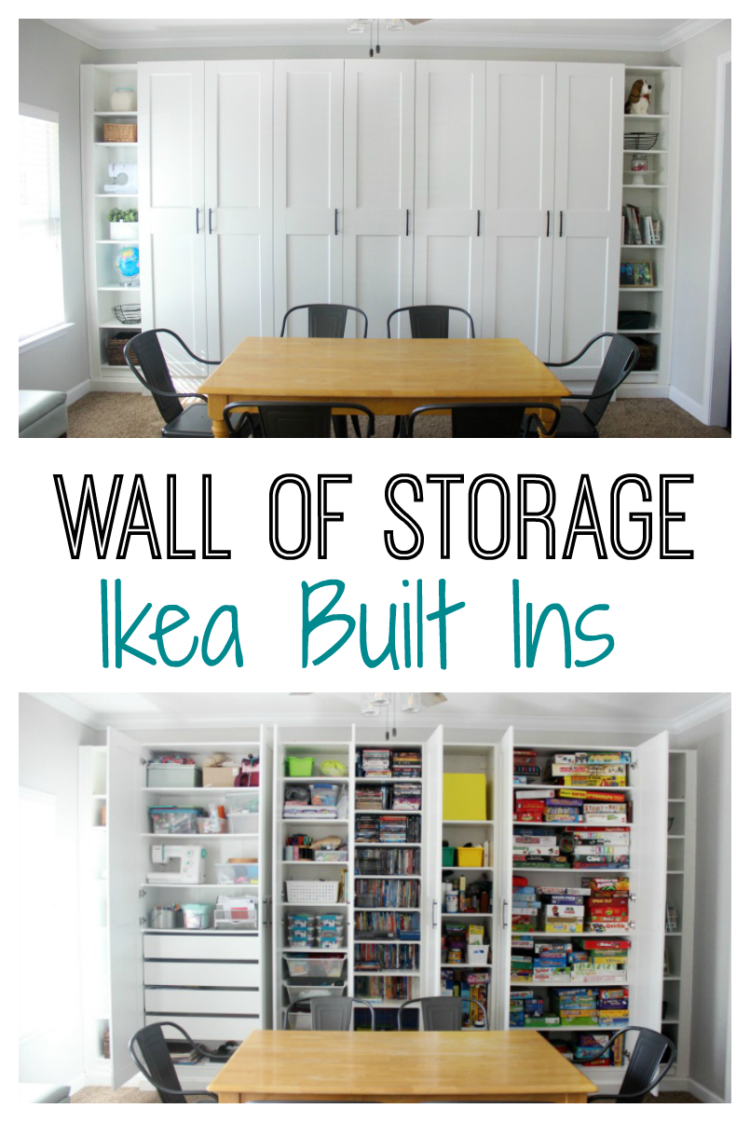 IKEA Built Ins: a Wall of Storage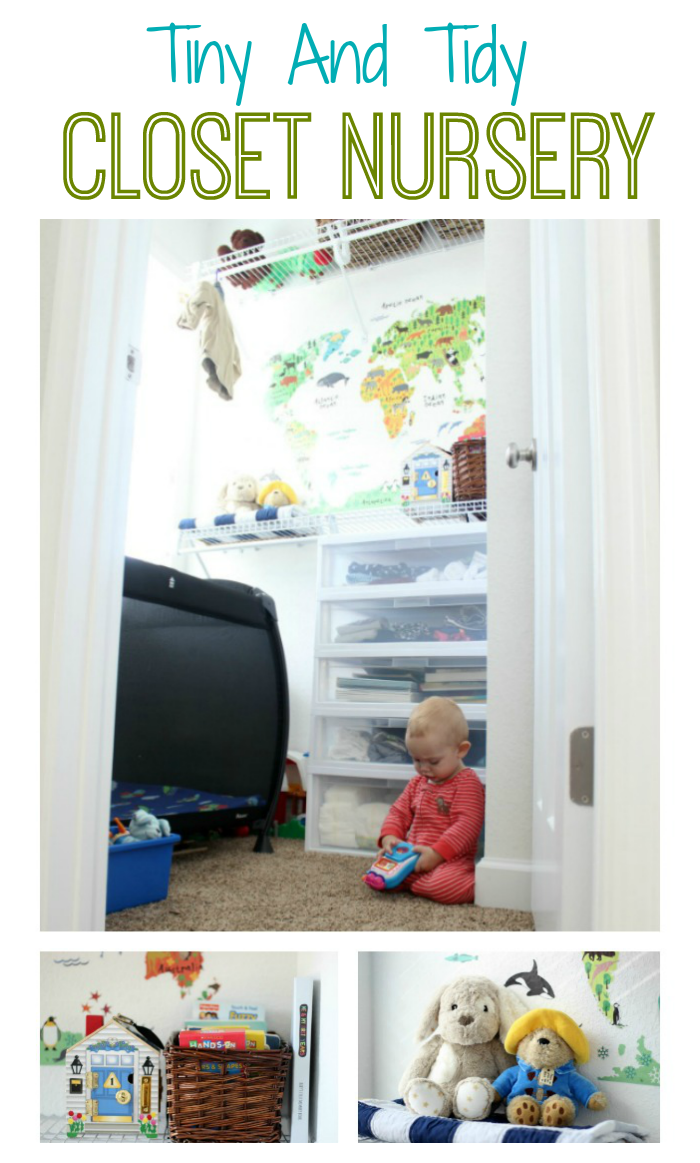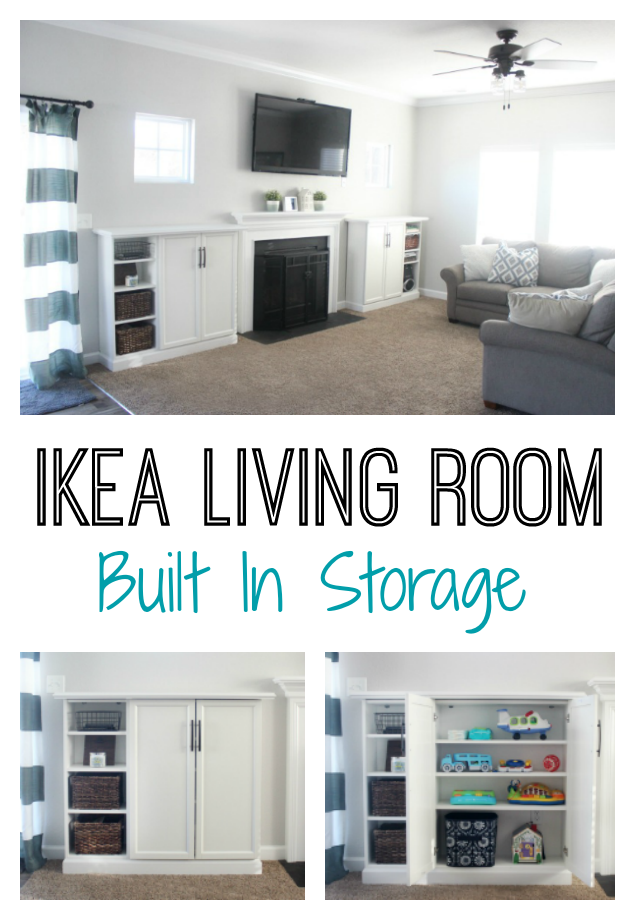 IKEA Living Room Built In Storage Units
And if you are looking for more kitchen organization inspiration, check out these 40 ideas for organizing your kitchen!