Would you believe that this wreath is made out of paper bags? Use our paper bag wreath tutorial to create your own faux hydrangea wreath for under $5! A simple way to add a bit of beauty to your front door without spending a lot of money. This post contains affiliate links.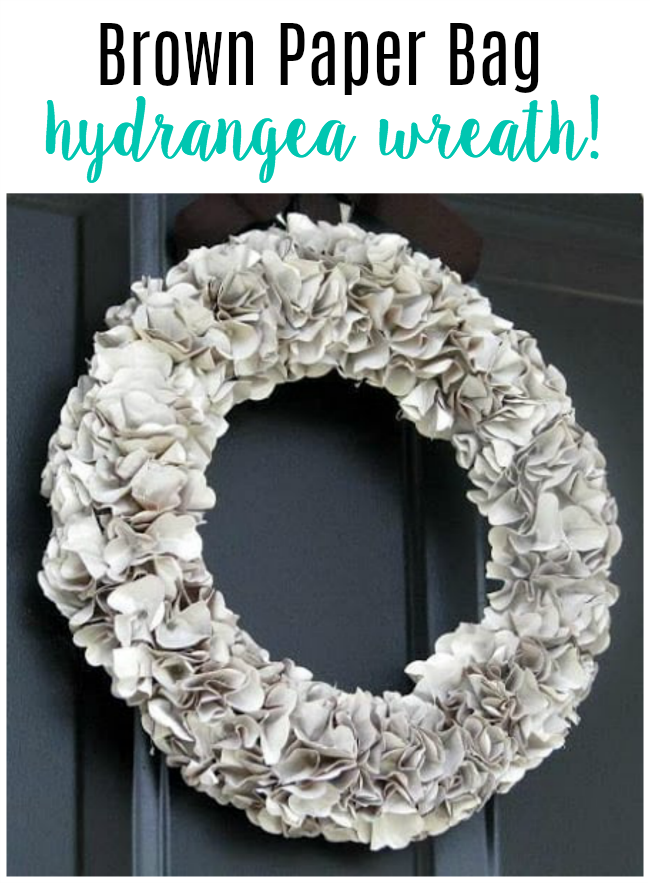 I love hydrangeas and would love to have a yard full of those gorgeous flowers! Instead, I'll have to settle for faux hydrangeas in vases or hydrangea wreaths because our yard lacks one thing. SHADE. Any kind of shade. This wreath was a happy accident. I made it after seeing this one and decided to give it a coat of spray paint. Voila—a faux hydrangea wreath was born and I couldn't love it more! Looking at it, you'd never guess it was made from brown paper lunch sacks! And my cost was $1 for the foam ring at the Dollar Tree store. Even better!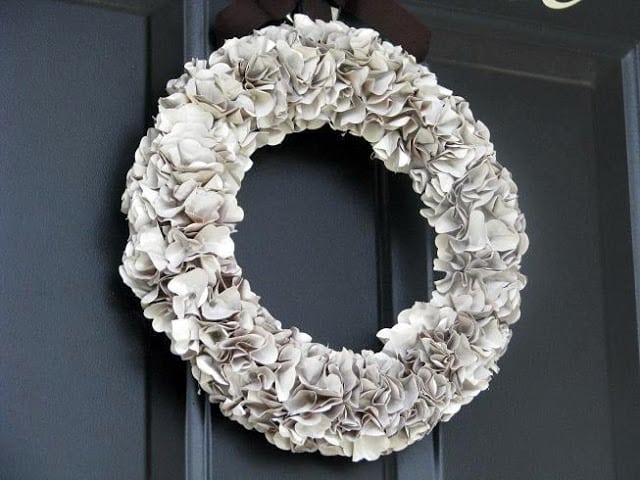 Ready to make your own faux hydrangea wreath out of paper bags? Let's get started!
Paper Bag Wreath Tutorial
Supplies
Brown paper bags (Walmart)
3″ Scalloped Punch (Amazon)
Hot Glue/Gun
Pencil or dowel
Wreath Base (Dollar Tree)
spray paint (cream colored)
How to Make a Paper Bag Wreath
Step 1: Cut out dozens and dozens of scalloped circles using your paper punch. You can also cut them out using a cricut or silhouette machine, but a paper punch works great. They are going to start to fall all over the place, so go ahead and get out a bowl to keep them in while you punch. Turn on your favorite show on Netflix and get punchin'!
Step 2: Pick up the pencil and wrap one circle around the end. (Do you remember making tissue paper pictures in kindergarten? You know, the ones where you wrap tissue paper around a pencil, dip it in Elmer's glue then push it onto a paper? This is the same technique. Only use hot glue instead of Elmer's glue and push them onto a wreath base.) Wrap and gluing until the wreath is nice and full.
Step 3: Give the wreath a light coat of cream colored spray paint. Repeat if desired.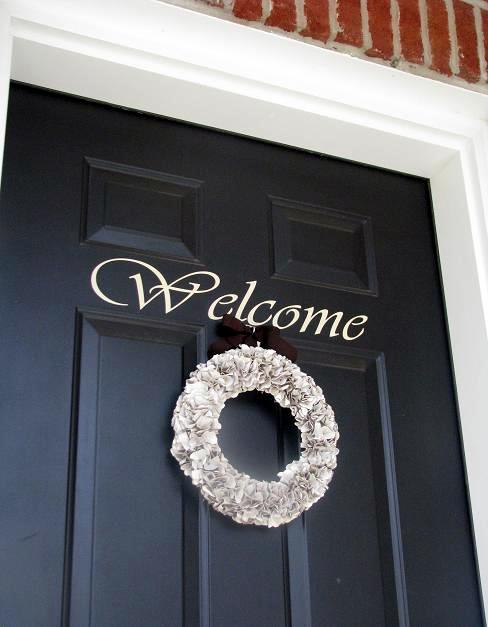 5 More Wreath Tutorials That You May Like!
Target Dollar Spot Pumpkin Wreath Tutorial: Stop by your local target, grab six $1 pumpkins from Bullseye's Playground and Dollar Spot, then follow our Dollar Spot pumpkin wreath tutorial for a gorgeous wreath to hang on your front door!
Citrus Greenery Wreath: Bright pops of citrus, greenery and gingham combine for an adorable & easy citrus wreath to make this summer!
Spring Hydrangea Wreath: How to make a hydrangea wreath for a fraction of the price of a custom store bought one. In less than an hour!
DIY Ornament Wreath: One of the most stunning wreaths, and I get so many compliments on it! Everyone needs an ornament wreath on their front door during the holiday season!
Old Glory Patriotic Wreath Tutorial: A gorgeous wreath to hang during the summer months! This patriotic wreath tutorial is simple to make, quick, and inexpensive!