This post was most recently updated on November 15th, 2021
These Rudolph snack cups come together easily with our printable template! Make a small herd of these this holiday season to use for class parties and kids crafts!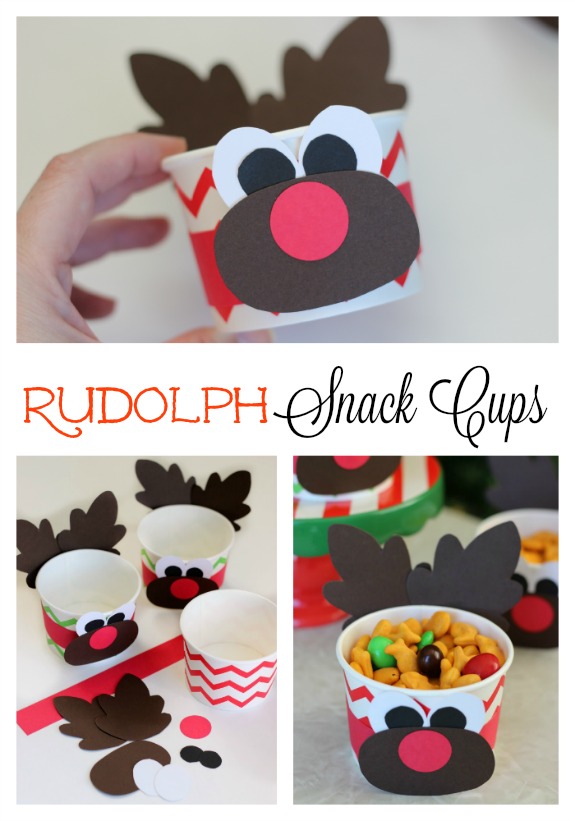 I love cute and easy crafts that serve a dual purpose! The girls had a great time making these little Rudolph snack cups with me. A holiday craft and snack all in one! I'm the room mom for Kaylee's class and that means that I not only help weekly in the classroom, but I also organize the class parties. Out of all of the Christmas characters that are out there (snowmen, Santa, elves, etc.) reindeer are my favorite! There is just something so cute about them and it seems as though you can turn just about anything into a reindeer craft. Case in point…
6 More Reindeer Crafts For Kids
Reindeer Donut Cups: Fill these to-go cups with mini donuts and decorate the front for the most darling holiday party treat cups around! Great for class parties!
Reindeer Root Beer: Looking for a cute Christmas gift idea for Dad? How about a pack of his favorite sodas—reindeer themed! These reindeer root beer bottles come together in a matter of minutes and are sure to be a hit this year!
Fingerprint Reindeer Ornaments: Capture your child's darling little thumbprint in this cute and easy reindeer ornament! A quick, low-mess, activity for toddlers and preschoolers.
Footprint Reindeer: This darling little footprint reindeer craft is such a fun way to document those little hands and feet! The perfect preschool craft for kids!
Reindeer Candy Tins: Darling reindeer candy tins that come together quickly for the perfect holiday party favors! You can also add numbers and use as a fun advent activity!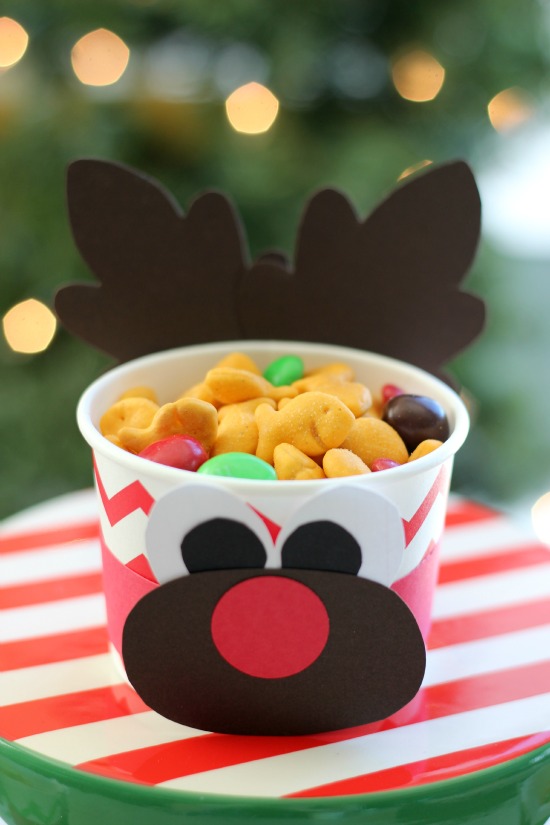 These cups are on my short list of craft ideas that would be easy to replicate for a crowd. Especially with my printable template that eliminates any guess work!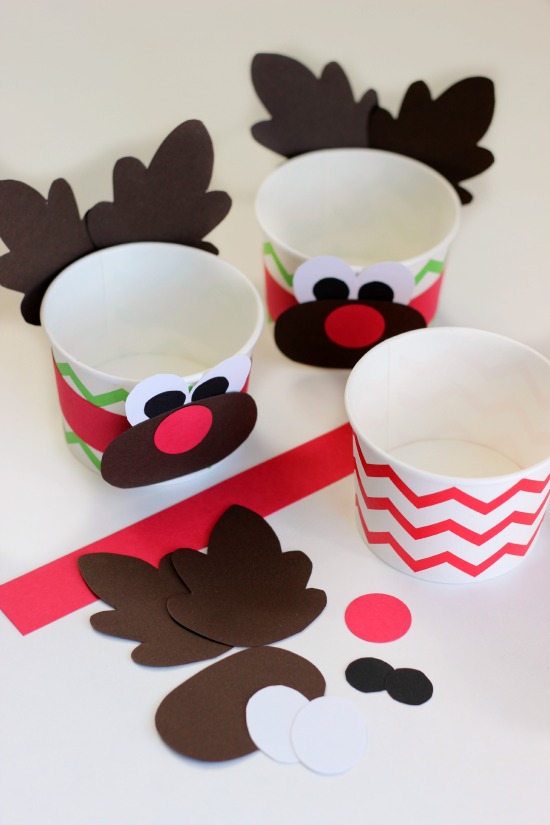 Rudolph Snack Cup
Supplies
small snack cup or paper cup
brown cardstock
white cardstock
black cardstock
red cardstock
glue stick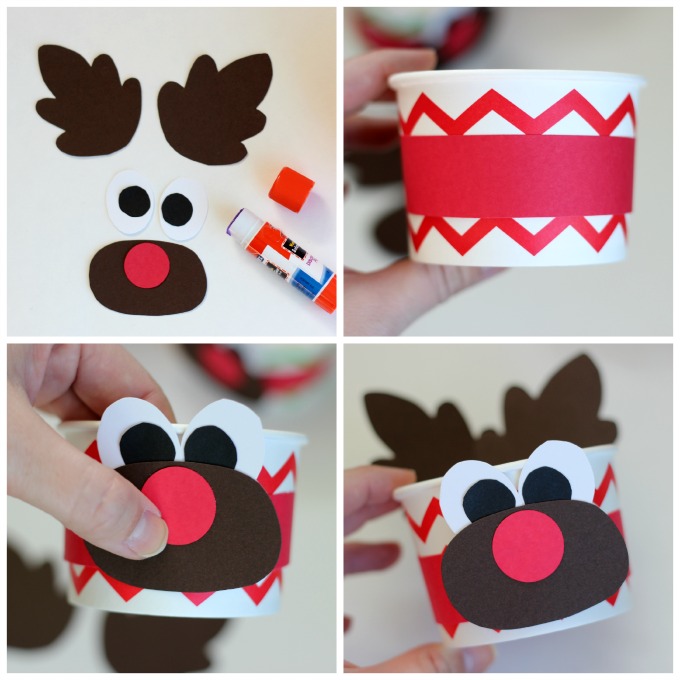 How to assemble the snack cups
Step 1: Cut out all of the cardstock details using the template as a pattern. We added a 1″ band of red yardstick around the cup. That is optional, but I thought it looked like a collar.
Step 2: Glue face details onto cup using a glue stick or glue dots.
Step 3: Add antlers onto the back of the cup with a glue stick or a piece of tape.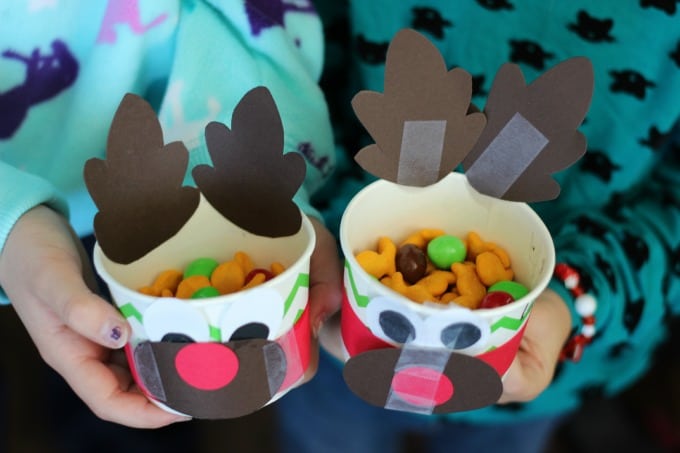 Ruby insisted on assembling her entire cup with tape. When you are 4, tape is pretty magical. She uses it on absolutely everything. Who am I to take away from their creativity? We added a serving of 
Goldfish c
rackers and a few chocolate candies and it was the perfect afternoon snack. I love that my girls love getting crafty with me. We are a match made in heaven!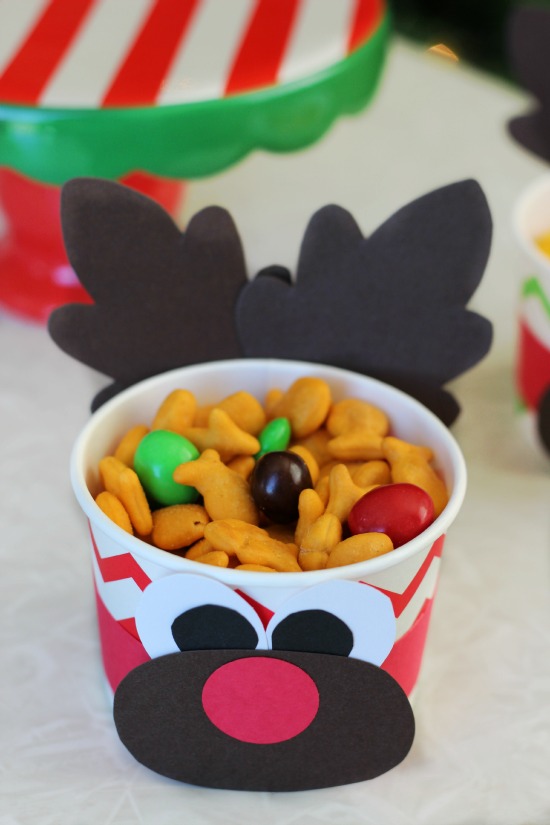 What is your favorite holiday character? Here is another yummy snack mix (Reindeer Chow!) that would be delicious inside these cups from the Brown Eyed Baker.