The perfect RV travel nursery for baby! It is compact, easy to fold and store, comes with a diaper station, bassinet insert, and lots of storage!  A great option for a summer on the road. This post contains affiliate links. See my disclosure at the bottom of my website for more details.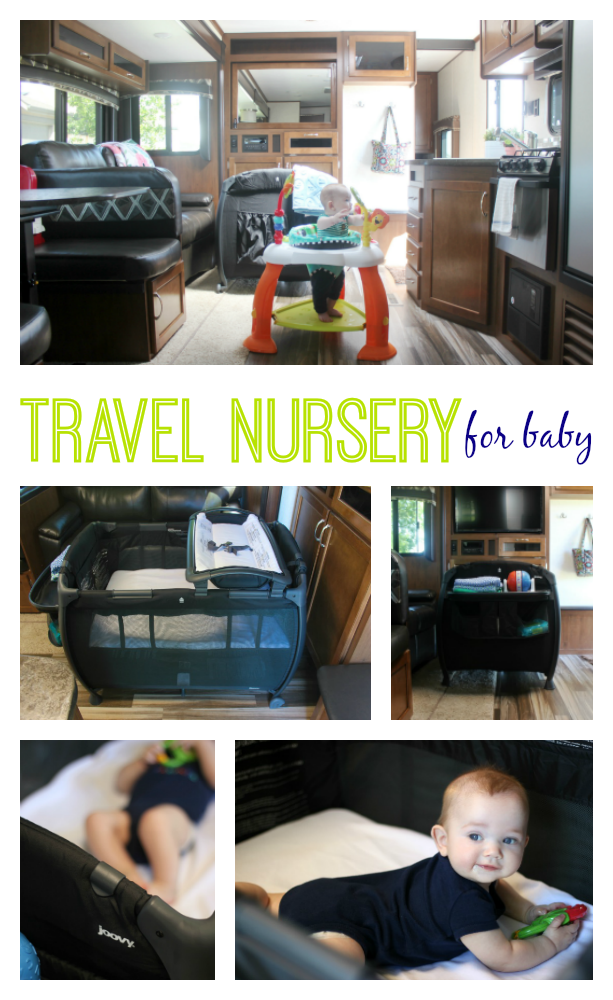 This is the first, of what I'm sure will be several, posts while we are living the simple life…
in our travel trailer
! We decided last year that, with 5 children and a dog, hotels were no longer a practical option for long distance travel. So we ordered a trailer for our big cross-country move from California to Virginia this summer. When our California home went into contract after only four days on the market, it was evident that our timeline was going to move up considerably! Thankfully our trailer was ready, and here we are. Living as a family of 7 in our 27′ travel trailer in an RV park at the local Air Force Base until the school year ends and we start our trip to Virginia.  How's life right now? It's AWESOME. We are comfortable, housekeeping is a snap, and it's such a cozy home for us.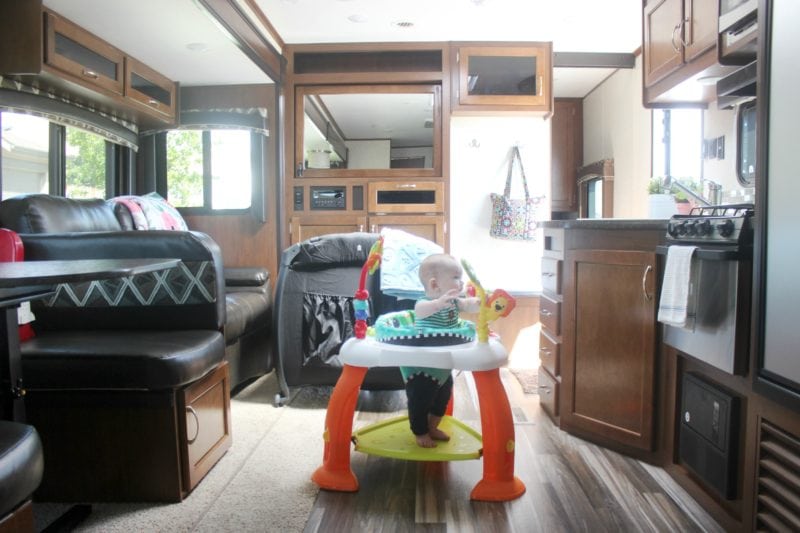 Mac was a huge factor in our decision to get a trailer. After a long day of driving it will be so nice to park and set up our little home. A place that he is familiar with. We are keeping the driving days to 6 hours so that he has plenty of time out of his car seat.
His gear takes up quite a bit of space in the RV, but he is comfortable and happy—which makes the rest of us comfortable and happy.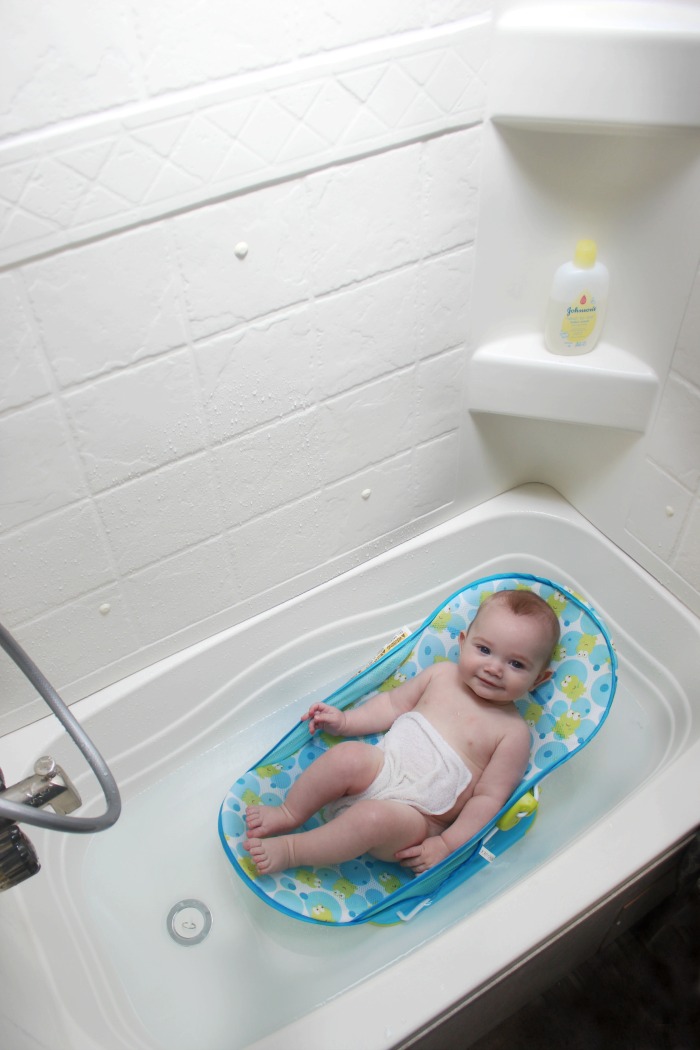 We even had a tiny bath tub designed just for him. Kidding—but seriously, doesn't it look that way?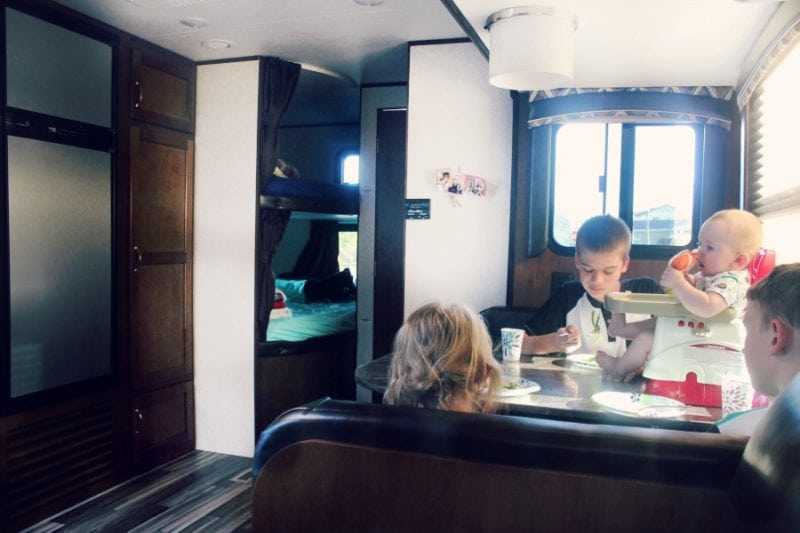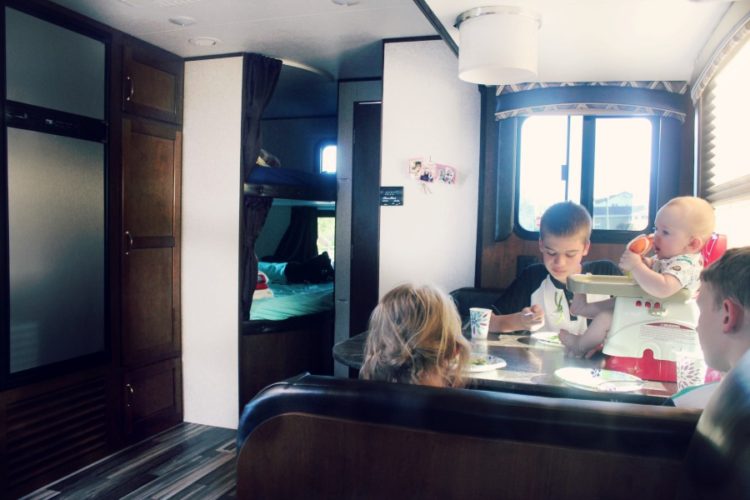 RVs are made to be compact, light, and towable. Ours has a side pull-out to give us even more space when we are parked. This also allows us to set up a nursery for Mac!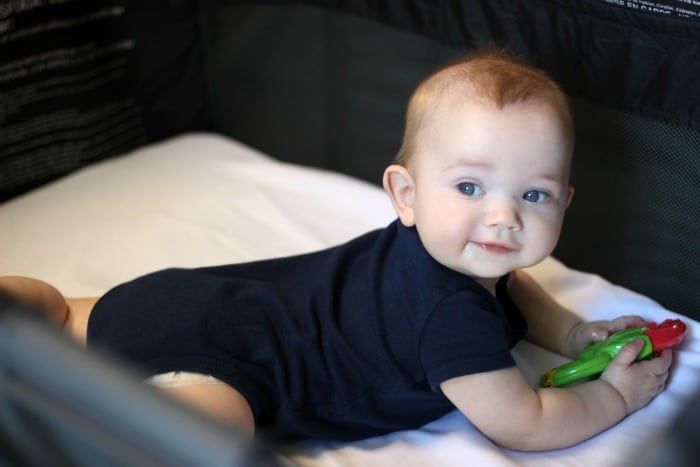 Our RV is packed full of cupboards and clever storage areas. They really did a great job with that, but we still needed more.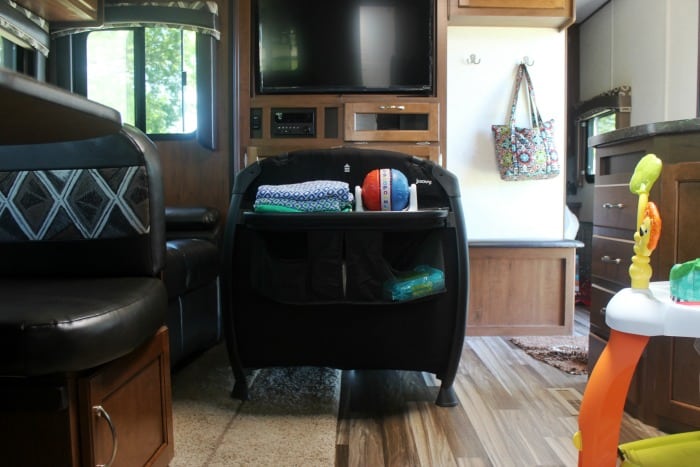 When looking for a travel bed for Mac, the
Joovy Room
caught my eye because of the storage capacity! Never before had I seen a travel crib with so much to offer.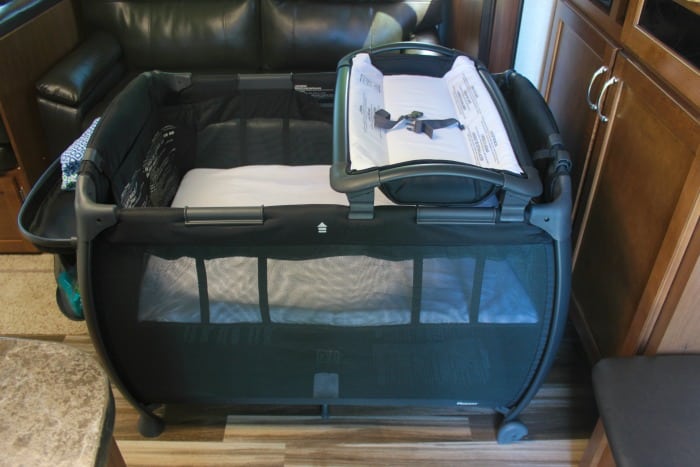 It fits right in front of the entertainment center and can easily slide forward when those cupboards need to be accessed.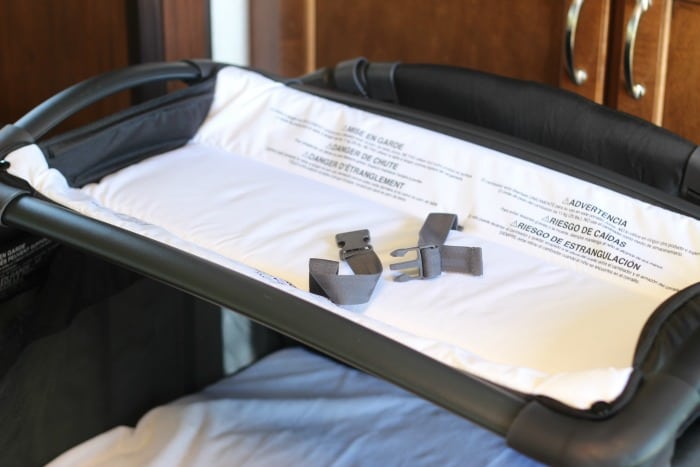 It has a bassinet feature for babies 15 lbs. or less and a changing table on top for babies up to 25 lbs.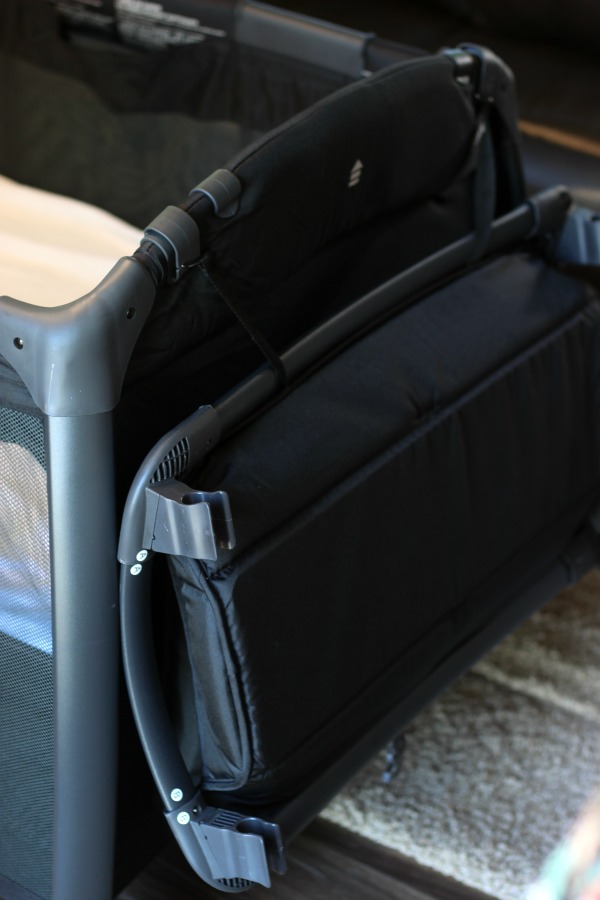 When the table isn't in use I can flip it over and it hangs from the side.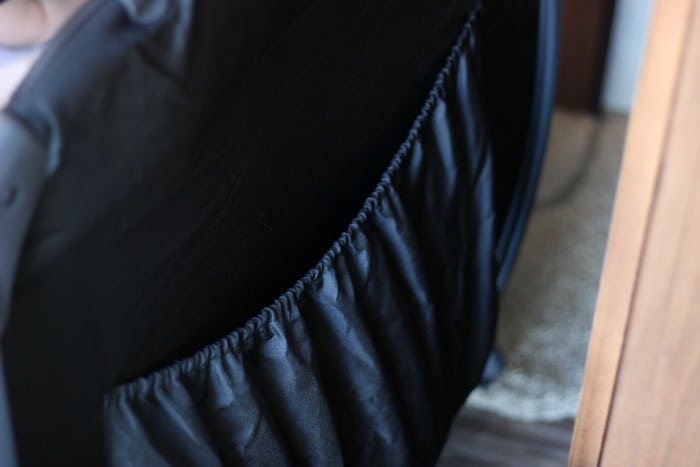 And the storage. DID I MENTION THE STORAGE? Again, this is why I chose this specific play yard for Mac. The giant side pocket is perfect for storing a spare waterproof sheet. One came with the play yard, and I have another on hand for easy changes.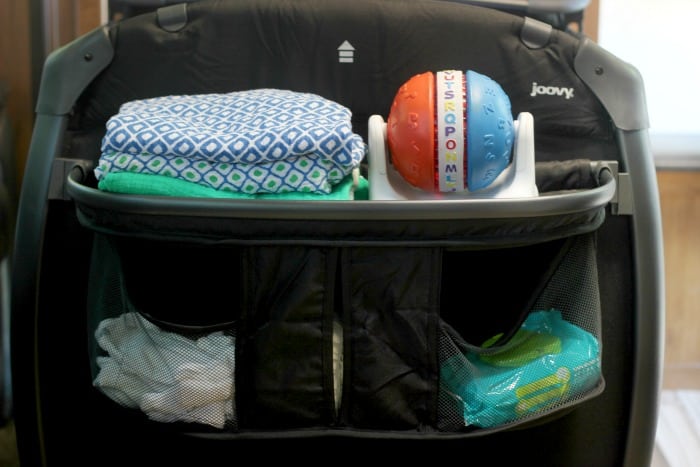 There is even a side storage caddy that slides into place. I can take it on and off easily if I need more space vs. storage. It has areas for holding diapers, wipes, clothes and any other baby items that you may need within reach. We actually have room to keep it set up while driving down the road, but the Joovy Room does fold down and even comes with a carrying bag for travel.
Because we started having Mac sleep in his
Joovy Room
two months prior to moving into the RV, transitioning him from the house to the RV was a breeze. He was the only one in the family who brought his bed with him!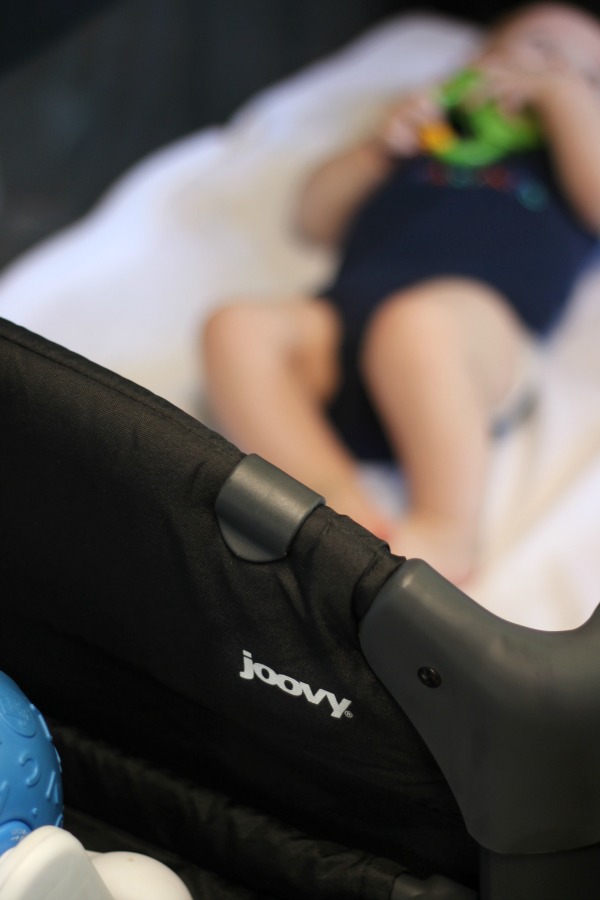 As you can see in the photos, Mac's Joovy Room takes up quite a bit of space in the RV even though it isn't any larger than a standard travel crib/play yard. Many in our situation might choose to co-sleep, but it makes me nervous to do that on a regular basis. I also needed a safe place for him to be while I take showers or go outside to let the dog out. When he outgrows the bassinet feature I'll remove it and he will have a nice deep play yard that he can use for naps or playtime.
Traveling with a baby definitely has its challenges. This is our third cross-country move with a baby under a year old. We've learned to go slow, take our time, and enjoy the ride. And it really is a great ride! The military is making us move so we might as well make it an amazing family vacation, right?
Stay tuned for more photos of our home on wheels as we make our way east! Follow along on instagram #TheNelsonsMoveAgain.
Thank you, Joovy, for collaborating with me on this post. I selected the Joovy Room as the perfect travel bed for Mac and received one in exchange for sharing our story with you! 
You might also like…