This post was most recently updated on August 21st, 2019
A delicious sparkling strawberry punch made with strawberries, pineapple juice and 7-up. Add heart shaped strawberries as a garnish for the perfect Valentine's Day punch! This post has been compensated by Collective Bias, Inc. and its advertiser.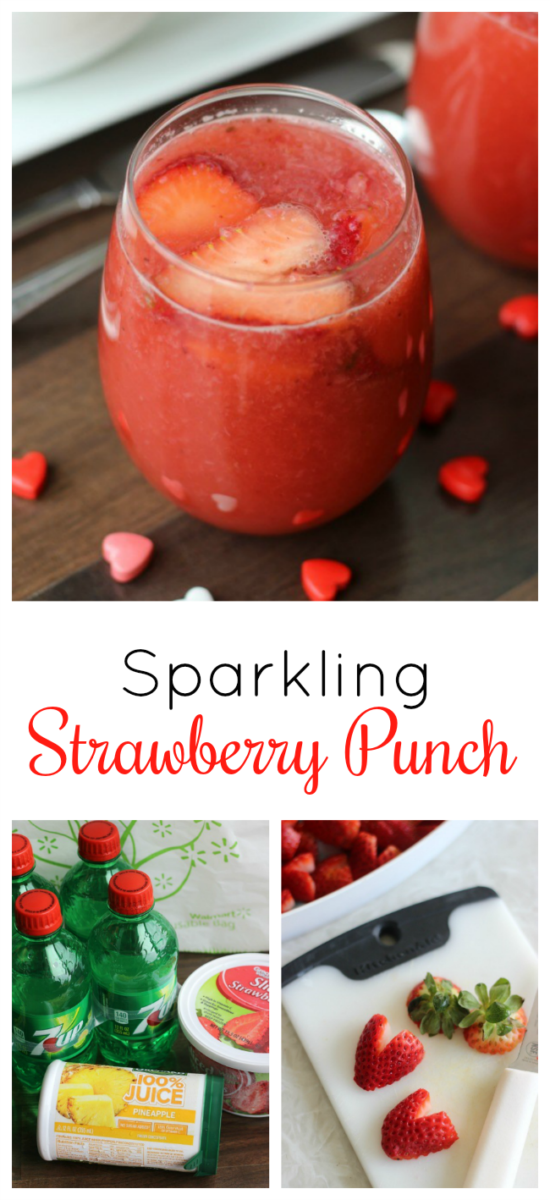 I look forward to Valentine's Day every year. Not for gifts or going out, but for a romantic dinner with my sweetheart. We started this tradition of staying in years ago, not wanting to deal with crowds, and it was one of the best decisions ever! We make a surf and turf dinner for two to enjoy after the kids go to bed. Not only does it taste better than any restaurant meal, it's cheaper too!
We typically have grilled steak or filet mignon, and shrimp or lobster tails. For sides we have asparagus and mashed potatoes. Dessert is usually something chocolate, and the beverages vary from sparkling ciders, water, or a Valentine's day punch.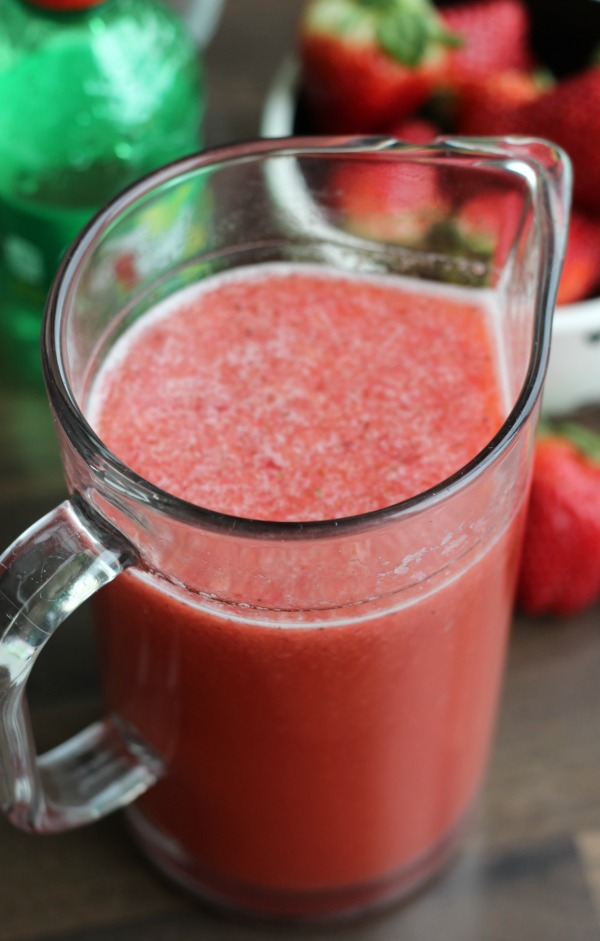 Today I'm sharing my recipe for Sparkling Strawberry Punch. Perfect to serve on Valentine's Day. Made with sweetened strawberries, pineapple juice, and 7UP
®
, it is refreshing and easy to make!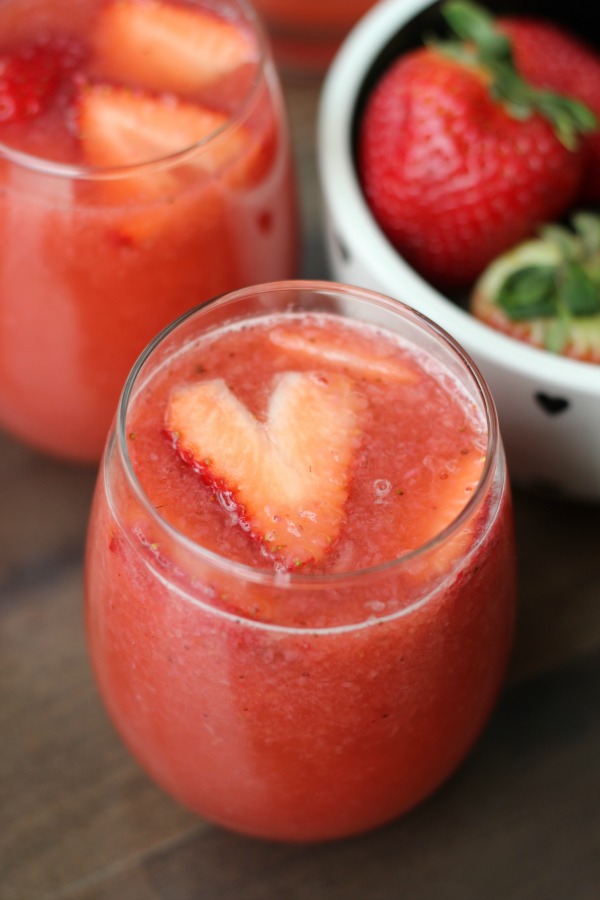 Sparkling Strawberry Punch
Makes about 2 quarts.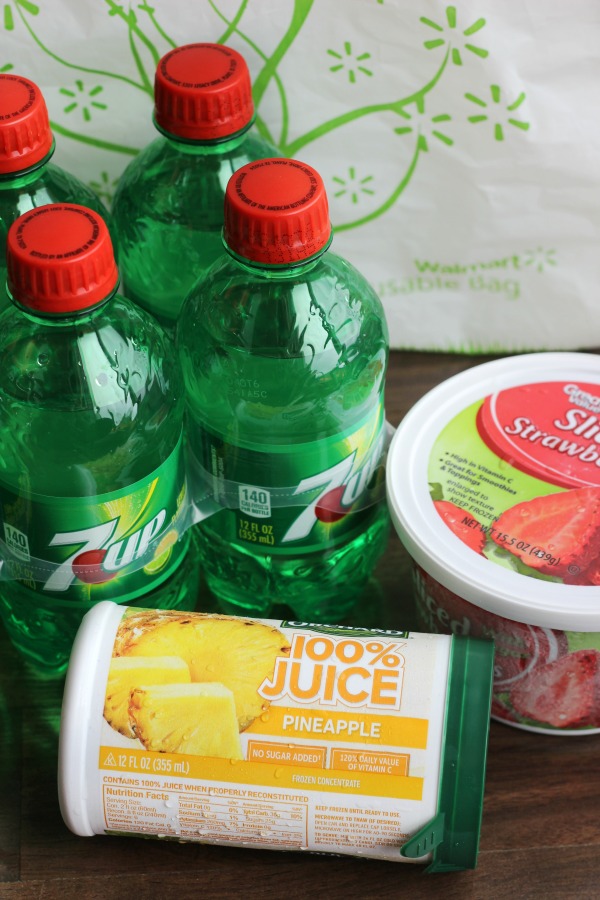 Ingredients
48 oz. (4 (12 oz.) bottles) 7UP
1 (15 oz.) container frozen, sliced, and sweetened strawberries
1/2 container frozen pineapple juice concentrate
fresh strawberries, optional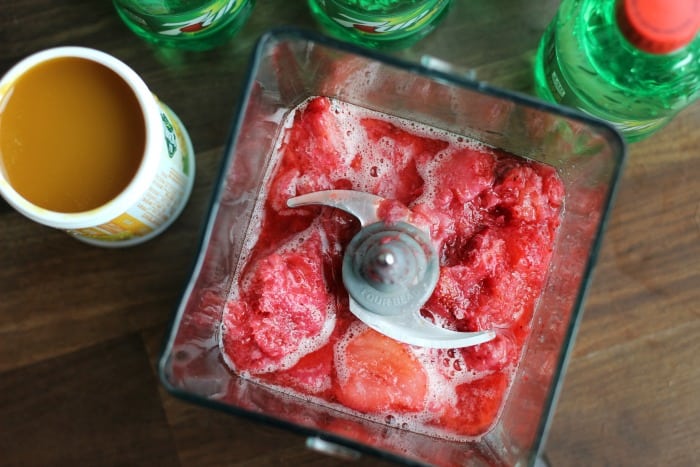 Let container of strawberries sit on counter for a couple of hours to thaw, or thaw in refrigerator overnight. Pour into blender.
Add 1/2 can pineapple juice concentrate and puree in blender with strawberries.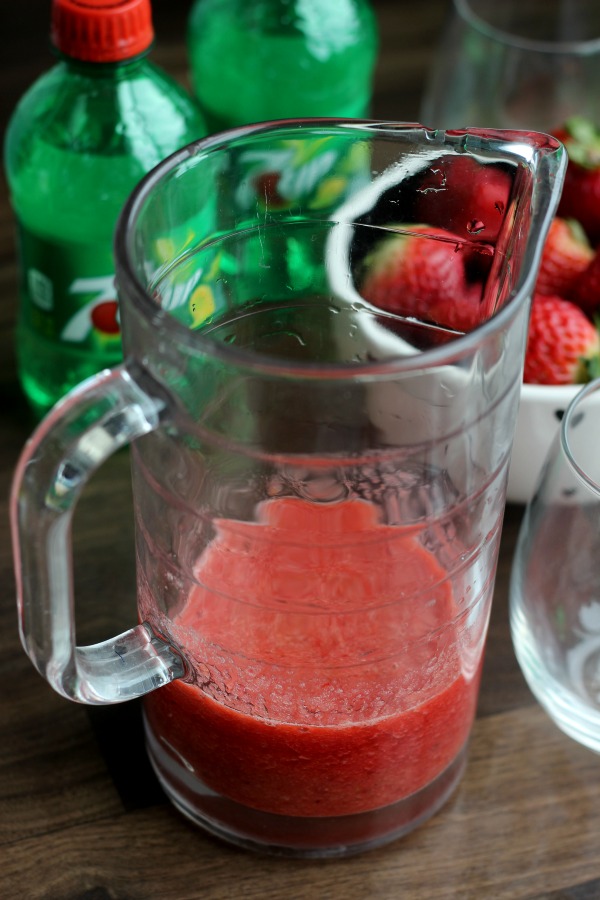 Pour strawberry and pineapple mixture into a pitcher.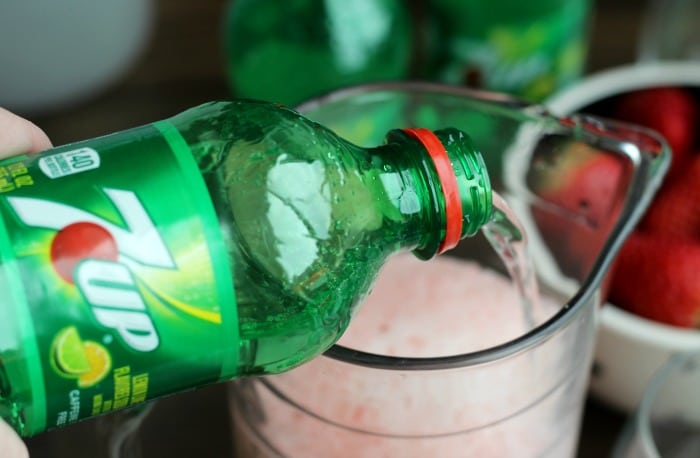 Add 7UP. Stir. Let sit for a few minutes to settle then spoon off froth.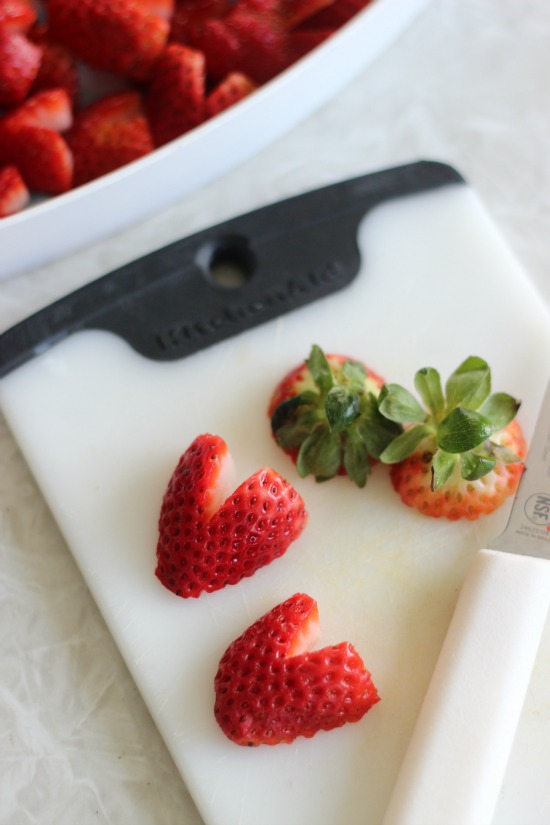 To make a quick strawberry garnish simply cut a strawberry in half, then cut a "v" notch out of the top of each half. To make thinner hearts, slice strawberry halves in half once more.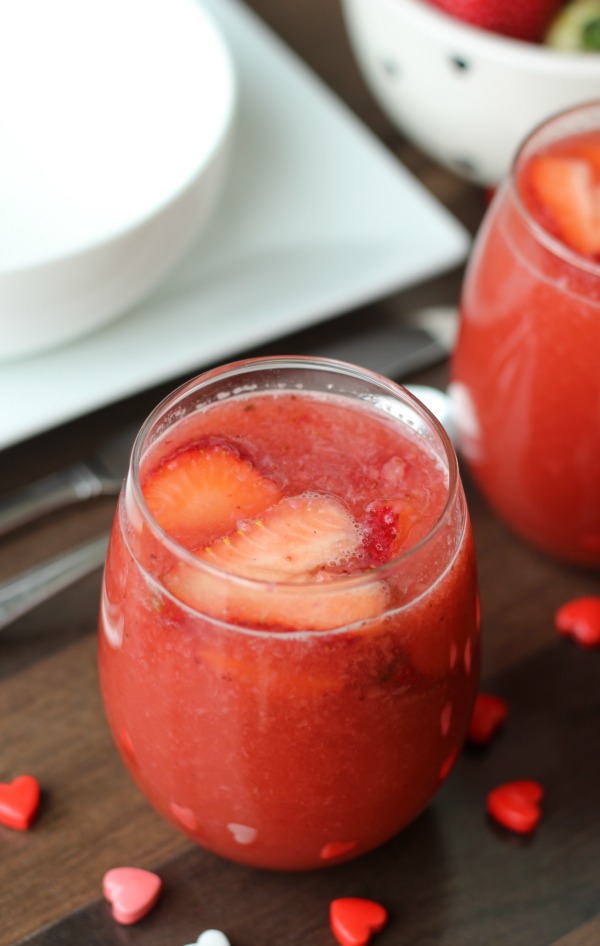 Serve punch with a few strawberry heart slices and enjoy!
This recipe makes just over 2 quarts of strawberry punch.
There are so many ways to use 7UP in refreshing drink mixes! Combine with pink lemonade for sparkling lemonade or add a scoop of raspberry or lime sherbet for a delicious float. The possibilities are endless.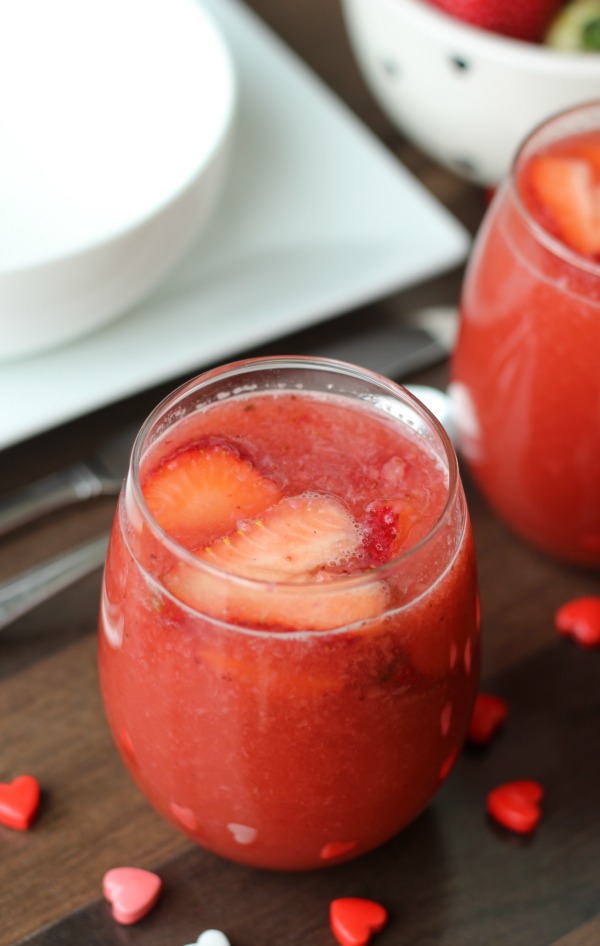 You might also like…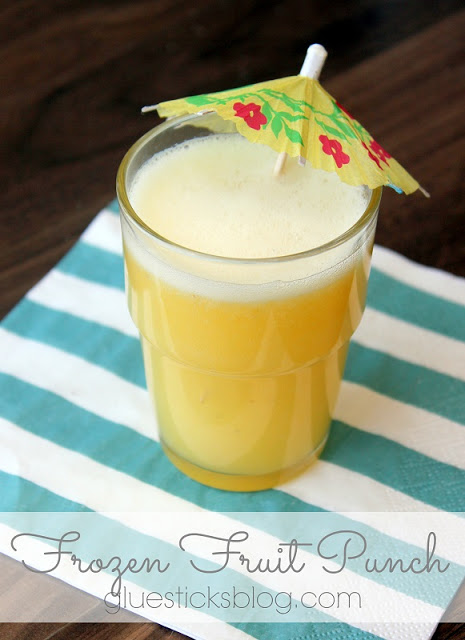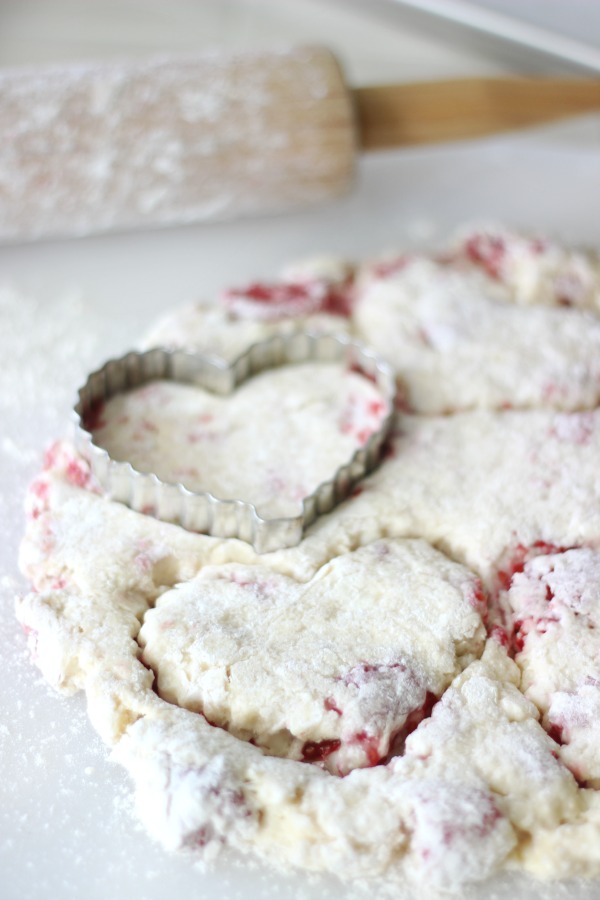 White Chocolate Raspberry Scones