This honey wheat bread is made from a combination of whole wheat and white flour, and is sweetened with honey. Soft and light, but sturdy enough to slice into sandwich bread. Makes 2 loaves. This post contains an affiliate link.
Looking for another delicious white bread recipe? Try our Amish white bread or English muffin bread!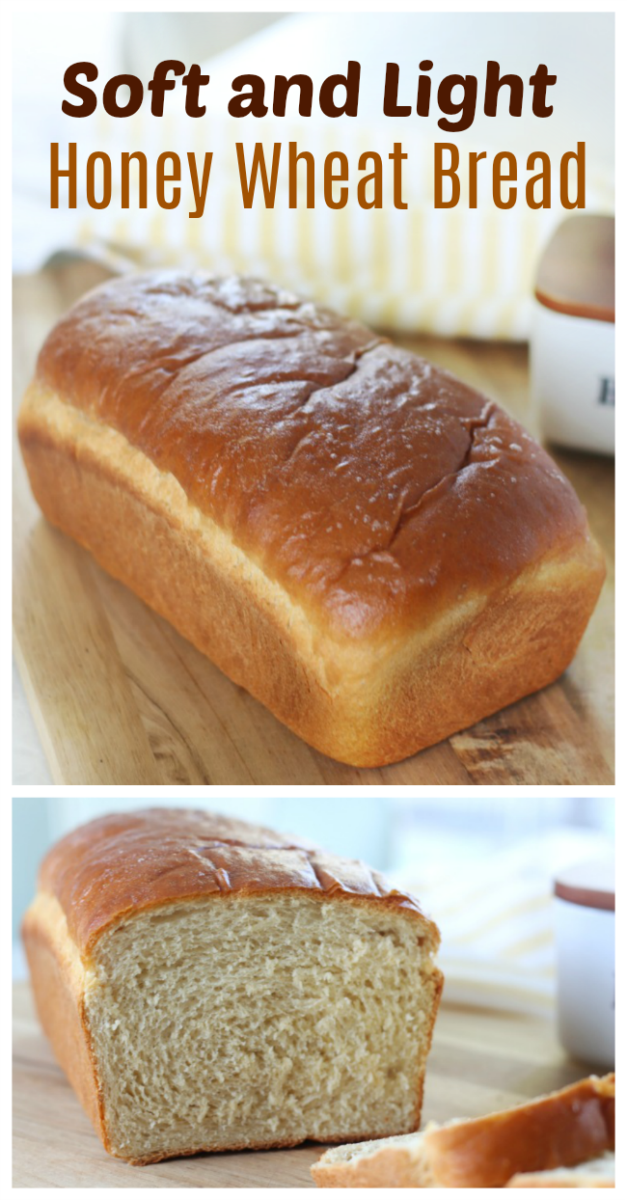 Watch our step by step video!
If you are like me and prefer homemade white bread to wheat bread you NEED to try this recipe! It contains whole wheat and isn't dense like many wheat recipes. I've been baking up loaves of homemade bread for 20 years and still haven't found a recipe for 100% whole wheat bread that I love, but this half and half loaf is divine.
Making Bread by Hand
My Grandma Eva made loaves of fresh bread every week. Her bread was always 100% whole wheat, sweetend with honey, and made without a mixer. Just a wooden spoon. She taught me that you can definitely make delicious homemade bread without any fancy machines. I've used my kitchenaid to make my dough, and it works great, but I really don't find it that much easier than just stirring by hand. My favorite tool for dough making is this dough whisk. I highly recommend it!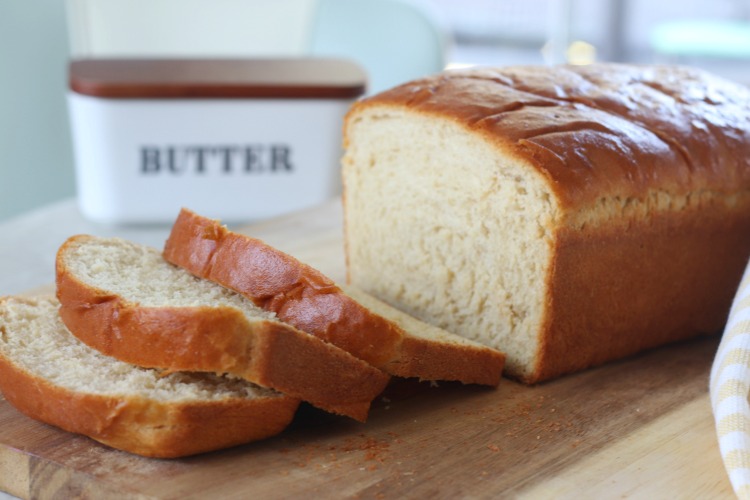 This honey wheat bread is half whole wheat and half white flour. Sweetened with honey it is RIGHT UP THERE on the list of favorites with our Amish white bread recipe. I make loaves of this for the kids to use for toast and sandwiches.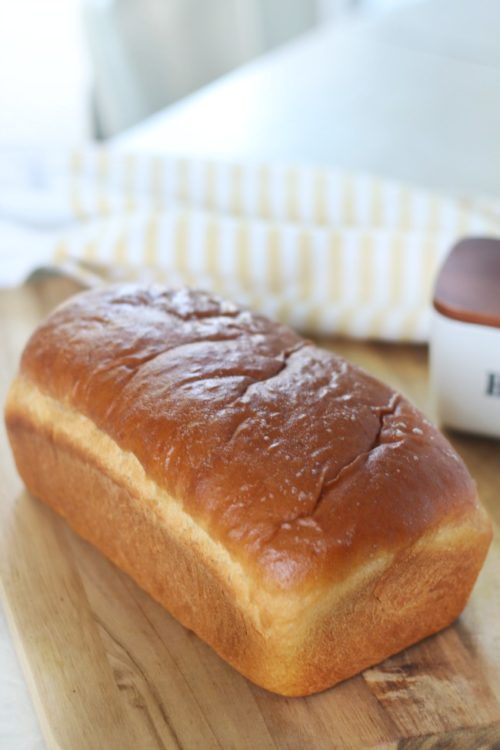 Just look at that texture! Soft and light and so easy to slice. Make sure to brush the top with butter to make it even softer. This bread stays fresh for 2 days on the counter and freezes well.
To see exactly how I make and shape homemade bread, be sure to watch our step by step video at the top of the post. Spread warm bread with butter, honey butter, or homemade strawberry jam. Yum!
Soft and Light Honey Wheat Bread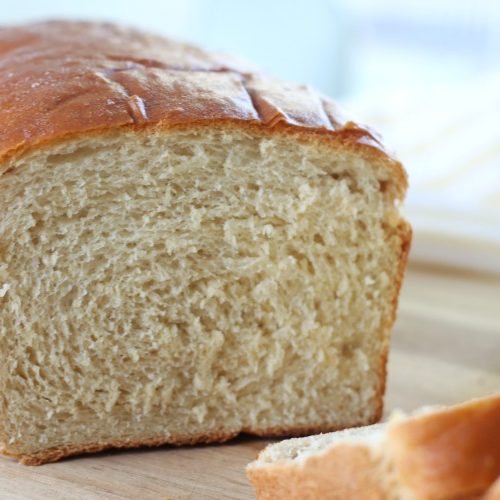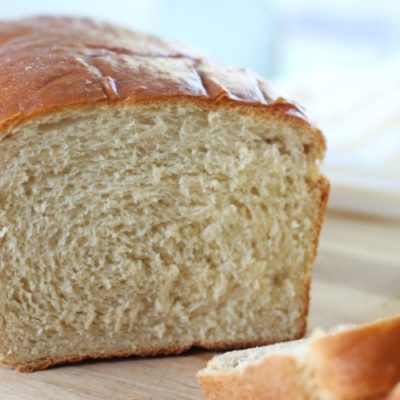 Honey Wheat Bread
This honey wheat bread is made from a combination of whole wheat and white flour and is sweetened with honey. Soft and light, but sturdy enough to slice into sandwich bread. Makes 2 loaves.
Print
Pin
Rate
Ingredients
1/2

cup

warm water

4 1/2

teaspoon

yeast

(2 packages)

1 3/4

cup

warm water

1/3

cup

honey

1/4

cup

shortening

1

Tbsp

salt

3

cup

whole wheat flour

3-4

cup

all purpose flour

butter
Instructions
Combine 1/2 c. warm water and yeast in a small bowl. Cover and let proof for 5-10 minutes or until yeast is bubbly.

In a large bowl combine the rest of the water, honey, shortening and salt. Add yeast mixture and stir.

Stir in whole wheat flour. Mix for 2 minutes.

Stir in all purpose flour 1 cup at a time until a soft dough forms.

Knead on a lightly floured surface 5 minutes, until the dough is elastic.

Lightly oil the mixing bowl (2 tsp.) and place dough into bowl. Turn dough over so that oiled side is facing up. Cover and let rise in a warm place until doubled (60-80 minutes).

Punch dough down and divide dough into two sections and form into loaves. To form into a loaf roll dough out to a 9"x18" rectangle. Roll up the 9" side. Pinch edges to seal.

Place into greased bread pans. Cover and let rise for an additional 40 minutes.

Heat oven to 375 degrees and remove all racks except for the bottom rack so that the tops of the bread are in the center of the oven. Bake bread on bottom rack for 40 minutes or until tops are a deep brown and the loaves sound hollow when lightly tapped.

Remove from pans while hot and brush with butter. Cool 30 minutes before slicing.
Nutrition
WHAT IS THE BEST KIND OF FLOUR TO USE for honey wheat bread?
For wheat I like to grind my own if I have wheat berries on hand. The wheat tastes so much better when ground fresh, but that isn't always an option so my second favorite is King Arthur's 100% whole grain wheat floud. For whtie flour I generally use bread flour or all purpose. I've switched back and forth many times and honestly, I can't tell a difference between the two for most recipes. This batch of honey wheat bread was made using all purpose flour.
3 Delicious Variations for Honey Wheat Bread
Before rolling up the bread into a loaf shape, spritz with water and sprinkle with cinnamon and sugar for a cinnamon swirl loaf. 
Brush with butter before baking and sprinkle with oats.
Make a cinnamon raisin loaf by spritzing with water, sprinkling with cinnamon and sugar and adding a handful of raisins before rolling up into a loaf shape.
WHAT IS THE BEST WAY TO PROOF YEAST?
I like putting 1/2 c. of the warm water into a small bowl with the yeast and 1 tsp. of sugar (if the recipe calls for sugar. This recipe calls for honey so I leave the sugar out and just proof the yeast with warm water). Give it a stir. Place a small plate on top and let it sit for 5 minutes. When you go to add the rest of the ingredients make sure to subtract the 1/2 c. of water and 1 tsp. of sugar that you already used for the yeast proofing.
CAN YOU USE INSTANT AND DRY ACTIVE YEAST INTERCHANGEABLY?
For the most part I use whatever yeast is available. Most of the time it's the instant yeast that comes in a large package from Sam's Club. When I use dry active yeast I add 10-15 minutest to the rise time. Technically you do not need to proof instant yeast, only dry active yeast, but I've gotten so used to proofing my yeast that I proof it for every recipe.
WHERE IS A GOOD PLACE TO LET THE DOUGH RISE?
A warm place is the perfect place for yeast to do its thing. I preheat my oven for 60 seconds then shut the heat off. I place my bowl of dough with a damp cloth covering it inside my oven.
How Do You Know When Your Bread Is Done?
The top should be nice and golden, and when you tap the top it should sound hollow. When you've achieved both, pull those loaves out of the oven and brush with butter. They're done!