Creamy, tangy and delicious. No summer is complete without this traditional Hellmann's potato salad recipe! This is a Sponsored post written by me on behalf of Hellmann's.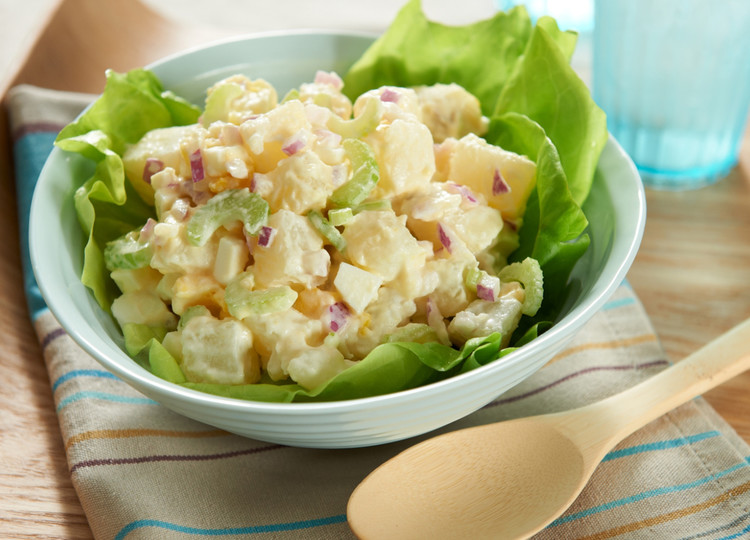 As crazy as it seems, summer is just around the corner.  The kids are finishing up school in 2 weeks and have already started asking to get out the water toys and sprinklers. I love summer for the outdoor fun and get togethers with friends. BBQs, picnics, I love it all!
When I think of my favorite summertime recipes, potato salad is right up on the top of my list, along with my
favorite homemade pasta salad
,  and I usually bring it to big group activities. Derrick doesn't care for it and I don't usually make a batch to eat by myself, so picnics and BBQs it is!
My favorite recipe is the simplest. Just potatoes, mayo, and a few seasonings.
Hellmann's Recipes
 has one that is very similar to the one I grew up on and it has quickly become a family favorite! This potato salad recipe absolutely delicious so go ahead and pin it to make sure you always have it on hand!
Hellmann's Potato Salad Recipe
2 lbs. potatoes (5 to 6 medium), peeled and cut into 3/4-inch chunks
1 cup Hellmann's® or Best Foods® Real Mayonnaise
2 Tbsp. vinegar
1-1/2 tsp. salt
1 tsp. sugar
1/4 tsp. ground black pepper
1 cup thinly sliced celery
1/2 cup chopped onion
2 hard-cooked eggs, chopped (optional)
Directions
Cover potatoes with water in 4-quart saucepot; bring to a boil over medium-high heat. Reduce heat and simmer 10 minutes or until potatoes are tender. Drain and cool slightly.
Combine Hellmann's® or Best Foods® Real Mayonnaise, vinegar, salt, sugar and pepper in large bowl. Add potatoes, celery, onion and eggs and toss gently. Serve chilled or at room temperature.
You might also like…