Comfort food. Perfect for a rainy day. Here are our recipes for chili and cornbread. The cornbread recipe comes from All Recipes and it is so sweet and moist. PERFECT! The chili is my own. Like most chili recipes, it is simple and consists of opening a bunch of cans.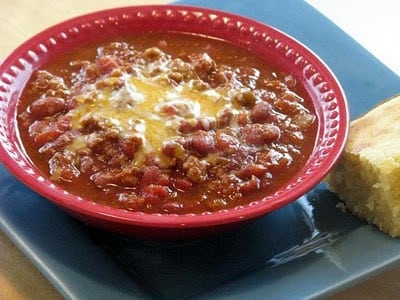 Turkey Chili
1 lb. ground turkey*
3/4 c. chopped onion
15 oz. can kidney beans, rinsed and drained
15 oz. can chili beans, in sauce
14.5 oz. can diced tomatoes & green chiles, drained
16 oz. tomato sauce
14.5 oz. stewed tomatoes, crushed
1/2 tsp. salt
3/4 tsp. cumin
2 T. chili powder
1/2 tsp. dried oregano
1/2 tsp. sugar
1/4 tsp. black pepper
Brown meat and add onions. Cook through and drain if necessary. Add remaining ingredients and bring to a boil in a large stock pot. Reduce heat to low and simmer for 1 hour.
Serves 6
*I only buy ground turkey, but any ground meat would work.
I did a search recently for a good cornbread recipe online. This was what I found, one of the highest rated ones. Yum!
Grandmother's Buttermilk Cornbread
1/2 cup butter
2/3 cup white sugar
2 eggs
1 cup buttermilk
1/2 teaspoon baking soda
1 cup cornmeal
1 cup all-purpose flour
1/2 teaspoon salt
Preheat oven to 375 degrees F (175 degrees C). Grease an 8 inch square pan.
Melt butter in large skillet. Remove from heat and stir in sugar. Quickly add eggs and beat until well blended. Combine buttermilk with baking soda and stir into mixture in pan. Stir in cornmeal, flour, and salt until well blended and few lumps remain. Pour batter into the prepared pan.
Bake in the preheated oven for 30 to 40 minutes, or until a toothpick inserted in the center comes out clean.
For original recipe, click
here
.

Sharing this recipe at Balancing Beauty and Bedlam, Somewhat Simple