These candy airplanes for kids are so fun to make. Great for class parties, birthday crafts and party favors! This shop has been compensated by Collective Bias, Inc. and its advertiser. All opinions are mine alone.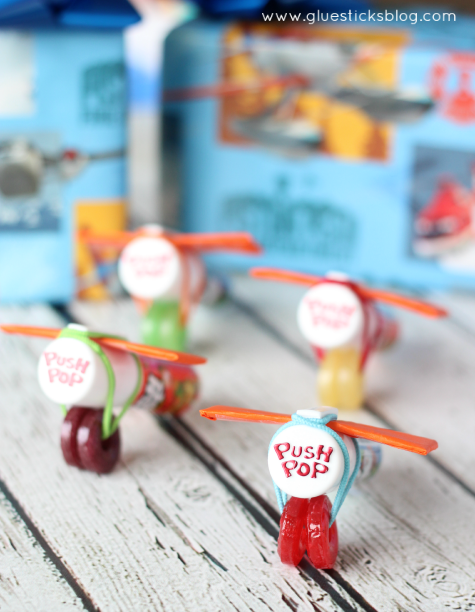 Making candy trains (especially these cute Thomas ones) is one of my favorite holiday things to do! I remember receiving one as a child and thought it was just about the coolest thing ever. Lifesavers, a hershey kiss, a pack of gum, and starlight mints. Classic! My kids like making them too, and they make such great Christmas party favors. This year we not only made trains, but also planes! I think these little pinterest inspired planes turned out so cute and they were very easy to make. We made an entire fleet for Dusty, our favorite crop duster.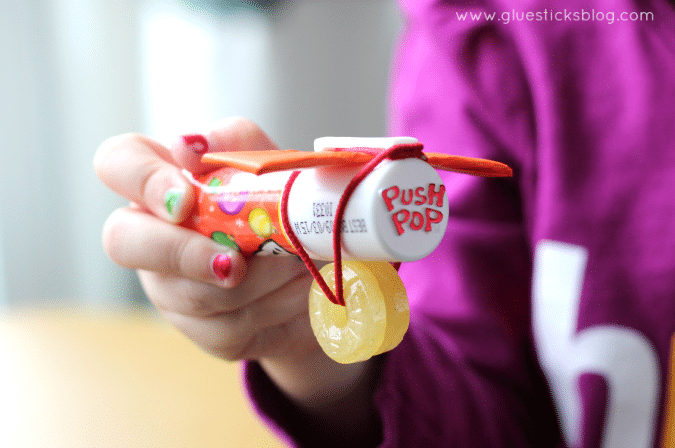 This was the first time my kids had tried Push Pops. They were fans. Ruby especially liked it because it looked like a little tube of lipstick. Love that girlie girl! We gathered all of the supplies we would need and got started. Don't worry, if you're looking for something a bit healthier—check out these adorable snack ideas using fruits and vegetables from One Little Project.
4 More Easy Holiday Candy Crafts for Kids!
Polar Bear Marshmallows and Hot Chocolate
Easy Candy Airplanes for Kids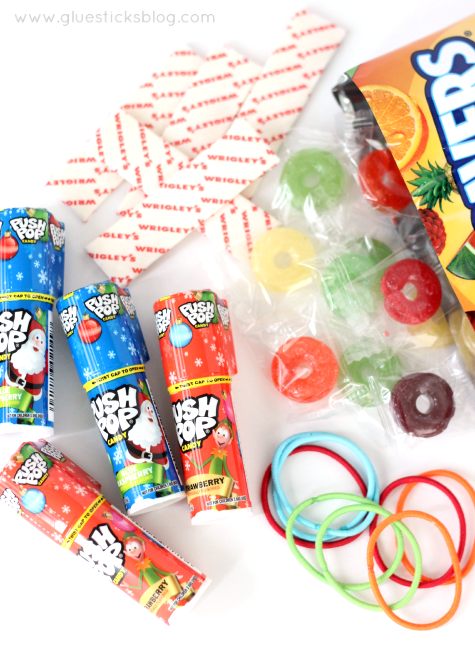 To make one of these adorable candy airplanes you will need the following supplies:
1 Push Pop 
2 Lifesavers
1 Stick of gum
1 rubber band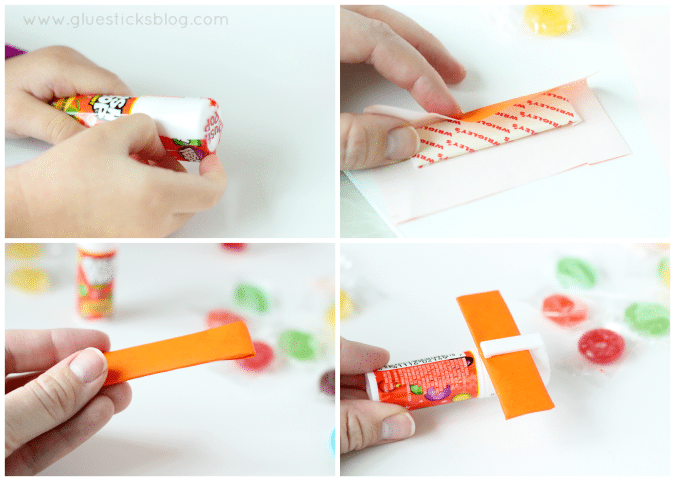 Instructions
Unwrap top section of Push Pop so that the clip is exposed.
Wrapping the stick of gum is optional, but I like the solid color as opposed to the gum wrapper so I just covered it with a piece of paper. I wrapped it like a little present and secured it with scotch tape.
Slide the gum underneath the clip.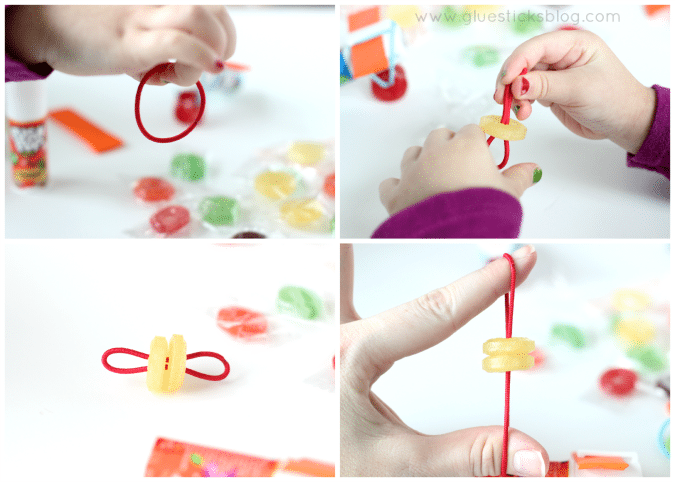 String two life savers onto a rubber band.
Stretch it out nice and good so that it will wrap easily around the plane.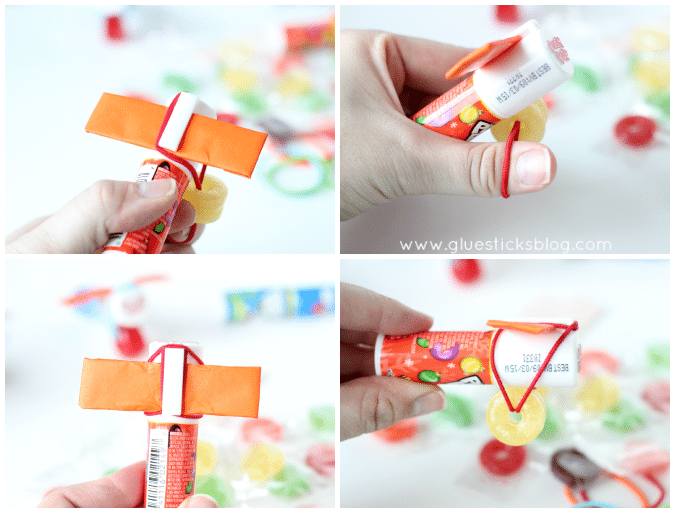 Start on one side and bring the rubber band up and over the clip.
Repeat on other side. The rubber  band sections will cross each other.
Straighten out the life savers (wheels) on the bottom.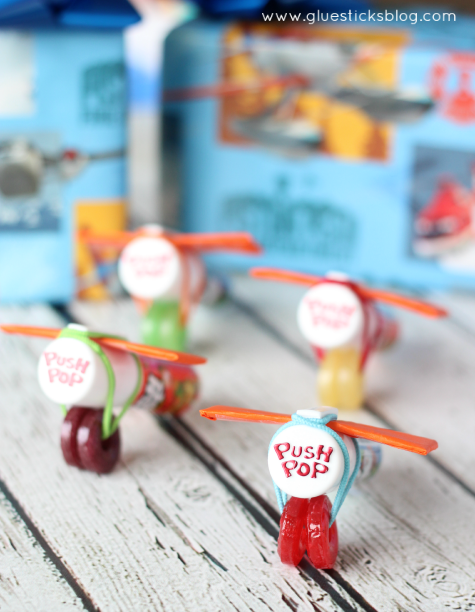 You'll want to make a whole fleet of these little planes. They are so cute!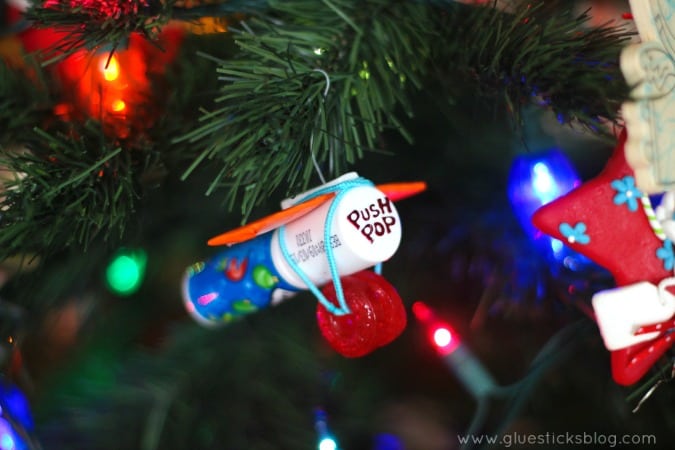 You can even add a hanger and put it on the tree (if you aren't worried about ants).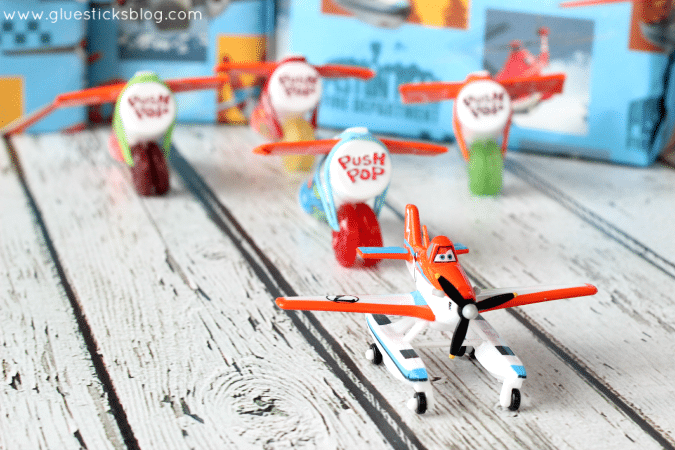 They also make great little party favors for any Planes fan! Have you seen Planes Fire & Rescue?  It was a cute movie! These candy airplanes would be perfect at a Planes themed party. Make them as a group, or give to each guest as they go home.
So now that I have shared one of my favorite childhood Christmas activities, what is yours? I'd love to hear what made Christmas special for you as a child or what you and your family enjoys doing now. So many wonderful memories happen during this magical time of year!