These cute Milky Way Teddy Sleds are perfect for class party treats at school and are easy to make! Make a batch to share at school or let the kids make their own! This post contains affiliate links and is a refreshed post from 2011.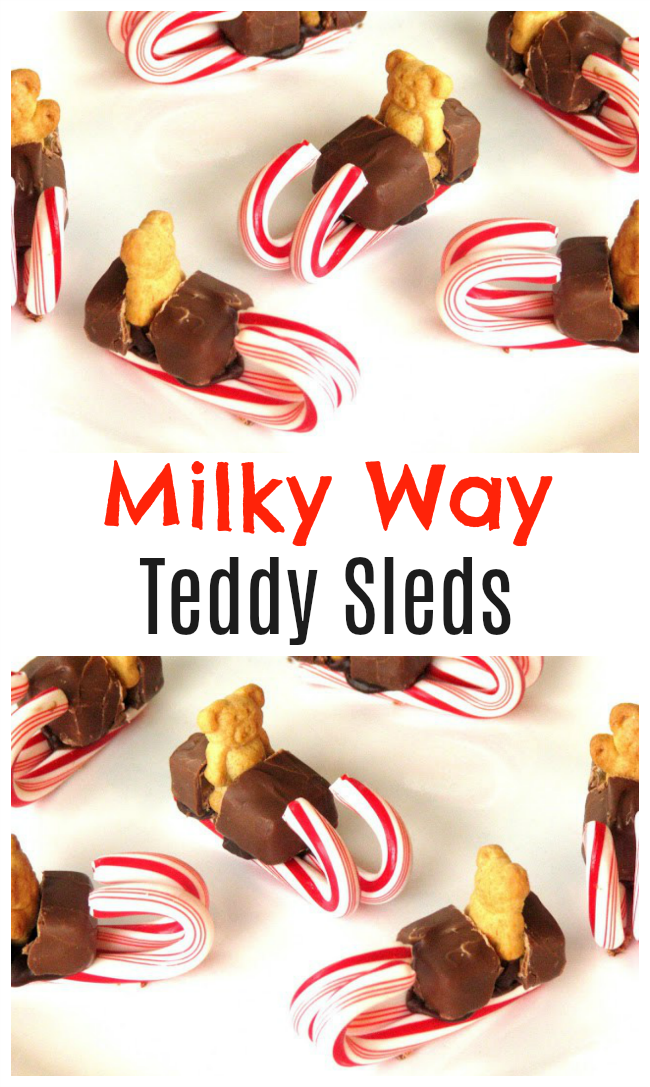 Inspiration for this project found here from Planning With Kids. Made with a few alterations.
It's been a busy year with holiday prep and class parties. I've been working on many projects, and this is one that I finished and am so excited to share! These teddy sleds were super simple and pretty quick to make. I put these together for the boys' Christmas class party treats for 2nd grade and kindergarten. If you're looking for something even EASIER be sure to check out our
snowboarding polar bears.
Yes, SNOWBOARDING polar bears, haha!
These little guys were a total hit and I had several parents ask me for the details. They are pretty self-explanatory, but I shared how I made them and snapped a few pictures of the leftovers to share the process with you! Be sure to check out the other edible Christmas crafts for kids that I've linked below. From candy trains to a graham cracker nativity, there are plenty of creative yumminess to last the whole season.
Milky Way Teddy Sleds for Class Party Treats
Supplies:
mini candy canes
teddy grahams
miniature fun sized milky way candy bars
Instructions:
Step 1: spread a small amount of chocolate frosting on two mini candy canes. We always have a giant tub of these during the holidays and add them to our Operation Christmas Child Shoe Boxes!
Step 2: Add your milky way miniature bar (cut in 2) and sandwich a little teddy graham in between.
Note: After sitting over night they were nice and sturdy since the frosting had a little time to dry. I wouldn't try to transport these without letting them set up a bit.
Kids would have a great time making teddy sleds at a class party treat station!
Have an example made ahead of time and all of the supplies laid out assembly style and let the kids make their own Milky Way teddy sleds. Teddy Grahams come in a variety of flavors so pick out a few to give the kids options! They won't be as sturdy since they wouldn't have a chance to sit overnight, but if they are making them for a snack to eat during class, it doesn't matter!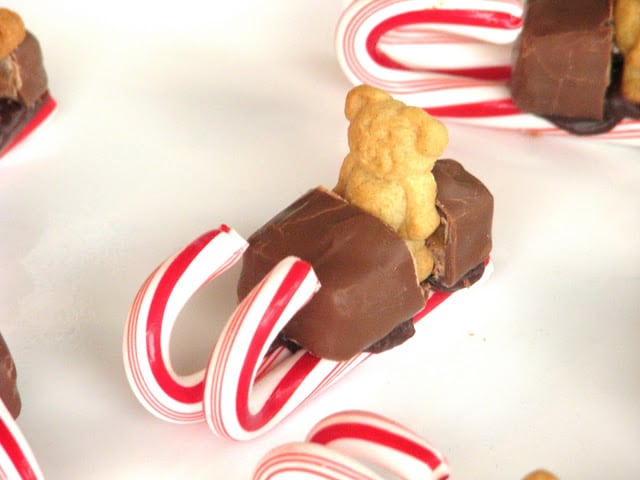 You might also like…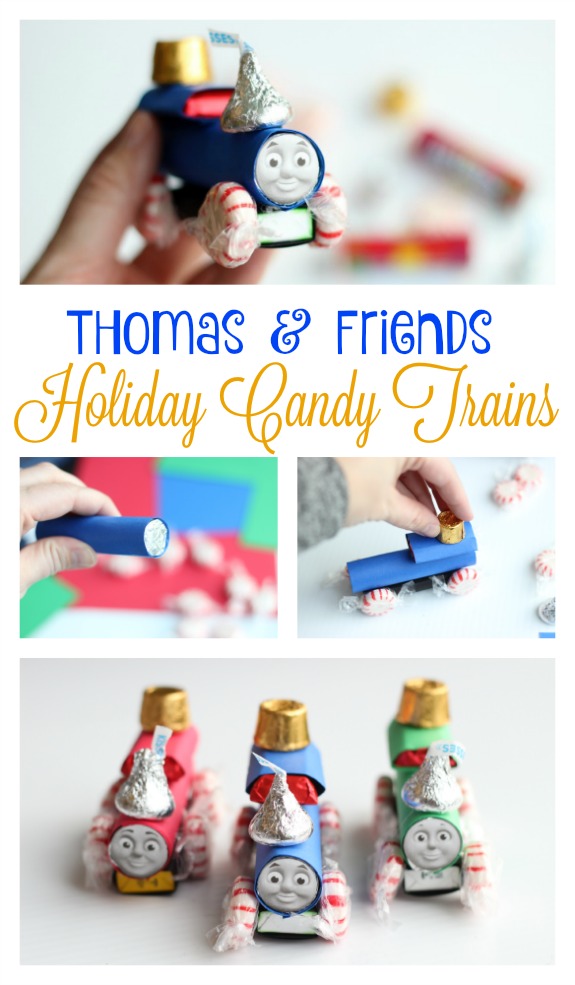 Another fun class party treats idea! I remember making candy trains when I was a child and love making them with my own children!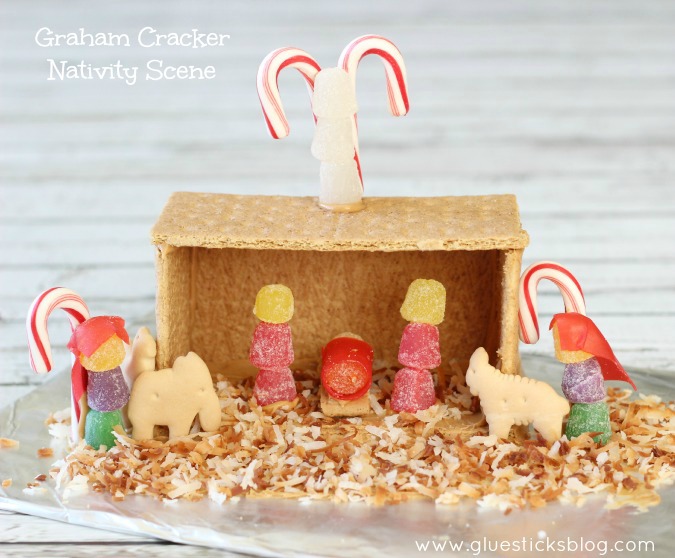 A fun twist on the traditional gingerbread or graham cracker holiday houses!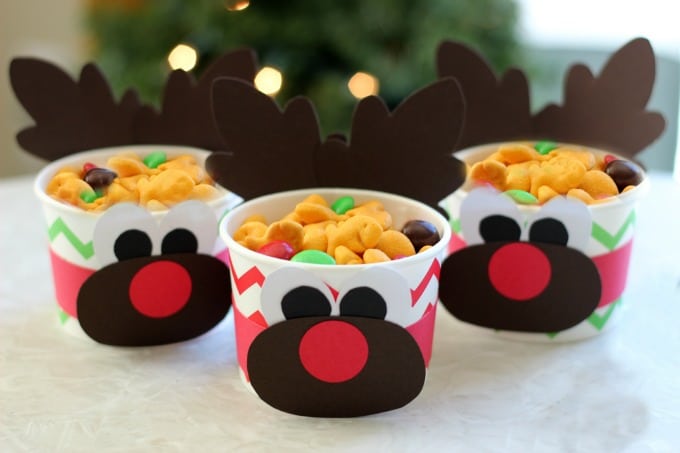 These cups come together in minutes with the free printable template! Also great for class party treats!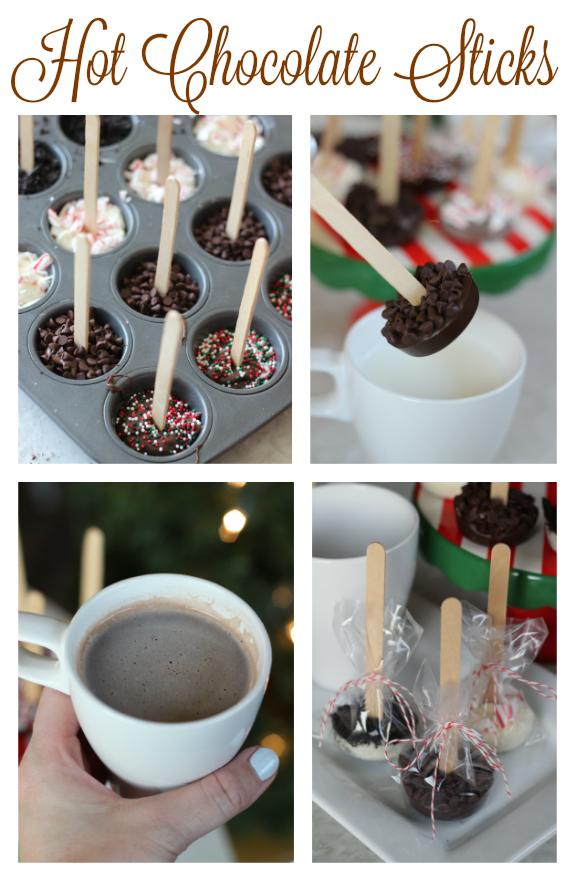 Make a batch of hot chocolate sticks to keep on hand this winter! Simply melt in a cup of warm milk for a delicious and rich treat! Fun to make and easy to customize!