This post was most recently updated on January 21st, 2021
This
candy cane soap
smells as nice as it looks! Layers of pink and white glycerin soap come together with crushed candy canes for a cute and easy gift idea this holiday season.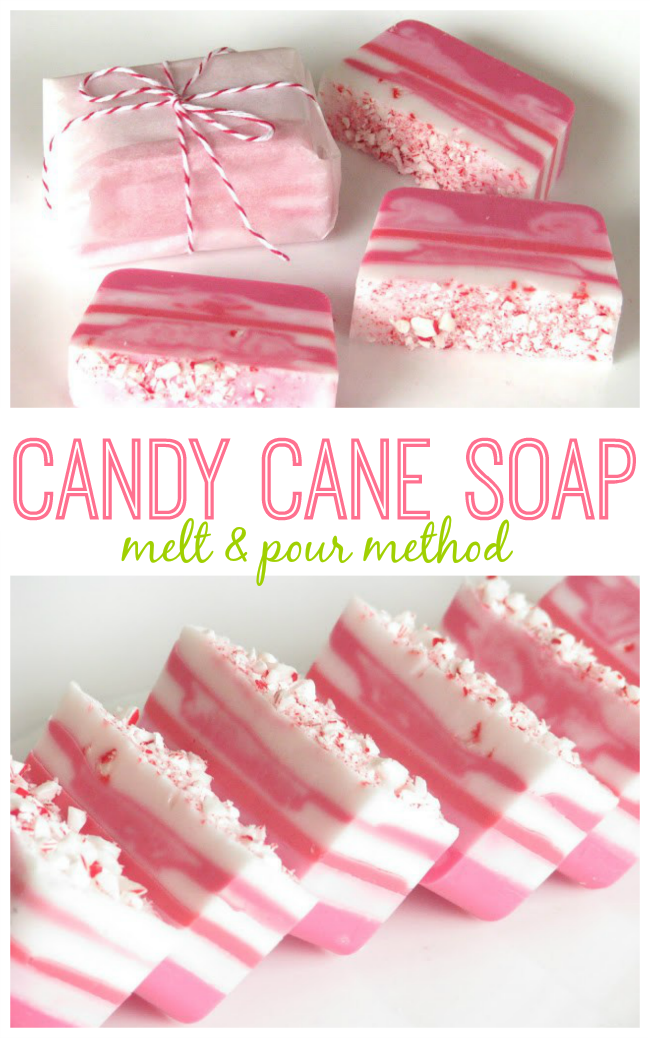 The kids and I made
homemade glycerin soap
over the summer and it was a lot of fun. I used some of our extra white glycerin blocks to create this soap to go with what I am putting together for Christmas gifts to the boys' teachers this year.
I guess I can't really say that I "made" soap. What I did was buy a bag of glycerin chunks at the craft store, melt them down, add color and a scent, then re-shape them into molds. But it still transformed them into something different and heavenly scented.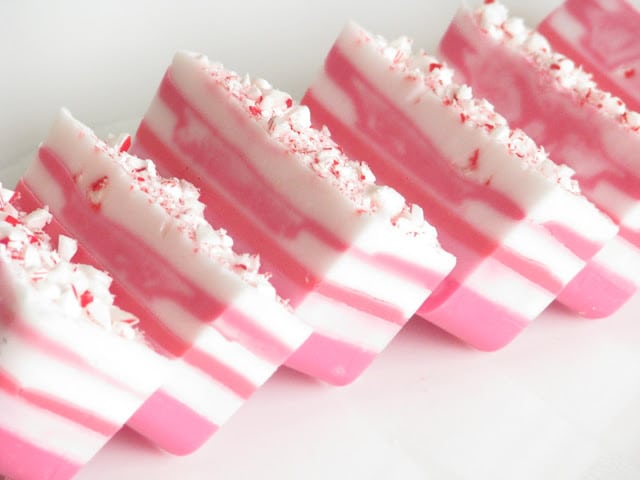 I'm no expert when it comes to soap. As you can see the lines aren't perfect. If I knew what I was doing, the lines would be solid. But I'm not sure how to do that and have the layers stay together when it is done. I was afraid if I let each layer dry before adding another that the layers would separate when I went to slice the soap into bars. So I didn't let each layer set up before adding the next one. I just waited until it just started to set up then poured the next color. So there is a mixture of stripes and swirls, but the soap is nice and solid. Perfect for a novice like me.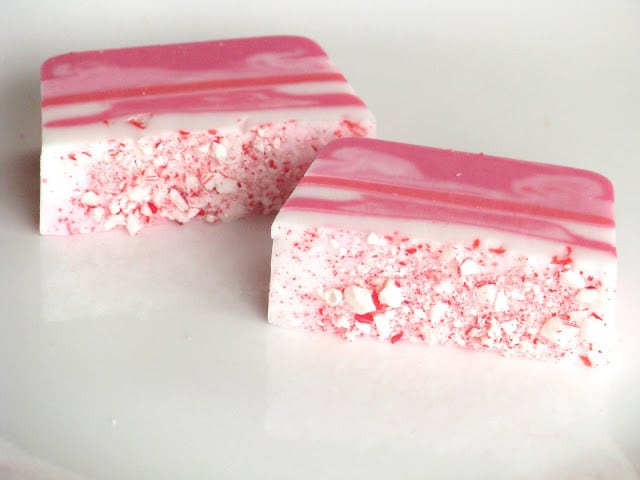 Right after I poured the last layer I sprinkled the top with a layer of crushed candy canes. I let it sit for an hour, then ran a knife along the edges of my mold (a small loaf pan) and the soap popped right out. I then sliced it into bars with a kitchen knife.
For those wondering about the candy canes: It is merely for decorative purposes and washed off the soap after the first couple of uses. You don't need it, but it looks pretty. It doesn't make your hands sticky either since you are already washing them. Kind of cancels it all out.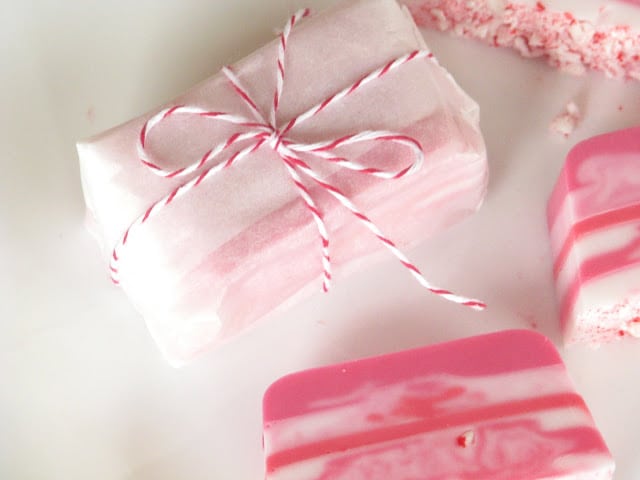 Each parchment package has 2 small bars of soap. It really does make your hands smell like candy canes!
If you would like to see how to melt, add scents and colors, and mold glycerin, see our post
here
. I used red soap coloring (food coloring would work too) and peppermint extract. About 1/8 tsp. for each white layer.
******
Oh how I love my readers! Here is a tip from Michelle on how to create perfect layers when making soap like this:
"Don't worry about your layers they are great! These look good enough to eat.I have played with melt and pour soap before, for distinctive layer just spray some alcohol on the first layer, let it harden, spray again then add your next layer.But again these look divine, so pretty and a great handmade gift."
Thanks Michelle!
If you enjoy making your own beauty products, you may enjoy this collection of homemade beauty gifts that I put together below!