25 delicious homemade chocolate candy recipes that are simple to make and absolutely decadent. English toffee, truffles, chocolate coconut bites and more.  Perfect for holiday treat plates. Make a batch to give as a Christmas gift or for yourself!

25 Homemade Chocolate Candy Recipes
Many are my own recipes like the chocolate coconut bites, white chocolate peanut butter balls and English toffee. I hope you love them as much as our family does and enjoy this collection of other yummy chocolate candy recipes that I've rounded up for you! If you're new to candy making there are plenty of beginner recipes.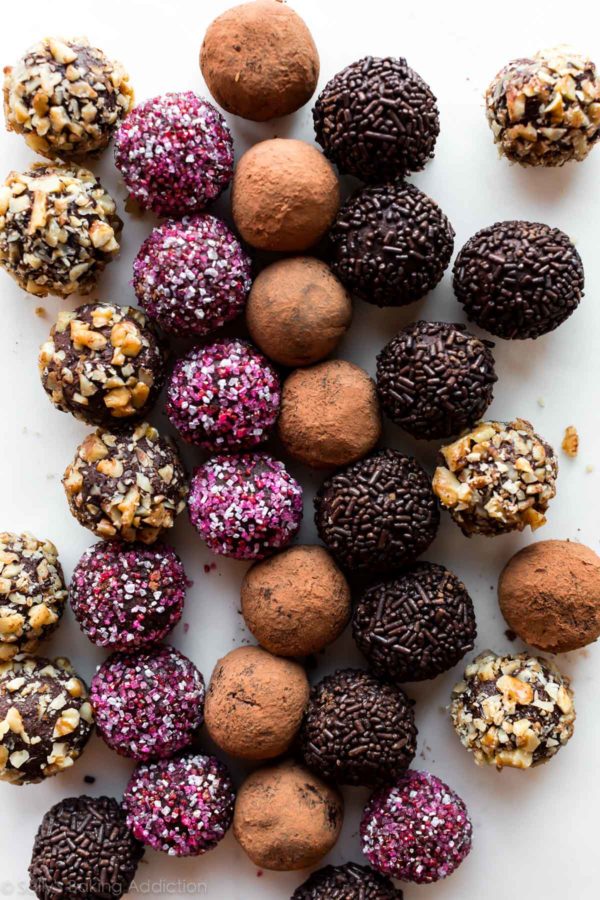 Homemade Chocolate Truffles: Sally's Baking Addiction shares how to make homemade truffles! Ditch the store-bought chocolates this year and follow her simple how to video! There are several varieties to choose from—I especially want to try the walnut ones.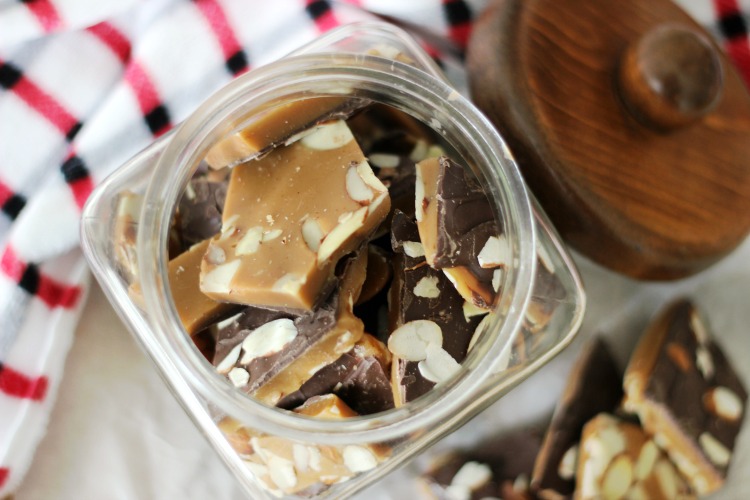 The Best English Toffee: If you've ever been intimidated by making English toffee—don't be! I think post I share tips and tricks for making perfect English toffee without a candy thermometer. The trick is med-high heat and not undercooking. This tried and true method has been a family favorite for decades! I like adding almonds to mine, but pecans or pistachios are delicious too! Spread melted chocolate chips over the toffee then sprinkle with additional nuts! Keep a bowl of toffee out during the holidays, your family will thank you!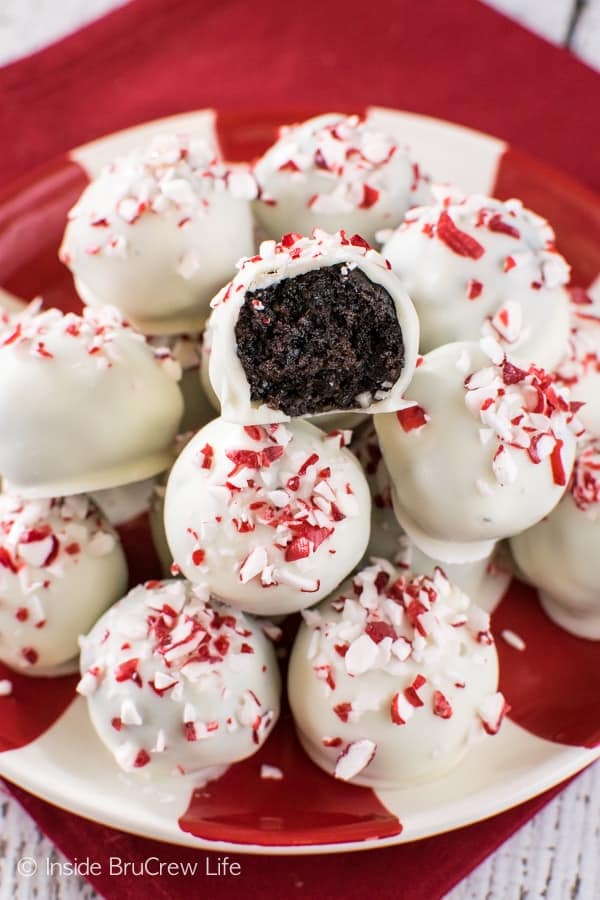 Peppermint Brownie Truffles: These peppermint brownie truffles should be on every treat plate for the holidays this year! The Bru Crew Life shares the simple recipe.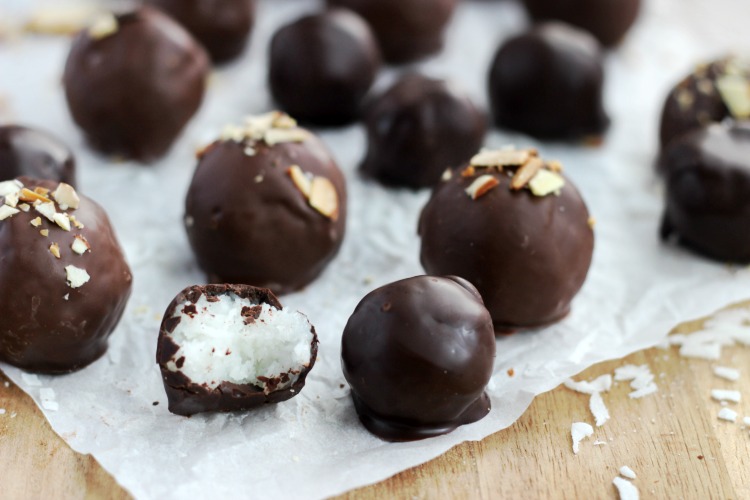 Chocolate Coconut Bites: Are you a fan of Mounds or Almond Joy? Looking for a truffle version that is gorgeous and decadent? Well, look no further! I've got you covered with these yummy chocolate coconut bites using pre-made coconut dough as the filling. I also share a recipe for making your own coconut filling for two options in making these tasty chocolates. Whether you like milk chocolate or dark chocolate candy, there is a version for you.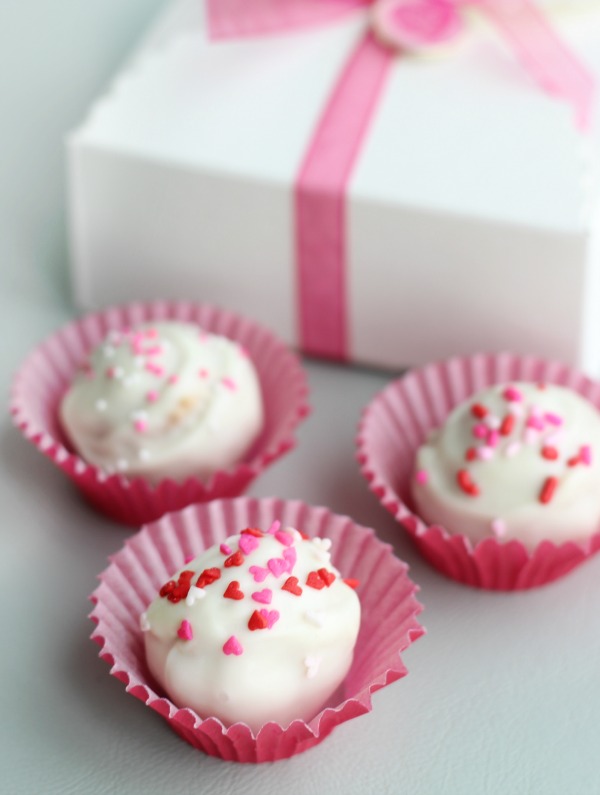 White Chocolate Peanut Butter Truffles: The filling in these white chocolate peanut butter truffles couldn't be simpler, or more addicting: peanut butter, butter, confectioners' sugar and Rice Krispies cereal!  Eat it on it's own or dip it in chocolate, I won't judge! They are perfect for any holiday. Just use different sprinkles to switch them up!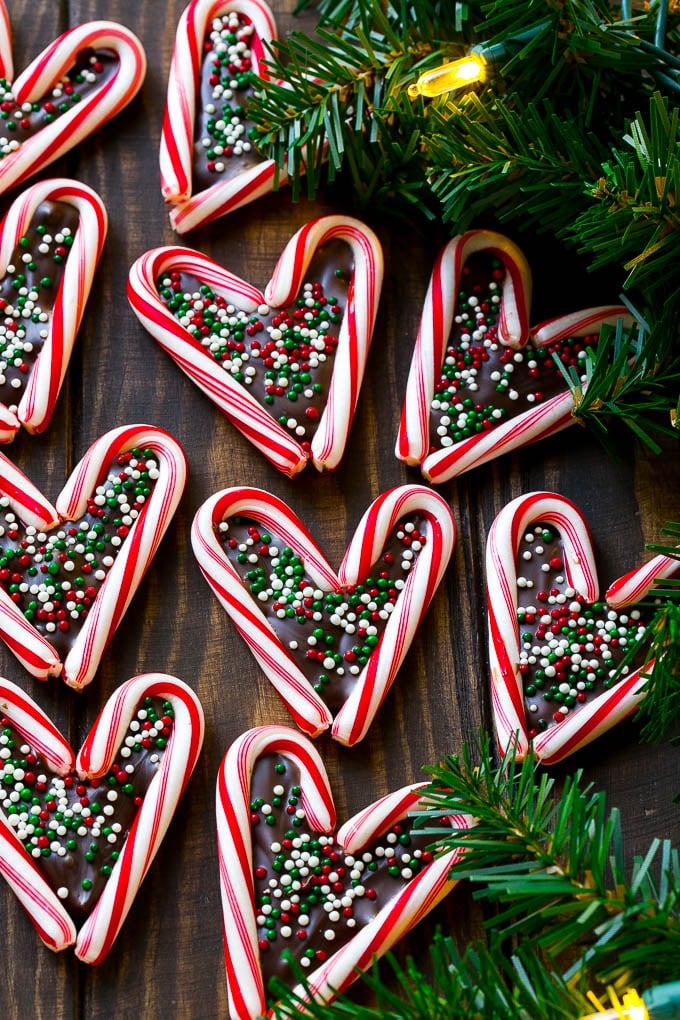 Candy Cane Hearts: We've made candy cane hearts in the past and they are so fun for kids! Dinner at the Zoo share the simple technique! Use a good quality chocolate for best results.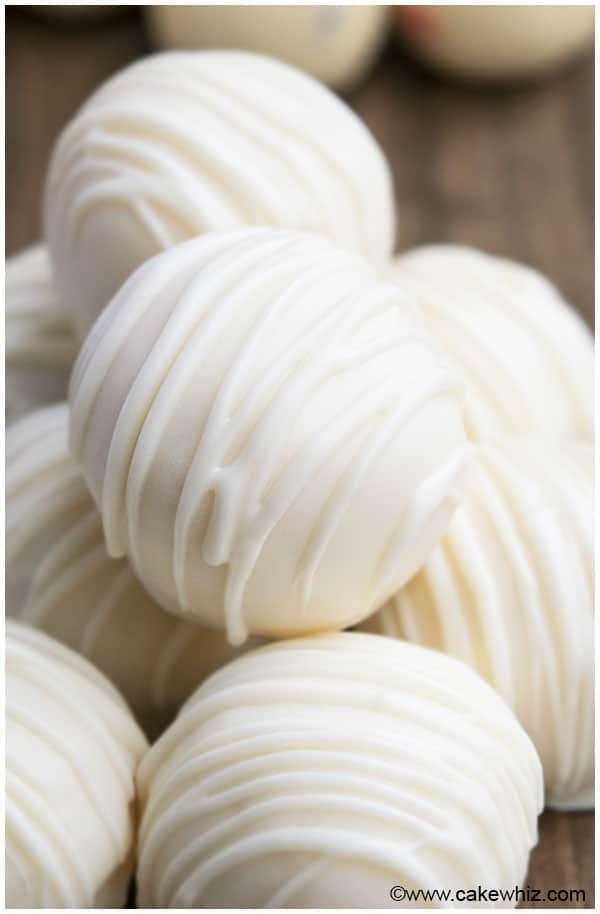 White Chocolate Truffles: Another recipe that looks like it would be fun to modify! Find the deets on the Cake Wiz website!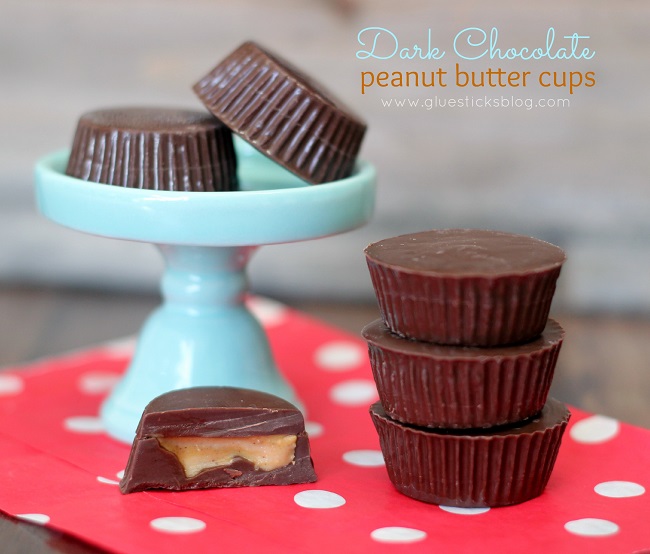 Homemade Peanut Butter Cups: You can use regular peanut butter or the peanut butter filling from my chocolate eggs to create these yummy peanut butter cups!
Almond Buttercruch: The Spruce Eats shares a delicious recipe that reminds me of Almond Roca. This almond buttercrunch looks divine!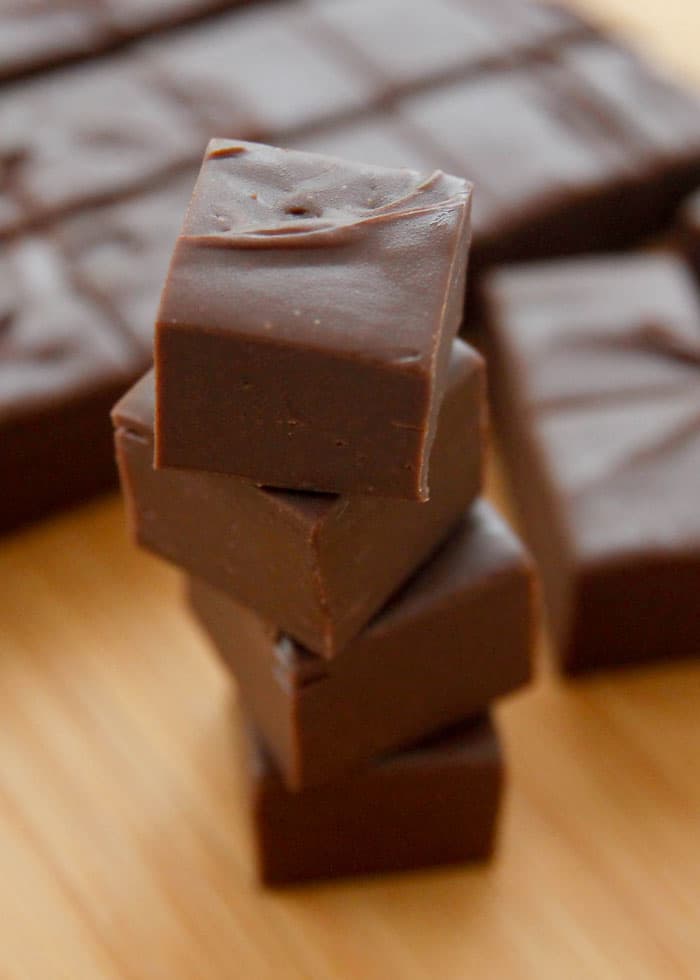 3 Minute Fudge: A fudge recipe that only takes 3 minutes to make? Yes, please! Find the details from Chocolate, Chocolate and More!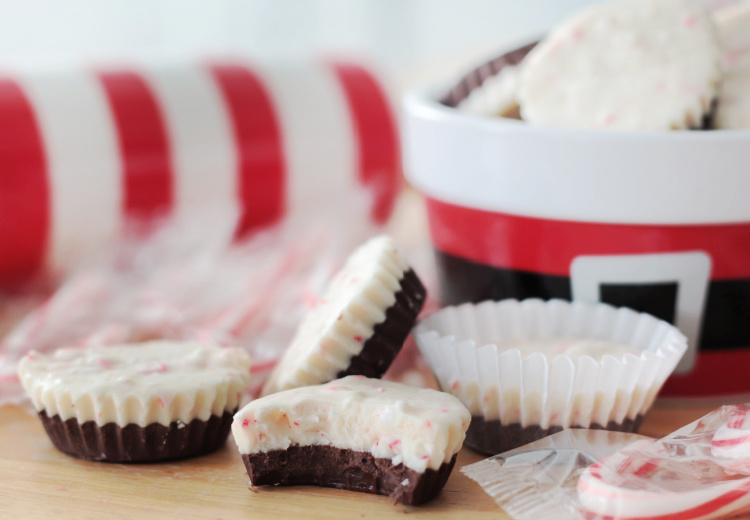 Peppermint Bark Cups: These were inspired by my favorite Ghirardelli peppermint bark squares. A layer of melted chocolate wafers followed by a layer of white chocolate and peppermint. So delicious and easy to make! Melt your chocolate in the microwave and you're ready to go! I like to stir crushed candy canes into the white chocolate then sprinkling more on top! If you don't have a candy mold just spread everything onto a baking sheet and break into pieces.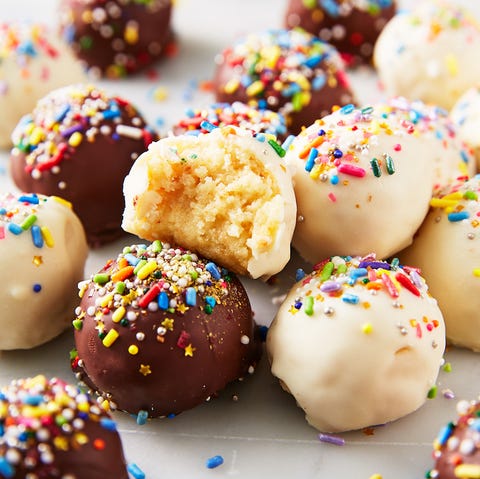 Best Cake Balls Recipe: Delish shares how to make this popular treat in several different varieties! We made dozens and dozens of these for a church fundraiser a few years back. They were so easy to do and were a big hit! I love that you don't need candy molds to make them! Make them in a variety of flavorings by switching out the cake mix!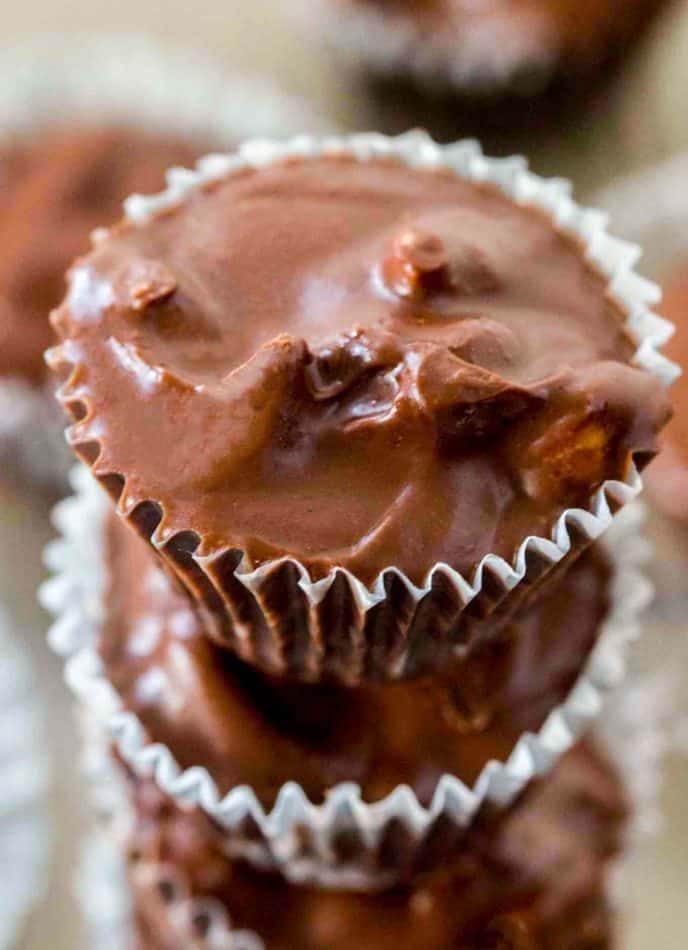 Slow Cooker Chocolate Peanut Candy: Dinner then Dessert shares how to make chocolate candy in your slow cooker. 4 ingredients, then let them meld together nice and slow!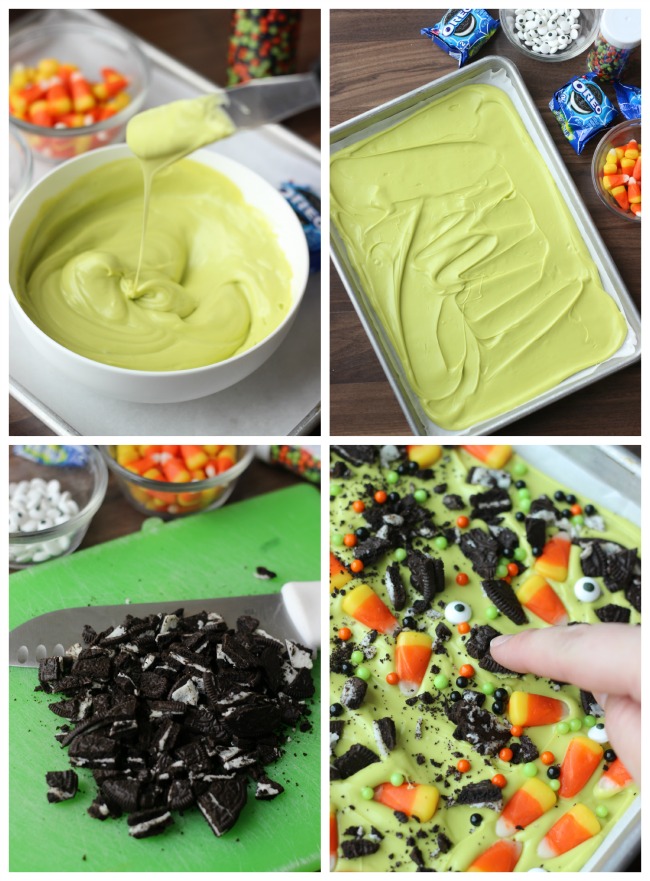 Homemade Chocolate Bark: Chocolate bark is just about the EASIEST homemade chocolate candy to make. Use any color of melting candy, any kind of sprinkle and any kind of add in you'd like! Here is our Halloween version!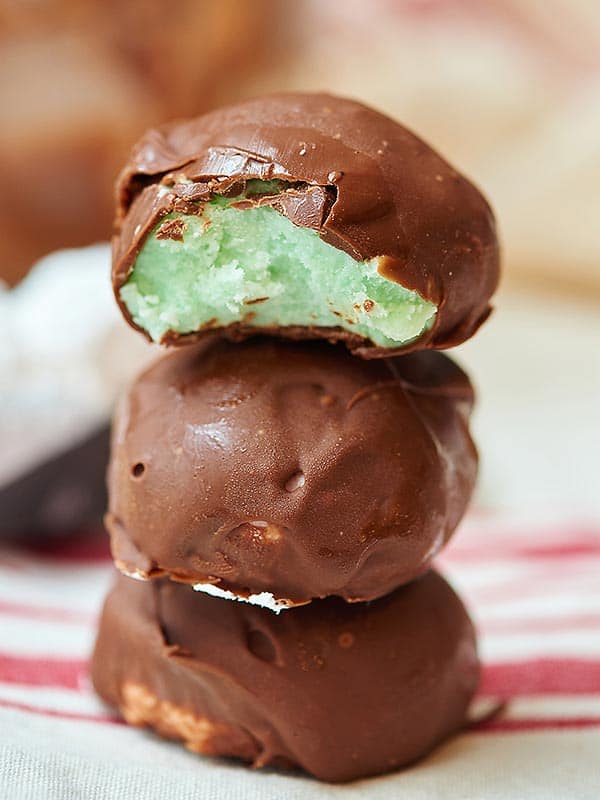 Five Ingredient Mint Chocolate Candy: If you love chocolate and mint you will LOVE these five ingredient mint chocolate candies from Show Me The Yummy.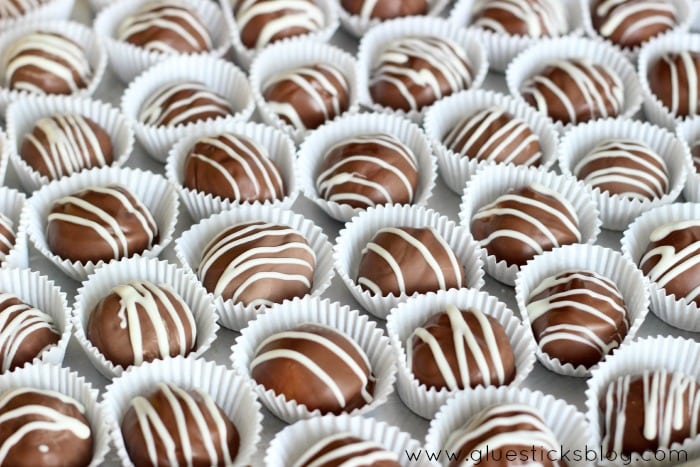 Chocolate Covered Caramels: Roll caramel into balls and dip into milk chocolate (or dark!) for a decadent treat that is better than any candy store. Sprinkle with coarse sea salt to take them to the next level!
Homemade Chocolate Mint Filled Candy: These look absolutely divine! An Italian in My Kitchen shares how to make these chocolates filled with chocolate and peppermint.
Pretzel Turtles: Pretzel turtles only require 3 ingredients and are the perfect blend of sweet and salty. Cooking Classy shares how simple it is to make a batch.
Candy Cane Chocolate Swirl Fudge: Sally's Baking Addiction shares how to make this delicious holiday treat. It looks amazing!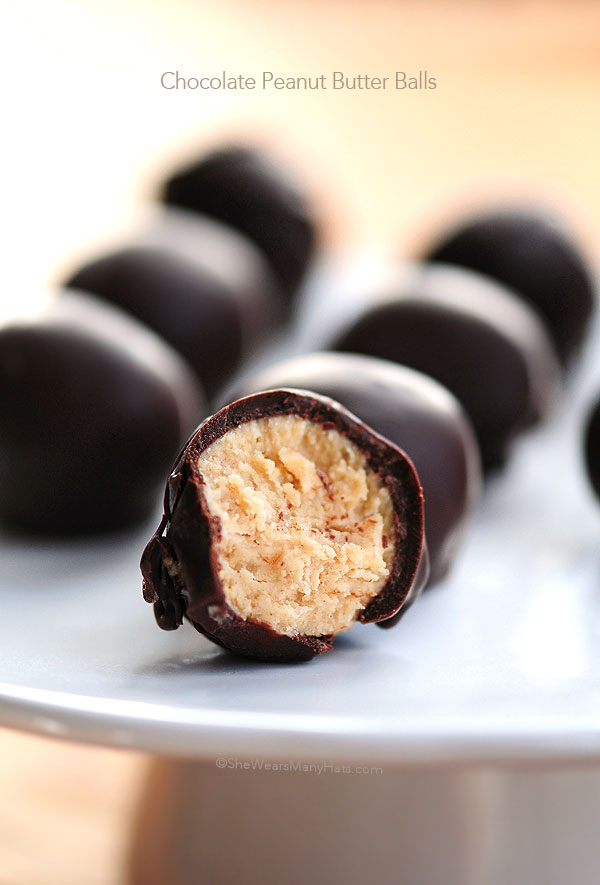 Chocolate Peanut Butter Balls: Yum! She Wears Many Hats shows how to make these delicious chocolate candies. Nothing is better than chocolate paired with peanut butter.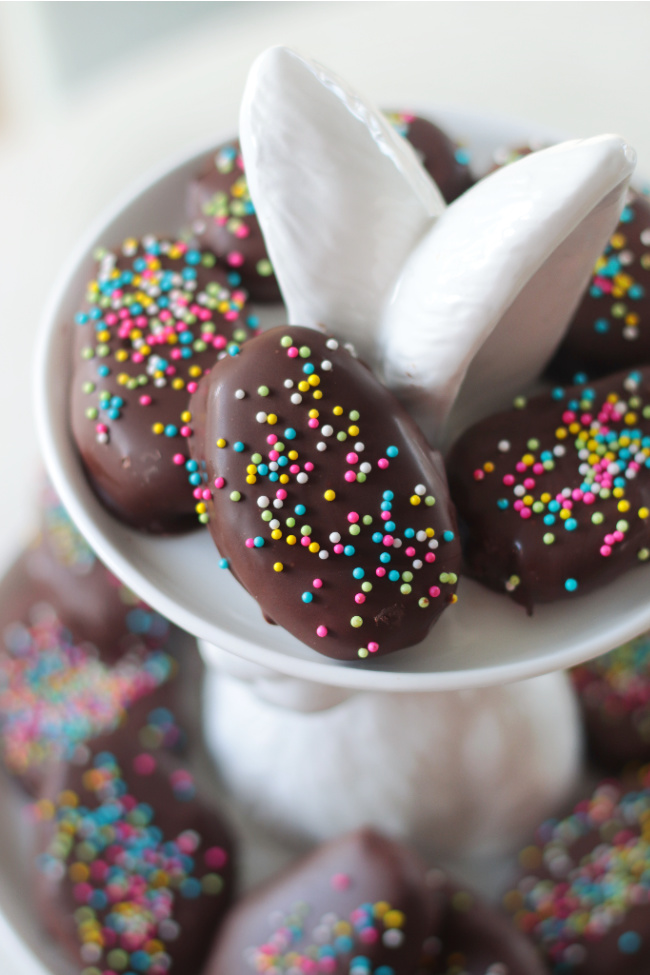 Chocolate Eggs: Filled with homemade peanut butter filling. These are the perfect treat to make in the spring and give Reese's a run for their money!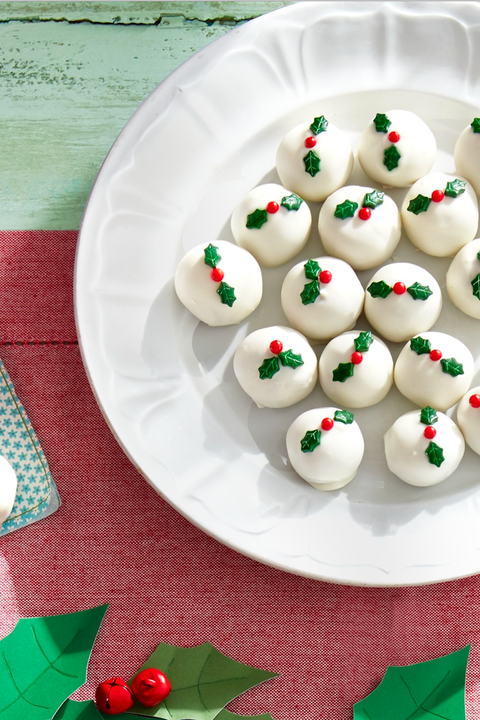 White Chocolate Truffles: These white chocolate truffles from Country Living are just about the prettiest edible thing I've ever seen!
Amish Chocolate Covered Cherries: My dad loved chocolate cherries. I think I need to make a batch in his honor. These chocolate covered cherries from Tastes of Lizzy T look so simple!
No-Bake Chocolate Coconut Balls: I'm always a fan of a good no-bake recipe. These chocolate coconut balls from The Spruce Eats look divine!
Easy Fudge: This easy fudge from Baking a Moment looks delicious and is made from 4 simple ingredients!