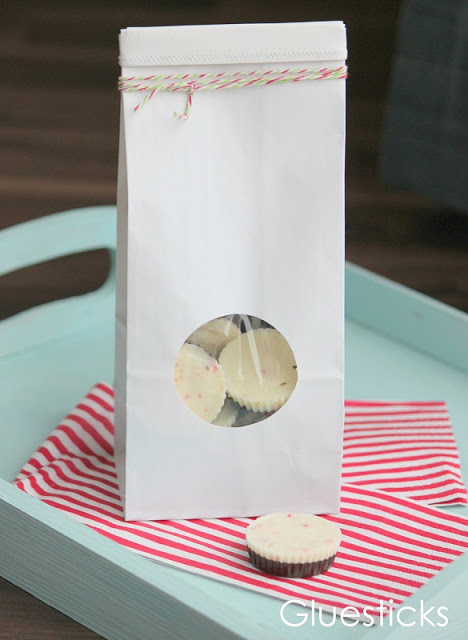 Do you look forward to the seasonal flavors that Ghirardelli comes out with this time of year? Peppermint bark is one of my favorites, and it is super easy to make!
I buy my melting chocolate at Sam's club. You can get a 2.5 box in white or chocolate for about $7. We go through several boxes every December. It is the best melting chocolate I've found and I use it for chocolate covered pretzels, English toffee, and chocolate dipped marshmallows every year. It comes in a large brick that has been marked into smaller bars that are easy to cut into sections. You could use Wilton's melting chocolates as well.
You can make bark on a baking sheet, but I think it's fun to use these candy molds. I bought this one on E-bay for a couple of bucks. Wilton makes one too. They are the same size as mini peanut butter cups.
For one batch (which makes 10 peppermint cups) you will need 2 bars of chocolate and 2 bars of white chocolate. Place 2 bars of chocolate in a freezer Ziploc baggie and microwave for 20 seconds. Press chocolate with your fingers to break it up a bit and microwave another 20 seconds or until melted. Cut off a corner of the bag with scissors and fill each cup a little less than half way. Tap against your work surface to spread chocolate evenly.
Place chocolate mold tray in freezer for about 5 minutes until set. While it is setting up, crush up 1 candy cane.
For the white chocolate, I melted it in a small bowl instead of a baggie. The peppermint pieces don't squeeze out of a Ziploc baggie that well. After the white chocolate bars are melted, stir in your peppermint pieces and spoon into the chocolate mold. Tap against work surface to spread chocolate evenly. Freeze another 5 minutes.
Turn mold over on a plate and gently press the back to release the peppermint cups.
And there you go! You can adjust the ratio to make more or less chocolate to white chocolate. Some of mine aren't exactly half and half since I just eyeballed it as I squeezed it out, but they all taste amazing!