Kids will love making chocolate chip waffle sundaes! Set out a platter of waffles and a variety of toppings and free their creativity!
My girls LOVE cooking and being in the kitchen. Lately, with all the rain we've been receiving, they've been focusing on coming up with new slime recipes and have been adding ingredients to my shopping list quite frequently, haha. I asked them if they'd be interested in creating a special after-school snack and watching an episode of one of their favorite shows, "Spirit Riding Free" on Netflix with me (you can find all sorts of fun "Spirit Riding Free" activities here!). Dad and the boys like to stay up late on the weekends and watch movies together and these little girls have a hard time staying awake that long, so afternoons with mom are more our style. To sweeten the deal I said that they could choose out any variety of Eggo waffles and Reddi-Wip to come up with something delicious.
They were ALL IN and these chocolate chip waffle sundaes were born.
My favorite kind of waffles are good old fashioned ones without additional flavors, but I went with it and added that box of Chocolatey Chip Eggo Waffles to my cart at Walmart. They were thrilled!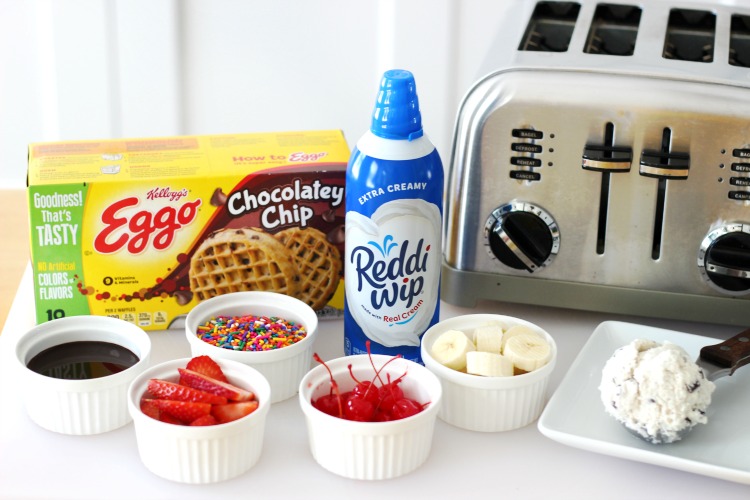 I like adding fun bases to ice cream sundaes. We've done cookie sundaes and brownie sundaes in the past so waffle sundaes just made sense!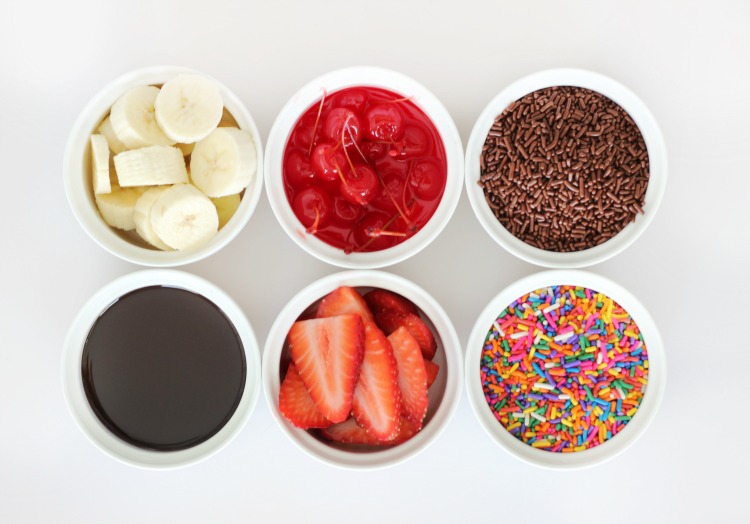 We filled ramekins with their favorite toppings: fruit, hot fudge, sprinkles and, of course, cherries.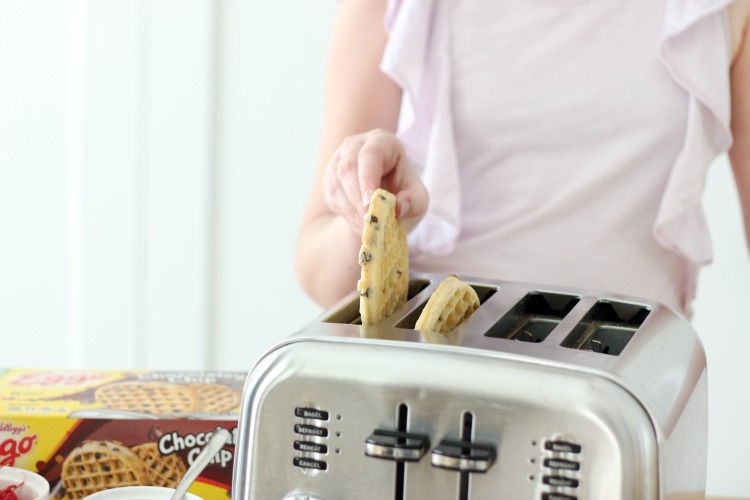 Eggo waffles come in so many delicious flavors and toast up to a delicious golden crisp in just minutes. The girls each toasted a waffle (and I toasted 2—you'll have to see my version at the bottom!) for their sundae base.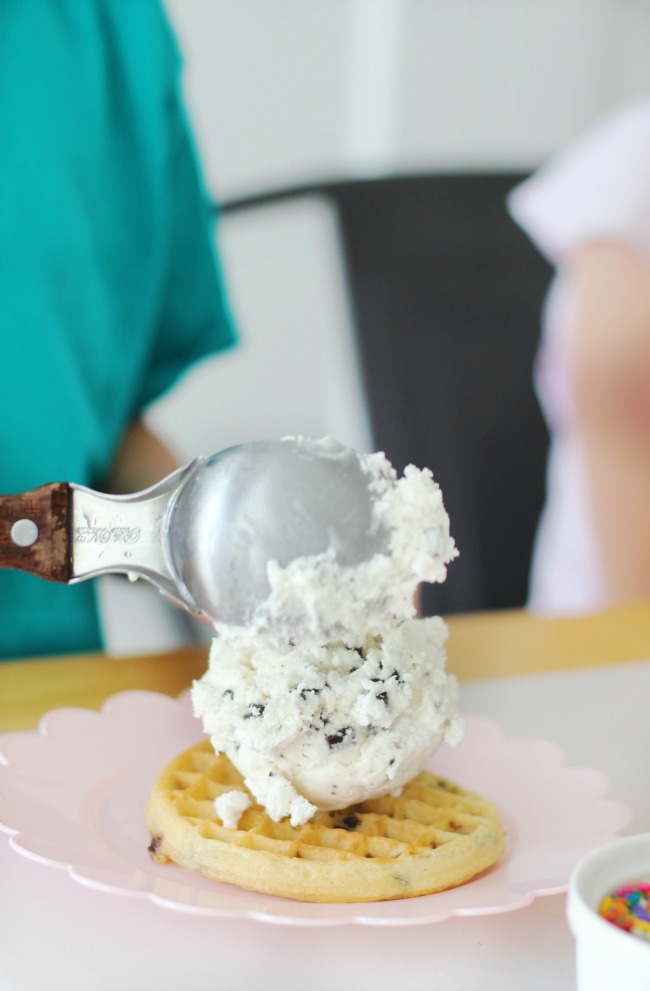 Then they each added a scoop of ice cream. Ruby went with chocolate chip and Kaylee found a container of chocolate ice cream in the freezer that had JUST ENOUGH left for a sundae.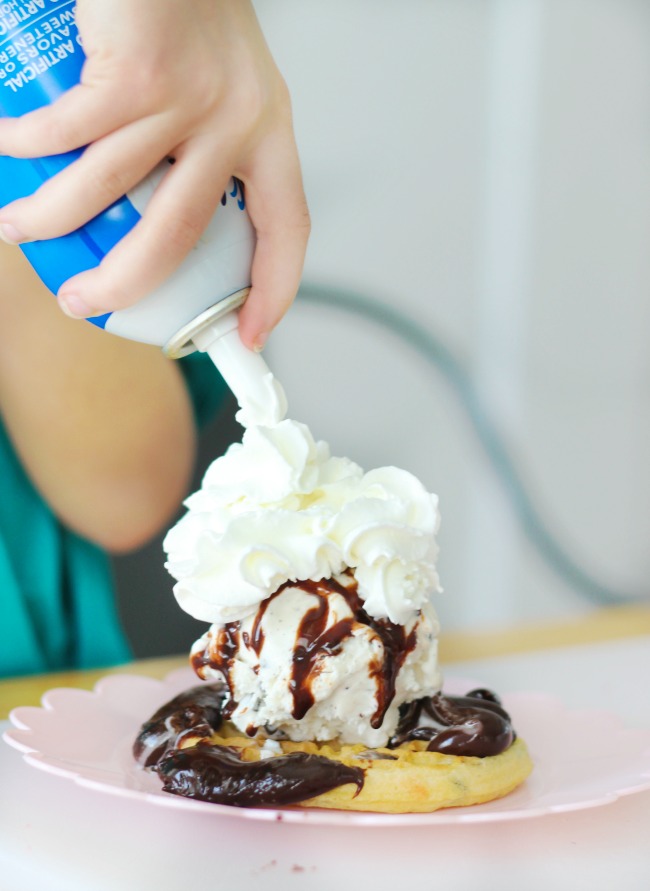 You simply can't have an ice cream sundae without Reddi-Wip! Reddi-Wip uses the best cream, comes in a variety of flavors and contains less hydrogenated oils than other frozen whipped toppings.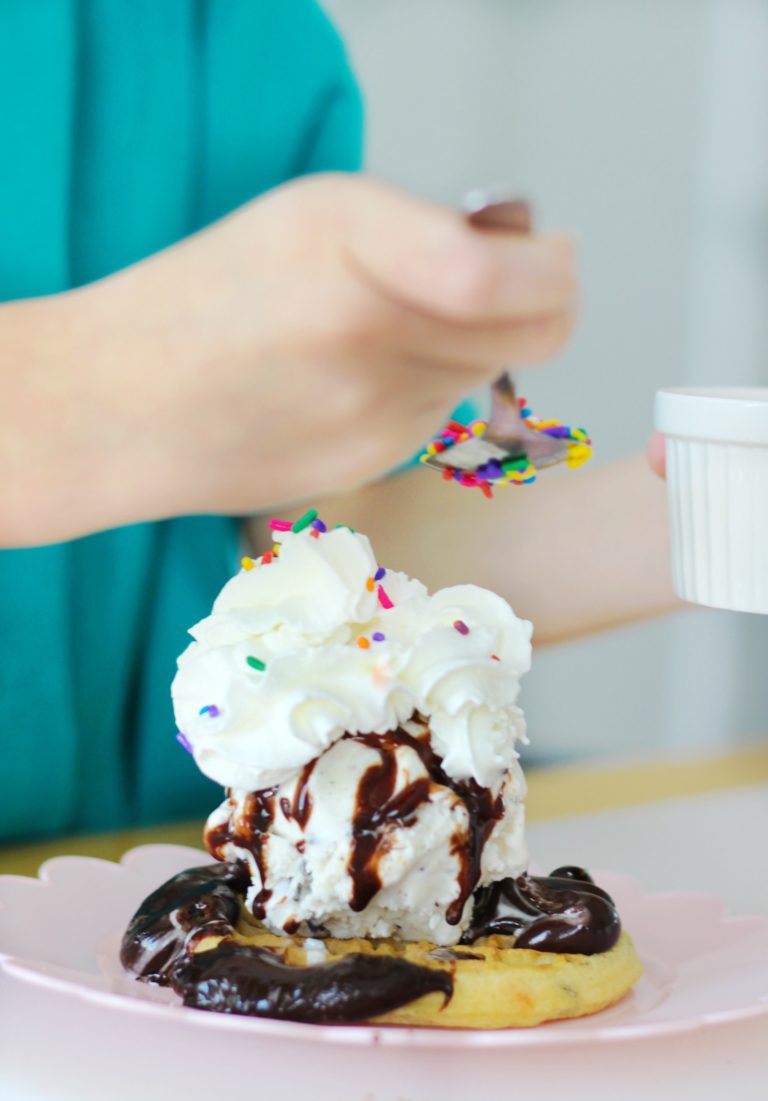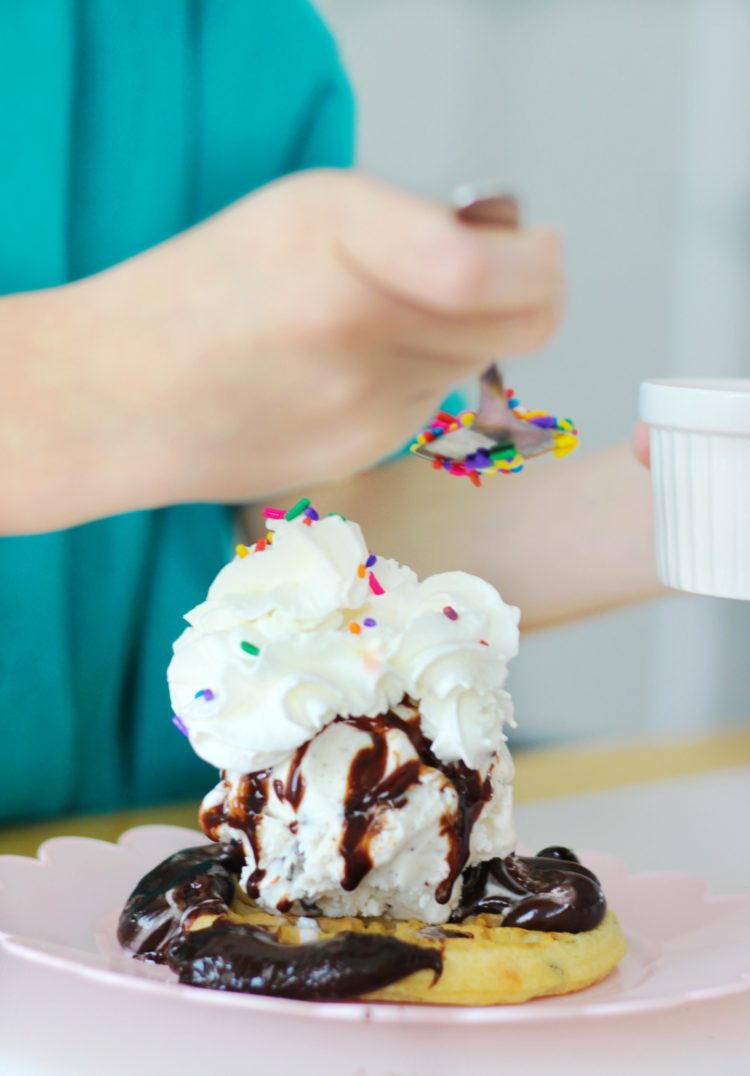 Ruby said that she needed both rainbow and chocolate sprinkles. I wasn't going to stop her.
Annnnd….with a cherry on top, this creative masterpiece is complete!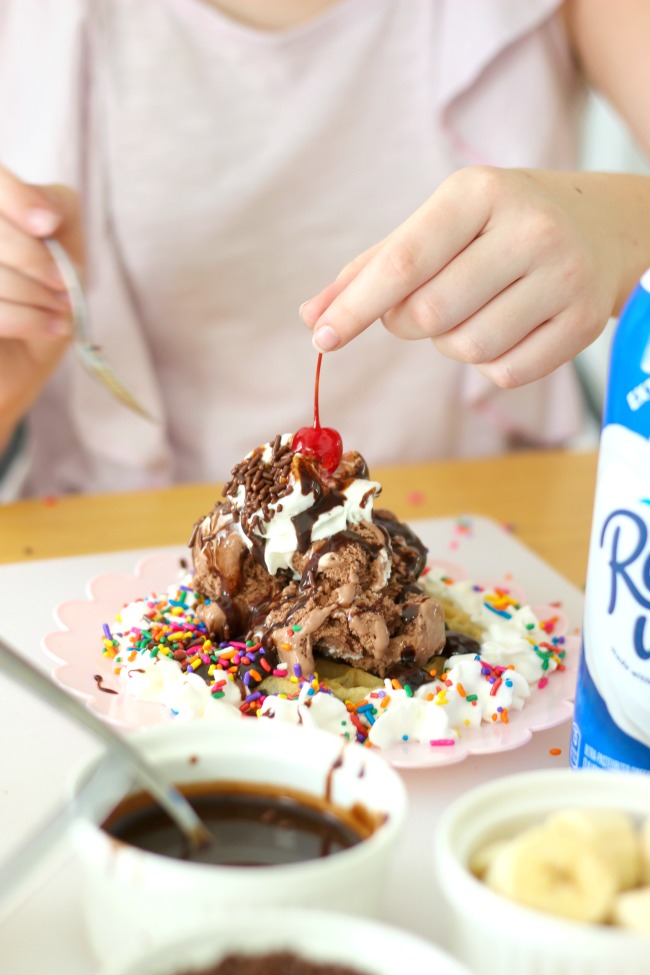 I love how Kaylee added a cute ring of Reddi-Wip around the edge of her plate.
Two very different sundaes for two very different little girls!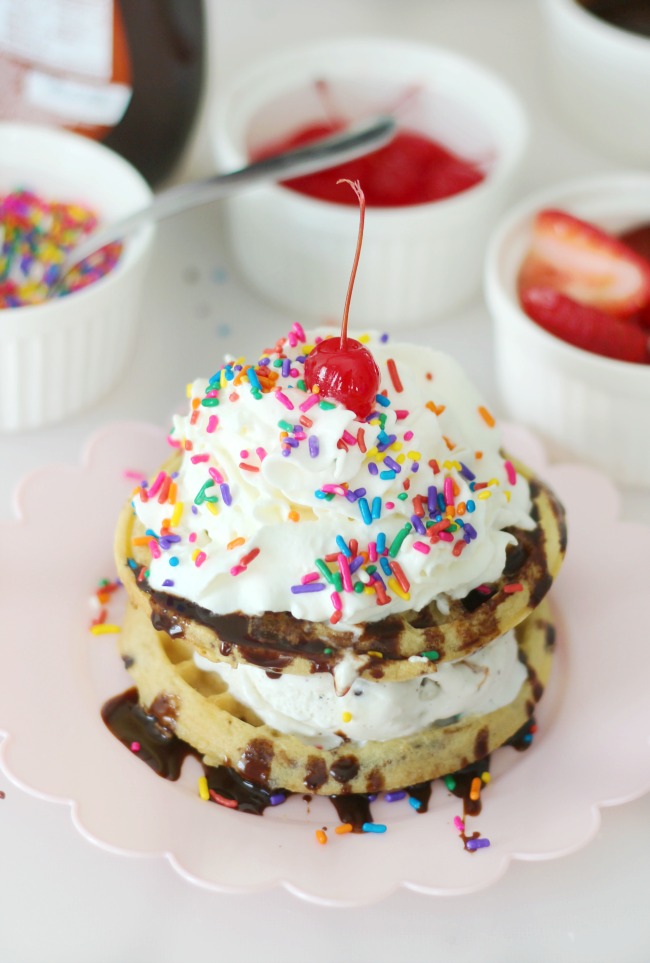 And a double chocolate chip waffle sundae for mom.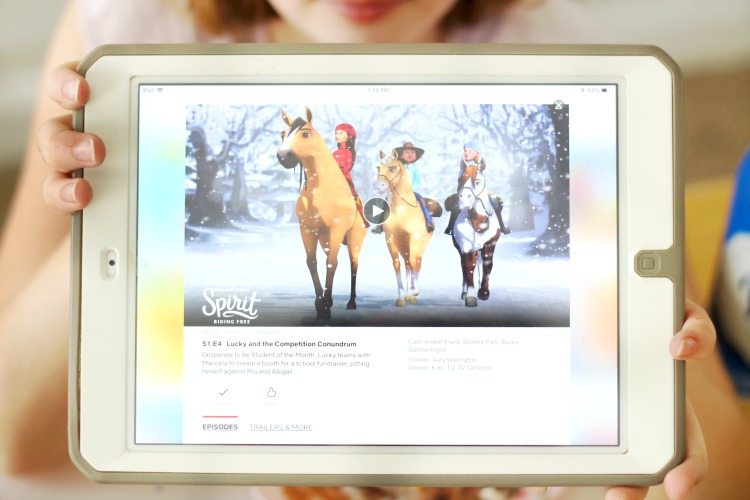 Normally I'd splurge and let them eat in the living room while we watch a movie together, but you saw those sundaes, right? Yeah, we enjoyed those at the bar while we watched "Spirit Riding Free". Just to eliminate any hot fudge carpet stains! Kaylee discovered this darling show on Netflix a while ago and shared it with Ruby and I. It follows 3 friends, their horses, and their riding adventures. Each episode is full of life lessons on friendship, working together, learning patience, trying new things, and knowing when to be humble and admitting when you are wrong. All traits that are so important to master at this age. Click here for a collection of cute "Spirit Riding Free" printables and activities.
This post is part of a social shopper marketing insight campaign with Pollinate Media Group®, but all my opinions are my own. #pmedia #AddSpirit2Breakfast http://my-disclosur.es/OBsstV
If you liked these chocolate chip waffle sundaes you might also like…