Make a Christmas quilt to pull out each year! Let the kids choose their favorite holiday fabrics to include and create a treasured family heirloom. This post contains an affiliate link.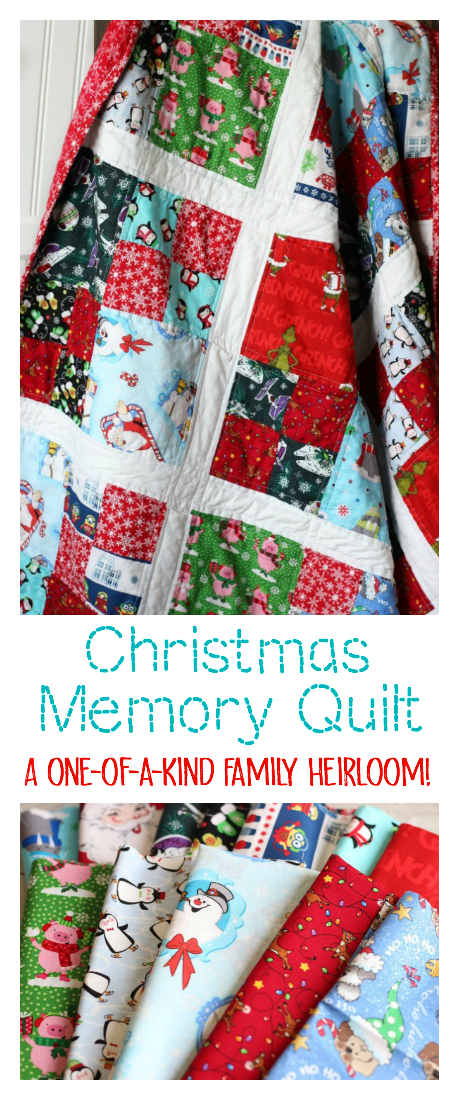 What is a Christmas memory quilt? It's a quilt that the whole family came together to create. One that will be pulled out every year on the day that you set up the Christmas tree and put away when the holiday season is over. It is the quilt that everyone grabs to keep warm by the fire, to snuggle under on a cold morning, and to get cozy in while watching Christmas movies.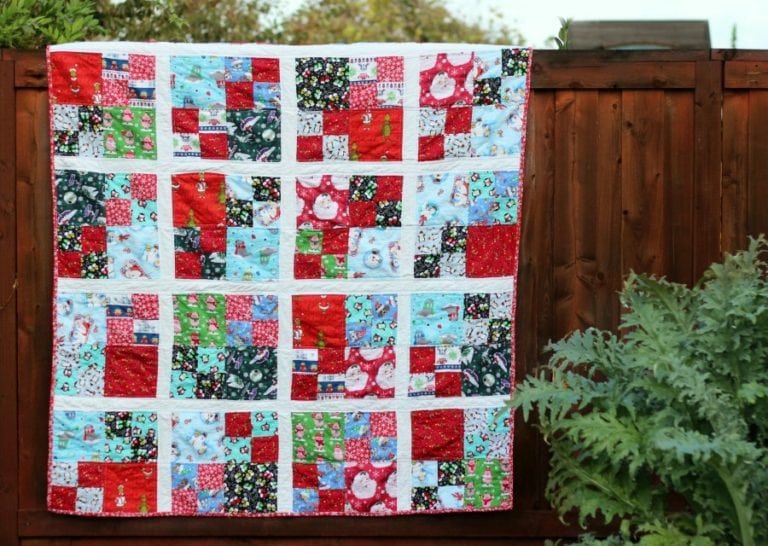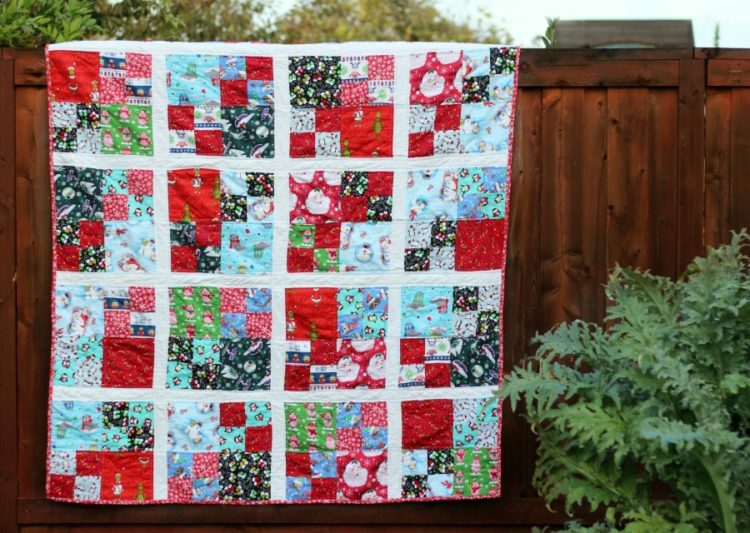 It is a quilt that represents everyone's favorite Christmas characters and traditions! A quilt that will become part of the holiday season for years to come.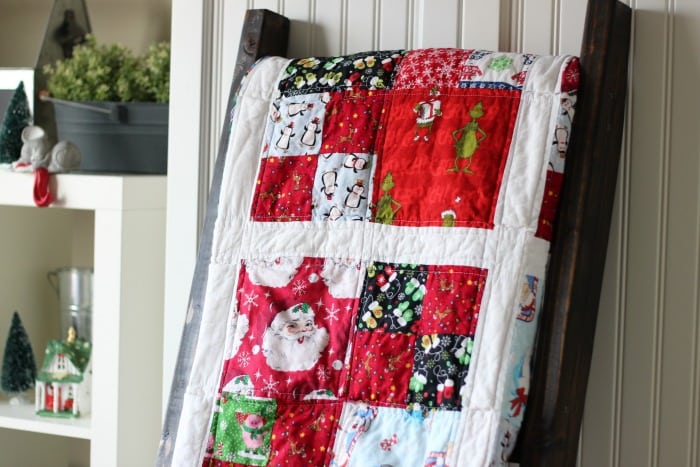 (DIY Quilt Ladder Tutorial here)
Most women tackle cleaning projects when they hit the nesting phase in pregnancy. Not this one. I tackle projects that I want to finish up! Like this Christmas quilt. I've been wanting to make one for years and decided that this year was the year that I was going to finally do it! Just 3 weeks shy of my due date, ha! Since I kept it so simple with squares, it came together very quickly!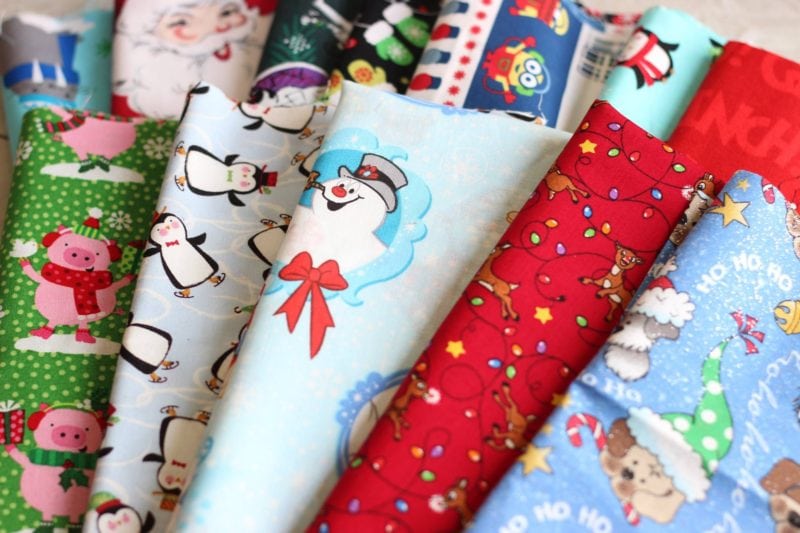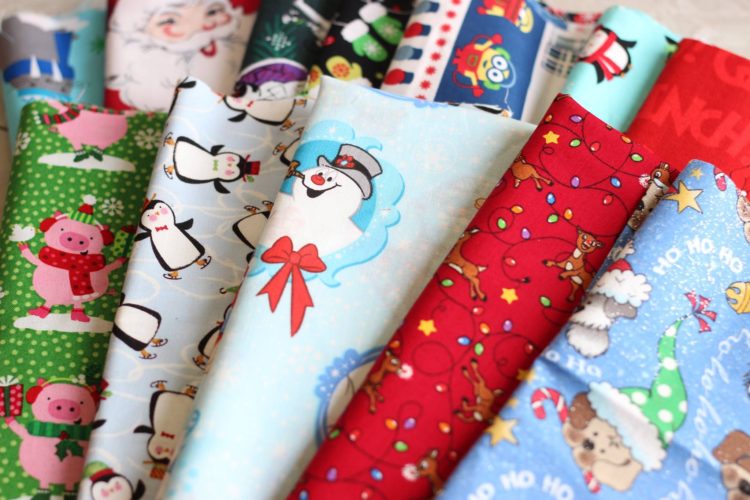 Originally I thought that I would pick out my own fabrics— beautiful coordinating ones. Then a friend shared that she made one years ago with her kids and let them each choose a few fabrics that would go into the quilt. Genius! We were quite the sight at Joann's, picking out all of the fabrics that would go into our special quilt. The kids each chose 3 fabrics that they wanted. We had everything from Minions to pigs, Star Wars to Frosty, and penguins to puppies. I picked out a snowflake flannel for backing and we were all set. I was feeling a bit nauseous with the array of fabrics when we were walking out of the store, wondering how on earth it would come together!
For 60 more sewing projects, check out my sewing book for kids!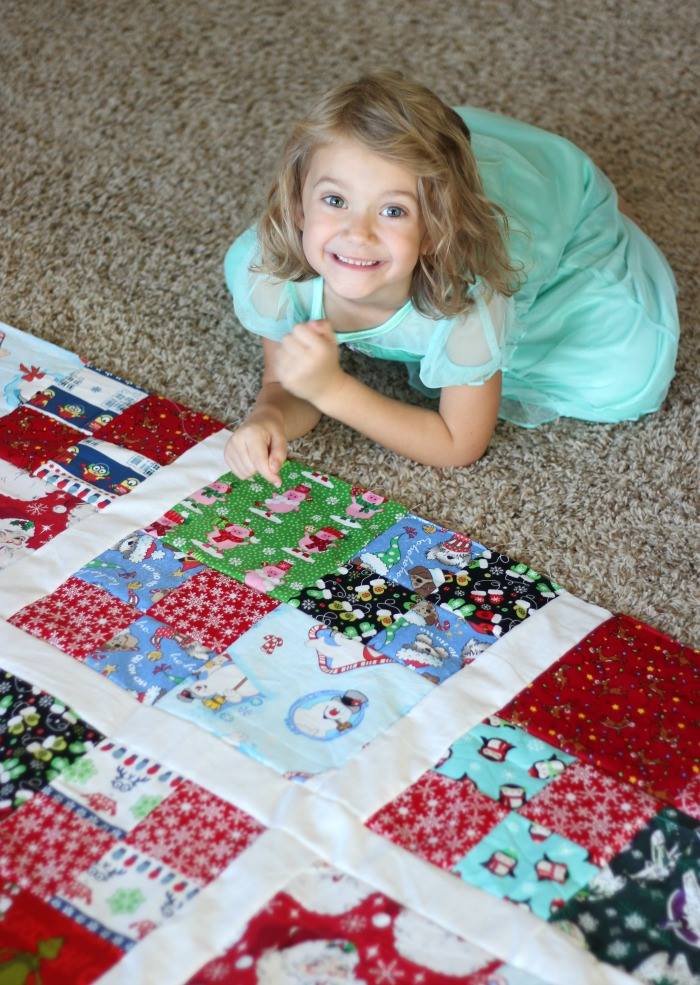 It soon became apparent that it didn't matter how busy the quilt ended up being. As soon as I started putting the top together the kids were already gathering around, pointing out the fabrics that they contributed and choosing which squares were their favorite!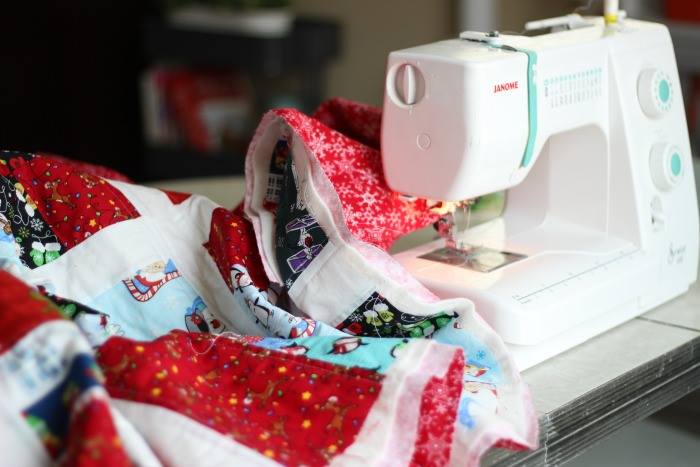 I was able to put the top together in a few hours and then quilted it the next week. Since I use my
home machine
to quilt, I can't create any fancy designs, just straight lines, but it works out just fine! This is the biggest quilt I've ever made on my machine and it was pretty simple to push through. I use
Warm & Natural batting
and basting spray to adhere it to the fabric so that the quilt stays nice and flat during the process.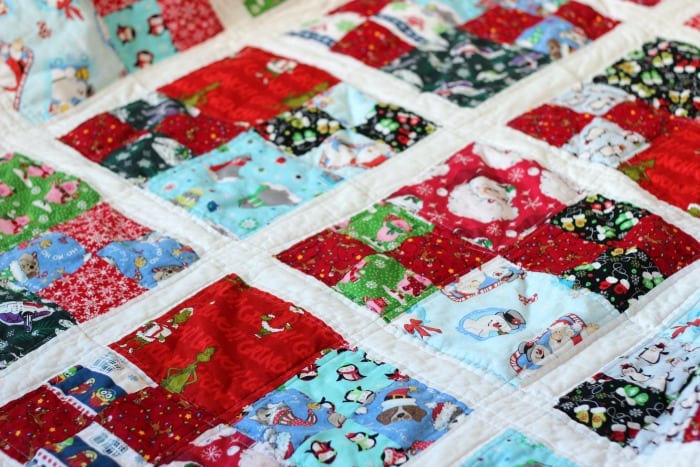 My favorite part of the whole quilting process is pulling the completed quilt, all wrinkly and fresh, out of the dryer. It smells so nice and is so cozy!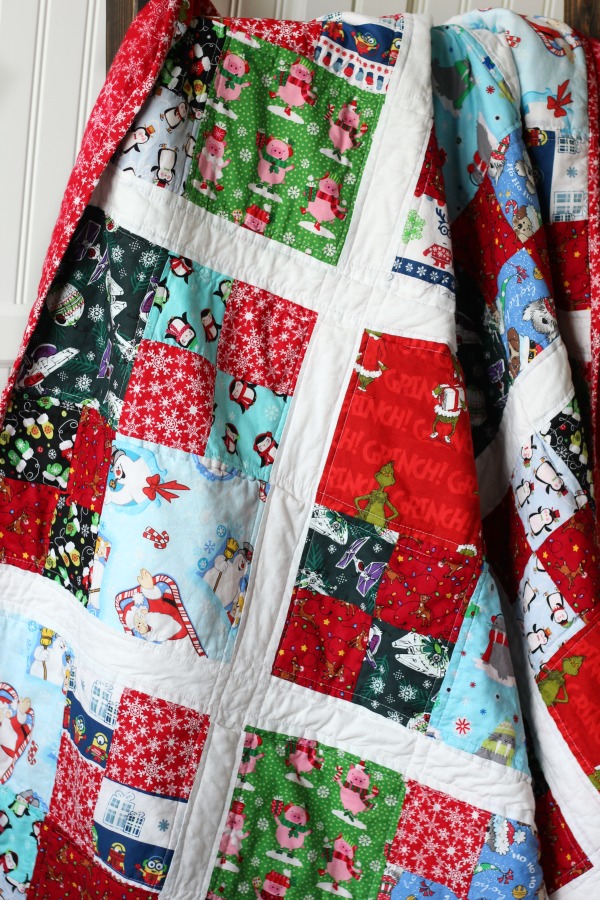 I finished the quilt on Halloween. I had planned on packing it away for a month and pulling it out the day we set up the tree, but we were all so excited to have it around that we decided to keep it out. After all, it's the first year!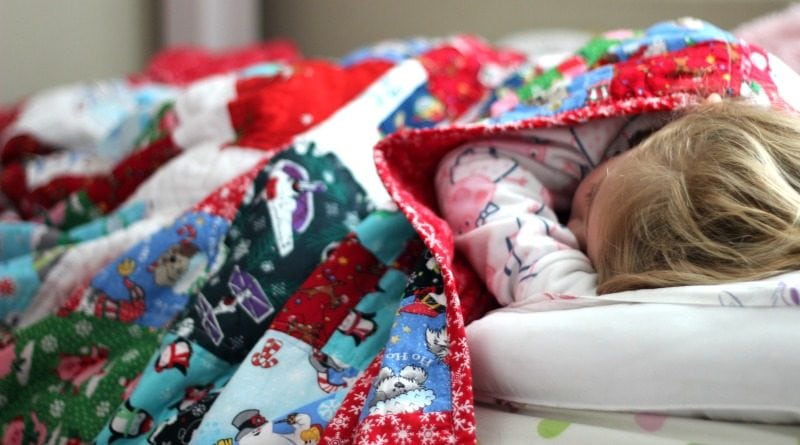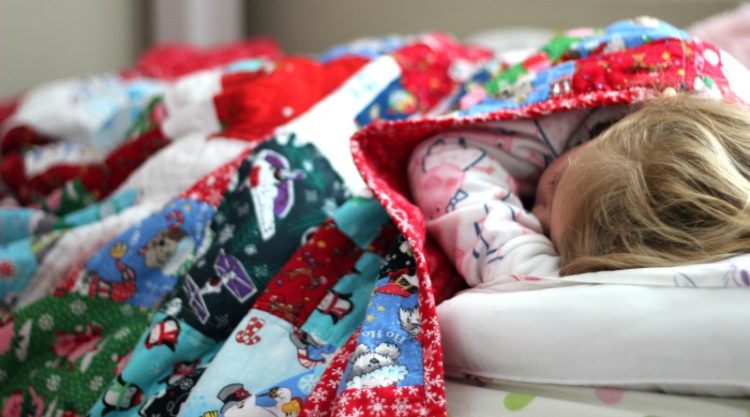 Ruby came downstairs the night I finished it, and was busy cutting off the loose strings, to ask if she could sleep with it. I couldn't say no. The next morning I had to snap a photo of the little darling all cuddled up and warm. Of course this started something so the kids have all been taking turns sleeping with it. It totally warms my heart to see it being treasured already.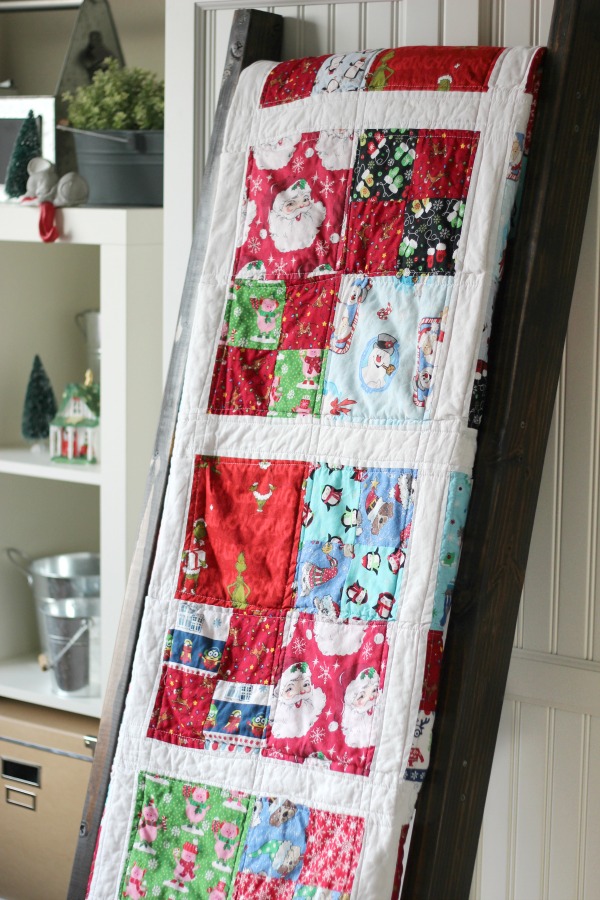 So here's my question:
If you were to make a Christmas quilt, what fabric would you insist on including?
My favorite is the vintage Santa 🙂
Welcome! I'm Brandy, mother to 5 darling kiddos and a cute black lab named Toby. My husband is in the Coast Guard so we've lived all over the place, turning each house into a home. I love baking, sewing, making cute things with my kids, and sharing what I've learned with all of you!