This DIY kids wardrobe doubles as a closet and dress up box! Perfect for small spaces with plenty of storage for shoes, hats, toys and hooks for hats and bags.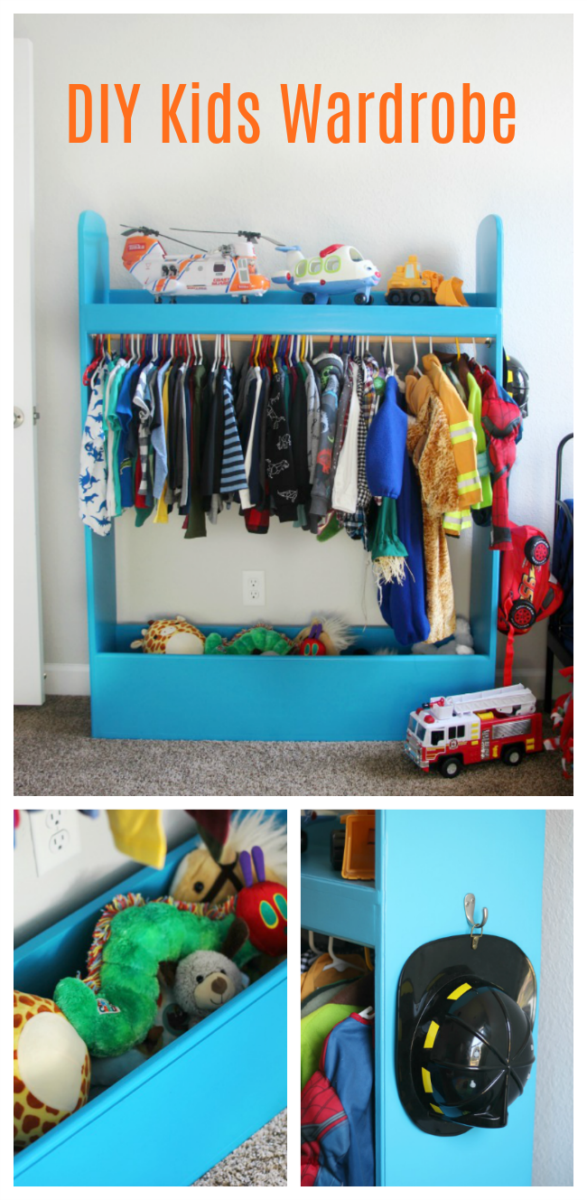 If you've been here for a minute you know that our house came with very little storage. We've had to get creative by creating walls of storage like our IKEA built ins, our living room storage built ins and even made a closet nursery. Wait, he also used it as a toddler closet bedroom, too.
Needless to say, finding new ways to store our things has been a challenge. A fun challenge. You don't need a giant home to fit comfortable inside. Whenever one of our storage ideas works out it is ridiculously rewarding, and keeps me motivated to try another. Mac recently moved out of his closet and into the spare bedroom. We are still finding places to keep the office furniture and boxes that were in that room, and a lot of it went into the bedroom closet. This meant that Mac wouldn't have access to a closet for his clothing.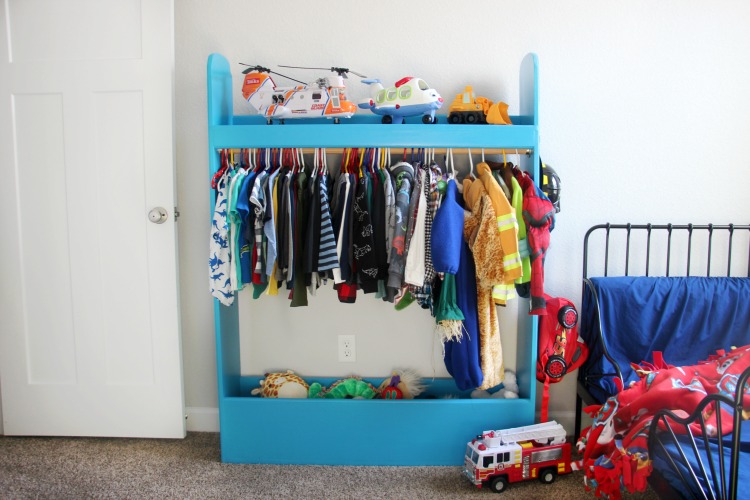 Derrick made this dress up box for the girls six years ago. They got a ton of use out of it, but have since outgrown the dress up phase so I had planned on giving it away. Derrick suggested waiting to see if we could re-use it in another area of the house. We decided that it would make the perfect kids wardrobe closet for Mac!
Kids Wardrobe Closet For Dress Up or Storage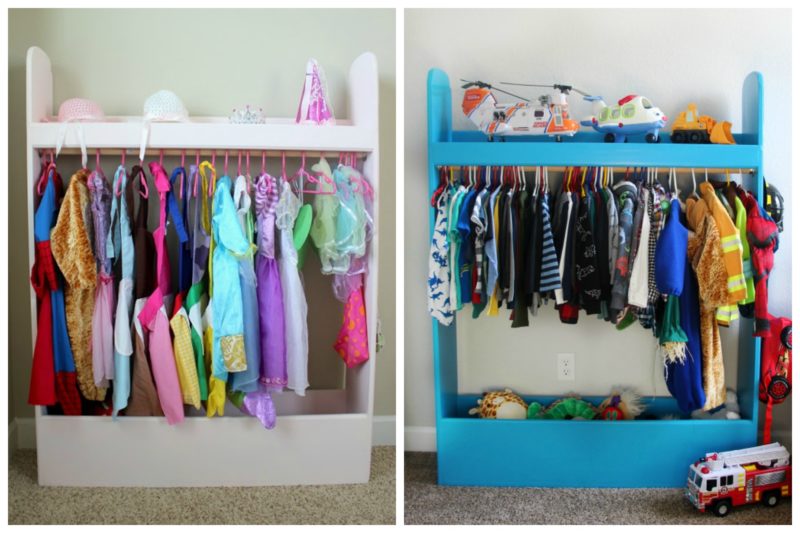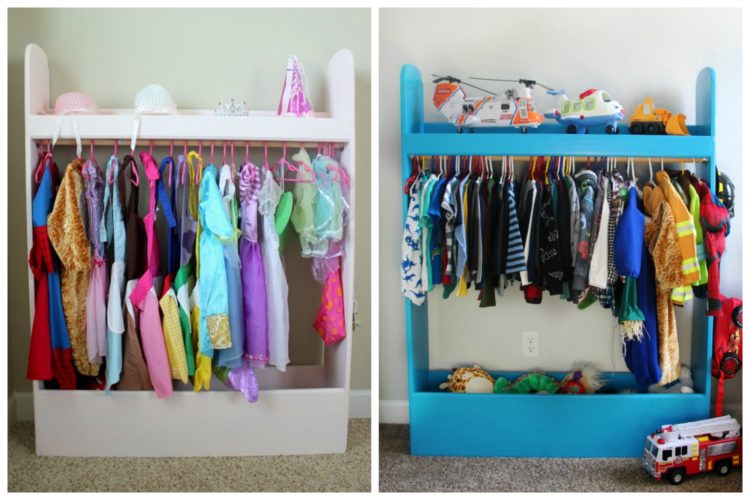 As you can see, this cute DIY dress up box began its life as a pretty powder pink, but got a bold makeover to this peacock blue this past fall. Mac helped me paint it and was thrilled to have it put into his room. Originally I had planned on painting it navy blue. I picked out a shade and was waiting to have an employee at Lowe's mix up a quart for me when I looked down and saw a quart of blue paint on clearance for $2.50. The quart I was going to buy was $18.00. It is navy blue? No, but it totally worked!
Mac doesn't need an entire closet dedicated to dress up clothing so it is perfect for storing his clothes. His pants, socks, and pajamas are in a small cabinet, but I may eventually put them on the top shelf of the wardrobe in totes.
The bottom storage area is large enough for shoes, boots, dress up gear, toys or books.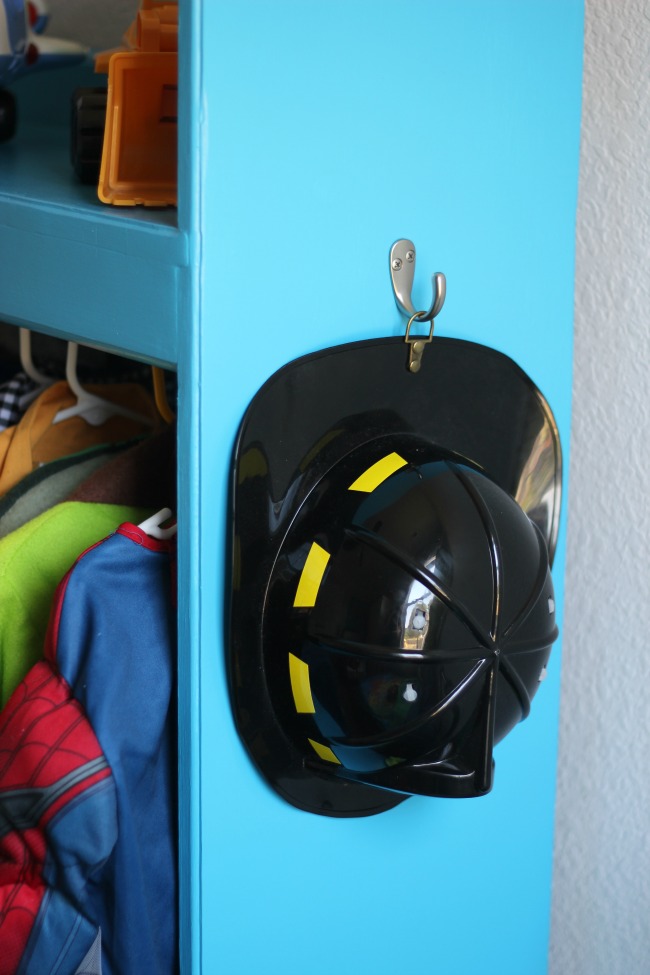 The side has two hooks for hanging hats and bags.
How to Make a DIY Kids Wardrobe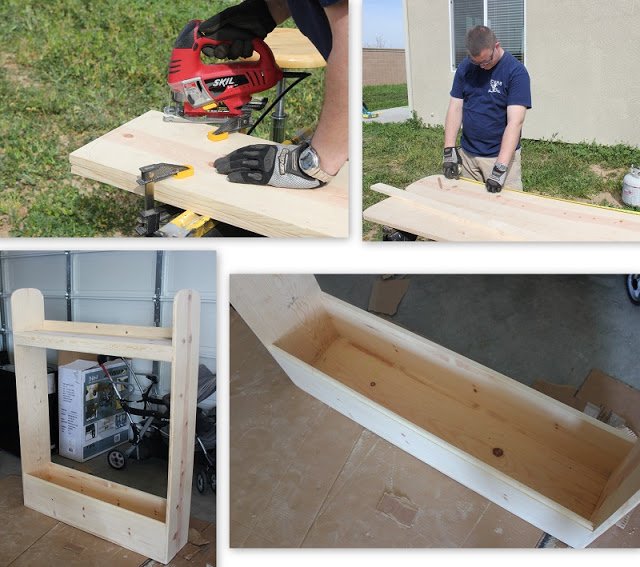 We used the basic plans from Ana White and modified them to create a larger kids wardrobe with a storage shelf.
This kids wardrobe is 12″ taller and 12″ wider.
It has also been modified to include a shelf instead of showing an exposed clothing rod.  This feature is my favorite part because the shelf creates a ton more storage.  More details on how we modified the closet can be found in this post.