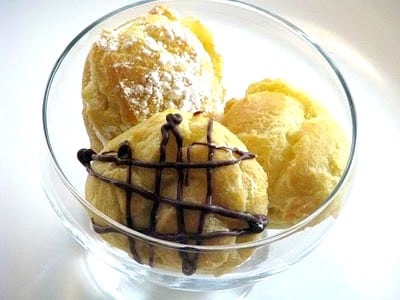 My Sweetheart and I recently celebrated our wedding Anniversary. We had a nice dinner at home with the kids since it was a Tuesday night. I made these as a special treat. Cream puffs are so easy to make, but they don't look like it!
The recipe I use is very basic. And it's from Betty Crocker. You can fill them with pretty much anything. Mousse, sweetened cream, cool whip, even pudding!
Here is the recipe. Now you can go and make some!
Cream Puffs or Eclaires
1 c. water
1/2 c. butter
1 c. flour
4 eggs
Heat water and butter to a rapid boil in a saucepan.
Add flour and reduce heat to low. Stir constantly for 1 minute or until a soft dough forms. Add eggs all at once and beat (with a spoon) vigorously until smooth.
It doesn't seem like the eggs will incorporate, but they WILL. Just give it a minute.
Scoop balls of dough (I use a medium cookie scoop, the recipe says to use 1/4 c. of batter. I like my puffs smaller than that) and place on an ungreased baking sheet.
Bake @ 400 degrees for 25 minutes or until golden and puffed up.
Let cool for 30 minutes.
To Fill: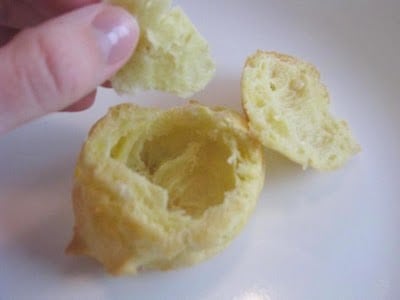 Cut tops off of puff with a serrated knife. Pull the inside breading out.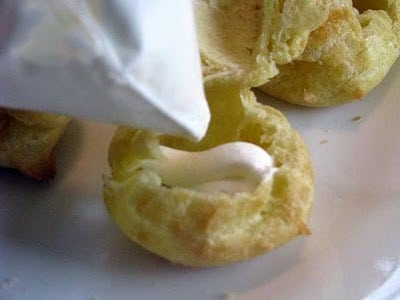 Fill with whatever filling you choose.
Here is what I used:
2 c. heavy whipping cream
4T. powdered sugar
BEAT until soft peaks form. Do not over beat…you'll get butter!
Place the tops back onto the puffs and you are done!
OR
you can dust with powdered sugar, dip in chocolate or drizzle in chocolate.
Store in refrigerator or freeze for up to a month.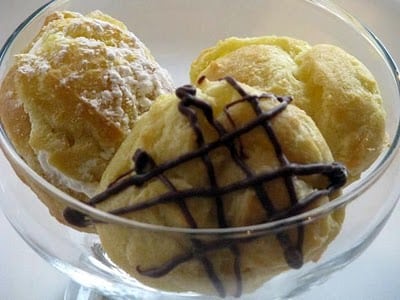 I thought I didn't like cream puffs. After I made my own several years ago, I realized that I just don't like the store bought ones! These are fantastic!