Have you ever made your own refrigerator dill pickles? They are easy, delicious, and don't require canning. Just seal and refrigerate! This post contains affiliate links.

Watch our step by step video!
We didn't plant cucumbers or dill in our garden this year like we have in the past, but that didn't stop us from making pickles this year. Refrigerator pickles! I like these because they are super crunchy and take about 10 minutes to prepare.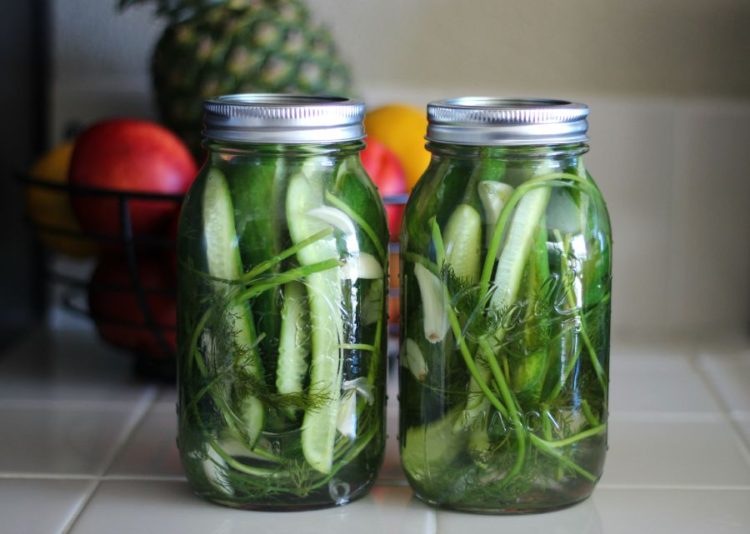 They aren't canned or processed, so they can't be stored in the pantry, but they will stay fresh in the refrigerator for at least a month. My jars usually seal due to the hot brine so I'm sure they'd last much longer than a month.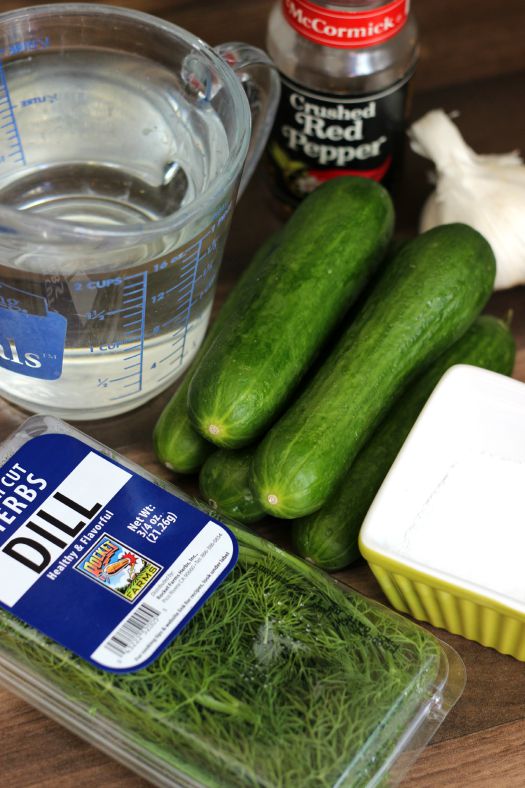 Pickling cucumbers, vinegar, water, salt, dill, garlic and red pepper flakes. That's it! This recipe fills 2 quart sized jars with pickle spears. You can use wide mouth or regular mouth jar.
How To Make Refrigerator Dill Pickles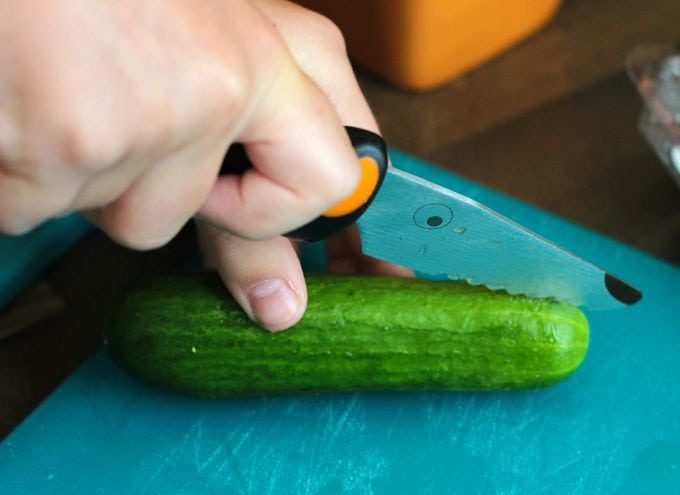 This year Kaylee helped me make our pickles. I love recipes like this where kids can really get involved. She loved packing the jars for me.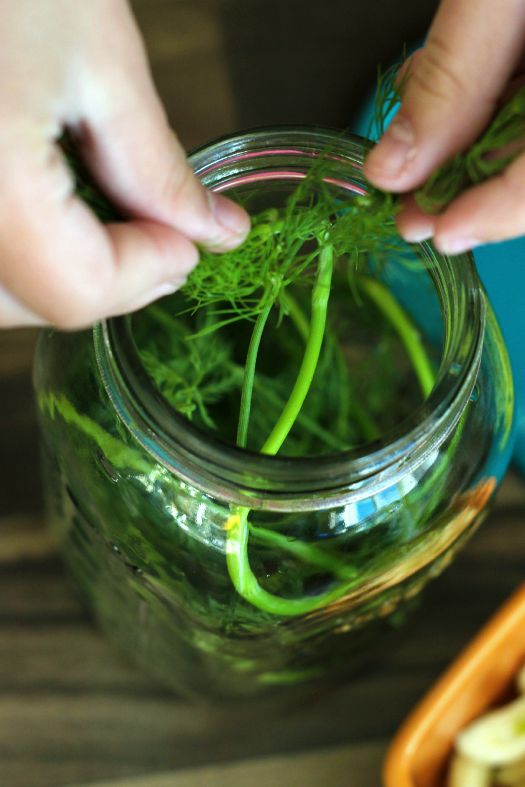 You'll need a 5 oz. package of fresh dill. You can find this in the produce section at your local grocery store. If you have dill in your garden—even better. I haven't tried making these with dill weed.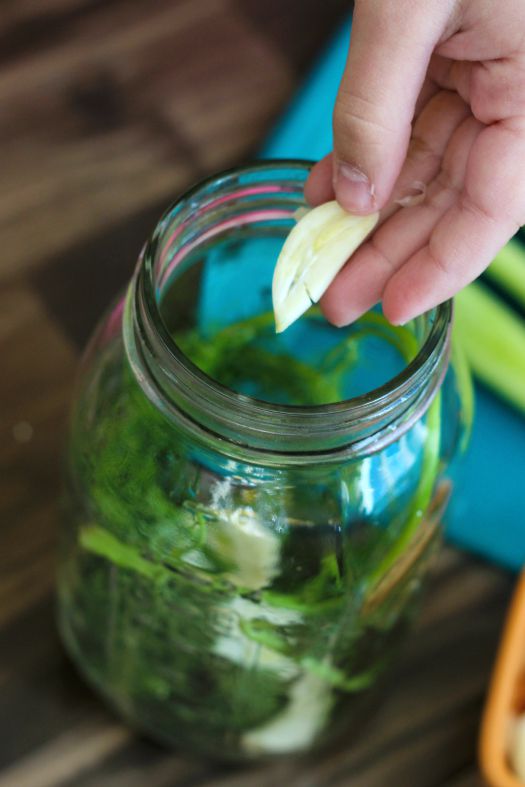 You can add as much garlic as you'd like. I add 5-6 cloves per jar. Mince it, slice it, add whole cloves. It's up to you. If you'd like a bit of spice, add a pinch or two of red pepper flakes.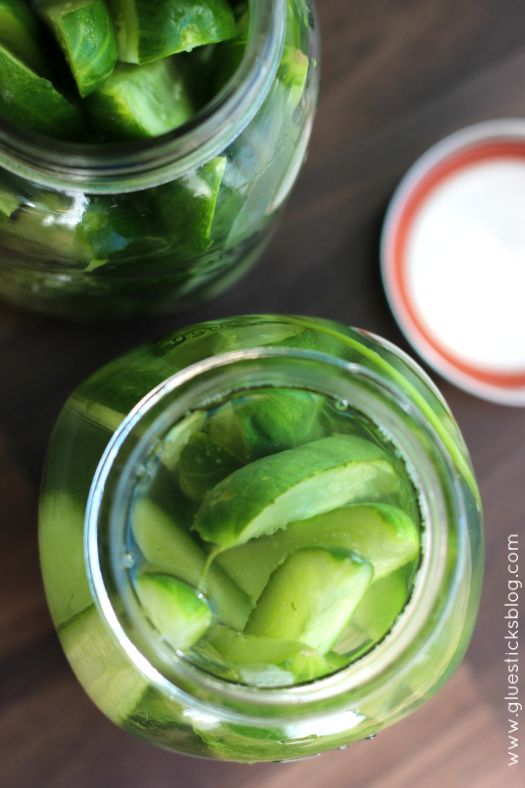 Bring the brine ingredients to a boil then pour over the cucumbers, garlic, and dill in the jars. Leave 1/2″ room at the top and add a lid.
For the Crunchiest Refrigerator Pickles
Allow brine to cool completely before pouring over cucumbers. Add lids and refrigerate.
For Slightly Soft Refrigerator Dill Pickles
Pour hot bring over cucumbers. Let pickles sit on counter until the jars are room temperature then refrigerate. This is what I like to do.
Note: you will most likely have brine left over. It just depends on how tightly you pack the cucumbers in and if you use spears vs. slices. I always prefer having a little extra vs. not enough.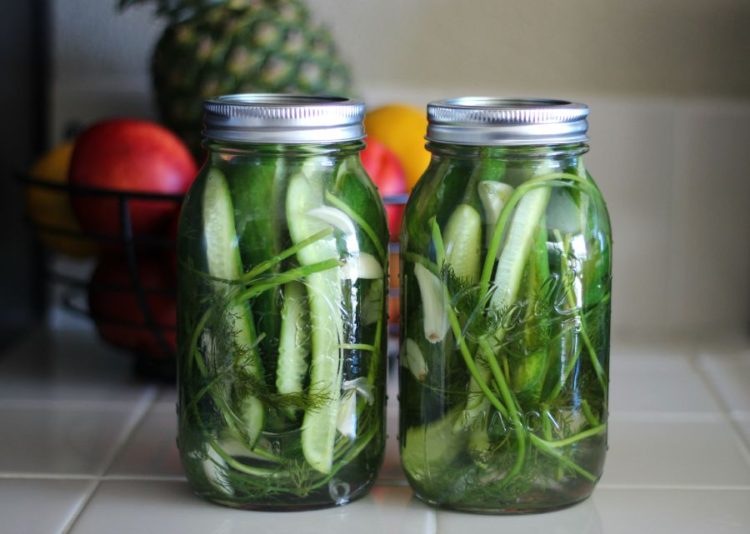 Here they are right before going into the refrigerator. Still looking like cucumbers.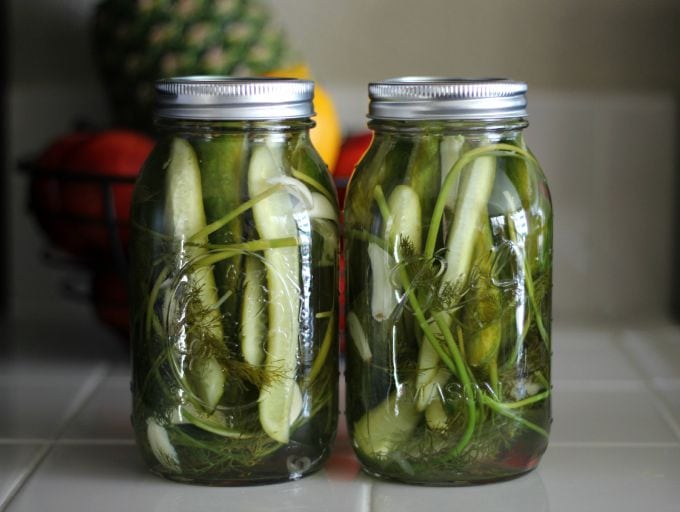 24 hours later. Definitely looking like pickle spears. Mine change color slightly because I poured hot brine over them. If you use cold brine, the color won't change as much.
Easy, right? For best results, allow pickles to refrigerate 2 days before eating.
3 More Gardening Recipes You'll Love!
How to Can SalsaEasiest Instant Pectin Freezer JamWarm Blueberry Sauce
Homemade Refrigerator Dill Pickles Recipe
Homemade Refrigerator Pickles!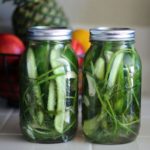 Have you ever made your own refrigerator pickles? They are easy, delicious, and don't require canning. Just seal and refrigerate!
1 lb pickling cucumbers
10 cloves garlic (whole, minced or sliced)
1 package fresh dill
1 Tbsp. salt
4 cup water
2 cups white vinegar
red pepper flakes (to taste)
Bring water and vinegar and salt to a boil.

Pack 2 quart sized jars tight with cucumbers (that have been sliced or speared), garlic, and lots of fresh dill.

Sprinkle with red pepper, flakes if desired, and pour brine into jars until it reaches about 1/2″ from the top of the jar.

Add lids and screw on tight. Let sit on counter until they are room temperature. Place in refrigerator.

They will last at least month in the refrigerator.
If you want CRUNCHY pickles, allow brine to cool completely before adding to jars. A hot brine slightly cooks the pickles. They'll still be crunchy, but a little softer.
These pickles should refrigerate several days, but you can sample them after 24 hours if you'd like!