How to style and clean kitchen countertops in any home. Whether your kitchen is big or small, here are 5 stylish and functional countertop displays and tips for cleaning a variety of countertop surfaces! Thank you, Tub O' Towels for sponsoring this post.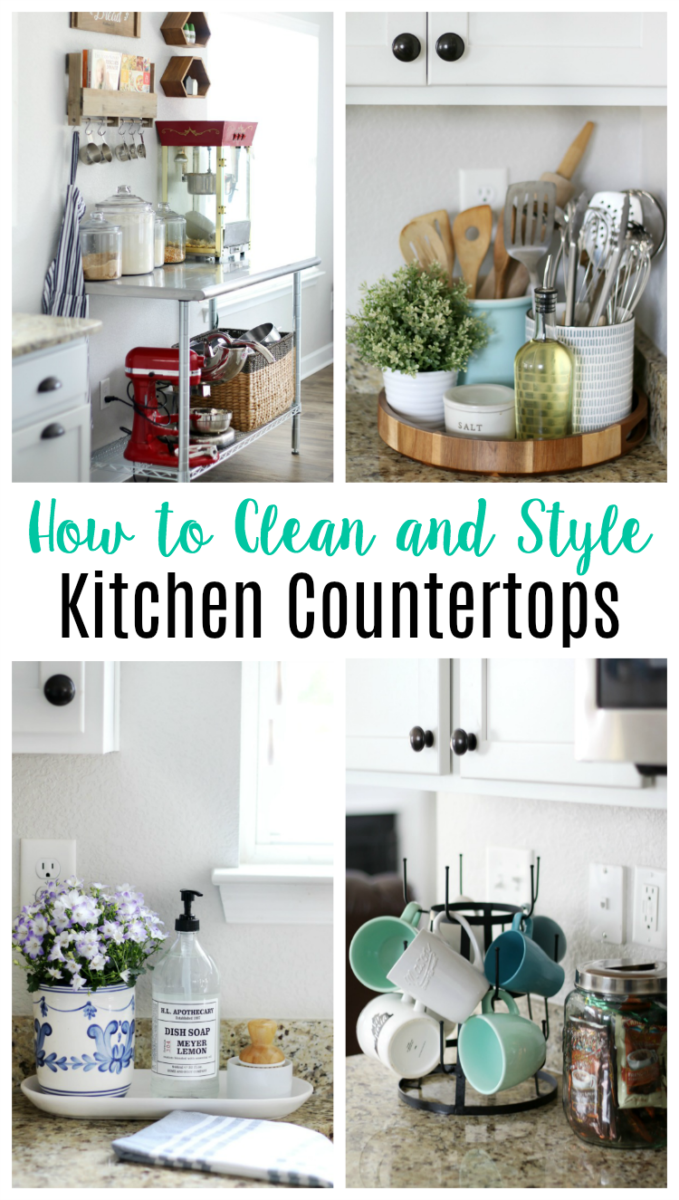 Welcome to my kitchen! This is the 5th home that we've lived in, and each home has been unique when it comes to storage and styling. I enjoy trying new things to figure out what works best for our space. We've also had a mixture of different countertop surfaces. In this house we have granite and stainless steel. Keeping them clean and sealed is super easy and I'll show you how I do it.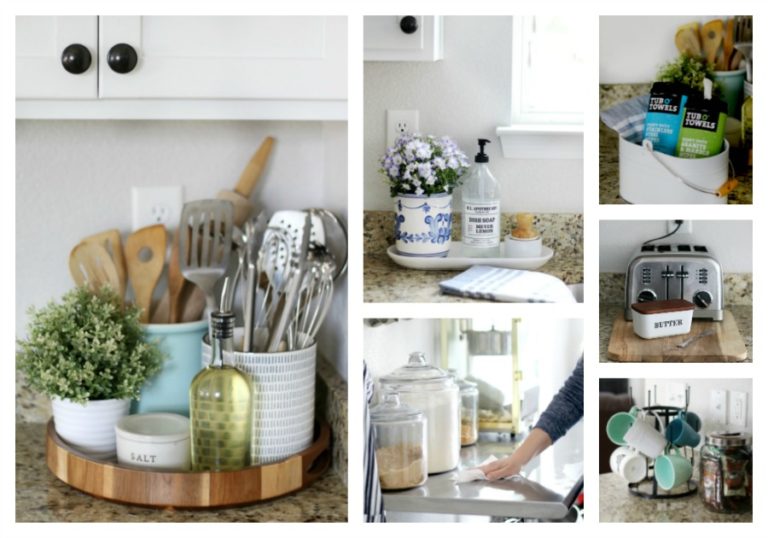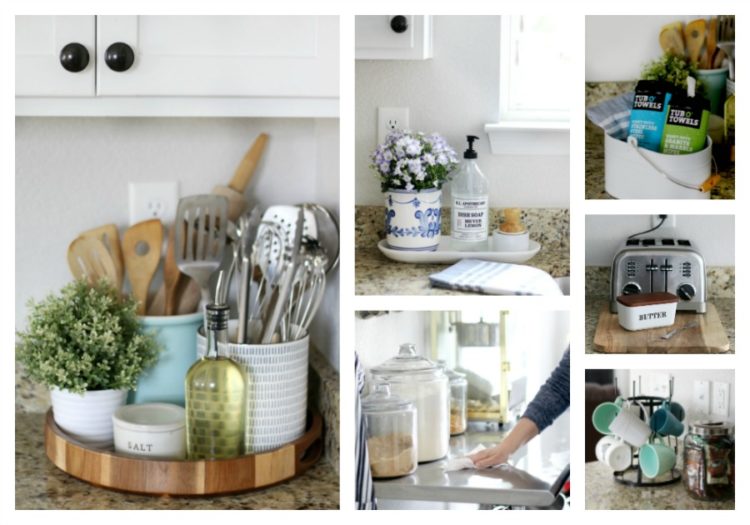 I'll also share how to clean just about any countertop surface using Tub O' Towel wipes.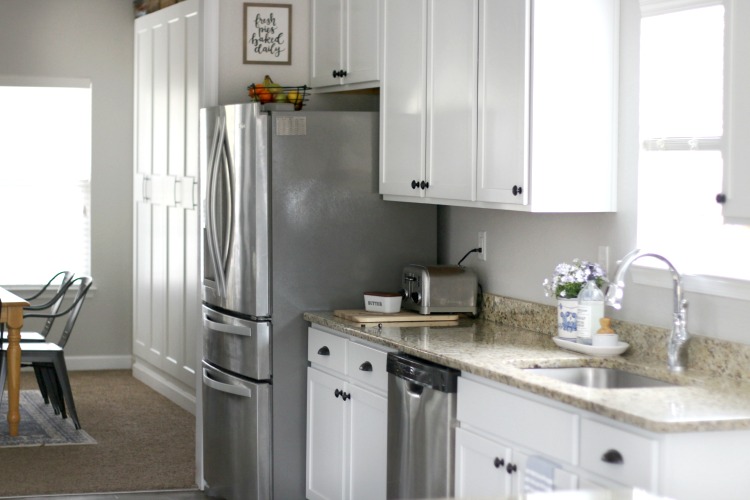 When it comes to styling countertops I like having a few different work stations; areas that eliminate how many times I need to open the cupboards or pantry while I'm working in my kitchen. These stations are stylish and totally FUNCTIONAL. By grouping items together into stations (instead of lining them up across the countertops) you save valuable work space!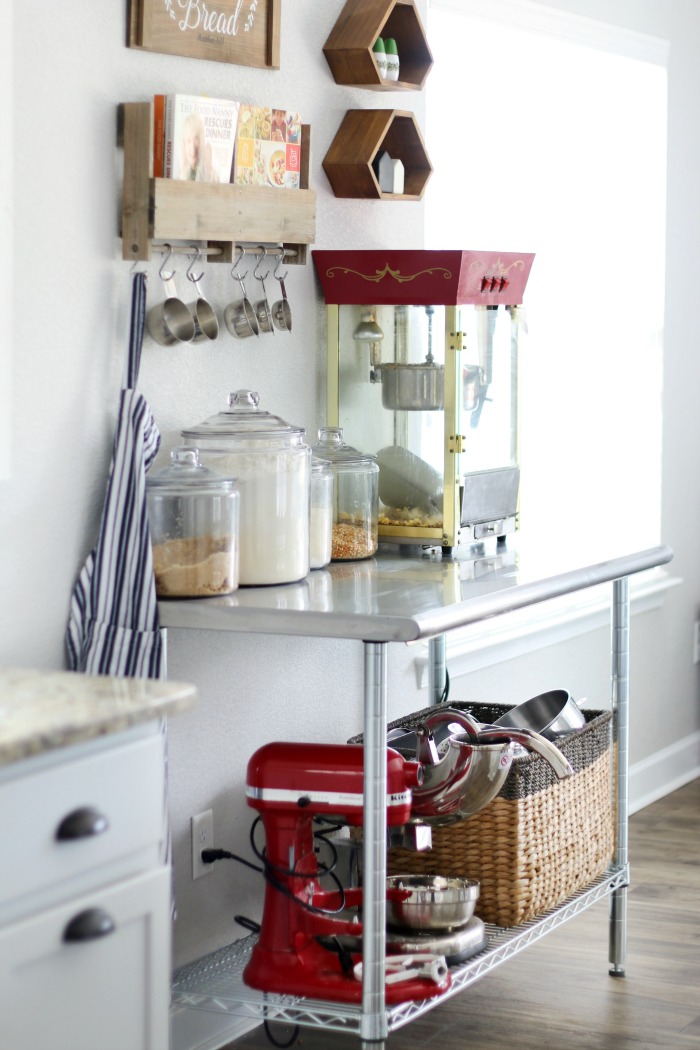 My pantry isn't very big so I've had to get creative with the places that I store some of my small appliances. I love my baking station and will share more details about it in just a sec so keep on reading!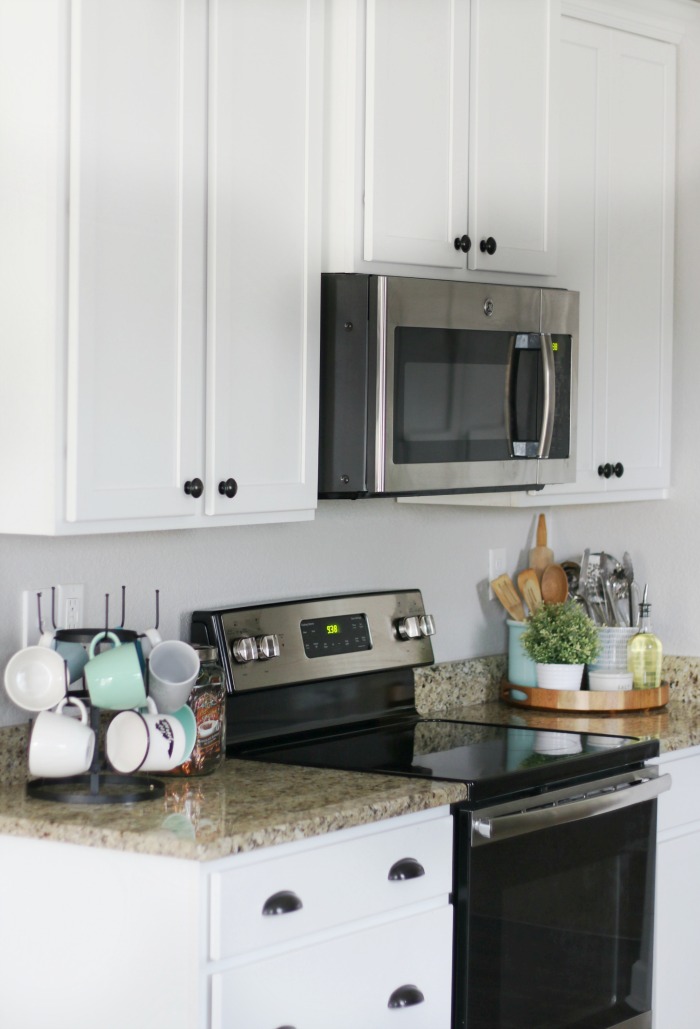 How you style your kitchen countertops all depends on cupboard space, pantry space, and kitchen layout. Our first home was a duplex on a military base and the layout was kind of crazy! The kitchen was super long with most of the cupboard space being far, far away from the appliances and countertops. The countertops were also too small to keep anything on so I did a lot of walking. I was grateful though for an entire wall of cupboards for storage so it all worked out!
How to Style and Clean Kitchen Countertops: 5 Simple Work Stations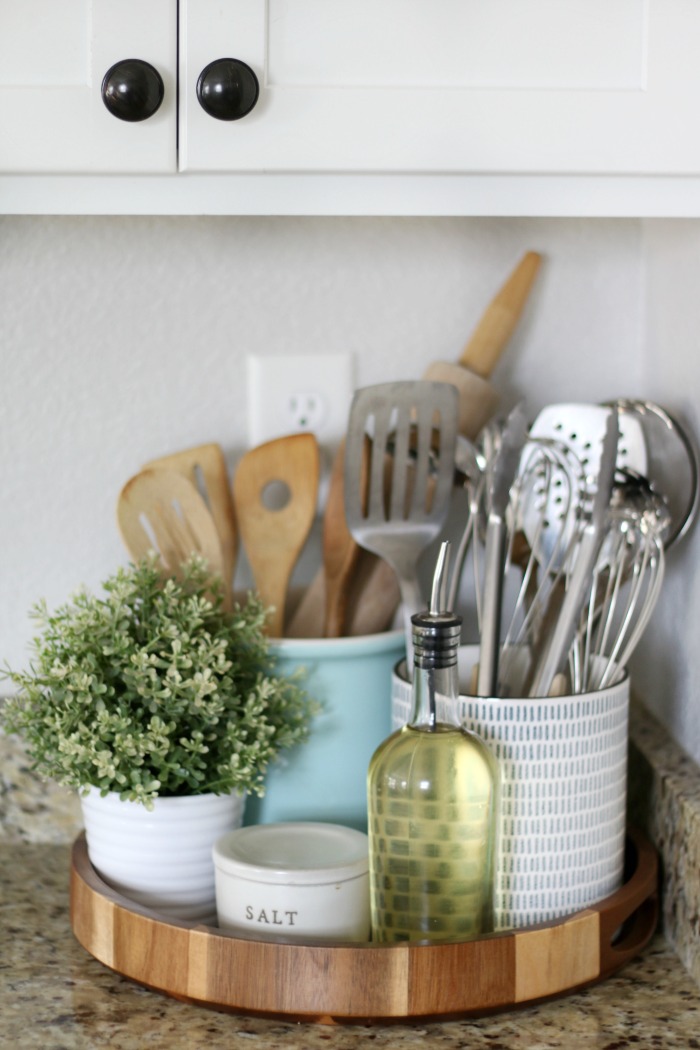 1: Kitchen Countertop Cooking Station
Everything I need while cooking over my stove is right here. I have oil, salt, and a variety of utensils all within an arm's reach. The wooden tray (from Target)  is a great way to keep everything tidy and grouped together.
Sources
Tray: Target
Utensil Storage: Home Goods
Salt Container: Target
Faux Plant and Pot: Ikea
Oil Dispenser: Home Goods
Tip: Baskets, trays, and cutting boards are a great way to gather similar items. Use what you already have!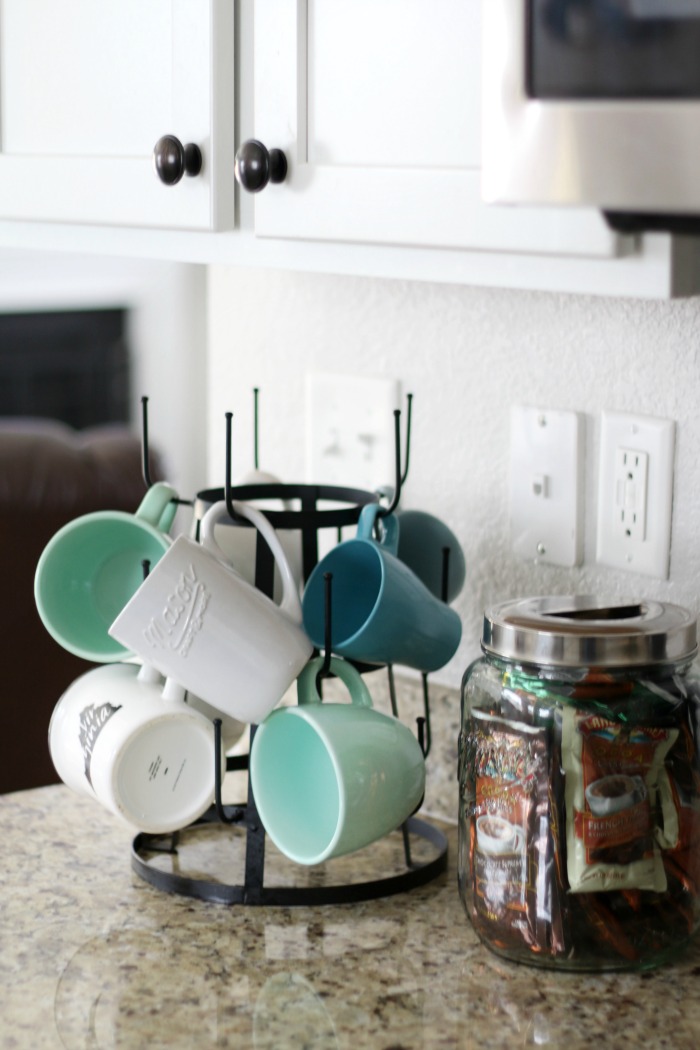 2: Kitchen Countertop Beverage Station
Normally we keep our k-cup dispenser on the counter, but my 2 year old recently figured out how to use it so it is now in the pantry. We don't drink coffee, but we love our hot cocoa and apple cider in the mornings. In the summer I store these items away, but it is still cool enough for a warm cup of cocoa. I keep our hot cocoa packets in a glass canister and the k-cups in a basket in the cupboard above the beverage station.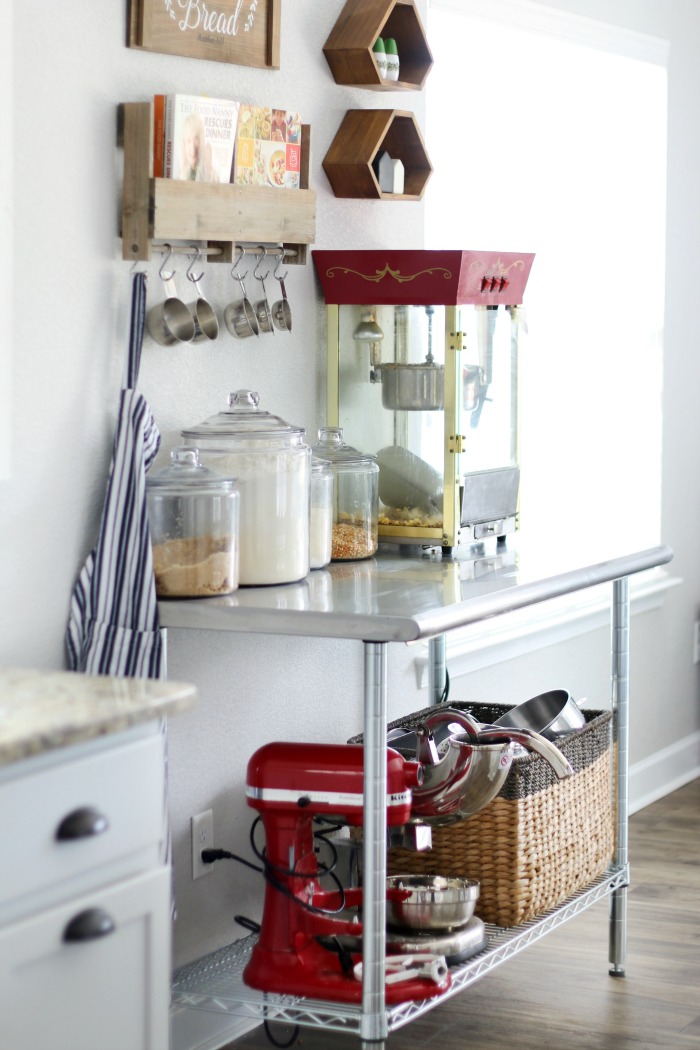 3. Kitchen Countertop Baking Station
I toyed with the idea of floating shelves on this wall, but ultimately needed a place to store my Kitchenaid AND my husband's popcorn popper. It is so tall and won't fit in the pantry or on a countertop. This stainless steel work table doubles as extra countertop space and is a great place to keep my baking canisters. It is next to our island so that becomes my main workspace for baking. Above it I've hung measuring cups, my apron, and a shelf with cookbooks.
Tip: If you need more workspace see what you find around the house. A rolling cart, sofa table, or desk can fit on an empty wall! We used a sofa table in our kitchen for years at our last house.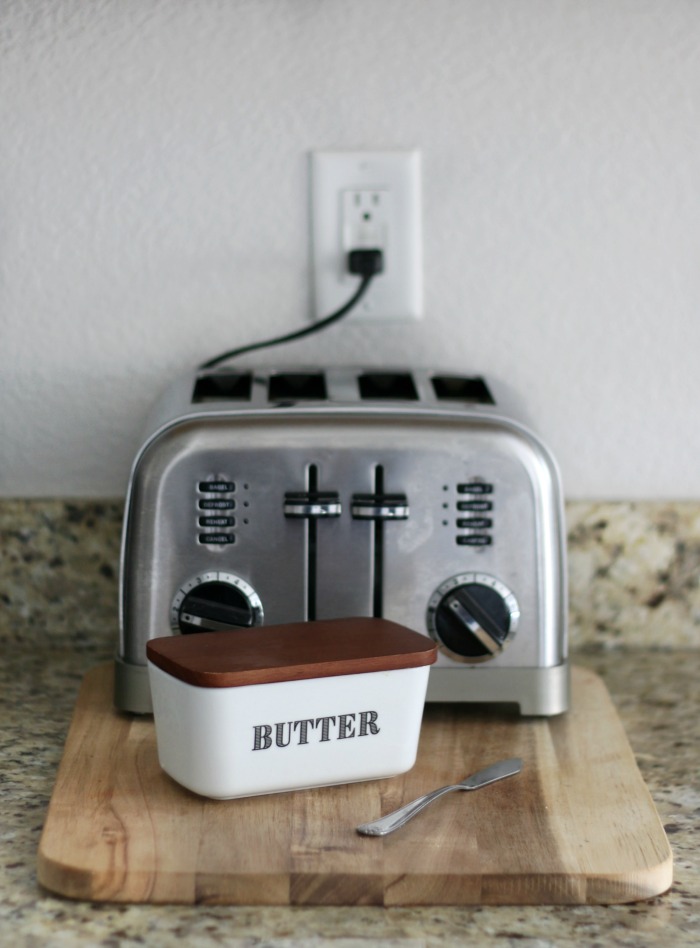 4. Kitchen Countertop Toaster Station
A toaster station might not be something that every home needs, but my kids have toast, English muffins, or bagels for breakfast almost every day. So this is a great place to slice and butter bread and bagels and keep crumbs in one place.
Tip: store bread in a bread box near the toaster. We keep ours in a drawer just below the toaster.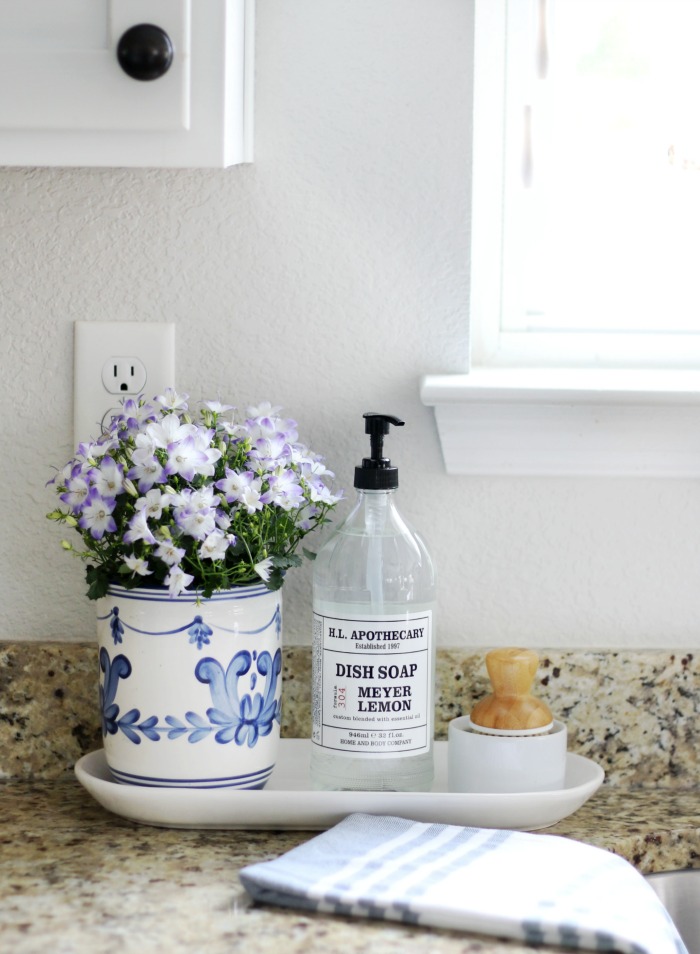 5. Kitchen Countertop Cleaning Station
After all of the cooking, baking, cocoa sipping, and toasting, there is bound to be a nice collection of dishes that need cleaning. I keep everything that I need to rinse dishes on this ceramic tray. The dish soap doubles as hand soap so I only need one bottle. Sometimes I keep a bottle of all purpose spray on the tray as well, but usually prefer to have a pot of flowers or a plant instead.
Tip: A cake stand also makes a great kitchen sink caddy when not in use and when it's on the counter it isn't taking up cupboard space!
How to Style and Clean Kitchen Countertops: 2 Products that Will Clean Most Surfaces!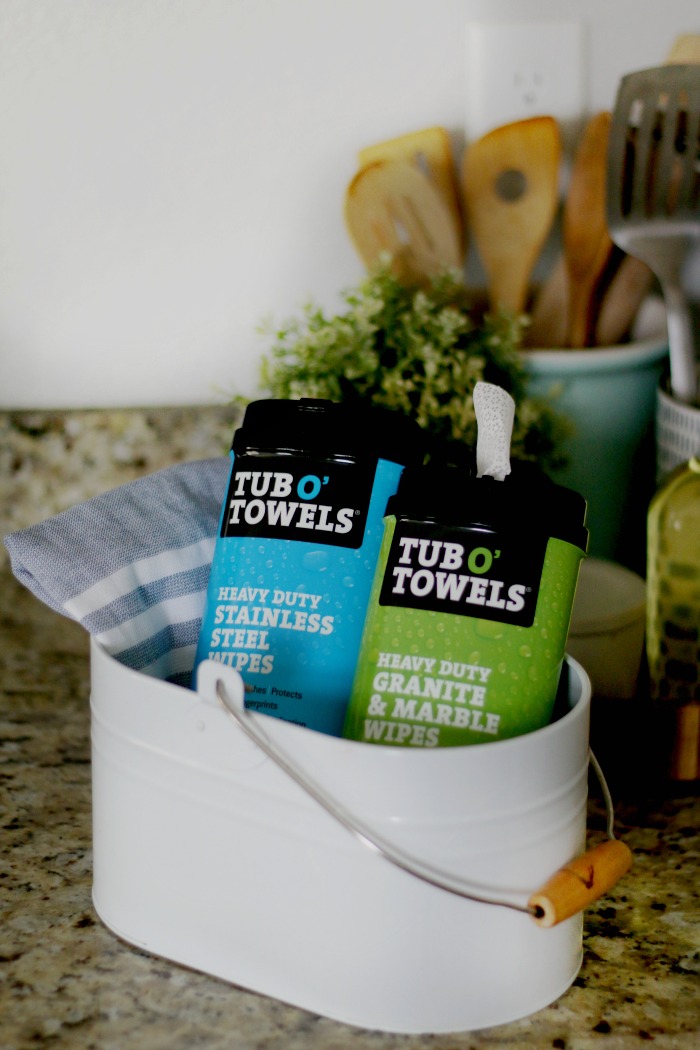 I love Tub O'Towel Heavy Duty Cleaning Wipes and keep them in my craft closet for spills and drips.  Now they've launched two new varieties for the kitchen: Tub O' Towels Granite & Marble Wipes and Tub O' Towels Stainless Steel Wipes.
1: Cleaning Natural Stone Surfaces and Non-Porous Hard Surface Counters
My kitchen countertops are granite. I love that these wipes not only clean the countertops, but also polishes and seals the stone. Up to this point I've been using two separate products.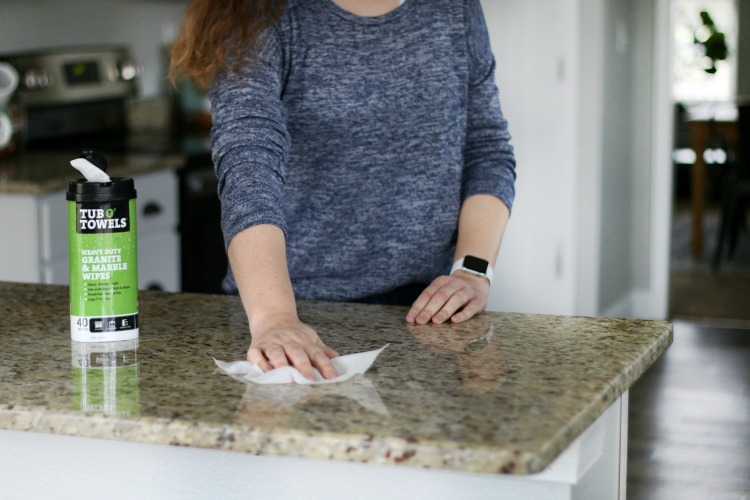 Even though the name says "Granite & Marble Wipes" they are safe to use on so many other surfaces, too. This one container of wipes is safe to use on quartz, travertine, limestone, onyx, Corian, Formica, siltstone, laminate, porcelain, tile, ceramic, fiberglass, and non-porous hard surface counters. 
The wipes are nice and large and easily removes surface grease, soil, stains, and water marks.
2: Cleaning Stainless Steel Surfaces
My work table is stainless steel as well as most of the appliances in my kitchen. I love the look of stainless steel—-WHEN IT'S CLEAN, ha!
(BEFORE)
It's a struggle to keep stainless steel looking nice with 5 kids, but the Tub O' Towels Stainless Steel Wipes are awesome and the oil based formula resists fingerprints.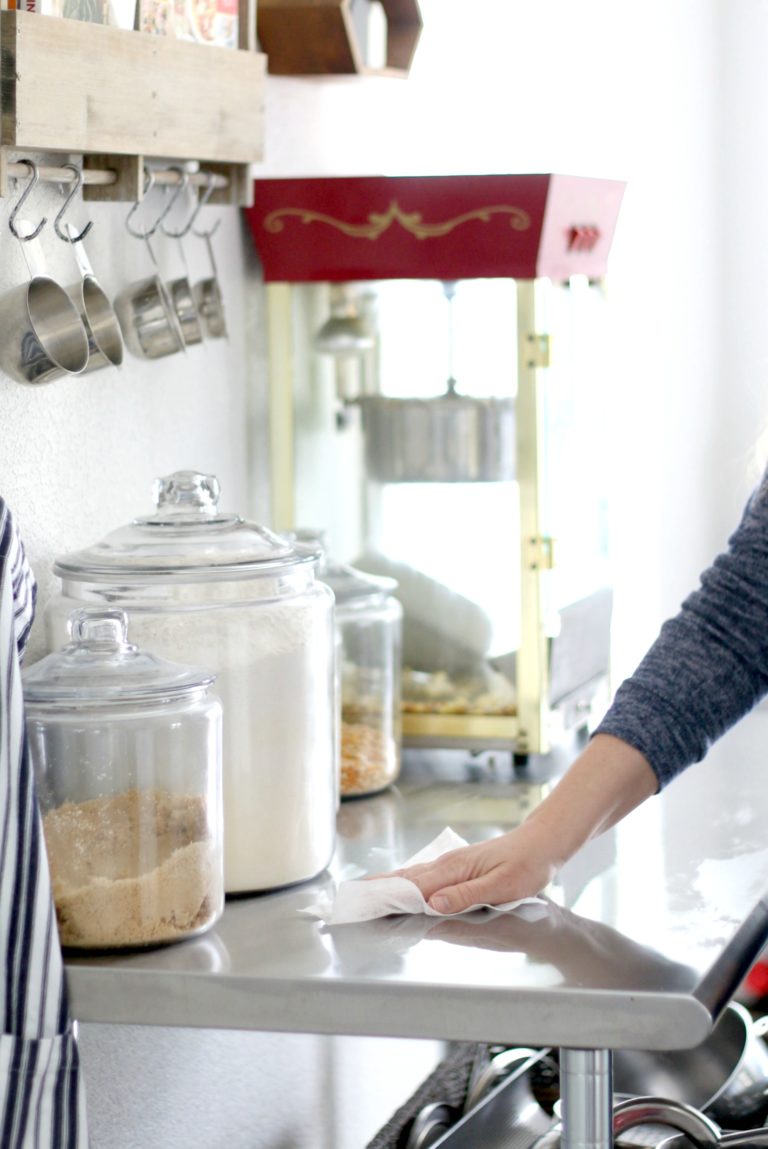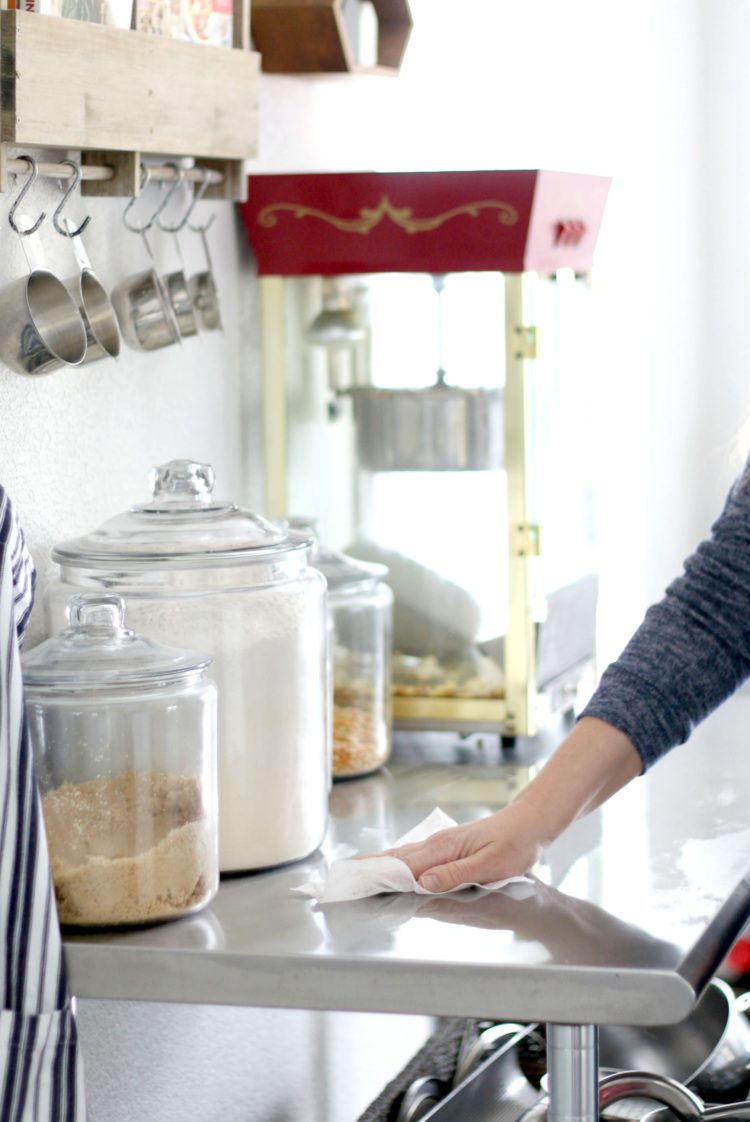 Because the formula is oil-based, the wipe may feel dry compared to a water-based type of cleaning wipe. That's ok, it's supposed to feel that way!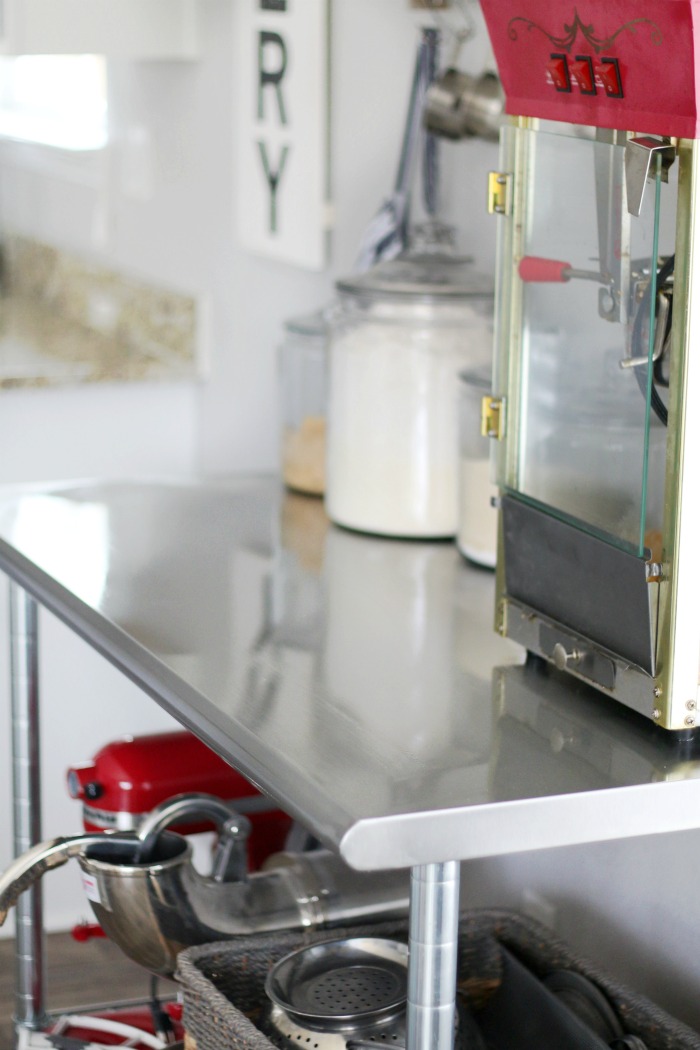 (AFTER)
These wipes are great for removing fingerprints, watermarks, greasy stains (like popcorn oil!), and soil and leaves a streak-free shine. Feel free to use these on your refrigerator, dishwasher, stove, microwave and more!
A few more posts you may enjoy: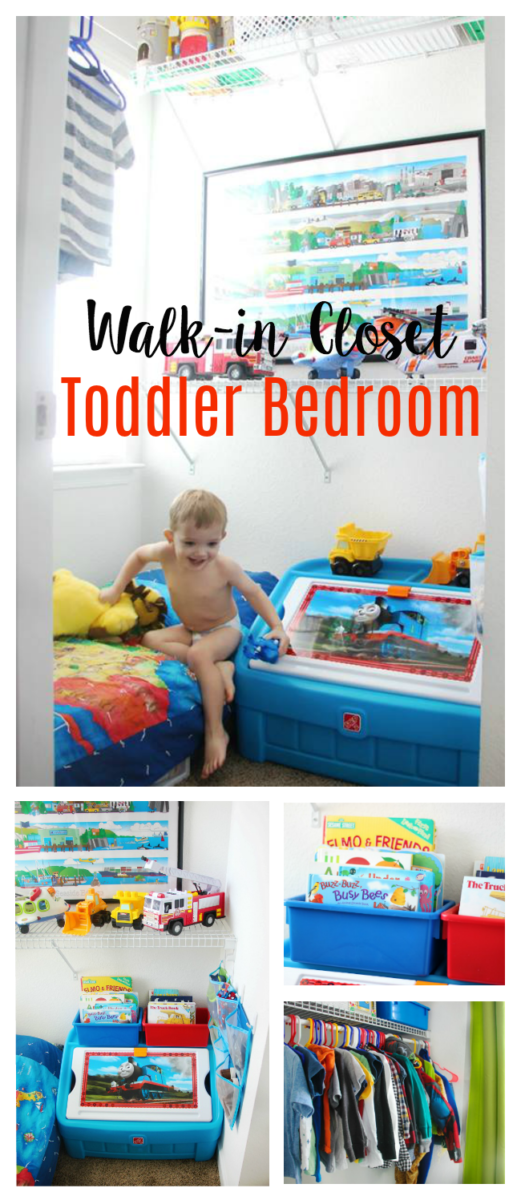 Toddler Walk-In Closet Bedroom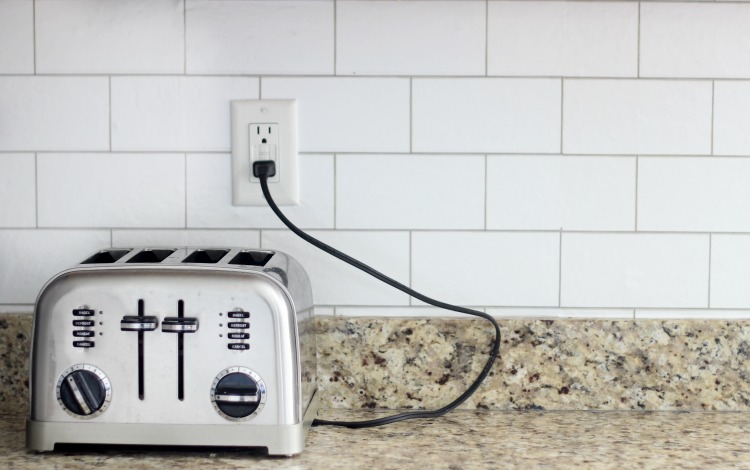 Peel and Stick Subway Tile Backsplash