We are going to time travel to the 1960's today!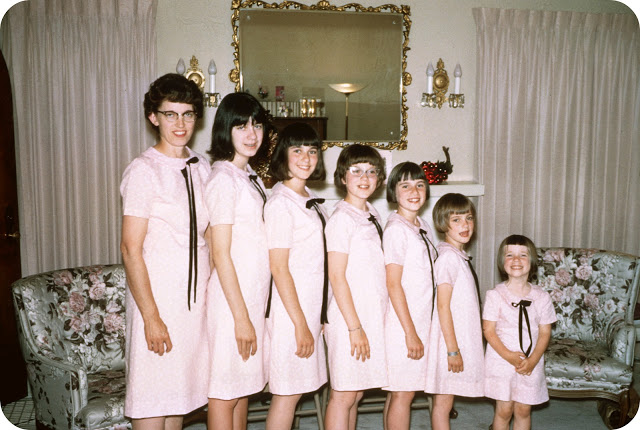 This photo was taken in the mid 1960's. My grandmother is on the far left, and my mother is on the far right. I have always loved this photo. My grandmother is an absolutely AMAZING quilter and seamstress. She has sewn hundreds of quilts and dresses over the years. For her birthday this year, I put out a request to all of my family to send me photos of quilts that she made them over the years. I thought it would be neat to compile them into a book from Blurb.com. One cousin suggested that we include photos of dresses too! Awesome.
I titled the book: "Grandma-Made: Leaving a Legacy One Stitch At a Time."
The emails started coming in. Dozens of school photos, birthday party pictures, etc. of the aunts and cousins wearing dresses that either grandma made or helped them make, and photos of the quilts that they STILL have! It has been so much fun to see. One of my cousins could still fit in the dresses that my Grandma made her in Jr. High and so she modeled them and snapped photos! We couldn't decide what was more impressive. The fact that she still had them, or the fact that she could still FIT IN THEM after having a baby and over 15 years have gone by….
I have over 200 photos so far. Each with at least one item that Grandma made. Some, like this photo above….6 items. She made all of these dresses with the exception of one that my aunt made. Not only did she sew, but she taught all of her daughters to sew as well. She had 7 daughters (the youngest wasn't born yet here). Most of their clothes were homemade. Not something you see anymore.
She has left such a legacy in our family. With 7 children, 32 grandchildren and over 20 great-grand children, her priceless gifts have left impressions on us. Each baby receives a hand quilted blanket when they are born. With the great grandchildren, she sometimes sent another one as well that they could play with and drag around the house. One that was tied vs. quilted. When we turned 5 she would send us a twin size blanket for our birthday. Mine was Rainbow Brite Sprite and I still have it! Each year she would send us a new birthday dress. I remember getting mine through elementary school, but if I had requested more she would have made them. When we got married, she quilted us a queen sized one.
I have always been in awe of her and how she found the time to be a phenomenal housewife as well as mother and still have a smile on her face. To this day, she still keeps busy. It keeps her calm. When I call and ask her what she's been up to she tells me all of the things and how busy she is. Usually it's just sorting papers or something, but she likes to always be doing something. Now that I am married with 4 children of my own, I am in even more awe because the thought of sitting down and sewing after the kids go to bed is exhausting! So I usually plop down on the sofa, next to my husband, and watch a movie and blog. Maybe that's the trick to accomplishing as much as her. My Grandma didn't waste a second on the computer….hmm….nah 😉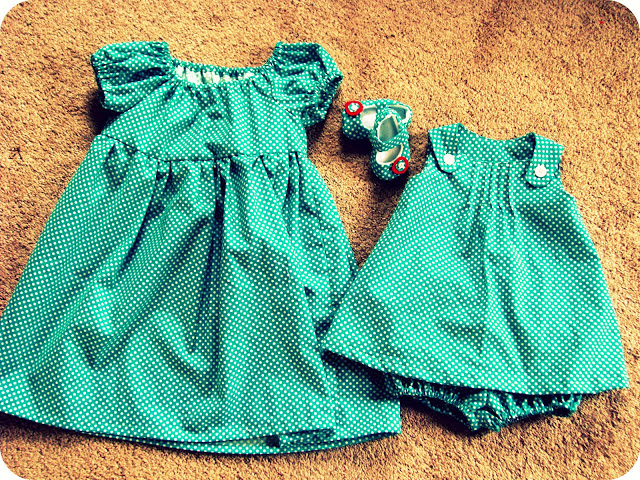 I have always loved making Kaylee dresses and now that Ruby is here it is time for some matching outfits 🙂 Inspired by all of the fun photos that my aunts and cousins have sent me, I decided to make them their first set of matching dresses and I had so much fun!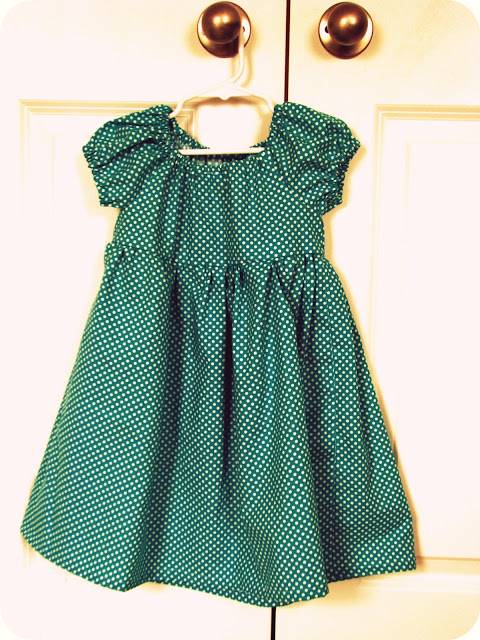 I found this fabric awhile back at Joanns for $1.56/yard! I loved the turquoise print and the little retro polka dots so I bought 2 yards. This dress was super quick to sew up. No zippers or buttons. Just elastic. It fits like a glove.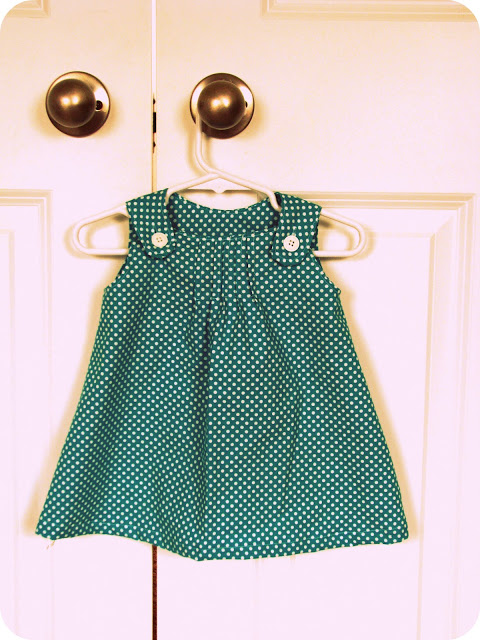 Ruby's is a little jumper. I have used this pattern many many times for Kaylee and just love it. It has super cute pin tuck detailing in the front and 2 buttons, 1 on each shoulder.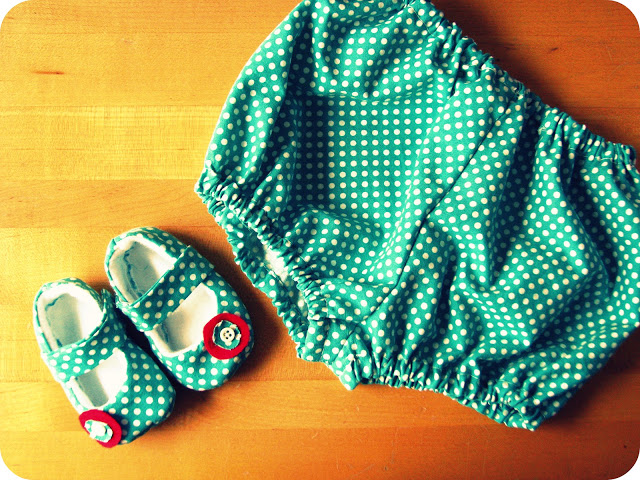 I also made Ruby matching shoes and a diaper cover.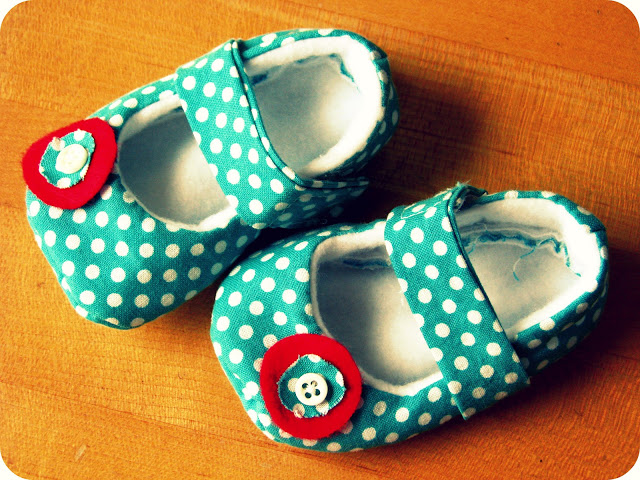 I will never be able to finish as many sewing projects as her, but I still have fun seeing how excited Kaylee gets to receive a new dress and maybe some day these fun little dresses will be pulled out and given to their daughters!
Patterns I used:
Diaper Cover: Butterick B5017
Jumper: Simplicity 3808
Peasant Dress: Simplicity 5695
Shoes: Abigail Booties from MakeItAndLoveIt.com