Shrimp, kielbasa, potatoes, corn, onions, lemons and spicy seasonings combine in this delicious low country boil. Easy to make and easy to eat!
Our garlic cheddar drop biscuits would make a delicious addition to our low country boil!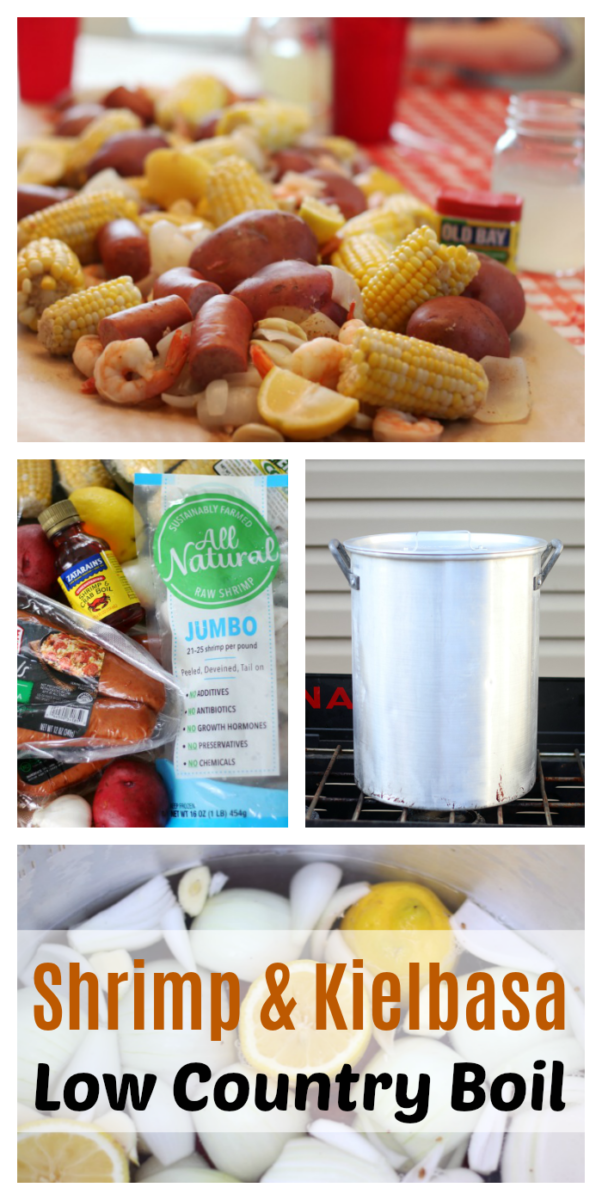 If you live in the South, you know exactly what a low country boil is. It's a crowd-pleasing dinner that is easy to make and easy to eat!
I grew up in California and Derrick grew up in Alaska. Needless to say, we didn't grow up eating dinners like this, but it hasn't stopped us from adopting the tradition anyway. My son, Aaron, LOVES low country boils. All of his favorite foods spread across the table with little bowls of garlic butter for dipping. Simple and delicious.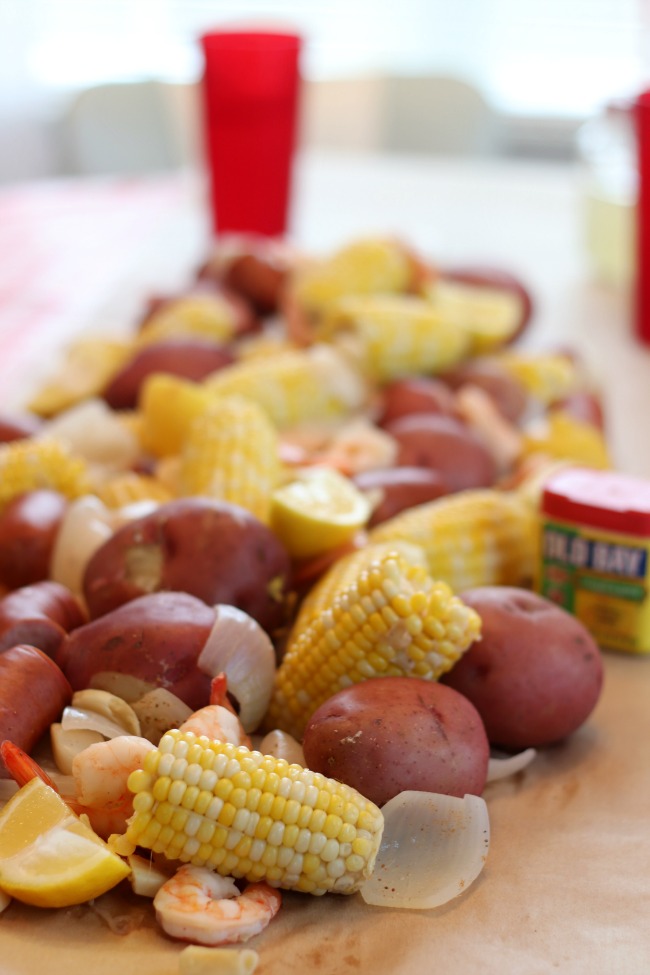 What Is A Low Country Boil?
The low country boil was created by a guardsman who had the challenge of feeding 100 soldiers. He came up with this method, and the rest is history!
There are many ways to make this simple southern meal, and the ingredients that you include in your boil vary from region to region. A low country boil starts with a large pot of seasoned water. Ingredients are added at varying times to boil until tender. Then the pot is drained and poured out over a large table, covered in newspaper. No plates or cutlery necessary.
The main thing to remember is that this is a very forgiving meal. Add what you have, season it how you like, and enjoy it how you want.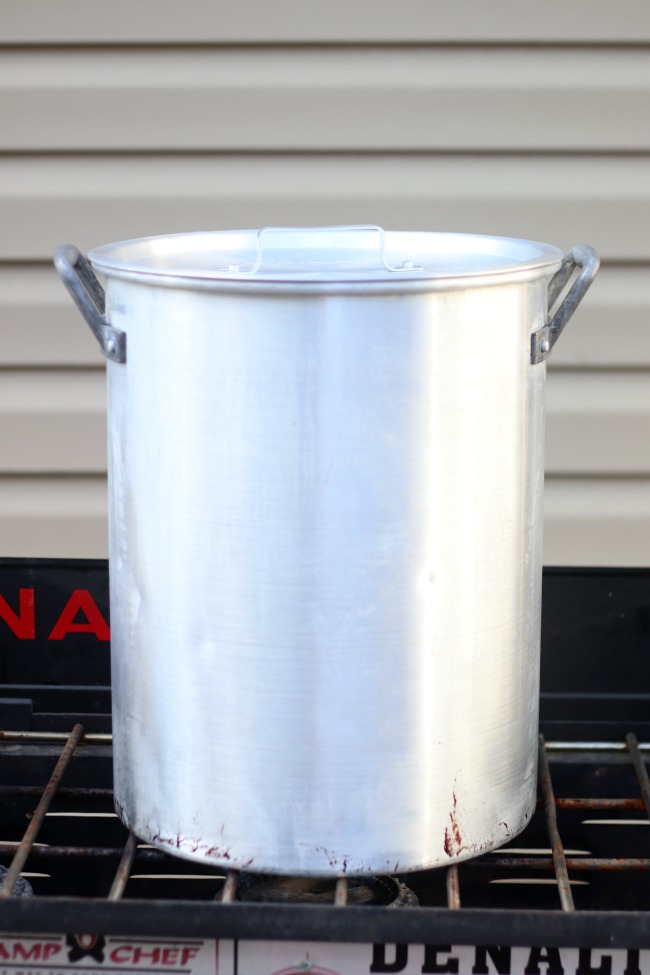 How To Cook a Low Country Boil
You can boil your pot indoor or outside, but outside is best if cooking for a crowd. We use a large camp stove with a giant turkey frying pot. We have a family of 7 so this works best for boiling a pot this large quickly. Our indoor electric stove would take quite a bit longer, and we would have to use a smaller pot. The Camp Chef outdoor stove heats it up in just a few minutes, and keeps the boil going constantly as we continue to layer on ingredients.
If you are cooking your boil indoors, use the largest pot that you have and expect it to take a bit longer to reach a boil and maintain a boil in between adding the ingredients.
Boil Ingredients
The main ingredients are potatoes, corn, shrimp and sausage. Other items include a variety of shellfish, onions, lemons, and seasonings.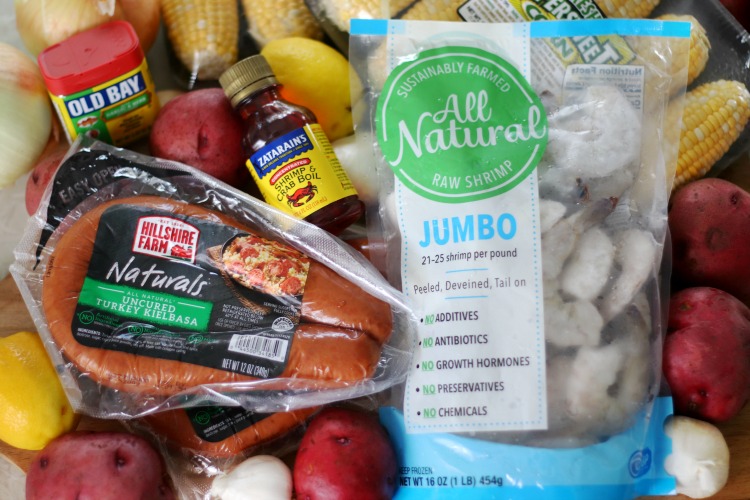 Shrimp and Kielbasa Low Country Boil
Our low country boil was shrimp and kielbasa based. Our favorites.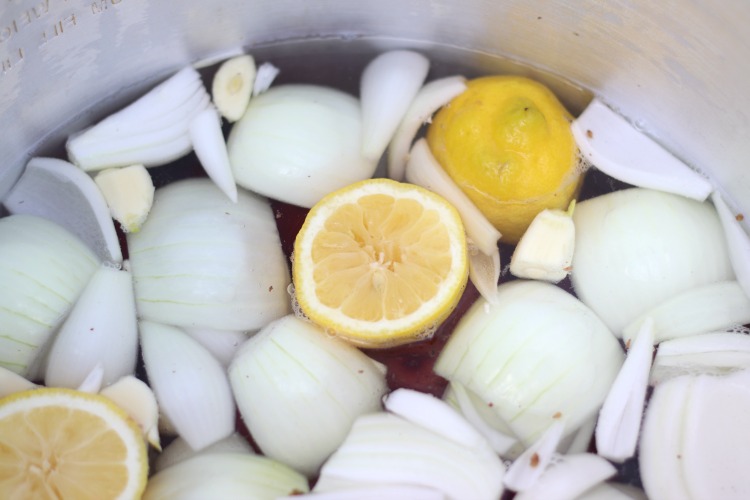 Fill a giant pot with 5 lbs. of red potatoes. Then add enough water to fully cover the potatoes. Add onions, garlic and lemons.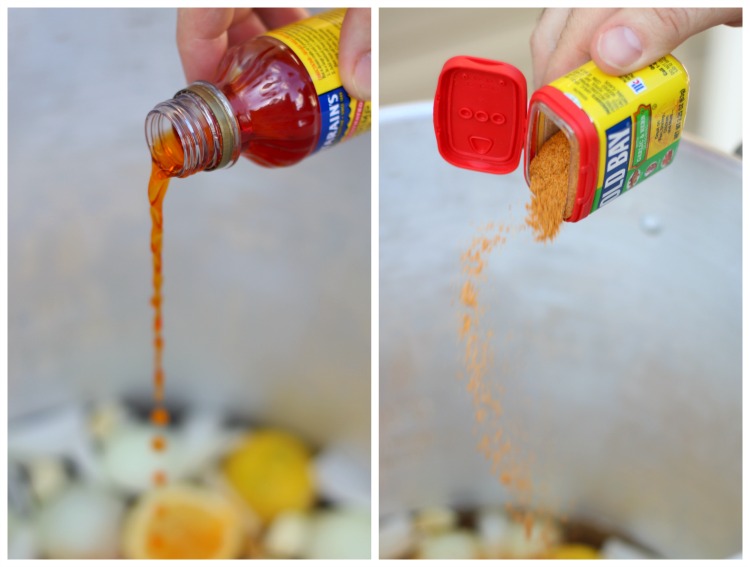 Crank up the heat on the outdoor stove and pour in a 4 oz. bottle of shrimp boil, and a few tablespoons of Old Bay seasoning*. Once the pot reaches a boil, set a 10 minute timer to begin the boiling process.
*A note about the spices: there is no set amount of spices to add. Just adjust to your liking. We always keep a container of Old Bay seasoning on the table to add more as we are eating.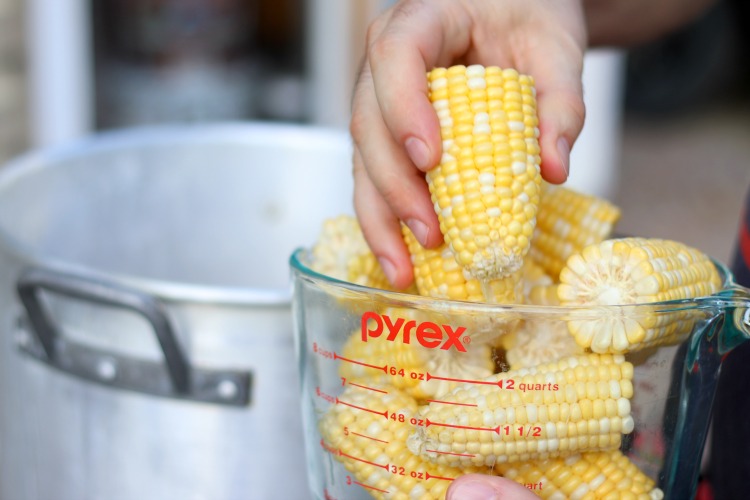 The next layer to go in is the corn on the cob. Break each ear in half then place in the pot. Boil for 5 minutes.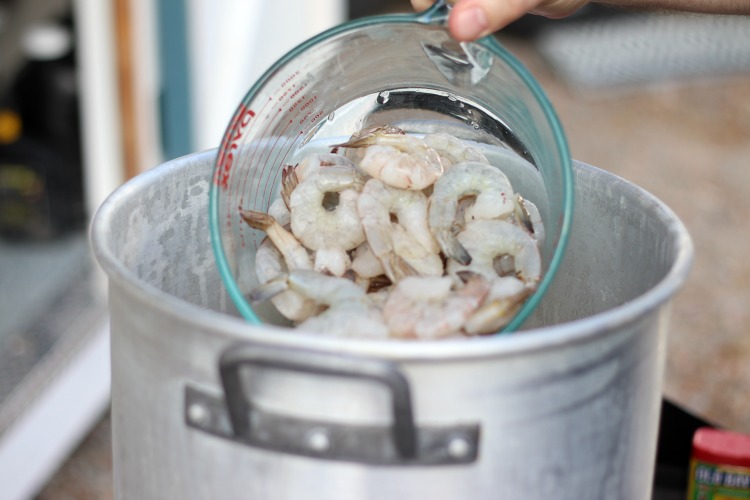 Then add a pound or so of shrimp. Boil for 5 minutes.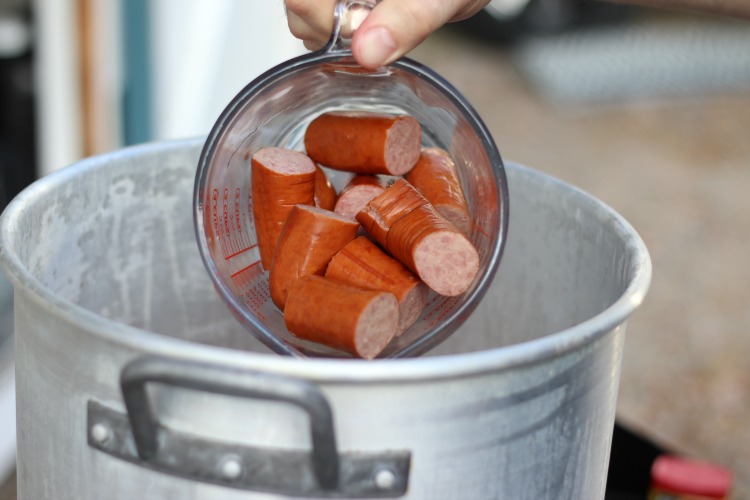 Last, but not least, add the kielbasa, 2 packages worth (24 oz.). Kielbasa is already fully cooked and only needs to heat. So turn the heat off, place a lid on the pan and let the entire pot of goodness steep for 15 minutes or so.
Drain the liquid out and pour the low country boil across a table that has been covered in newspaper or brown paper.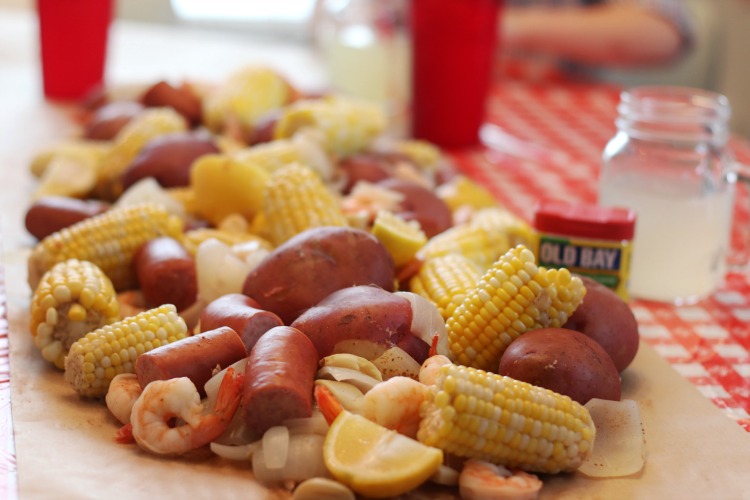 Offer extra seasonings, small bowls of butter for dipping, and extra lemon wedges. If you use large potatoes, cut them in half to make them easier to eat and season. Mason jars full of chilled lemonade is our favorite beverage to enjoy while eating this simple meal!
Shrimp and Kielbasa Low Country Boil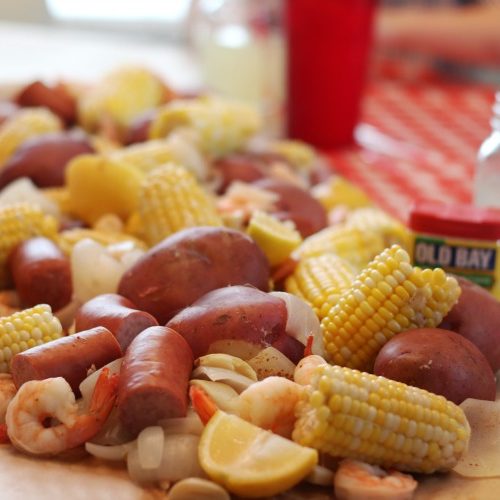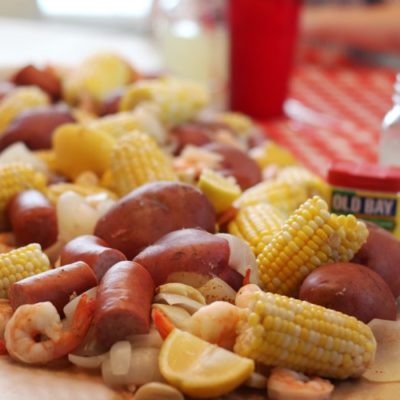 Shrimp and Kielbasa Low Country Boil
Shrimp, kielbasa, potatoes, corn, onions, lemons and spicy seasonings combine in this delicious low country boil. Easy to make and easy to eat!
Print
Pin
Rate
Equipment
giant pot

outdoor cook stove or heating element
Ingredients
5

lbs.

red potatoes

3

sweet onions

3

heads of garlic

3

lemons

1/2

c.

concentrated shrimp boil seasoning

Zatarain's

3

Tbsp

Old Bay seasoning

8

ears of corn

broken in half

1-2

pounds

shrimp

uncooked

24

oz.

kielbasa sausage

extra lemons

butter

for dipping (optional)
Instructions
Quarter onions and cut lemons in half. Peel garlic cloves.

Place potatoes in a large pot. Add enough water to cover. Add onions, lemons and garlic.

Add shrimp boil seasoning and Old Bay seasoning. Bring to a boil.

Add corn. Bring back to a boil. Boil 5 minutes.

Add shrimp. Bring back to a boil. Boil 5 minutes.

Add kielbasa. Turn heat off and cover pot with a lid. Let sit 15-20 minutes.

Drain off liquid and pour dinner across a table that has been covered with newspaper.

Serve with extra lemon wedges, bowls of butter for dipping, salt and pepper and extra spices.
Notes
Make sure that the pot comes back up to a boil before setting the timer in between ingredients.
Nutrition
3 More Easy Entertaining IDeas
Pulled Pork Sliders on Pretzel Rolls